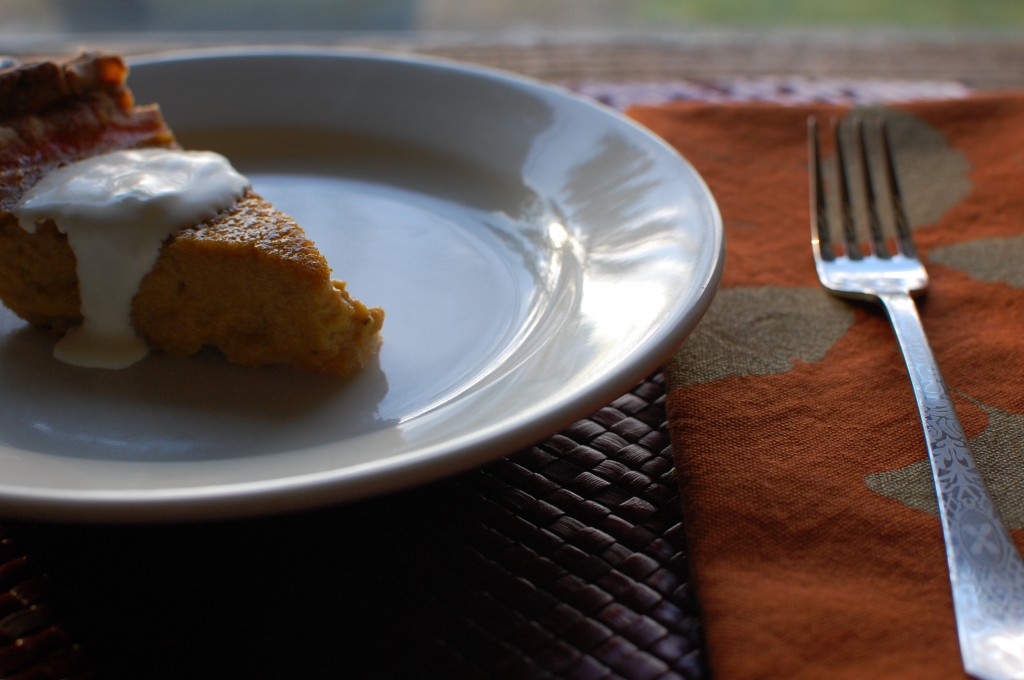 There is one thing that everyone seems to agree on when it comes to veering for the store-bought over the homemade, and that's pumpkin puree. So much so that when I went to the store yesterday to pick up my turkey, also in search of a pie pumpkin (and turquoise nail polish–Rosie's request, so she took that on and trotted off to find it), I finally found one, tucked in a corner, obviously lost and underutilized. Imagine the sadness of a pie pumpkin so discarded and forlorn in these few days before the big holiday? I can't. It's like old men drinking soup alone in restaurants, which I just can't take.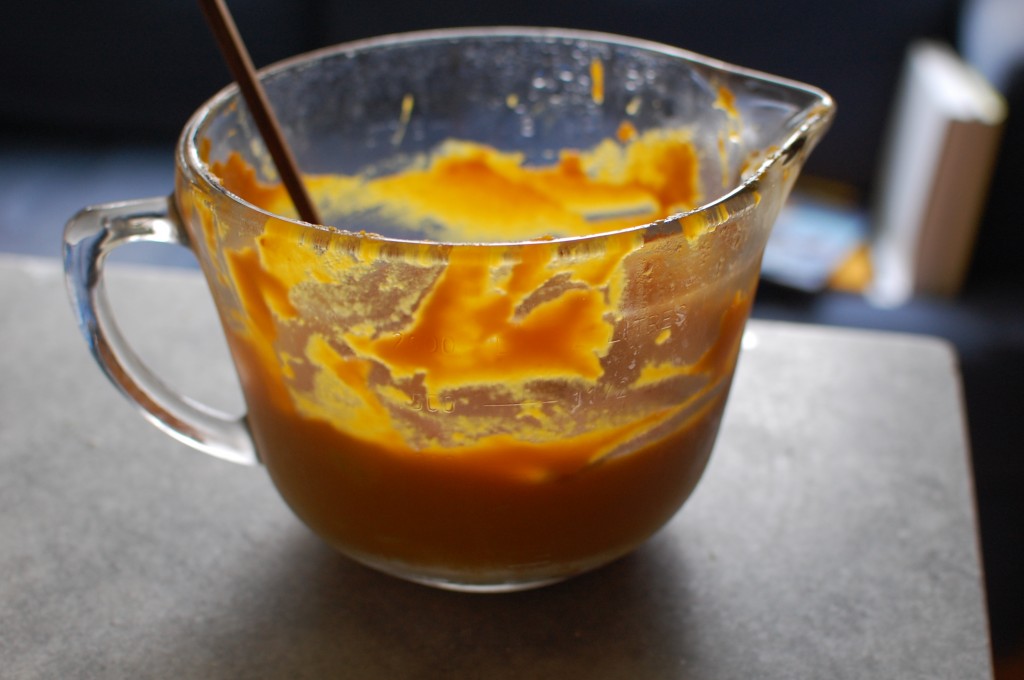 You know I'd never push you in an unrealistic direction. I'm all for store-bought when it works, because really, I'm all for your happiness and your getting a few minutes peace at the end of the night to watch 30 Rock (even if you, ahem, fall asleep halfway through) after the dishes are done. I want that for you.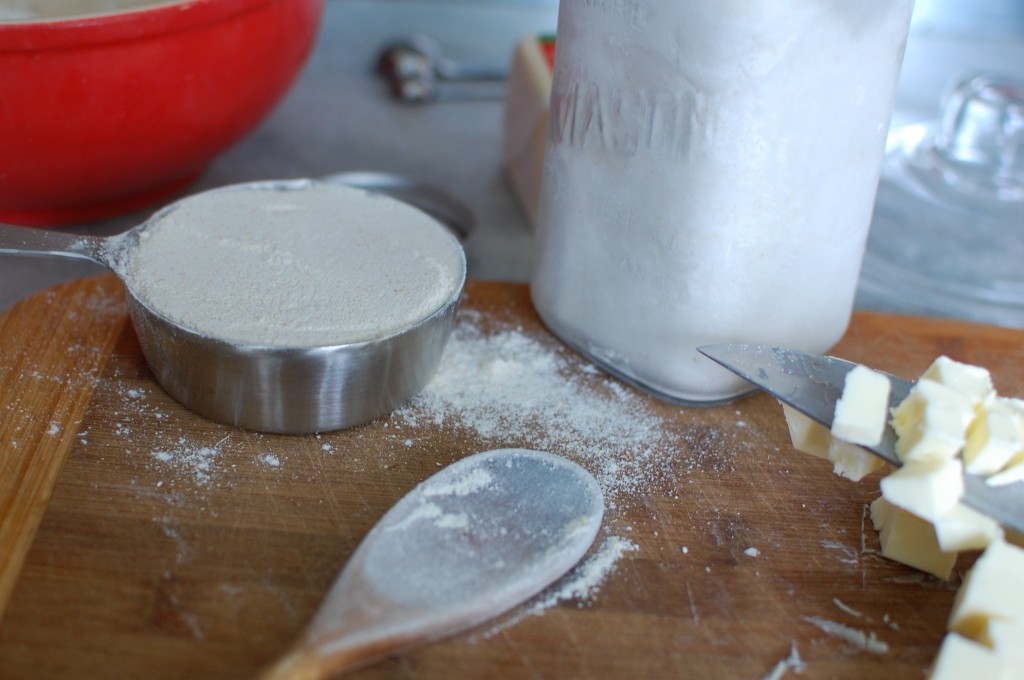 But I won't be dishonest. And so I have to tell you that when I was testing this pie and I made it first with fresh pumpkin and then with canned, I felt (perhaps for the first time) like the case was closed. I've always stood behind canned pumpkin, and I will continue to (albeit reluctantly) for its ease on a day when there are a lot of other things to make. But when my sister, Maia, who is slowly but surely becoming a fourteen-year-old pie queen, took a bite of the canned pumpkin pie, I anticipated her first comment before it even came out. And there it was, sealing the deal.
"Fresh pumpkin is way better."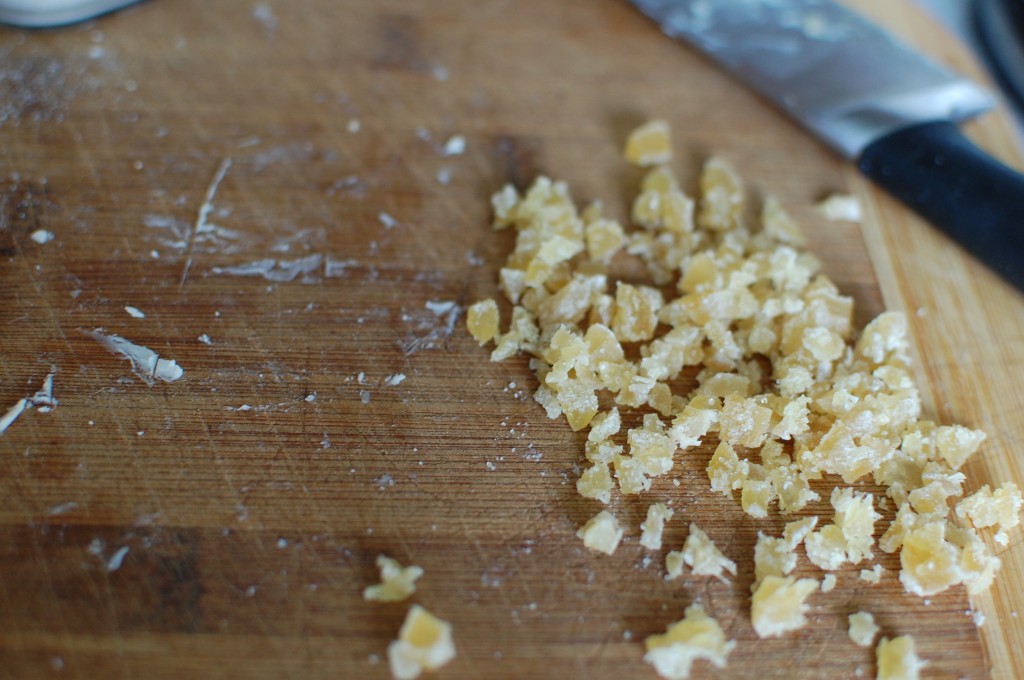 I didn't feel gloat-y or triumphant about this in any way. I wanted to tell you to go ahead and buy the can. I still will, if you like. But then, slightly embarrassed and ashamed to be the lone voice in the wilderness when it comes to the pumpkin question, probably with my hands over my face to muffle the words as they come out, I'll tell the truth.
Fresh pumpkin is way better.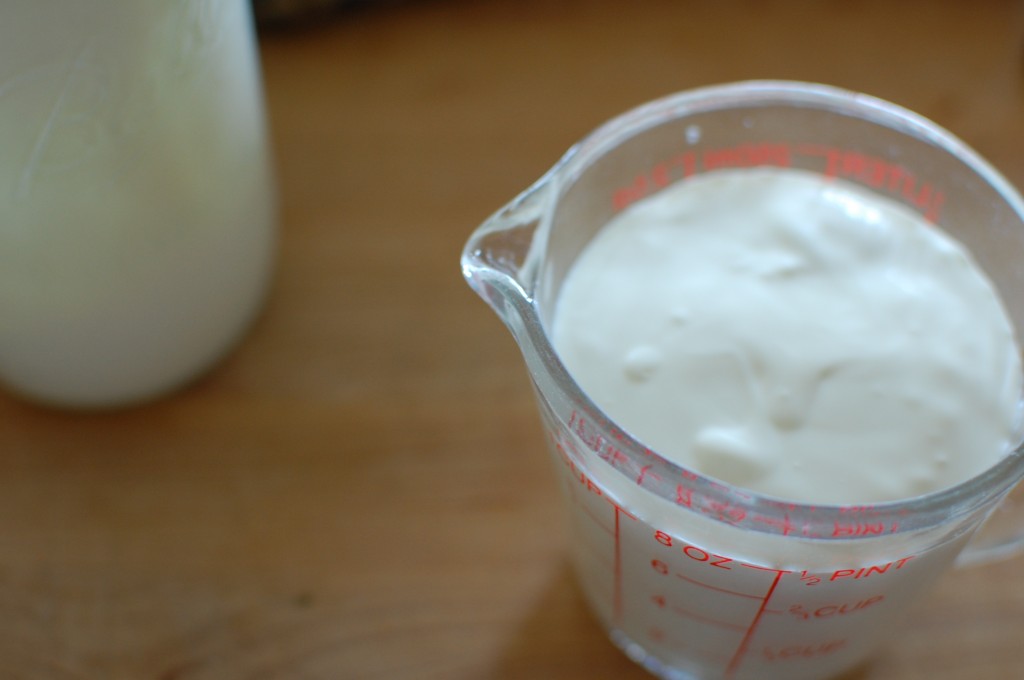 This is my pumpkin pie. It's more gingery than you're average specimen, and my goal was to get away from both evaporated milk and condensed milk, because honestly, I always feel silly buying so many cans for one pie. Creme Fraiche to the rescue, always and forever.
I'll be making this again this week, along with this pecan pie that's become the standard the last several years. I don't even like pecan pie, but this recipe has turned me. There might just be Indian Pudding, although it will be a last minute decision. And my hope is that last year's Cranberry Maple Tart will make its way in too, just because I love it.
As for the rest of the spread, we're going pretty low-key traditional. It's just the family and a few stragglers, and so I'm trying not to go overboard. There will be brussels sprouts, made by my mother like this, and mashed potatoes (perhaps with celery root?), sweet potatoes whipped with cinnamon and orange juice, stuffing (my Mother requested Pepperidge Farm, so I'll do my best to impersonate it) cranberry sauce–nothing too out of the ordinary. The turkey will be brined (as soon as I can find a container big enough to put it in), then roasted. I've been taking a lot of direction this year from this new book sent to me by a friend. Sam Sifton's got it down like nobody else, and I laughed my way through the whole book, to boot.
If there's one thing I know about Thanksgiving, it's that it's important to maintain your sense of humor. Humor and gratitude seem to go hand in hand.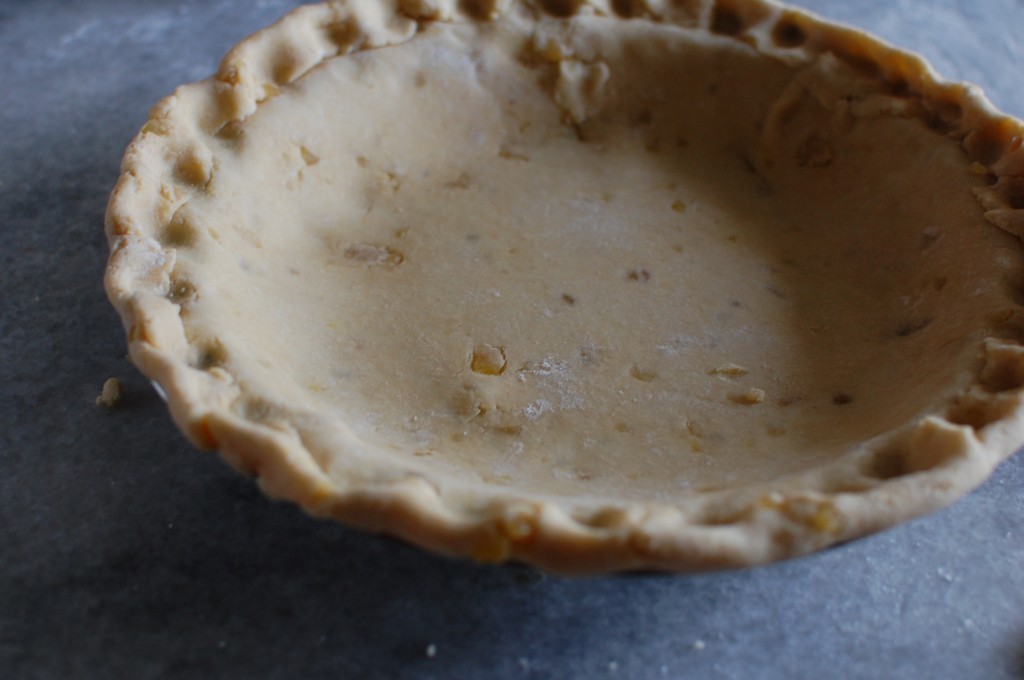 Also, because the internet is chock full of all the "47 dishes to make for Thanksgiving" posts, I thought you might like a different list. Because again, I want you to sit, feet up! Drink in hand! You've done so well. Now it's time to rest. And so I give you…
The Thanksgiving Movie List! (Because who can move after all that butter?)
1. Love Actually: Don't roll your eyes! Have you seen this lately? Always holds up, and a good kickoff to the holiday season.
2. Home For the Holidays: Remember when Robert Downey Jr. was in his bad phase? You can't tell here. Also, Holly Hunter, and family dysfunction worse than yours.
3. The Myth of Fingerprints: Many will argue with me. Many have, and they've all lost. (For the indie lovers among you.)
4. Emmet Otter's Jug Band Christmas: Family movie night. Again, time to start the holiday season off on the right foot!
5. Alice's Restaurant: (That's my town!)
And now, pie. I hope you all are having a wonderful week. I'm kicking off the gratitude season by feeling very very grateful for you all.
Ginger Pumpkin Pie
makes one 9 or 10-inch pie
(Note: We're going to go through this crust step by step, just because Thanksgiving seems like a decent time for a blind-baking pie crust tutorial. Also, I've made this pie recipe create a tad more than the average single crust. That way, it will fill a slightly bigger pie pan if that's what you're working with, or if you have excess, you can trim it off and bake it separately for snacks!)
For the crust:
1 teaspoon apple cider vinegar
1/4 teaspoon salt
1/4 cup water
3/4 cup (3.5 ounces) all-purpose flour
3/4 cup (3.75 ounces) whole wheat pastry flour (if you don't have this around, you can sub spelt or just use all all-purpose flour)
1 stick (4 ounces) cold, unsalted butter, cut into 1-inch (ish) cubes
2 Tablespoons roughly chopped crystallized ginger

For the Filling:
2 cups fresh pumpkin puree*, or one 15-ounce can
2 eggs (jumbo, or 3 regular eggs for you who are using local, smaller eggs)
1 cup creme fraiche
1/2 cup maple syrup
2 teaspoons ground ginger
1 teaspoon cinnamon
1/2 teaspoon nutmeg (freshly ground if possible)
1/2 teaspoon salt
*To make the pumpkin puree at home (Yeah! You can do it!), put a whole pie pumpkin onto a baking sheet. That's right, WHOLE–no need to send yourself to the emergency room by trying to hack at it with a machete. Roast at 400 degrees for 1 to 2 hours (depending on the size of the pumpkin), or until the flesh is very soft and the skin comes off easily. Let it cool until you can touch it. Then, separate the flesh from the skin and the seeds, throw the flesh in your food processor, and blend until fairly smooth. Put aside 2 cups for your pie, and then freeze the rest. Or better yet, make hot chocolate! (You can still roast the seeds too- just soak them in water to release the stringy pulp, drain and dry them, and toss with olive oil, salt, and a bit of smoked paprika, if you like. Roast on a baking sheet at 425 degrees until they start to pop, 10 to 15 minutes.)
1. Make the crust. Combine the vinegar, water, and salt in a cup, stir to dissolve the salt,  and place the cup in the freezer. Then combine the flours, butter, and crystallized ginger in the bowl of a mixer fit with the paddle attachment. Mix on low speed for 10 seconds to combine. Take the vinegar mixture out of the freezer and then, with the mixer running on medium speed, slowly add the liquid to the bowl. It will be crumbly at first, but after 20 seconds or so, the mixture should come together. As soon as it clumps around the paddle in one ball of dough, stop the mixer. Gather it up into a ball and wrap in plastic or wax paper, pressing it into a 1-inch disk as you go. Put the disk in the refrigerator for at least 1 hour, but up to 3 days. (The dough can also be frozen at this point.)
2. Remove the dough from the refrigerator and let it sit on the counter for about 20 minutes to soften. Butter a pie dish. (What kind of dish, you ask? Well in this case, that pie dish needs to survive the direct journey from the freezer to the oven, so aluminum or stainless steel is your best bet. Some say stoneware is good for this too, but I don't have personal experience with that one.) On a lightly floured counter, roll your crust to between 1/8 and 1/4-inch. Fold it in half, then in half again, then center it over the pan and gently unfold. (You can also roll it over your rolling pin.) Press it gently into the pan, and trim the crust so it hangs about 1 inch over the side of the pan. Use the extra crust to create a decorative edge. (For mine, I folded the crust over and used my knuckles.) Put the crust in the freezer for at least 1 hour. (Again, the crust can be stored indefinitely in the freezer at this point- just put it in a freezer bag if you plan on keeping it there for longer than a day.)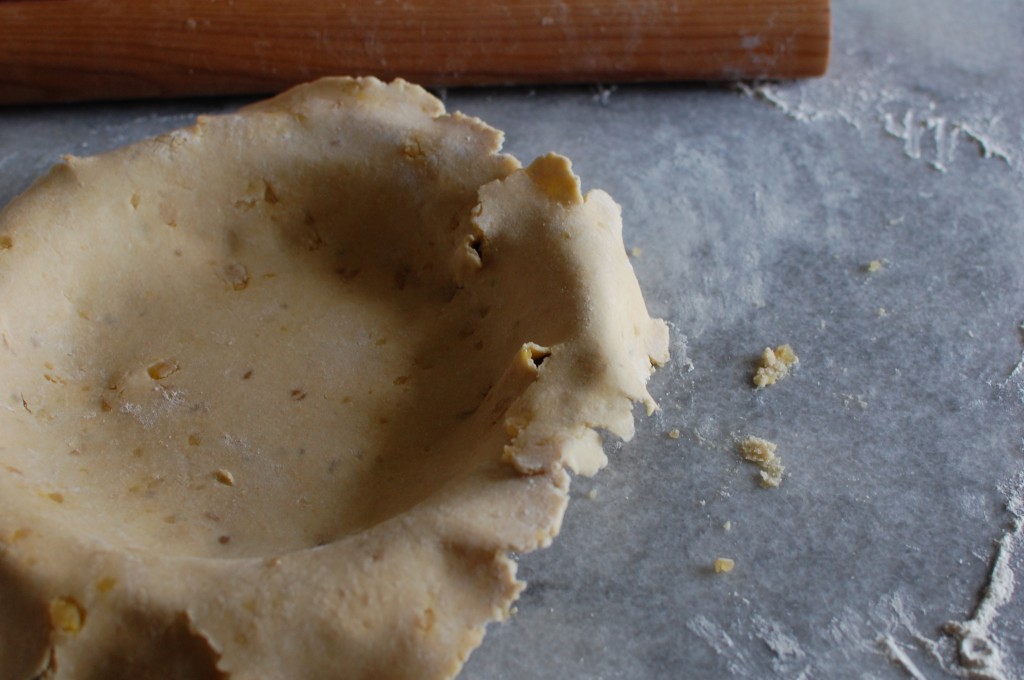 3. Preheat the oven to 400 degrees. Remove the crust from the freezer, line it with parchment, and fill it with beans or pie weights. I use a jar of adzuki beans my mother has in the pantry but NEVER uses, and so I just reuse them over and over as pie weights. Make sure to fill the crust most of the way up with your weights.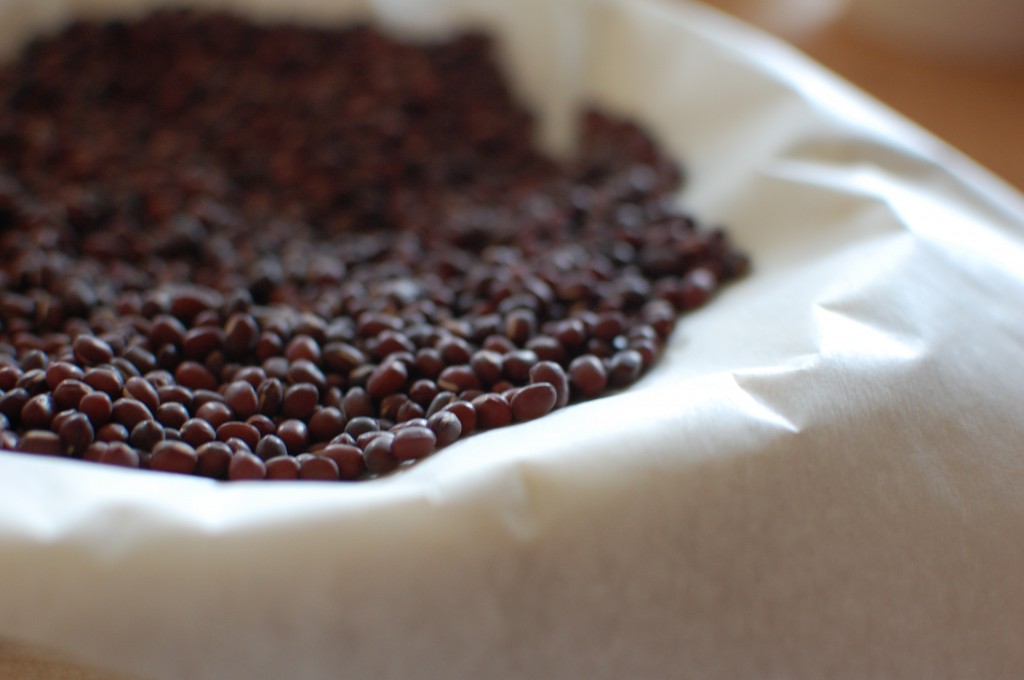 4. Put the crust onto a baking sheet and bake for 20 minutes. Then remove the parchment and beans, and bake for another 5 minutes. Then the crust will look something like this: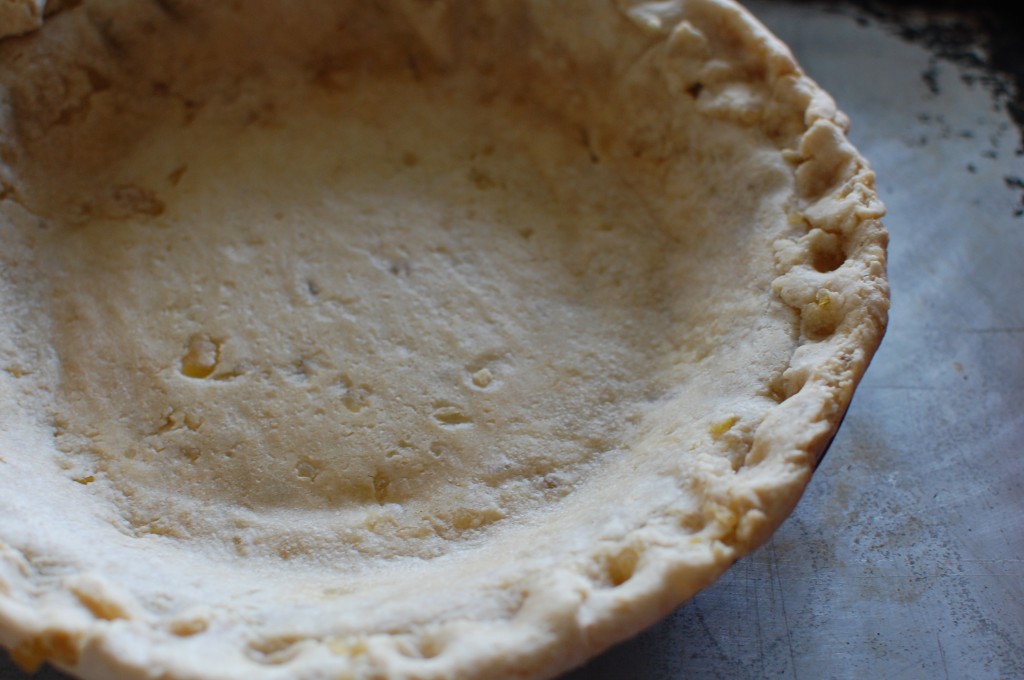 Let it cool for a few minutes while you make the filling. Reduce your oven temperature to 375 degrees.
5. Make the filling. In a large mixing bowl, combine the pumpkin puree, eggs, creme fraiche, maple syrup, ginger, cinnamon, nutmeg, and salt. Combine with a sturdy whisk (or a wooden spoon is a close second) until the mixture is fairly uniform. Pour the filling into the pie crust. (I've made it so you have enough filling for a 10-inch pie here. If you have too much filling for your crust, lucky you! Pour it into a ramekin or two, and bake it along side the pie for the first 20 minutes or so. Then you get pumpkin custard while you wait for your pie.)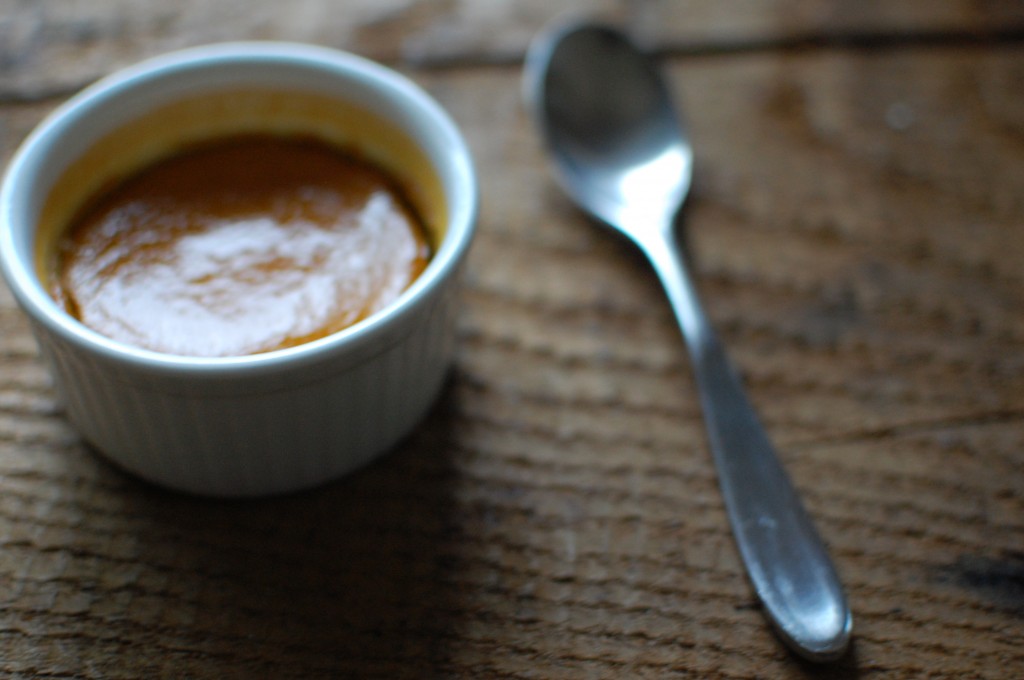 Bake for 50 minutes to an hour, or until the pie just barely jiggles in the center. If you're using fresh pumpkin, it will probably be on the shorter side of the time scale, as canned pumpkin tends to have a higher water content (so takes a bit longer). If your pie cracks as it cools, it means it cooked a bit too long. It's okay–still delicious! And more real and human and beautiful, kind of like this wonderful holiday itself.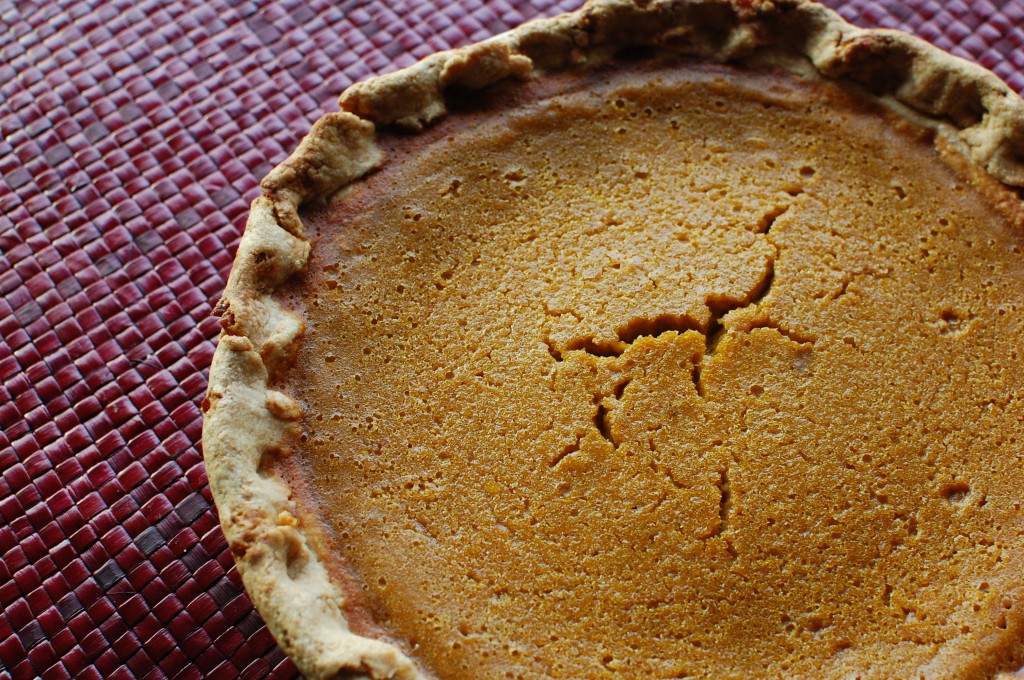 Let your pie cool a for at least an hour before you cut into it. Then, have at it! This also holds up great, covered with plastic wrap, in the fridge for up to two days, so you can absolutely make it on Tuesday or Wednesday.
I'll check back in later in the week! I'd love to hear what you're cooking over there, or, of course, Thanksgiving movie recommendations…