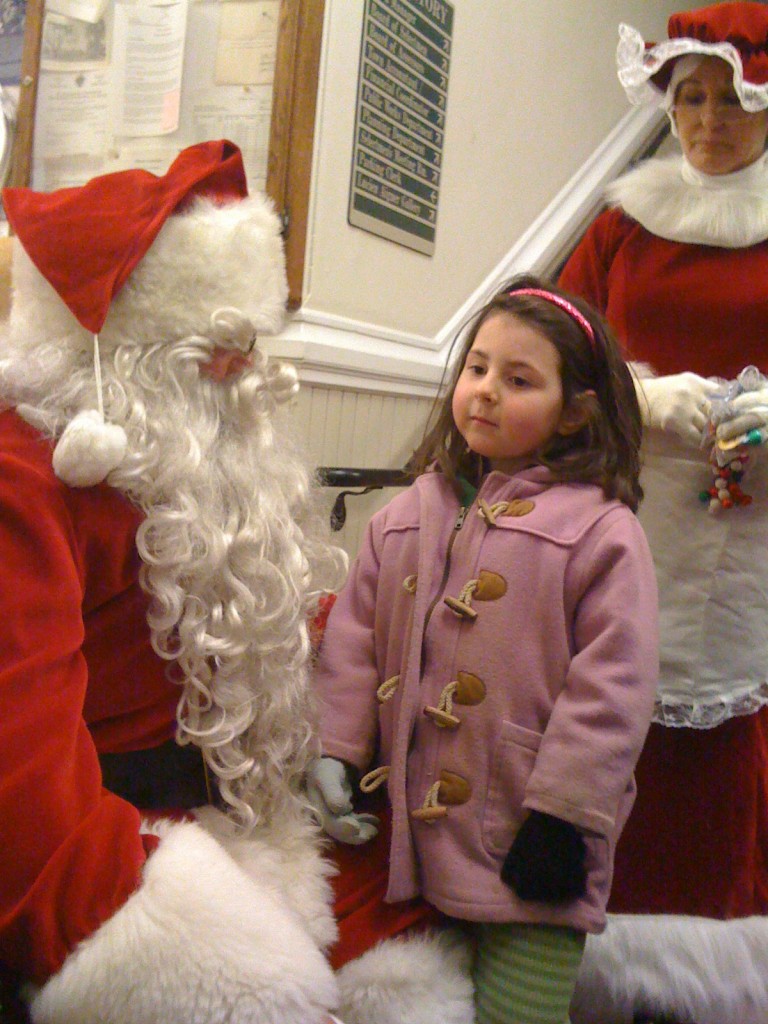 This weekend, Rosie sat me down and recited her holiday list. Sadie, always eavesdropping and ready to jump in, popped her head around the corner. "Oh, you want to hear mine?"
I can tell they've been rehearsing for the moment. The lists change from year to year, but they always have this crazy range of scope– there's always something expensive and electronic that they're pretty sure we can't afford (every year at this time, new lust develops for the iPod touch), but then there are little things, erasers, special lockets, random trinkets they've seen in their adventures. Both girls asked for gift certificates to our local bookstore, and I swear they winked at each other when I couldn't help but nod in appreciation of that one. And at one point, Rosie asked for a certain toy–a request that made Sadie quiver in her chair. I'm guessing that's what she's getting from Sadie.
These are not lists for Santa. They are lists for us, and for each other.
Usually, I talk about not buying things. Every year, I post handmade gift ideas, and of course those posts are coming (fancy mustard! cookies! jelly!). We give out treats throughout every December–I'll make a few edibles and they go out with some art project or mix CD that Joey makes. That's how we do the holiday around here. But this past weekend, as the sale emails started shouting at me from my inbox and we kept one ear on the news to make sure that no one had been trampled at Walmart, I started thinking about the other side of shopping for gifts… the good side.
Most of the time, there's very little new stuff in the girls' lives. Whenever we are out, my default response to the "Can I have just one thing?" is always no (or, more subtly, the look I reserve for those moments that ends the question before it's fully emerged). But here, in this month, Joey and I duck into stores and pick out tiny charms and Japanese candies for their stockings. I can fulfill dreams of a soft new cotton nightgown to replace that one that Rosie's been wearing since she was four, or a special book that Sadie's picked up every time we've gone to the bookstore. I let myself do that in a way that I don't in the rest of the year. And the hiding of packages, the weighing of specialness between gifts for each girl–the process makes me feel warm, and lucky that I can do this now for them. These little material bundles give me a sense of maternal comfort. In this small way, I get to focus on giving them exactly what they love.
It makes me want to give a box for each, wrapped in my clumsy way (Joey's the real artist, and you can always tell his gifts from the others), filled with confidence for this next year. I want to give Rosie the power to navigate through the new emotions that seem to be coming to her. To give Sadie more ease in the process of abandoning herself to the things she loves. To feel like their bodies are doing just the right thing as they get bigger and longer, and to find just enough power to make good things happen without a sense of  overwhelm.
This year, Sadie decided she wanted to only buy gifts for people with her own money. (We've started giving her a little allowance, and she's saved it all.) She started her shopping last week on the way home from school, making her way down her list while Joey and Rosie waited outside. Later that day, she came into the house clutching her bags, hurrying to her room to find a hiding place.
Again, that feeling of warmth! And there's one more good thing about having kids–they do things that make them happy, and somehow I feel it too.
Happy almost December, friends. (It's snowing, here! Finally! I'm hoping it just might stick…)