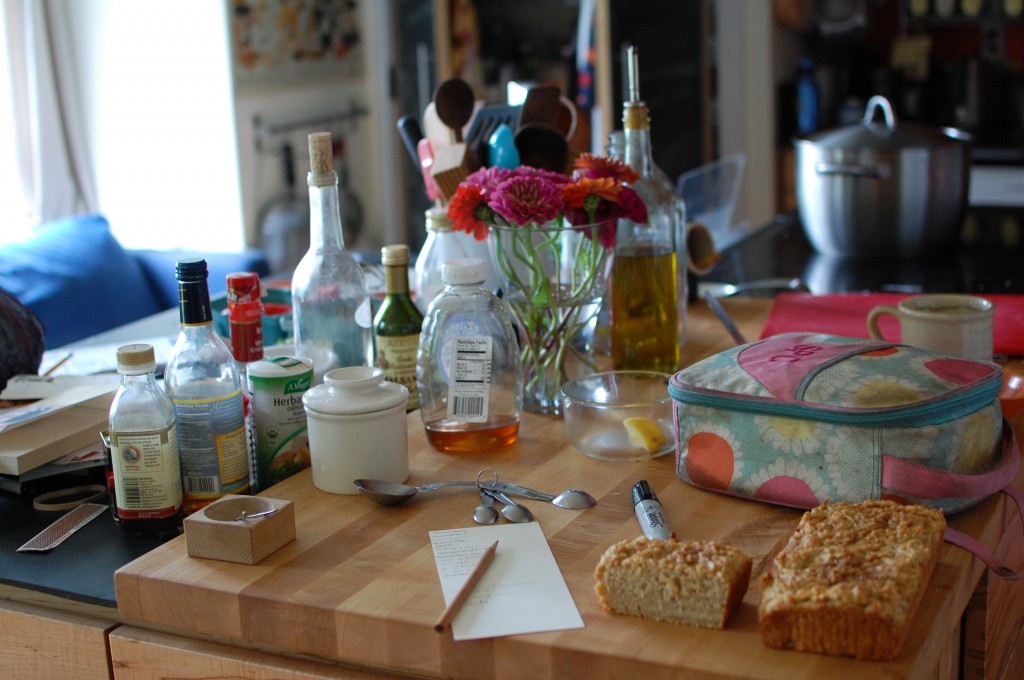 Last week, on the day I got this apple bread to just the place I wanted it, I tumbled into the house with the girls post-school and prepared myself to clear off the counters and do the dishes so that I could photograph a few neat slices of the bread on a clean, well-placed plate, maybe even with a cup of tea that I may or may not drink (as it was already 4:30, and the day had been a little rough, and I thought it might be a good idea just to skip to a glass of wine). The girls started to fight about something or other, an email came in requesting that I rewrite a piece I had submitted to be due RIGHT NOW, and then the phone rang (most likely with a concerned citizen disagreeing with me), and after I thanked them for expressing their opinion, I realized that somehow I was missing about half the ingredients for the dinner I was supposed to make for not only for my family (all 7 of us), but another family who had just had a baby.
There a couple of different ways this scene can go.  But what happened in that particular moment was that I stopped in the middle of the kitchen and I planted my feet on the floor. I looked at the sink full of dishes (sadly omitted from the photo, but I had to get the apple bread in there!) I took a breath, I turned off the ringer on the phone, and even though I had to search into some deep recesses of my being to make this true, I said to myself, "I love this kitchen." And because I do, I took a picture of it right then and there, because if I were you reading this, I'd rather see the bread in its natural habitat.
In my book, I have sections in some of the recipes called "tense moments". What I'm trying to do with those tense moments is to give readers the tools in that moment to be flexible, and to figure out how to shift and adjust if an element is not going exactly as you hope. Because the truth is that I can share a recipe that has worked for me over and over. I can add input from recipe testers who all created the recipe in different kitchens. But every recipe is a guideline, and it's part of the process of cooking (or preserving, or making cheese) that slight changes in temperature, ingredients, and even, yes, mood, will shift the experience and the product. It's all just a little bit like every single other thing in life.
There is a list of questions I get in emails, comments, and when I get to meet people face to face at book events:  How do you actually make things from scratch? What does your meal preparation and planning look like? Is there some magical way to organize my pantry/ freezer/ fridge to make it all come out quickly, easily, and with no stress? 
I do have answers, although they might not all be entirely satisfying, and they continue to shift from week to week. But the answer that stays constant for me is that the best way to love the process is to embrace your tense moments. The tense moments will always come, but it's totally in our power to figure out how to work through them with grace, patience, humor, and appropriate music. The way we cook and relate to our kitchen reflects who we are–one person might take deep joy in their alphabetized pantry and month-long meal plan, whereas another might be all about the daily shop and the decision of what to make for dinner based on a 6:00 pm glance around the fridge. When we embrace how we are in the kitchen, we also embrace how we are. And as a good friend of mine says in new-age energetic speak, "it's a journey". Well said, I think. Luckily, we need food to fuel us through, and there's plenty of time to practice. And if we can get it together to finish the recipe, then we we have snacks.
Apple Bread
(This is a quite altered version of a bread from Mollie Katzen's The Enchanted Broccoli Forest that I published in one of my very first posts on this site four years ago. It's dense and lemony, and if you leave it on the counter through the day next to a little knife, it will fuel you through whatever the day holds, tense or no. It will also make your house smell like heaven and it's healthy enough to pack into school lunches. Because it's so dense and moist from the apple, it stays delicious for a few days, and although I haven't tested it's freezability, I'm guessing it freezes very well.)
makes 2 loaves
4 cups coarsely grated unpeeled apple (from about 1.75 pounds apples)
1/4 cup fresh lemon juice
2 teaspoons lemon zest
1/2 cup packed light brown sugar
8 tablespoons (1 stick) butter, melted and slightly cooled
3 large eggs
1/2 cup buttermilk
2 teaspoons vanilla extract
2 cups unbleached white flour
2 cups whole wheat pastry flour
1 tablespoon baking powder
1/2 teaspoon salt
1/2 teaspoon cardamom
1 teaspoon cinnamon
1/4 teaspoon nutmeg
1. Preheat the oven to 375 degrees. Lightly grease 2 medium loaf pans. (The bread doesn't rise too much, so the pans can be fairly shallow.)
2. Combine the apple, lemon juice, and lemon zest in a medium bowl.  In a separate bowl, beat together the brown sugar, butter, eggs, buttermilk, and vanilla. Pour this mixture over the apple and stir to combine.
3. In a large mixing bowl, whisk together the flours, baking powder, salt, cardamom, cinnamon, and nutmeg. Pour the apple mixture into the dry mixture and combine with a few strong, swift strokes. Divide the batter between the loaf pans and bake for 50 minutes to an hour, or until a cake tester or toothpick, when inserted, comes out clean. Remove from the baking pans immediately and let the bread cool completely before eating.