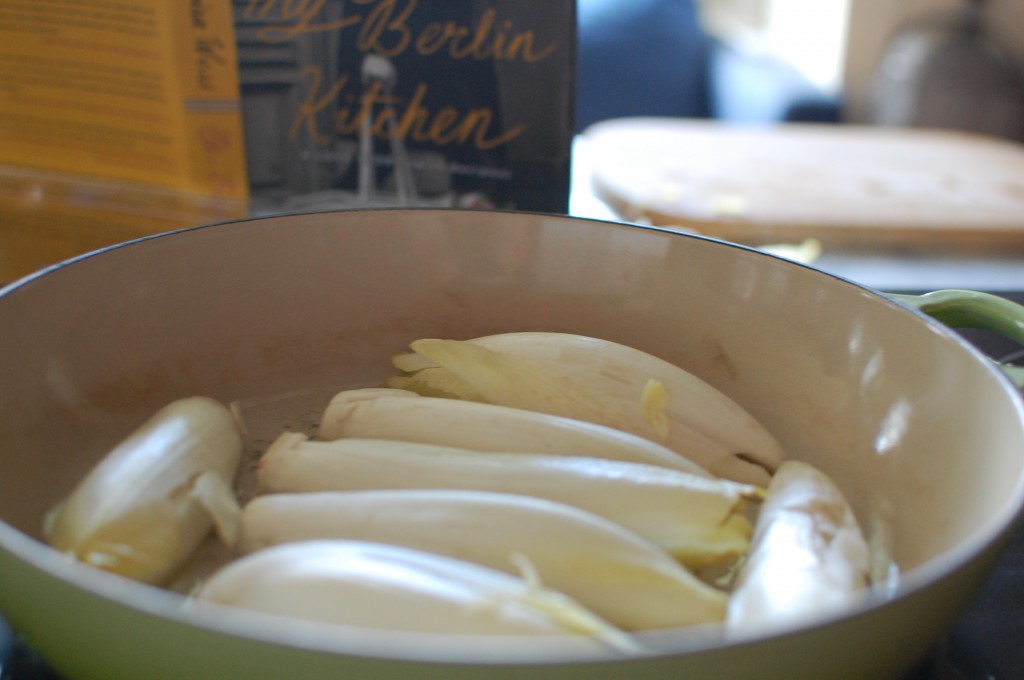 The first time I cooked for Joey, I cooked for him what I would cook for myself alone. (The food of my picky childhood, the quick nutrition that my mother had made for me over and over.) It would have been some day in that fall of 2001, in one of those moments when the afternoon had ended and the evening was beginning. It would have been one of those moments that I knew that if we were to continue the day, if I were to keep him here, we'd have to eat something.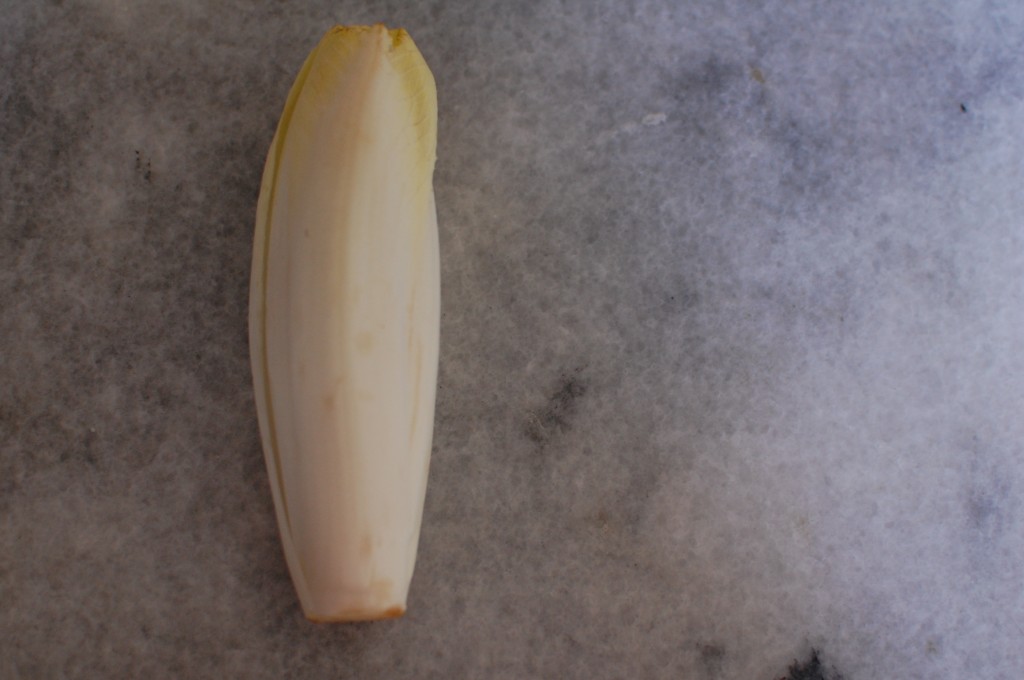 I'm not sure that I've ever told you this story. How we went to a tiny school, but never knew each other? How Joey and I (both, of course as many good love stories go) were lovingly attached to others who had already graduated and were waiting in distant cities for us? And how we ended up with the exact same class schedule our senior year, living a block apart?
It all started that way, and then his car died. And so I became his ride to and from class. And, as tends to happen in the sun-drenched, chili-roasted Fall in Santa Fe, we just had to take walks in the afternoon. We'd walk the Arroyo by our school, or we'd drive out to Tesuque to hop from rock to rock. And then we might as well do our work together, since we were in the same classes. Every day, we'd start the day with big hugs and say, "I'm so happy that we're friends!" It's so wonderful being your friend! I'm not sure when I've ever been so excited to make a new friend! (Here's where I offer my advice to my 22-year old self, and anyone else who might be in the same predicament: If you are ever so overwhelmingly excited to have a new friend, and you count the moments till the next time you get to see them, chances are–you're in love.)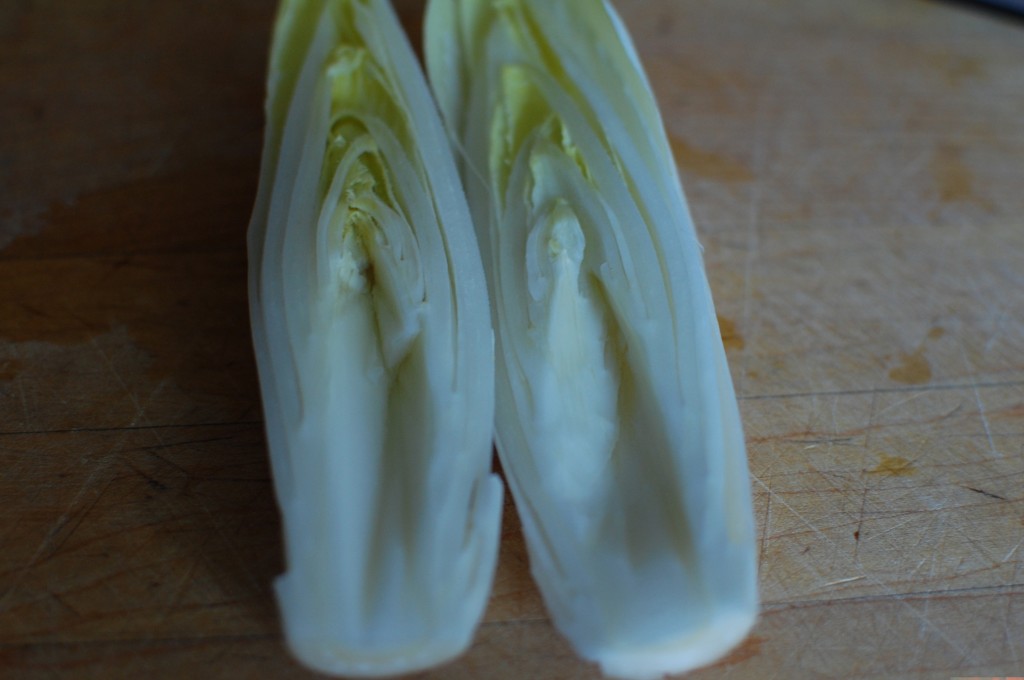 I think that the first time we cook for someone we might love, it's a little bit like taking off our clothes. It's that intimate, strangely exhilarating, and mostly overwhelming. Maybe it's after a day of wondering or adventure that goes by like there is no world outside. Maybe lunch was skipped because we just plain forgot, and we are not hungry and so hungry at the same time. And then, if we are young, there is the funny feeling of playing at house, the two plates, forks, napkins. Maybe there is wine, but it could just as well be water and we would feel strange and drunk anyway. And if it is Fall, our hands are cold.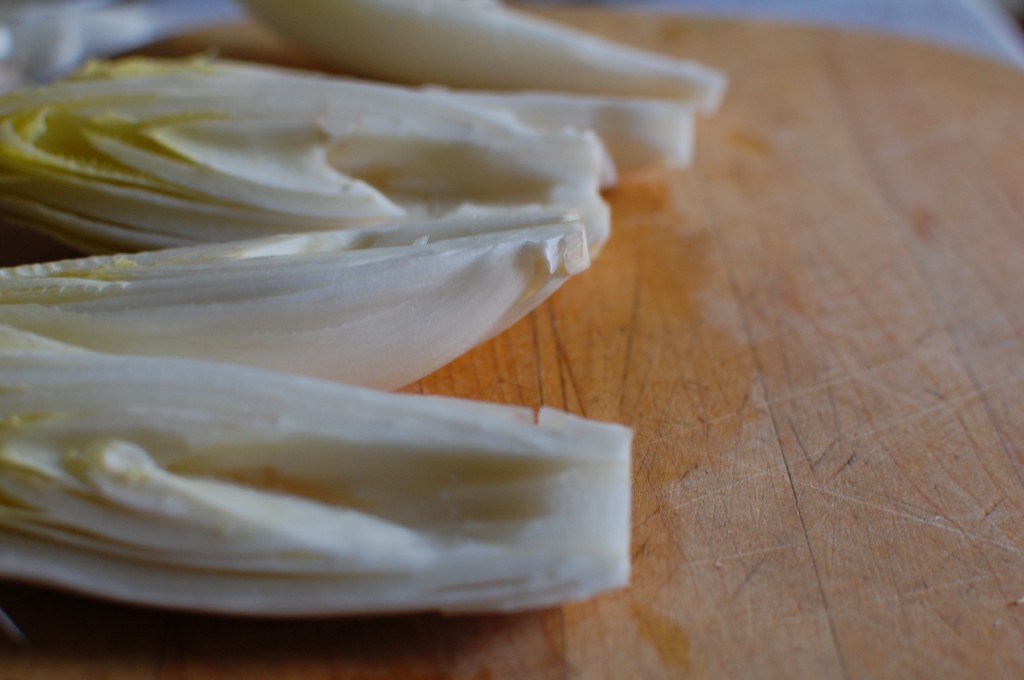 That night, I'm guessing it was probably noodles with butter and parmesan. Broccoli, steamed with tamari and olive oil. And tofu, cubed and fried in a hot pan until the corners crisped. Two plates, two forks, two napkins–all in the little kitchen in my house on Cortez Street in Santa Fe that I shared with my friend, Eilen. She, walking in halfway through, confused, I'm sure, by why we were sitting in the dark. And then she'd grab a plate and we'd be thankful for the easing of the tension, and of course, for her company, which we both still crave.
I've just finished Louisa Weiss's book, My Berlin Kitchen. I've been reading her blog for a long time, since before I dared to write a word online myself. She has this way of writing, like a friend who wants to tell you something so badly that she can't keep it in. Her writing is so loveable–it is humble and delicious and so exquisitely full of heart. And in these years since I cheered to find that she was poised to take the big leap, to leave everything she knew and to go towards love (both of a man and a city), I've been waiting for this book. And it's been worth it.
In this week that I've been reading, my head has been somewhere else, and I blame Louisa entirely. My Berlin Kitchen is a love story, and, as is the case with truly good writing, she has pulled me into her love story while making me feel the feelings of my own. I've never been to Berlin, but I love inhabiting the city she creates. I'll take the cruel, snowy Berlin along with the Spring elderflower-scented city, and as I dream of plum-filled doughnuts and quark cheesecake, I think about the places that I have loved, too, cities and landscapes that call me back, sometimes embracing me and sometimes spitting me out. And as she lets us entirely and absolutely into the other love story, that is, with the man she'd wander those streets with, I thought about the beginning of my love story too, when I leaped away from what I knew and found myself in very new territory. (Eleven years later, I still feel like I'm in new territory, which helps me, I think, to know that I am exactly where I should be.)
Of course there is food in Louisa's book–delicious and wonderful food that makes it hard to decide whether to read another chapter or get a pot heating on the stove. She feeds us through dinners alone and holidays, through depression and small New York apartments. And I think that through it all, my very favorite parts are when she lets us in to the kitchen in the beginning of her love stories.  I had forgotten the intimacy of those moments, the wonder of the first time we eat together.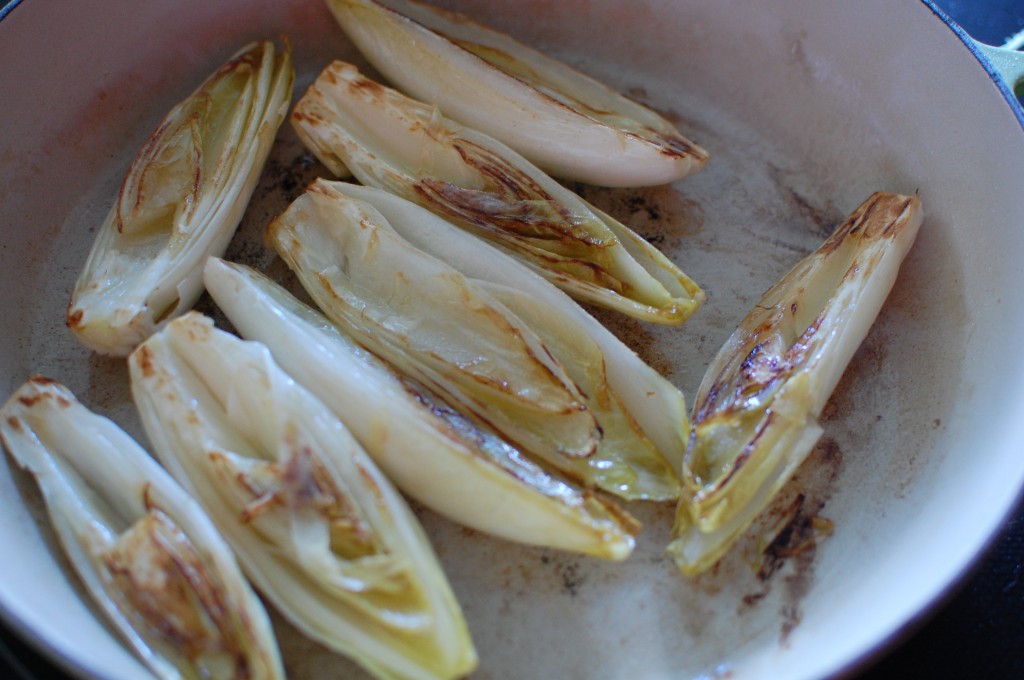 Braised Endives
(an equally appropriate dish for first love and family dinner, excellent with roast chicken, but perhaps even more excellent alone in the kitchen with no fork or knife in sight.)
from My Berlin Kitchen, Louisa Weiss (I've taken it from the book exactly here, both because the recipe is pretty perfect, and because if you've never read Louisa's words, I wanted to give you a little taste of them)
serves 2 as a side dish
3 to 4 Belgian endives
3 tablespoons olive oil
A pinch of sugar
Salt and freshly ground black pepper to taste
Juice of 1 lemon
1 tablespoon butter (optional)
1. Wash and dry the endives and pull off any discolored outer leaves. Cut them in half lengthwise and trim off the root end but leave the endive halves intact. Cut out the inner core.
2. Heat the olive oil in a heavy, lidded 3-quart saute pan over medium heat. Put the endives, cut side down, in the pan. (If your endives are huge or if you double the recipe, you may have to do this step in batches.) Let the endives cook for 3 to 5 minutes on each side, letting them brown but not burn.
3. When all the endive halves have been browned on both sides, squeeze them into the pan and sprinkle them with the sugar, salt, and pepper. Let the sugar melt for a few seconds. then add the lemon juice, immediately turn the heat to low, and cover the pan.
4. Let the endives cook for 15 minutes. They should be fork-tender and caramelized. Remove the endives from the pan and put them on a serving plate. Raise the heat to medium and reduce the cooking juices in the pan to a thin syrup, stirring for 2 to 3 minutes. If you want a richer sauce, add the tablespoon of the butter to the pan and stir it in until it has melted and emulsified, creating a silky sauce, an additional 3 to 5 minutes. Butter or no butter, pour the sauce over the endives and serve immediately.
And yes, yes–Louisa's publisher has given me a copy to give away! Will you tell me your love stories? People, cities, it's all fair game. Whatever you've loved and what you ate in the process of figuring it out–I'd love to hear about it. Let's talk until Tuesday night, late, and then I'll pick a winner on Wednesday morning. Good?
AND I wanted to tell you, too, that this weekend I'm going to be at the Eat Boutique Market in Boston with some pretty wonderful authors and delicious food and all those good things. I'd love to see you if you're in the Boston area! More details on the market here.
Okay- love, food, stories- GO!