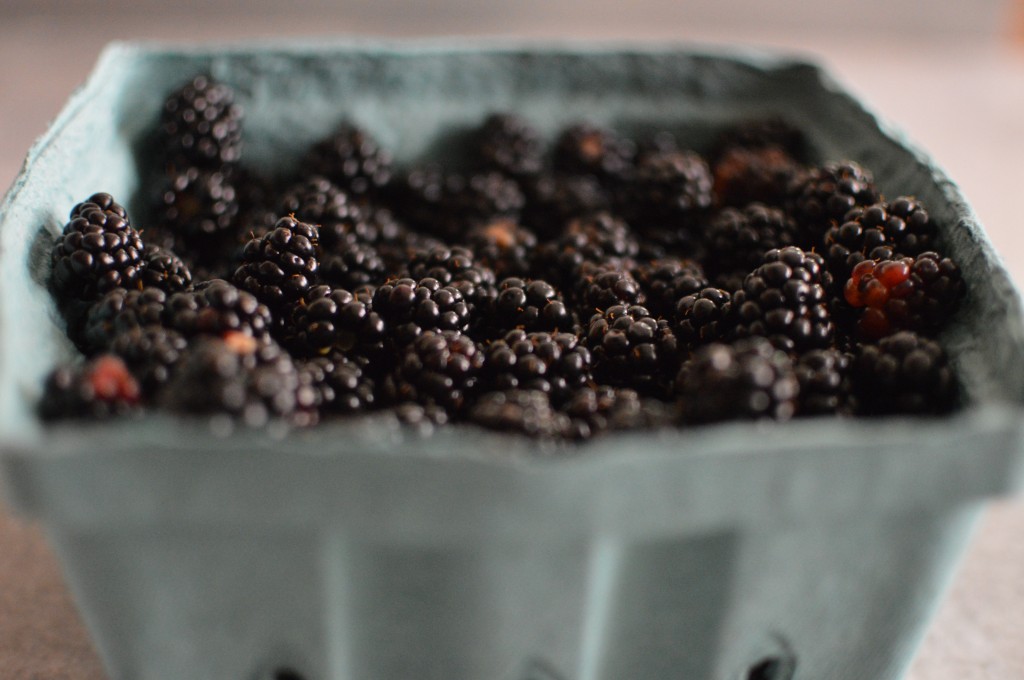 Last week, in the midst of a day filled with other things, my phone buzzed. I read:
"Blackberries galore and we are leaving for maine…please pick but be warned of jungle conditions. Boots a must. Berries delish."
This is not the first time a day has been overthrown by a berry message from this particular friend. Every year, she seems to go away for a few days just when the berries are (as she has taught me to say) "as big as your thumb." She has a thicket that spreads over the forgotten corners of the property around her farmhouse, and some of my favorite berry picking has been in those corners, in moments when it seems there are more berries than leaves or thorns or butterflies or any of the other things that take up the space. So I put on my boots, and off I went.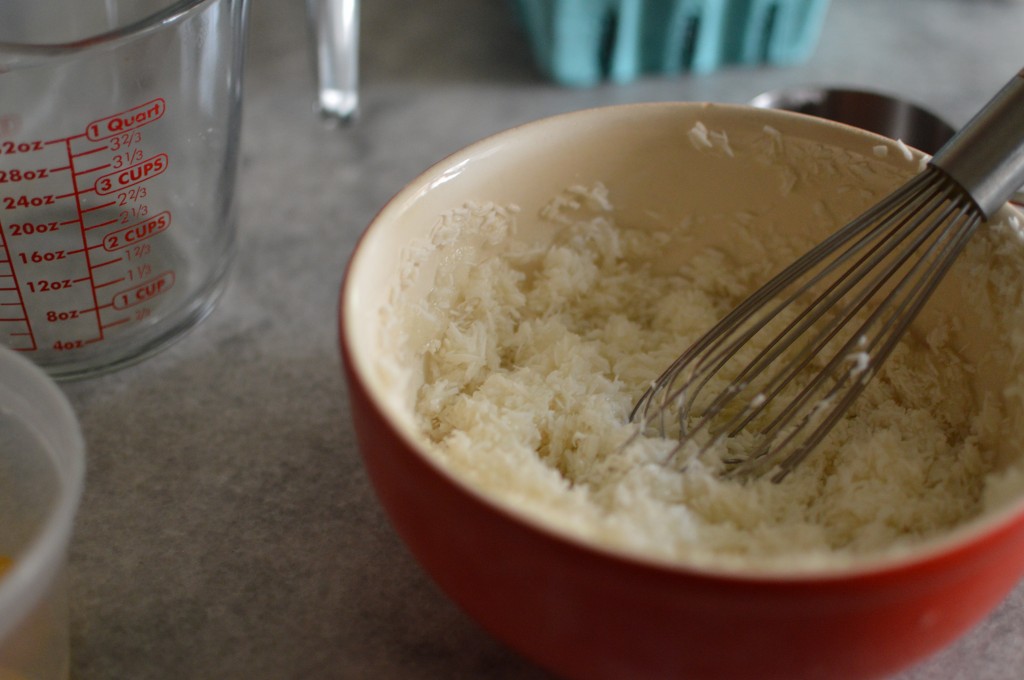 I spent the 10 minutes in the car ride over there planning the rest of my day around the berries. It was a little bit rainy, and a perfect day for canning. Jam of course, but maybe some blackberry syrup, too? I'd been wanting to make a shrub, and that would come third. And then of course, I'd put some in the freezer, maybe make a pie (still dreaming of this one from the blackberries of a few years ago). In my mind, the day stretched on with endless possibility, me–finally falling into bed late at night, happy, contented, fingers stained with purple.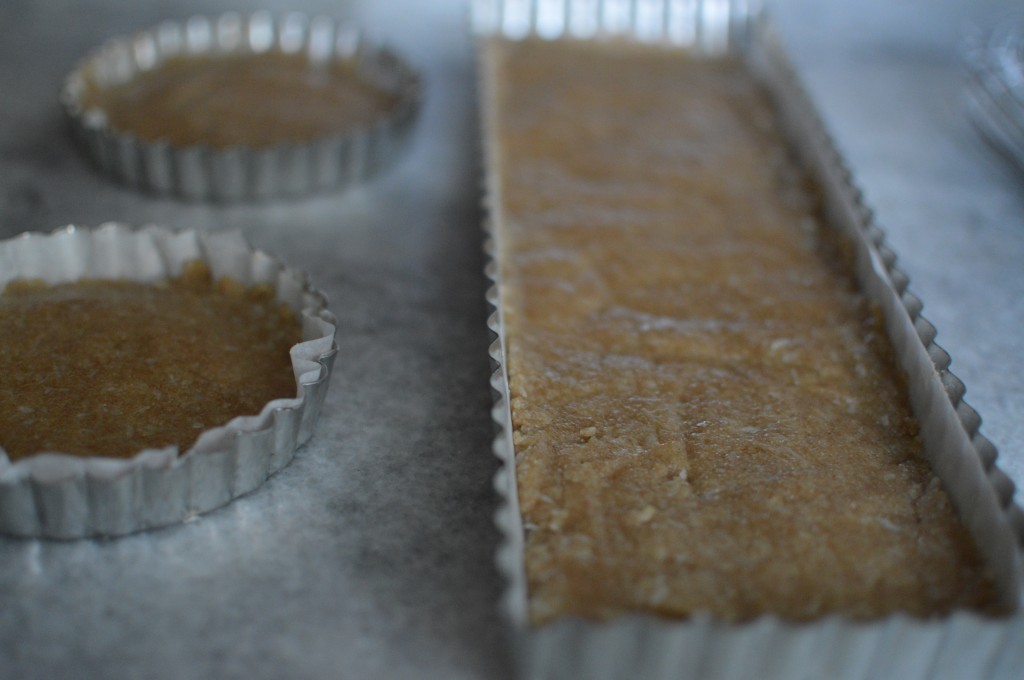 I can't say I wasn't warned. But there I was, stuck in the brambles–a perfect handful just…there. And even though there was only a tiny distance between my hand and those berries, every single branch and thorn had taken hold of me, of my clothes and my hair and my skin. And still, stuck and alone as I am? I'm still reaching for the berries.
Of course, I adjust. Because whether I have unreal expectations of myself, or the reality brings me back down to the ground, I am always working on my adjustment skills.  It goes like this: arriving, rain falling–I think: Okay! I'll pick enough just for jam. I think about lemon balm and rose, and all sorts of lovely variations that will take to the blackberry. In my head I assess the jar supply–7 or 8 jars are ready, enough for one, perfect batch. I dream about the jars I'll bring to my friend in return for her gracious berry sharing, the brilliant combinations! Then, there is the thorny tangle that once were paths, the thunder rumbling in the distance, and my goal becomes a few quarts–enough for the kind of pie that will improve my marriage (if you know Joey, you know what I mean). Then, the acrobatics. Over and under and through the bramble, burs from some plant amidst the berries sticking to every fiber on me. And then, there I am, stuck, barely holding on to my half-filled quart box. And I have to adjust, to admit that really, my goal is to get out of there with minimal injury, without any visible blood beyond the subtle and numerous scratches I've already acquired. My goal is to disentangle.
But instead, I reach for the berries. My one arm is the only one I can move, and the few inches I can extend it further, making space in my shoulder, are enough. I get one berry, and there are thorns even in the stem–little ones that work their way into my finger.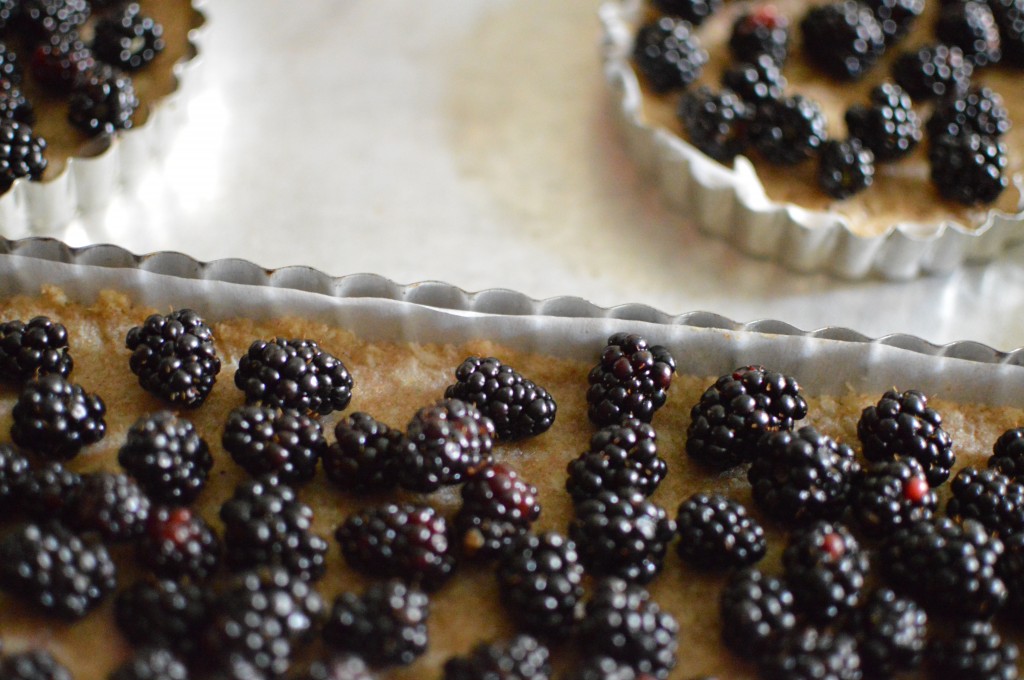 A year or two ago, we had friends over–a dad and his three girls, and at one point, the littlest, then maybe two years old, took off running across our little yard while all the bigger girls played. She crossed over the thorny bittersweet cushioned barrier between our yard and the big hay field that borders it, and Joey and the little girl's dad, sitting with their beers on the porch, watched her go. They thought it was adorable, that she'd just keep running. But then she ran faster, and she got smaller, and all they could see were her little boots and her hair in the wind. There are no roads that way, nothing really to be afraid of, but they both put down their beers and started to run. By the time they got to her, she was halfway to New York State, and the only thing that had stopped her was a thick hedge of brambles. When Joey tells this story, he says that she was nearly suspended in those brambles, unhurt, but totally stuck. The two dads had to pull each sticky thorn away from her–slowly releasing her from the thicket.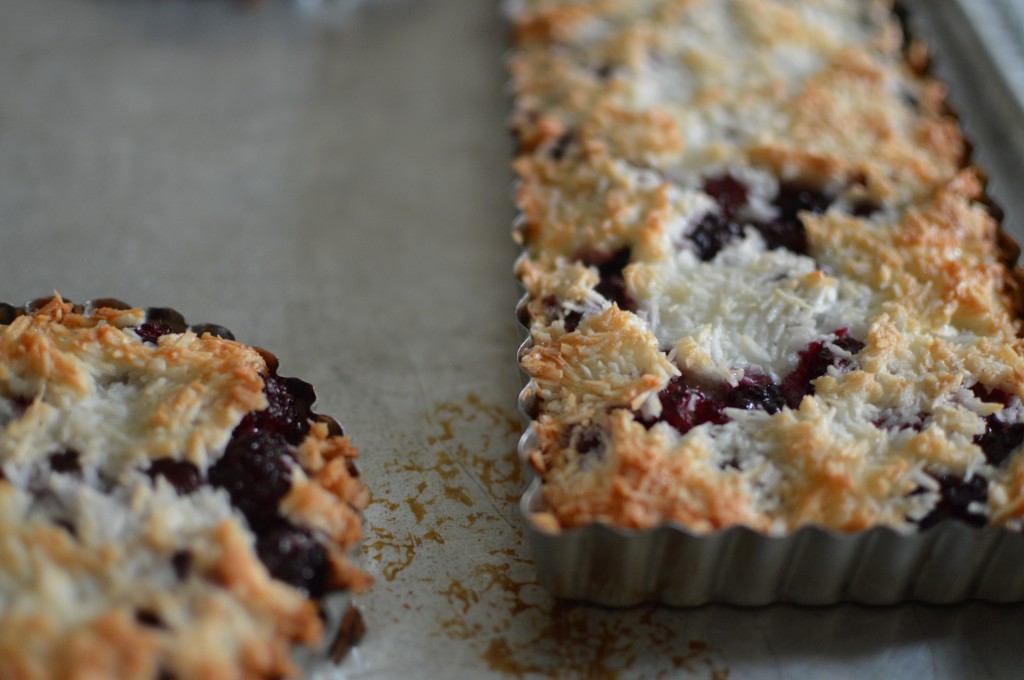 I am not often stuck in a thicket so dramatically, but there, in the blackberries, I thought of little Tillie, and the two dads carefully unplucking her from the bush. I wished that someone we there to disentangle me, and to pull the burrs from my hair and to carry me home. There would be no jam, no pie, no berries for the freezer. There would just be me, wet and berry-scathed, with my little box, unfilled.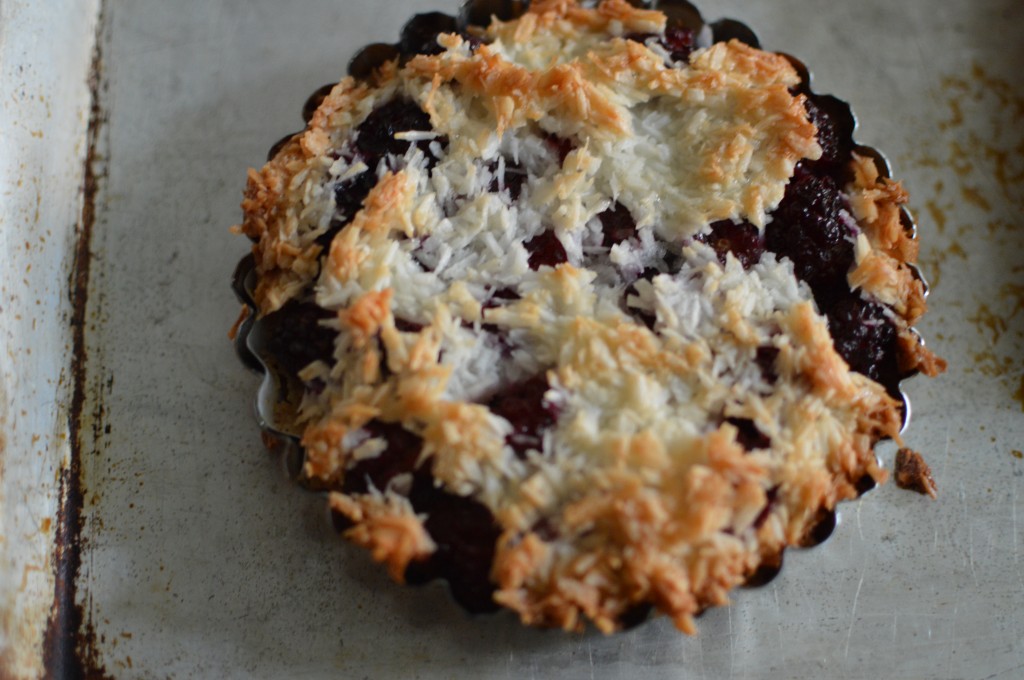 It is always the thought of the making that makes me want to pick more fruit. I pick apples with the dream of pie, strawberries with the taste of ice cream in my mouth. If I could have reached my hand to my lips there in the blackberry thicket, I would have tasted a berry to lift my spirits. But, stuck, a recipe came into my head–the page of a cookbook that I had looked at in the winter when blackberries only existed for 6 bucks a moldy pint in the grocery store. Heidi's blackberry macaroon tart, with its easy press-in crust and even easier filling. The contents of my box would, I thought, probably be just enough for that tart. And so, made strong by the goal of something real and delicious, I undid myself from those thorns, one by one. I am, after all, a grown up, and although I'm good at getting myself into some exquisite tangles, I'm pretty good at freeing myself from them too. (Especially if there is a dessert in it for me.)
This tart is a winner on so many counts. Easy, beautiful, and especially good for coconut lovers (which I am). It was great out of the oven, but even better when Joey and I stumbled into the kitchen the next morning and ate the last piece as we waited for the coffee water to boil. Keep it in a closed container, and save a piece to eat for breakfast. Heidi makes this in an 8×11-inch tart pan, but I used my long rectangular pan and two smaller mini-tart pans. She also adds pistachios after the tart bakes, which I left off because I didn't have them in the pantry. I think that roasted sliced almonds would also be great here.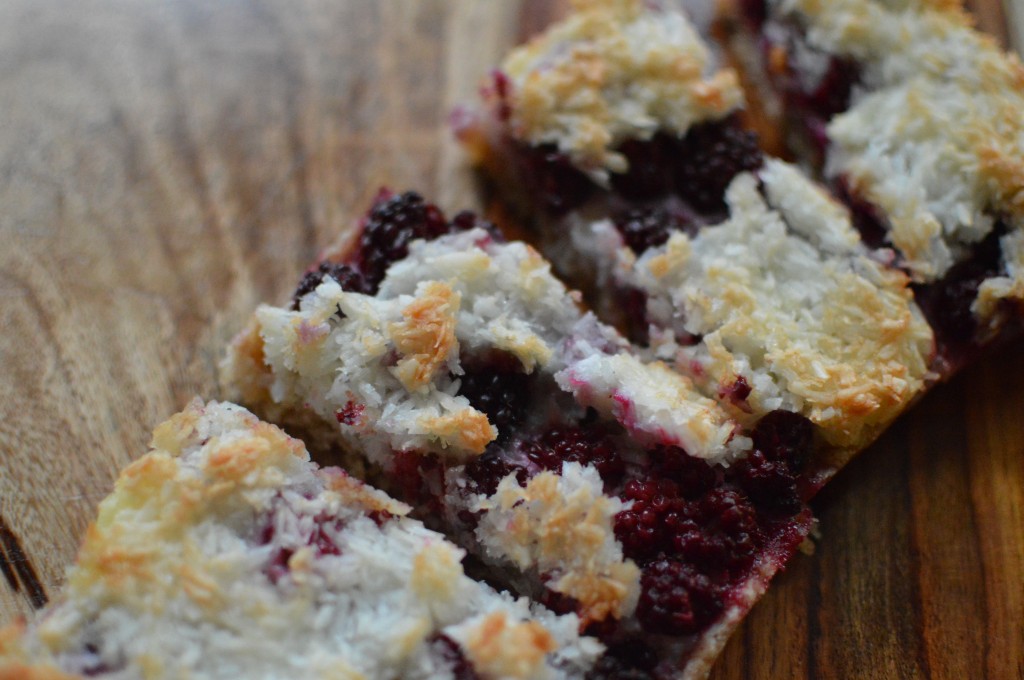 Blackberry Macaroon Tart
adapted from Heidi Swanson, Super Natural Every Day (We all have this book, right? Because this is one of those books, EVEN IF you're not a cookbook person, even if you have TOO MANY cookbooks, still–this is one of those books your should have)
For the crust:

1 1/2 cups spelt flour

3/4 cup unsweetened finely shredded coconut

scant 3/4 cup granulated sugar

1/2 teaspoon sea salt

10 tablespoons unsalted butter, melted

For the filling:

2 cups unsweetened finely shredded coconut

scant 1/2 cup granulated sugar

4 large egg whites

10-12 ounces fresh blackberries
1. Preheat the oven to 350 degrees with a rack in the center of the oven. Butter your tart pan (or pans–you've got somewhere between 85 and 95 square inches of tart here, so that could be an 8×11-inch pan or anything comparable. I used a 13.75×4.25-inch pan and 2 4.75 inch rounds) and line it with parchment.
2. Make the crust: combine the flour, coconut, sugar, and salt. Stir in the melted butter until you have a wet, crumbly dough. Press the mixture into the bottom of the tart pan(s), just on the bottom, and not up the sides of the pan. Put the tart pan on a baking sheet and bake for about 15 minutes, or until just starting to brown. Remove from the oven and set aside. Keep the oven on.
3. Meanwhile, make the filling: combine the coconut, sugar, and egg whites. Stir until combined.
4. Lay the blackberries evenly around the baked tart crust. Using your hands, drop bits of the filling on and around the blackberries, making sure that the filling goes all the way to the edges of the pan. Make sure that some of the berries poke through so that you get the loveliness of the berries in the final presentation. Bake for 25 to 30 minutes, until the filling is golden. Let cool before removing the tart from the pan.