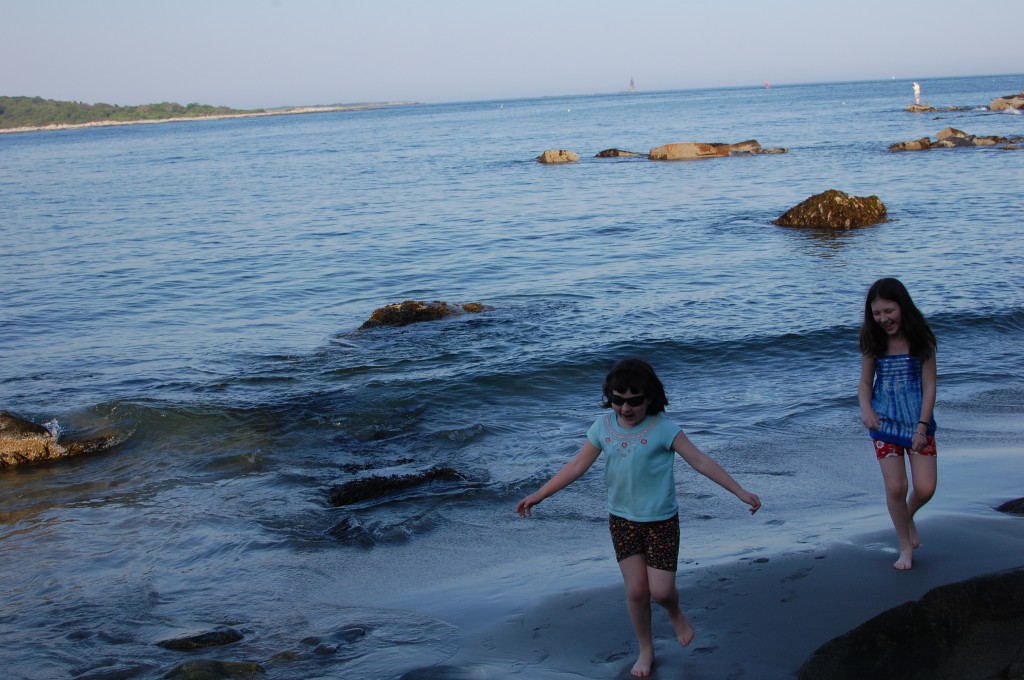 When I was a kid, I used to order vacation pamphlets over the phone. I doubt they even make those anymore now that we have the mighty internet, but they were like little magazines for cruises and vacation spots. There were pictures and descriptions and they'd lay out pricing for the cheap packages and the more expensive high end vacations. I had a huge stack of them, and I'd come home from school, surround myself with booklets about Disney world or some Caribbean island on the table, and then I'd plan a vacation for my mom and I.
It seemed like everyone else had some place they went to, some glorious beach house or island they returned to every year. I wanted vacations like everyone else seemed to have.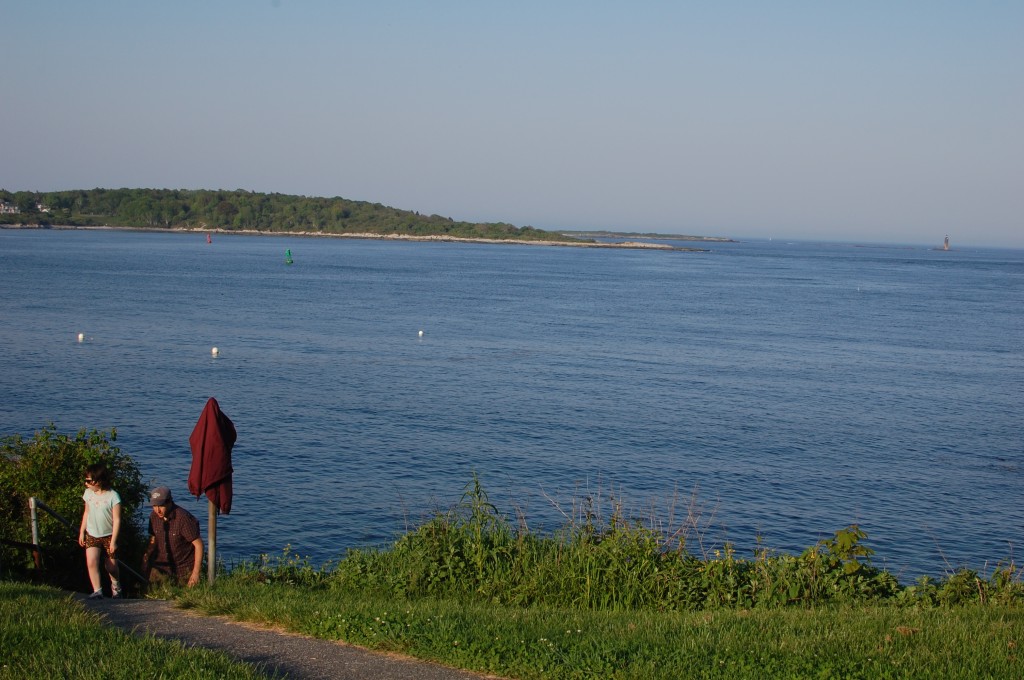 This is us, this past weekend, in Portland, Maine. We were just on our way out of town, but we stopped at this little beach in South Portland so we could stick our feet in the ocean before heading home. The girls made their way down the stairs to the rocks, and then it hit me. I thought of all the times we had been to that beach, sometimes to sit and watch the cold wind ripple the winter water, other times to dunk all the way in for relief from a heat wave. And then I realized–this is where we come. Portland is our vacation spot.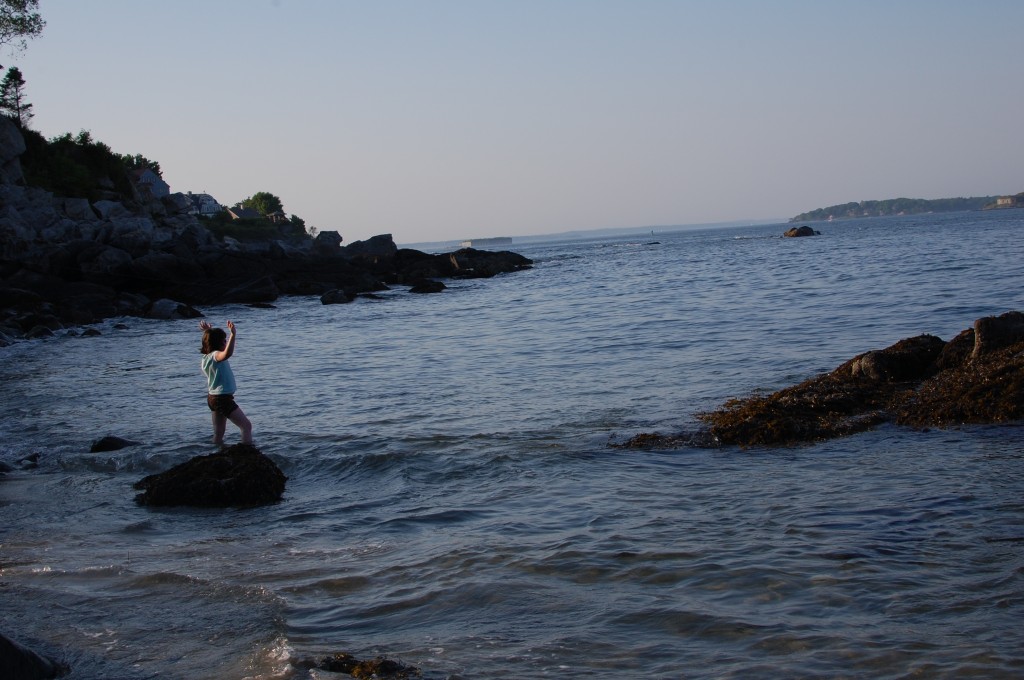 I think that like so many other aspects of grownup-ness, the reality surprises me. I thought we would take sunny and faraway island vacations with our kids. I thought I would have a big job where a wristwatch was really important. But here we are, popping the girls in the car and driving to Maine. Over and over again. It's family budget travel at its finest. And you know what? They like it. And so do I.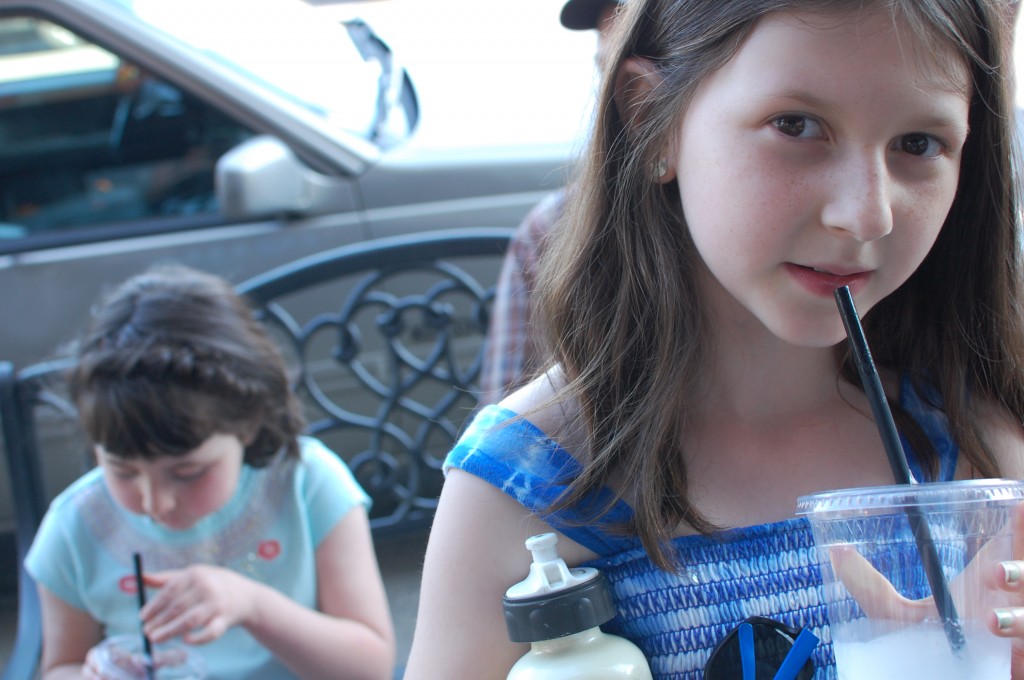 My very oldest friend, Sarah, lives in Portland with her sweetie, Jefferson. Sarah is the one who brought us to Maine that very first time 5 years ago when she was living on Peaks Island. She and Jefferson have lived in all sorts of apartments since then, but wherever they are, they always make room for us to visit. At first we'd go up once or twice a year, and now it's more like every few months. We crave the milkshakes at Duckfat and the sand between our toes. We love the city and everything around it. And whereas I might not have called it a vacation when I was 8 years old and clutching a pamphlet on Bermuda, I now know that it is absolutely just that. Sometimes a vacation is as simple as a good friend in a faraway place who is willing to share their bathroom with a family of four. And for years now, every single morning started in Maine, the girls wake up Jefferson and they go out for a walk in any kind of weather. An hour later, they come in, happy, maybe wet or snowy or muddy, just as Joey and I are waking up in the living room. It's not a vacation for the girls unless they get their walks with Jefferson. You can't get that in Bermuda.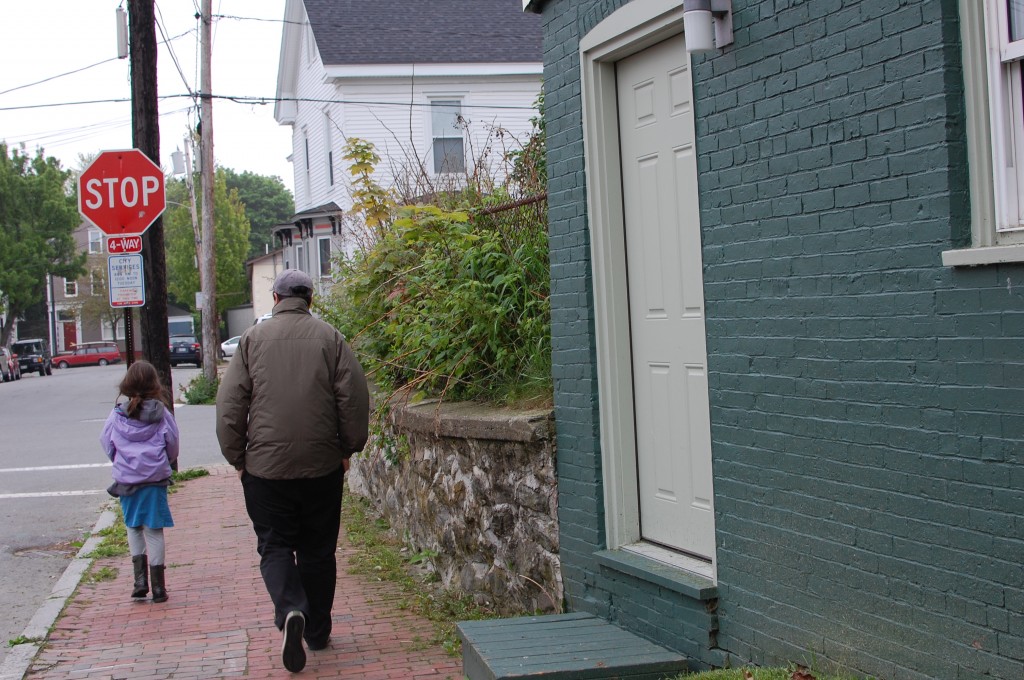 This was officially a little book trip (thank you Longfellow Books, and Phyllis who made pound cake with her homemade yogurt, and woman who showed up with her copy of the book stained and all filled with post-it notes–my book! filled with post-it notes!), but it was a vacation through and through. And as I find myself more often making recommendations to people who are heading up to Portland, I thought I might gather a few of them here.
Food:
Novare Res Bier Cafe (also lovingly referred to as the beer garden): Amazing beer at sunny picnic tables right in the center of the city, and really one of the best lunches I've had in Portland. Family friendly, too.
Duckfat: 7 dollar milk shakes for which we scrimp and save, if only to share two between the four of us. Poutine, in duck fat.
Schulte and Herr: This is a new little place that just opened on Cumberland Ave. Really homey, with good spaetzle and a dense seedy rye bread I've been dreaming about ever since.
Caiolas: Oh, Caiolas, Caiolas, Caiolas.
Ohno Cafe: A little cave in the West End that make superb, inexpensive breakfast sandwiches.
Micucci's: Thick, sweet, Sicilian pizza. And really large jars of olives when you need them. (And don't you always need a really large jar of olives?)
Baked Goods and Markets:
Standard Baking Company: I know I don't have to tell you this. But it's that good. EVERYTHING is good, but my personal secret favorite is their bag of homemade English muffins.
Scratch Baking Company: You have to venture to South Portland for this one, but the bagels! And again with the breakfast sandwiches!
Aurora provisions: the girls' favorite, and I think the best coffee in town.
The Rosemont Market and Bakery: Like Portland's own Bi-Rite market, only affordable, and even littler. This time was filled with fiddleheads and fingerlings.
Other, food and not food:
Le Roux: A kitchen store for the dreamers. Big, filled with beautiful, useful, affordable things. And there's a really good bathroom there.
Mackworth Island: fairy houses. (Remember those?)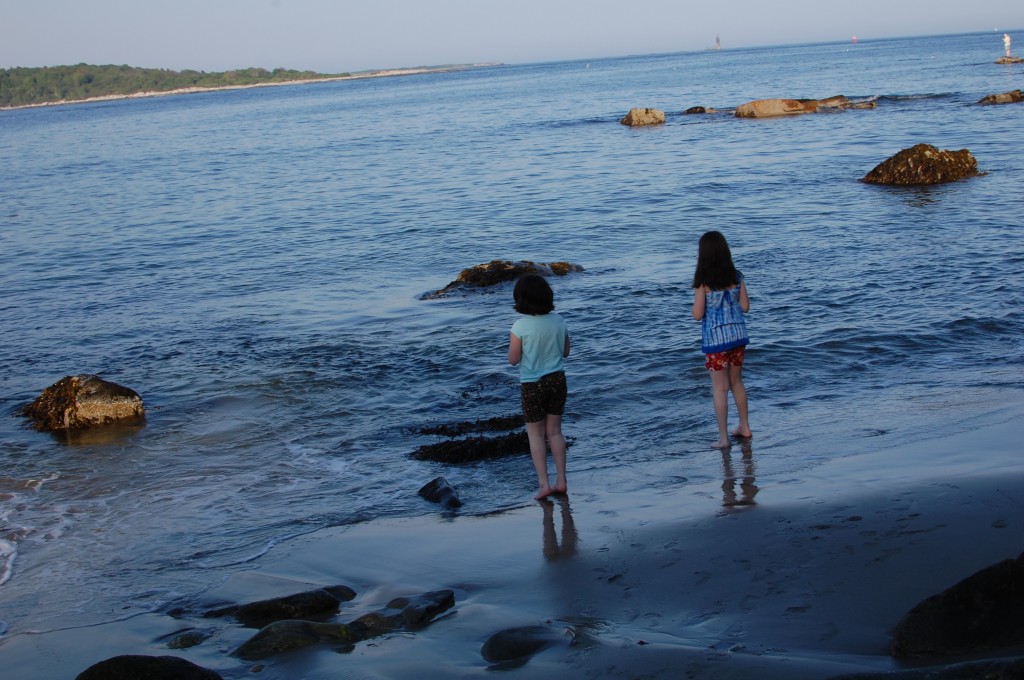 I could go on and on, I think, but if you have something to add to the list, please do!
Thank you, Portland, and to Sarah and Jefferson for making their living room our official vacation house, and to the ocean and to Longfellow Books and the milkshakes and the hibiscus beer from Montreal. We'll be back. Soon, soon.