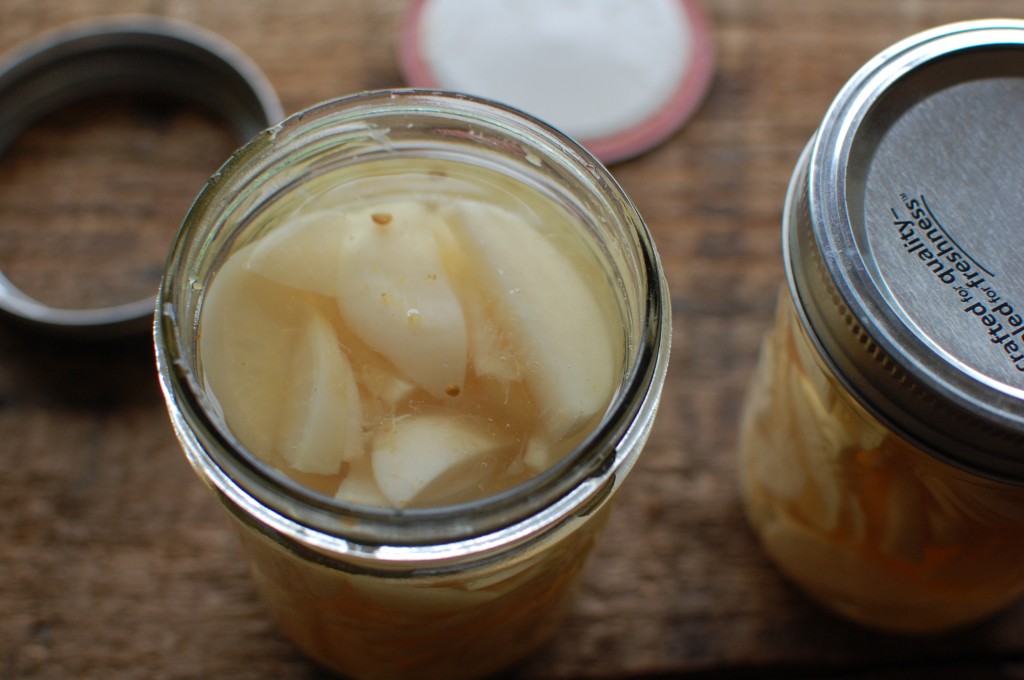 Sometimes, a pickle can make all the difference.
I'm not talking about cucumber pickles that you eat on their own, or as a spear alongside a sandwich. I'm talking about that which I seem to have started to call "pickle" as if it were just another taste on the plate.
I'm not sure when this term came into my vocabulary. But a while back, I was having lunch with a friend of mine. We were at a new place that was playing around with its menu, and they had a special they were excited about that day. I rarely go out to eat, and so each ordering experience is always a process, usually ending with whatever the waitress or the person at the counter is planning on eating for lunch after their shift. So I ended up with the special, which was, unfortunately, uninspired. I've since eaten there again with much more luck, so I think it was just a blip, but when my bowl was taken away and the waitress, said, "how was it, really?" seeming to actually want to know want to know what I thought, my first response as to how the big bowl of bacon-y broth and meat could have been improved was "It needs some pickle."
"A pickle?" she asked.
"No! Some pickle. Something acidic and crunchy to balance it all out."
Now I admit here that I might be coming late to this whole idea of pickle. Balance on a plate is something most chefs seem to know, and every country have some national pickle or other that just goes with everything. Some of these pickles are lacto-fermented and some are made in vinegar, but either way, I think it's the pickle that makes all the difference. Whether it's a chutney (often vinegar-based, so–pickle) or a sauerkraut or some thinly sliced bit of pickled vegetable or preserved citrus, a bit of tart and sour on the plate often makes the meal easier to digest and, most importantly, more pleasurable to ingest.
Again, late to the party I know, but when it finally hit me that it was that pickle that made everything so delicious, it was a bit of a revelation to me.
And so the foods that I decided to preserve started to reflect more what I wanted to see on my plate, later, deep in the winter when that pickle would be the fresh and alive food in the midst of the dark days. On came the chutneys and the sauerkraut. And when the summer brought more than we could eat, I started pickling more than just the cucumber.
Last year, the pickled baby squash (inspired, of course, by Marissa) brought many meals up to a whole new level. Remember that sisig?
Today, we will pickle the white Spring turnip–maybe my favorite vegetable there is.
Weeks ago, a book showed up on my doorstep. Every so often this happens, and it always feels like my birthday. Somehow I ended up on a list over at 10 Speed Press (I think, perhaps, in the days of Joe Beef), and it seems that there is someone there who knows me well, who picks up a book here and there and says, "Well I'd bet Alana is looking wistfully at this book, waiting for it as it moves through the numerous people who have it on hold at the library." Whoever you are, thank you. You pick right, always.
This is The Preservation Kitchen.
This book is for creative preservers. It's beautiful, and one of those books that makes you want to grow everything, just to be able to put it into a jar. It's not a basic how-to, although you'll find a bit of that in there, too. The book is half preservation recipes and half meals that employ those products once they've made their way into your pantry. The recipes themselves are inspiring, but really it's the fact that it shows a path to using what's in those jars that I love.
And really, the book is filled with those little things in jars that will create the most astounding pantry in your kitchen–the kind of pantry that will enable you to create all sorts of quick dinner masterpieces, even if you're looking at an un-stocked fridge and a jar of rice.
Take these lemon-pickled turnips, for starters. Remember that we're talking about white turnips here. These are not thick, heavy-ankled, store-through-the-winter turnips. These are delicate, erotic even, caramelize to make like candy turnips. Their greens are sweet and mustardy, and just as wonderful as the turnips themselves. There not usually available in supermarkets, but most farmers' markets have them in the Spring and Fall in these parts, and I spend a great many hours at markets convincing people to try them.
I've never pickled the turnips, mostly because I eat them all raw or caramelized or souped before I think to have any left over. And if I only had one bunch of turnips this season, I would do one of those three things. But if I had more (and lucky me, I do!) then I'd squirrel them away in pint jars so that I could serve them later alongside meat or thrown into a good chilled grain salad (I'm thinking prosciutto and herbs?). The Preservation Kitchen tells me that I can use them to make "lemon-pickled turnips with baby leeks and picked herbs," a recipe that starts off an early spring dream meal. Yesterday, I put them on a sandwich (turkey, greens, mustard, goat cheese on sourdough) and that was just about the pinnacle of a sandwich right there. Oh, man.
So here it is, another beautiful book to put on your list, and a pickle to make your lunch taste better.
(Before we get to the recipe, I just wanted to tell you a bit a book news. If you're in the Berkshires or nearby, I'm going to be giving a talk on how to get kids into the kitchen at the Sheffield Library at 6:30 this coming Friday night. And next week, I'm coming to Portland, Maine! I'll be signing at Longfellow Books on Thursday night at 7, and then it looks like we might be getting a cheese class together on Saturday morning while I'm in town. Let me know if you're interested, and then we'll make cheese!)
And now, turnips.
Lemon-Pickled Turnips
from Paul Virant with Kate Leahy, The Preservation Kitchen: The Craft of Making and Cooking with Pickles, Preserves, and Aigre-doux
2 1/2 pounds (8 cups sliced) white turnips (greens removed before weighing)
1 tablespoon plus 1/2 teaspoon kosher salt
3 medium lemons, zested and juiced
3 1/4 cups water
1 3/4 cups champagne vinegar
1/2 cup plus 1 teaspoon sugar
4 teaspoons coriander seeds
1. Trim the turnips of tops and roots. Halve each turnip, and then cut it into 1/4-inch thick slices. Combine the turnips and salt in a large colander rub the salt all over the turnips with your hands. Allow to drain for 1 hour.
2. Start your canning pot over high heat to bring the water to a boil. Combine the lemon zest and juice, water, vinegar, and sugar in a medium saucepan. In a dry skillet over medium heat, toast the coriander seeds until fragrant. Crush the coriander in a mortar and pestle (or with the flat edge of a knife against a cutting board), and add it to the pot.
3. Sterilize 5 pint jars (preferable wide-mouthed) in your canning pot for 15 minutes (or in a very hot dishwasher). Soak the lids and bands of the jars in very hot water. Right before filling, take the jars out of the pot and put them on the counter. Pack each jar with turnips, filling it up about 3/4 of the way.
4. Bring the vinegar mixture to a boil. Transfer to a heat-proof pitcher or measuring cup and pour over the turnips, leaving about 3/4 of an inch of space from the top. Wipe the rims with a clean towel. Using clean tongs or a lid lifter, place a lid on each jar. Add the band, and screw until it's "snug but not tight." (I like this! I think every canner has a different way of saying this, and I think this is a good one.)
5. Place the jars in the canning rack in the pot. Make sure there is at least 1 inch of water covering the top of the jars. Cover the pot, bring it back up to a boil, and process the jars for 15 minutes. Turn off the heat and let the jars sit for a few minutes. Remove the jars from the water and let cool.