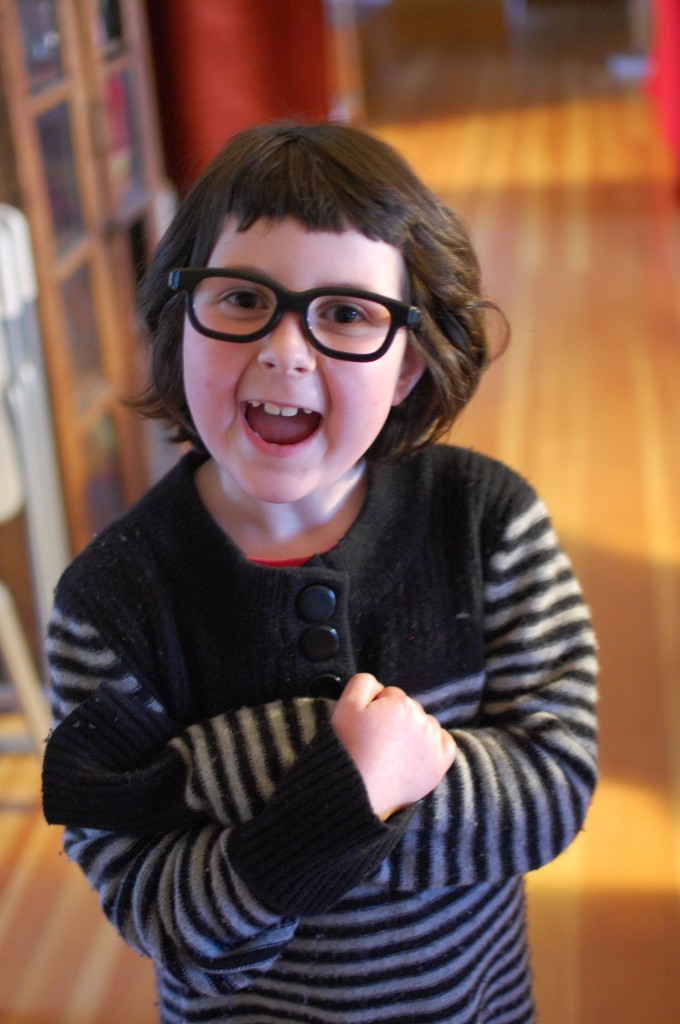 About that haircut.
She wanted bangs, and I said no, because she would just want to grow them out, so Rosie took matters into her own hands. Miraculously, this has happened only once before in our household. This time, it was subtle, just a stubborn little spike sticking out near her left temple, and when I said, "Rosie, did you cut your hair?" she said no. I couldn't stop myself from laughing, and then Sadie just fell out of her chair not even trying to stop herself. I marched Rosie back to the bathroom, and without even taking the time to search for the scissors that were once reserved only for hair, I cut those bangs straight across. I was trying to match the chunk she had cut, and, using kid's craft scissors, not doing a very good job. And there was Sadie in the doorway, still laughing almost so hard as to prevent her words, telling me what a bad job I was doing, and that the bangs were so crooked.
"Well, she shouldn't have cut her own hair anyway." And there I am, still laughing, trying to be stern and mad. "That's what you get. Crooked bangs."
And then she goes and looks like Amelie. Or, when she puts on her glasses out of which she knocked out the 3-D lenses after a friend took her to see The Lorax, she looks quite a bit like our friend very lovely friend, Huck, who makes crocheted monster masks. Or like the boxcar child/ Brooklyner that we were talking about earlier this week. Perhaps she knows where the ramps are. She did find that miraculous crop of morels last year, now that I think of it.
On to our weekend reading, yes? I've got a few links and such I've been gathering over the week, and if, IF you need a bit of glazed eye time this weekend, this should get you started.
Feeling very inspired by this book. I can hardly wait till the white turnips are here so I can pickle them with lemon.
Although I've had a few failed homemade matzo attempts this week, I'm still game to give another a go. Trying Hannah's next.
Realistic, optimistic (although I might be in the minority for thinking so, but I do!), so beautifully written on writing.
Passover is almost over, but we can always preserve it.
Thank you, hooray, and amen.
Enchanted by the deep red of this one. Going in search of a plant of my own.
One more reason to move to Seattle.
Dreaming of Andrea and her most beautiful lunch.
I'm not the craftiest, but I'm thinking about making one of these this weekend. The girls are both a bit better with a needle and thread than I, so I will enlist help from them.
The travel bug has hit, so, in place of falling prey, reading this again. (Make sure you have good olive oil in the house before you start the book. You'll need it.)
This one is on my dinner plan for the weekend.
Also, I'll be at the From Scratch Club food swap this weekend in Troy, NY! Tickets for the swap are gone, but there are a few more "book event only" tickets (free!) if you want to come and say hello and see what the swap is about. I'll be signing books, and giving a little talk, too.
Happy weekend, friends. Hope it's filled with soil, wine, dinner, walks, and whatever else you crave.