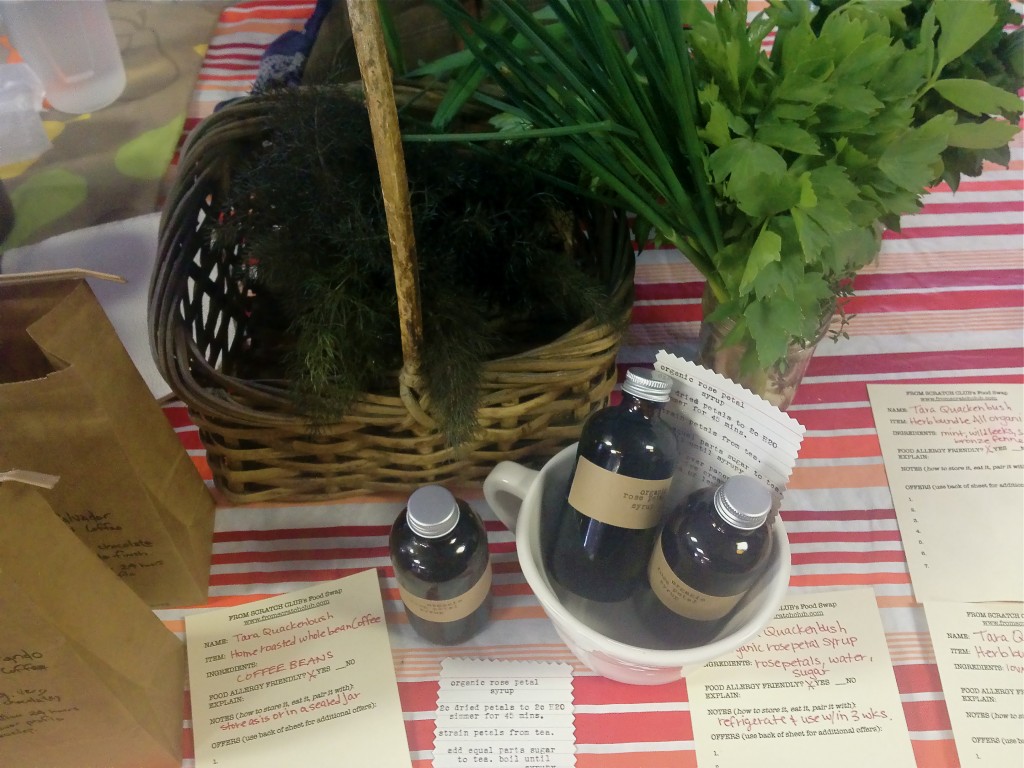 Yesterday, Joey and I hopped in the car, crossed the state line, and made our way to Troy, NY for the From Scratch Club food swap. The FSC had invited me to give a little talk and to sign books during the food swap, but I had an ulterior motive. I had read about their twice-a-month food swaps, and I wanted to see one in action.
This is how it works: free swapping tickets are available through the From Scratch Club site online. Anything made by you can be swapped, as long as it meets the few simple rules set out by the club. Swappers set up their goods, and they fill out a card with ingredients, suggested uses, and their name. The first hour or so of the swap is people arriving with baskets and bags, setting them up, saying hello to each other, and scoping out what other swappers have to offer. Then, when the swap really gets underway, people write their names on the cards of the things they're hoping to take home, along with the things they have brought to swap. For example, I had a few bags of granola on my section, and people who were interested my granola wrote their names on the card. When I came back from writing my name on the things I wanted, I got to look through the names to see if anyone who had something I wanted wanted something of mine. That list becomes the starting point, and then the swapping begins.
This is what I walked in with: 2 bags of granola, 2 jars of peach cinnamon butter, 1 jar of pear apple spice butter, 1 jar of blackberry jam, and 1 jar of gooseberry elderflower jam.
This is what I walked out with: 1 jar of marinated peppers, 1 loaf of orange brioche bread, 1 container of hummus, homemade laundry detergent and fabric softener, 1 jar of ketchup, 1 tub of luscious blood orange body cream, and a jar of some Pakistani sweet which I am determined to reproduce so that I can share it with you this week.
What really blew my mind was the high quality and the scope of  homemade products there. Some of the things that I didn't go home with (but would have been very happy to) were: mustard, potato chips, seeds, focaccia bread, hot sauce, eggs, olives, chocolate cream cheese, yogurt, granola bars, soap, beef jerky, chocolate jalepeno stout, chimichurri sauce, mayonnaise, goat cheese, herbs, plant starts, and rose syrup. I could go on, because with 50 swappers, there was a variety of goodies that would make anyone happy.
I want to also stress how much this whole system worked. That was really why I wanted to see it so badly–I was curious, but I also couldn't imagine how to set one of these up so that it would work. But the ladies of the From Scratch Club have figured it out. The level of quality of the food and products was so high, people went home with the food they wanted, and they had a good time in the process. Even more, it's impossible not to feel inspired by the event itself. So many people in one room feeling good about what they had made and inspired by the creations of everyone around them? It was a muggy rainy day, but I swear that light was shining out of the windows of the church basement in Troy.
I'm definitely going back, and I'm already thinking about what I'll bring to swap. The From Scratch Club hosts swaps in both Troy and Saratoga every month. If you live anywhere within a happy driving range of those cities, go check out one of the swaps. It's a great way to spend a Sunday afternoon, and you'll go home, inspired, with a trunk full of goodies.