Today, I have something for you!
I've heard a rumor that there are "books in the warehouse". That phrase has been thrown around a lot lately, in emails and phone calls with my publisher, as in "we expect books in the warehouse any day!" I imagine a big industrial building down by the water in New York filled with the hopes and dreams of new authors. Men in sweatshirts with cigarettes hanging out of their mouths carrying cases of books on old rusty dollies. A corner of the warehouse with a little stack of boxes all marked The Homemade Pantry, or odder yet, Chernila. It's all like some movie from the fifties, and there are my books, real, hanging out in the corner of the dingy warehouse scene like a shy party guest. I am thinking of those boxes filled with books, ready to make their journey to little bookstores and big bookstores, to places I've never been. There's so much of me there, I think I might be able to say that I've been to all fifty states after this, even if it's just my book on kitchen counters in the states I've never seen. Iowa, South Dakota, Hawaii. I love it.
Although the books won't actually be on shelves until the beginning of April, the folks over at Clarkson Potter know how impatient I am to share it with you. So over the next few weeks, I get to give a few copies away. Now! Before anyone else gets them.
But there's more! Stephanie Huntwork, who designed the book, has sent me a few color spreads from the book so that I can give you a sneak peek. Ready?
I give you… POTATO CHIPS! (otherwise known as pages 66 and 67, or "scrabble and beer")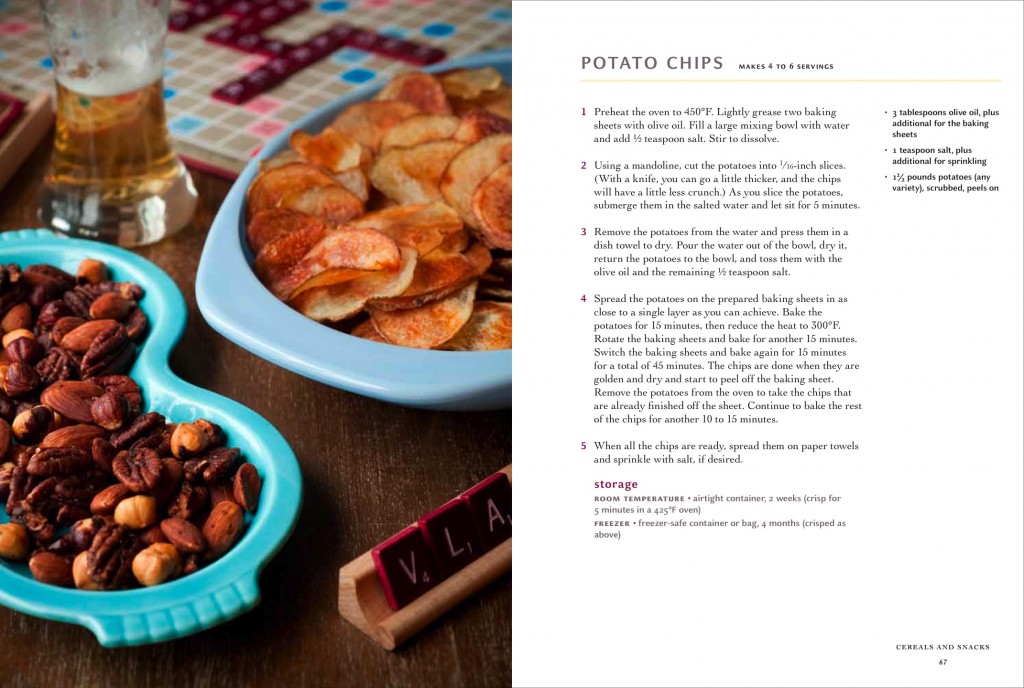 There's a headnote too, but that's page 65. It's about our strange experiences growing potatoes. But this is the important part, that is, how to make really good potato chips at home.
I'll give you the recipe here so you don't have to super zoom in on your screen when the passionate urge to make potato chips at home strikes between now and the release date. But first, let's talk about the giveaway.
For me, this whole project came about when it first occurred to me that I could make something I never thought I could,  In my case, that first food was yogurt. There were all those instant exclamations that I found myself saying when I made my first batch of yogurt, all those phrases that are now in press releases for the book or in promotional videos. It was easy. It was delicious. It was fresh. It was cheap. It was good for me. It stopped the constant flow of little plastic containers to my trash can.  All that is true, and they are all good reasons to make food at home.
But you know what really did it for me?  The yogurt was mine. Something that had always come from the grocery store now came from my kitchen. It made me feel capable, and powerful, and able to create anything I wanted. And since then, people have told me about all sorts of things that they now make instead of buy. Over and over, I hear about that same experience, the "I wonder if I could make this?" to "Oh, man, I made this!" And every time, that first food is usually a gateway to others, and before you know it, there are more foods coming out of the kitchen.
Today, I'd love it if you tell us about a food that you stopped buying and started making. Just tell us the food, or tell us the story of how it came about. Feel free to add a recipe or to link to one if you have a blog. I can't wait to read your responses to this, and to try some of your recipes! I'll close the comments open until Monday, March 12 at 11:59pm EST. Then I'll chose a random winner, and the book will come to you next week. Yeah!
Without further ado, I give you…
Potato Chips
from The Homemade Pantry
3 tablespoons olive oil, plus additional for the baking sheets
1 teaspoon salt, plus additional for sprinkling
1 1/2 pounds potatoes (any variety), scrubbed, peels on
1. Preheat the oven to 450 degrees. Lightly grease two baking sheets with olive oil. Fill a large mixing bowl with water and add 1/2 teaspoon salt. Stir to dissolve.
2. Using a mandoline, cut the potatoes into 1/16-inch slices. (With a knife, you can go a little thicker, and the chips will have a little less crunch.) As you slice the potatoes, submerge them in the salted water and let sit for 5 minutes.
3. Remove the potatoes from the water and press them in a dish towel to dry. Pour the water out of the bowl, dry it, return the potatoes to the bowl, and toss them with the olive oil and the remaining 1/2 teaspoon salt.
4. Spread the potatoes in the prepared baking sheets in as close to a single layer as you can achieve. Bake the potatoes for 15 minutes, then reduce the heat to 300 degrees. Rotate the baking sheets and bake for another 15 minutes. Switch the baking sheets and bake again for 15 minutes for a total of 45 minutes. The chips are done when they are golden and dry and start to peel off the baking sheet. Remove the potatoes from the oven to take the chips that are already finished off the sheet. Continue to bake the rest of the chips for another 10 to 15 minutes.
5. When all the chips are ready, spread them on paper towels and sprinkle with salt, if desired.