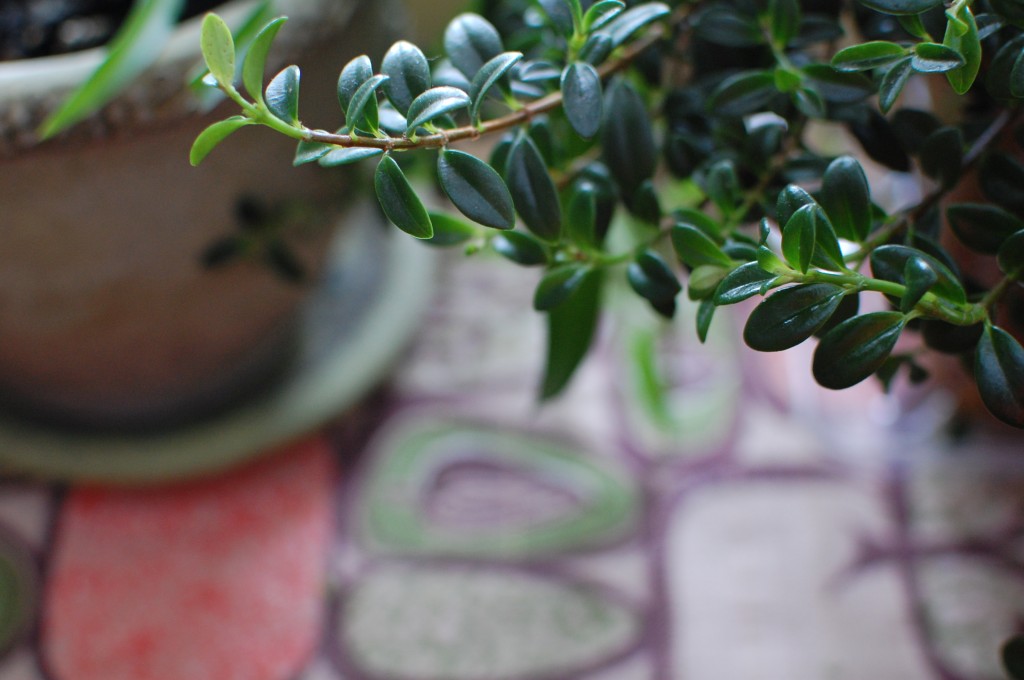 Every morning goes pretty much the same.
Joey's up before 6. I hear the shower. I turn over and have another dream. He comes back and reminds me that it is time for the day to begin. And as soon as I am about to will myself up, Rosie runs in. Hair in a mop over her face, nightgown still on, she propels herself into Joey's rumbled side of the bed. "We have to get up!" I say, just like I did yesterday. But she's already curled herself into a ball, and she's pressed her nose up against mine.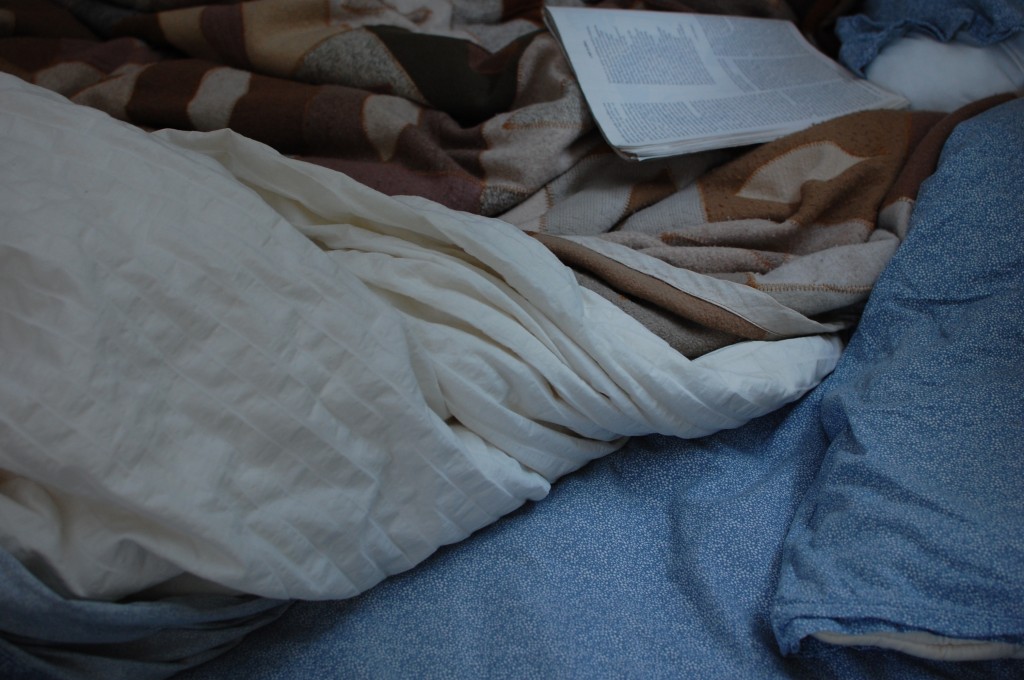 Not a bad way to start the day, really. But then we're up, and Sadie has lost herself in outfit planning and Rosie is in the corner singing lullabies to the cat, and before we know it, they all have to be out of the house in five minutes for Joey to make it to work on time. (His work is their school, and vice versa). I'm throwing food into lunch boxes and pushing away anyone who might be in my path. Somewhere along the way I make a cup of  tea, and I curse (again) my decision to take a break from coffee. Inevitably breakfast is toast in a bowl for the car, and the girls go into the bathroom and make faces at the mirror. They come out together, tell me they've brushed their teeth, and I don't entirely believe them. Coats on, hats on, Sadie sprints through the house (I need my booooook!!), back again,  and I finally get them out of the door. I leave the mess in the kitchen, and then I come back to my room and sit here.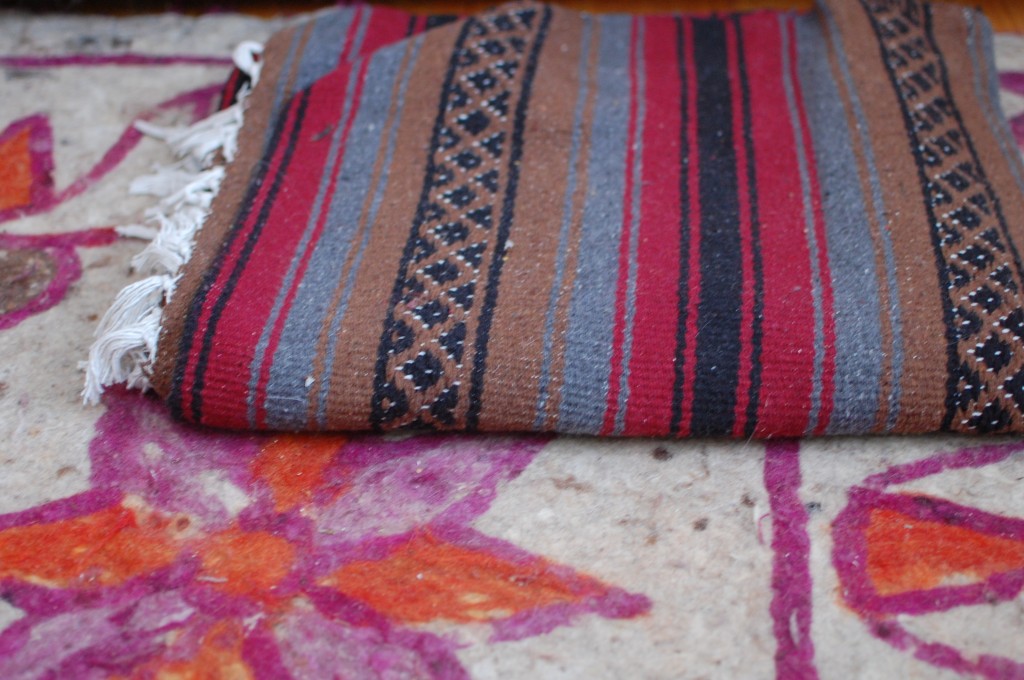 This is just a folded blanket on a rug. But the blanket is from my friends' wedding, and so it is packed with love and luck and all of those good things that infuse a place where two wonderful people make that leap. And the rug? Molly brought this rug back from Afghanistan for me. It filled an entire suitcase, and upon one of her returns she unrolled it in our living room. I have a friend who loves me enough to carry a rug across the world for me, and that means a lot. It is hand-felted, thin, and already worn from our life.
This, in this messy morning house and brief quiet, is where I sit and watch my breath.
I find that I don't actually talk about meditation all that much. It seems like something more to do than to talk about doing. But meditation has come up in conversation more lately, friends of mine wanting to learn how to meditate. And I think that, like cooking, it can be one of those practices from which we shy away because we don't want to do it unless we'll be really good at it.
When I was sixteen, I went to a meditation center for three days for a silent retreat for an independent school project. Over the next several years (until I had children) I returned to the center once a year for a ten day silent retreat to study a kind of meditation called Vipassana. I was a teenager recovering from a hippy communal sort of upbringing, and so  although meditation and chanting and and all of that new agey-ness made me feel comfortable in that way of qualities from childhood, it also made me cringe. I was drawn to Vipassana because there were no gurus, no religion involved, no mantras or beads. There was just breath, and although I would have had trouble summoning the energy for faith or ceremony at that point, I knew I had breath already.
In the last few years, I have taught my girls to meditate, and sometimes we sit together before bed for a few minutes, legs crossed, eyes closed. They are so good at this little bit of practice, I think because they have no expectations of how they should be.
This is how we practice, using some of the first steps of Vipassana training. I've shared this beginning with friends too, and I think it can be a bit liberating to know that meditation can be so simple. It's enough.
We sit. It helps to have a straight and unsupported back, but a chair is okay too if you need it. We cross our legs and close our eyes and we bow, just to know that we've started our practice. Then, we bring our focus to that little place just below our noses, the portion of the upper lip that divots in. We focus on that spot with our minds, just putting all our attention into feeling what it feels like right there. Usually, the first sensation is the breath, the regular exhale, as it passes over the little hairs of the upper lip. We don't change our breaths or count them, we just let the breath be what it is as it passes over the upper lip. Sometimes that spot feels warm too, or tingly. But mostly we just focus on the breath.
Usually, my mind stays there for a second or two. I find the sensation, and I think, "Look at me! I'm such a good meditator. I'm so focused on that spot. And I've taught my kids how to meditate! I'm so proud of myself. Shit. I forgot it was bath night, and now they're already in their pajamas. And what are they having for lunch tomorrow? I can't wait to get them into bed so I can watch Battlestar Galactica…."
You get the idea. And then I bring my mind back, and I start again. We sit like that together for a few minutes, and then I say something quietly to let the girls we're done, and then we bow together to end the practice.
In the morning I sit for 15 minutes or so. My mind wanders and I bring it back. Wanders, comes back. And it seems crazy that I would even call this a practice. My head is such a mess. But somehow, just sitting there anyway has such an effect on my day. I find that I am just a little bit more patient, and in most moments throughout the day, I can bring my attention right there again with the smallest bit of will, and for a breath or two I am right in my body. I can feel that I'm here, right here wherever I am in this moment. Whatever is around me or ahead of me feels like it has a life of its own that I don't have to hang on to. Then I can get back to my day. All this, just from 15 minutes of sitting doing my damnedest to concentrate on my upper lip. Mind wandering away, coming back, wandering away, coming back.
Beginner as I am, it changes my days. And so I sit and I breathe, me on my folded blanket with all of my limitations and the messiness in my mind. Mind wandering away, coming back. Mostly wandering away.
I know these ways that we focus ourselves and stay in the moment are such internal processes, but if you'd be willing to share, I would love to hear how you find space and quiet in your day. Beginners as so many of us are, a little help and advice is always helpful.
Happy Monday, friends. Here's to a good one.