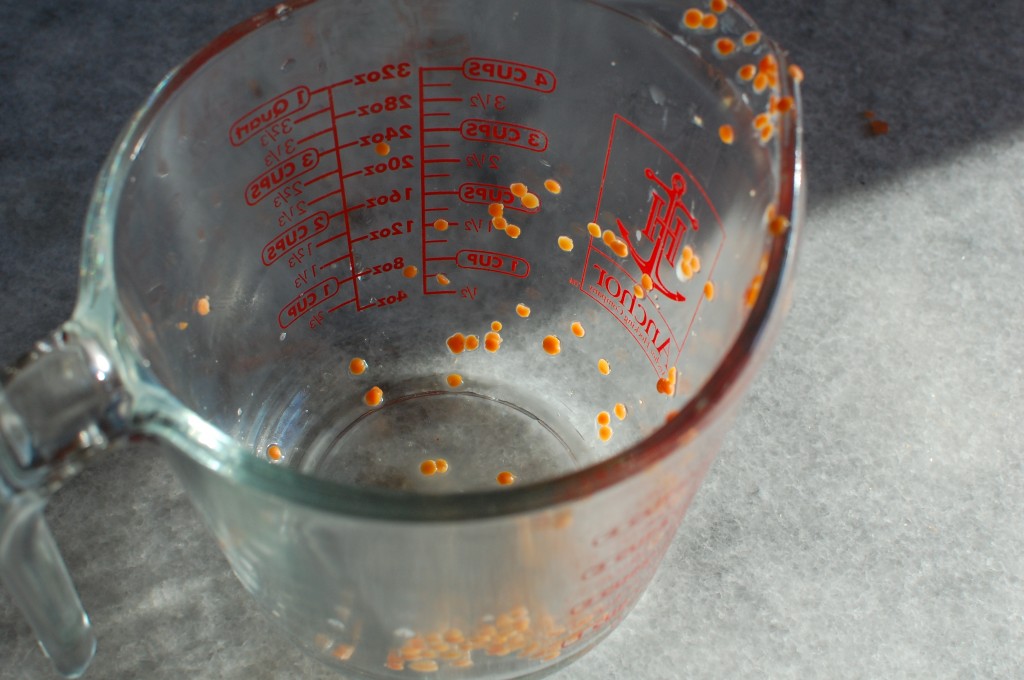 If my kitchen had a coat of arms, it would surely include the lentil.
First, there was basic lentil soup, made as my mother and Mollie Katzen taught me. That's with the greenish brown lentils, the cheapest in the bulk section. The lentils break down, and so the whole thing is thick and warm and rib-sticking. There are some vegetables in there to make it all a meal, a little sweetness, a little tart. There might be a grain on this day or that, barley or rice or some such sticky thing. This soup (in the book if this breed of lentil soup is new to you) is a basic goodness on the table, a perfect staple for newlyweds, and especially effective with popovers.
Then there was the French lentil. This was more expensive, tiny and brown, and miraculously enough–able to hold its shape. This lentil came into my life when I discovered that a slice of roughly chopped bacon makes a good base for anything, and that lentils no longer have to be virtuous. There was quite a period there (girls out of toddlerhood, me embarrassingly wistful for Paris) of French lentils with butter and parsley and lemon, a secret weapon sort of side dish. There was also this salad, which, in itself, taught me about the flavor kapow! of bitter greens and nutty oils, and of corn and scallions. That was a big one.
Somewhere along the way, I tried my hand at making South Indian dosas, and although I was not entirely successful, I learned along the way that there were a myriad of lentils in the world I had never heard of, most importantly the urad dal  that I had to travel deep into the city to find. These little dusty lentils, inexpensive as they were, had bags covered in languages and alphabets I didn't know. I used the rest of the little lentils in soup, although months ago a kind woman from Southern India sent me her mother's dosa recipe, and I am ready to give it another try as soon as I come upon another one of those dusty and sweet smelling bags.
All along throughout this first decade of family making and feeding, there have been new ways to use lentils. Proud vegans who bring it to parties as a pate. Spicy bites and  comforting dishes that continued to elevate it above where it started as "what we eat when we're we don't have enough money for meat or enough time for real beans." I think it is the combination of versatility, affordability, and unfaltering deliciousness that endears me to the tiny lentil– it seems that the lentil itself has figured out what a food should be. For years, now, I've often fed people lentils when they show up for dinner.  And more often than not, someone says they "forgot how good lentils were!" or they just never knew, and then, perhaps, their own lentil odyssey will begin, and they'll come back to me in a few years and show me their new tricks.
I have found that the red lentil (my current favorite in this warm and unnatural weather) wants to be a thin soup, maybe served over a grain or with a side of warm flat bread. It loves a nicely chopped carrot too, and a bit of spice and sour.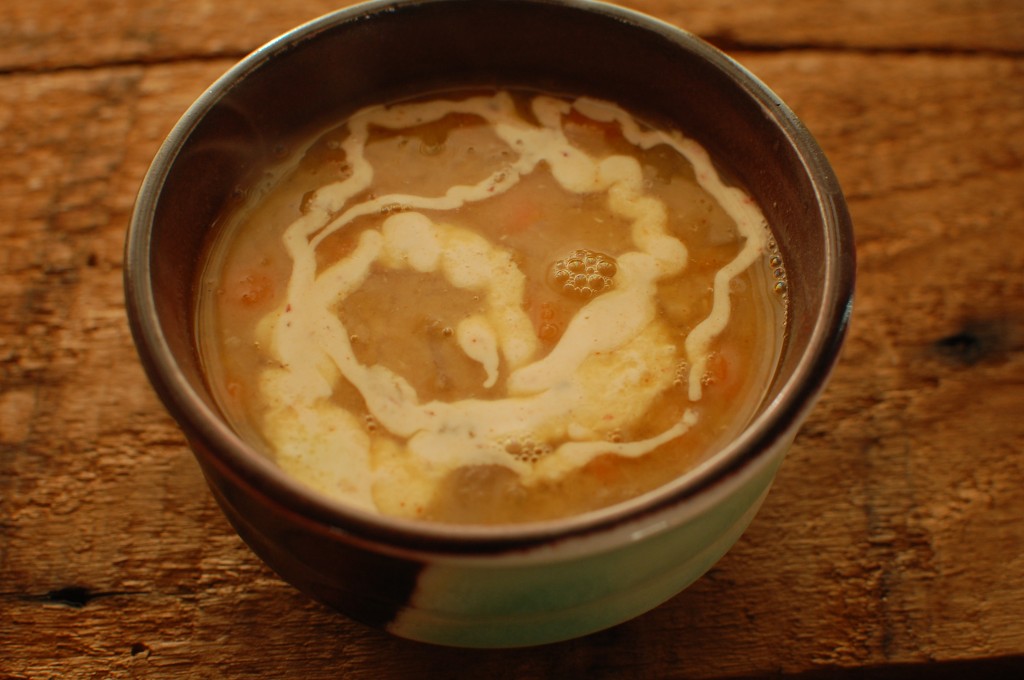 Red Lentil Soup with Spicy Creme Fraiche
(inspired by Melissa Clark, with gratitude for the red lentil/lemon revelation)
serves 6 to 8
For the soup:
2 tablespoons unsalted butter
2 tablespoons olive oil
1 onion, roughly chopped
2 garlic cloves, minced
a 3-inch finger of ginger, peeled and grated
3 carrots, peeled and cut into medium dice
1 tablespoon salt, plus more to taste
1 tablespoon ground coriander
1 tablespoon mild chile powder
2 cups red lentils, rinsed in water
6 cups chicken broth (can be water, or veg broth, or any combination of any of these fine liquids, but chicken broth will make a soup with a nice, rich flavor)
the juice of 1 lemon
1. Combine the butter and the olive oil in a large sauce pan or dutch oven over medium heat. When the mixtures starts to bubble, add the onion and cook, stirring often, until the onion is clear and fragrant. Turn the heat down to medium low and add the garlic, ginger, carrots, salt, coriander, and chile powder. Continue to cook, stirring occasionally, until the whole mixture smells divine and the carrots are soft, about 5 minutes.
2. Add the lentils and continue to cook for another 3 minutes, stirring often. Add the chicken broth and bring the whole mixture up to a low boil. Cover and bring it back down to a low simmer over low heat. Leave it be for about 45 minutes.
3. Remove the pot from heat. Add the lemon juice, and give the soup a quick whir with an immersion blender (alternately, put about 1/4 of the soup in an upright blender to puree- then add the pureed soup to the pot). Taste and adjust for salt.
To make the spicy creme fraiche:
Combine 1/2 cup creme fraiche (greek yogurt or sour cream will do if that is what you have in the fridge) with any spicy condiment you have available. My favorite right now is lan chi chile garlic paste, but sriracha, hot sauce, or even chile powder will work well. Add a bit, then taste and add more if it needs more spice. Also feel free to add salt if you feel it needs it.