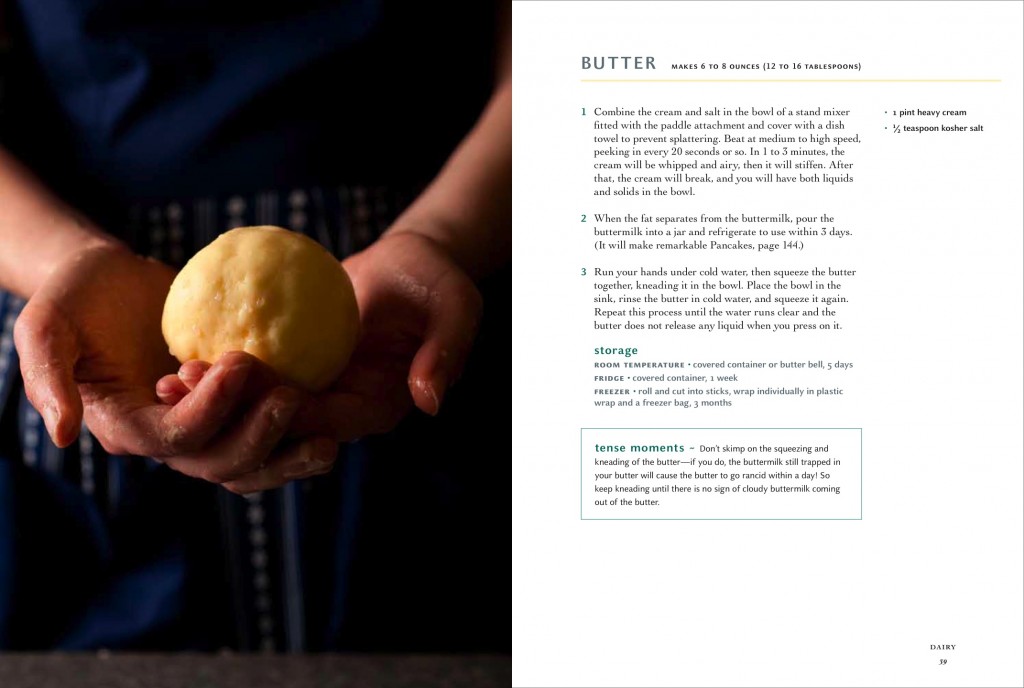 A few weeks ago, I had the good fortune to participate in a lovely event for the Berkshire Festival of Women Writers, an evening on motherhood and creativity curated, nurtured, and grown by Suzi Banks Baum of Laundry Line Divine. I wanted to share the piece I read that night–an alternate (and longer!) version of the headnote for butter in The Homemade Pantry. Need a little butter video tutorial? Watch me churn that cream over here.

Halfway through kindergarten, my daughter Sadie came home in a noticeable funk.  She was on the cusp of her sixth birthday, and it was clear that something was very wrong.
Although she is usually the type of kid to share her emotions immediately, this time it took some prodding. It turned out that on that day, two boys at school had cornered her on the playground, and they had told her she was fat.
Oh, beware of a mother who is protecting her daughter's body image. That is a force to be reckoned with, I'll tell you.
After all my careful work with these girls, blocking their ears from offhand comments from my friends about their own bodies, countering the steady stream of weight-obsessed media, and even putting a lid on my own residual insecurities, those boys had made my work null.  I was angry with them, but even more, I raged at their mothers.  After all, where would a five-year-old boy learn that a belly should be concave, and that all women should be skinny?
In the weeks that followed, the issue continued to grow. Every day, Sadie would exclaim how fat her belly was, and she began to assert that this dinner and that snack would make her fat. Her little sister joined in, pointing to her belly with theatrical disdain. I was heartbroken, and at a total loss as to what to do.
I hail from a family of small Jewish women with large breasts, skinny legs, and very round bellies. My Grandmother tortured herself at Weight Watchers for the final years of her life, just trying to shrink the portly tummy that made her feel so undesirable.  She passed her shapely body to my mother who worked tirelessly to defy her genetics, and she, in turn, passed the belly and the breasts to me. I am a carbon copy of the women who have come before me, and, like them, I have not always embraced the curves that come with the family name. But over the last few years, as my babies have become girls, I have lost patience with this obsession with thinness. In short, I am done with it, and in my house, a round belly is a thing of great beauty.
In the end, we found a solution, and it was as simple as focusing on the messages that we have stuck with all along. Enjoy your body. Play outside. As long as we stay active and eat good food, our bodies will find the shape that suits them. Eat what tastes good and trust that your tastes will lead you in the right direction.  I relaxed again, and when Sadie came home a few months later saying that a friend at school had told her her mom wouldn't let her eat butter ("a moment on the lips, a lifetime on the hips!"), I took a breath and braced for another round.
I am determined to raise girls who are not afraid of butter. With all the challenges that face them, I don't want them to have to waste their energy on butter angst. Everywhere I turn, there are butter substitutes, diet regimens of dry toast, and errant comments about the caloric dangers of butter. If my girls can continue to taste the treats that make them happy with as much joy as they have now, unmarred by guilt or fear that the bite will ruin their beauty, then I feel I have done something right. And if, somehow IF! I can help them to transfer all the energy they might spend hating their own bodies or feeling guilty about what they had for lunch? Well, with all of that energy, world, watch out. My girls are taking over.
Unless you have a dairy cow in your backyard (oh, if only!), making butter at home is not especially cost effective. Butter is one of those products which miraculously costs less than the raw materials used to produce it, and so for cooking and baking, I continue to buy nicely wrapped pounds of butter made elsewhere.
However, butter is still one of my favorites to make at home for two reasons: taste and magic.  When it comes to taste, butter is one of those foods that we have become accustomed to eating when it is quite old, and the taste of freshly churned butter is nothing like what comes off of a store bought stick. The flavor of the cream comes through in astounding ways; butterfat is the best carrier for flavor, and fresh butter tastes like sun and air and grass.  Homemade butter is also particularly conducive to being mixed with herbs for fancy party butters, and I always pepper potluck tables and dinner parties with soft butters flecked with parsley, nasturtium petals, or chopped shallots.
As for the magic, you will know just what I mean when you see the butter separate from the buttermilk for the first time. I witness the process regularly, and that moment never ceases to make me gasp. For this reason alone, butter-making is one of my favorite tasks to do with the girls, as they are the best magicians I know.
So how do you work this magic in your own kitchen? The process simple, and if you have made whipped cream, you are most of the way there. Many tools will do the job, but my favorite method is to combine a pint of cream with a pinch of salt in the bowl of a stand mixer. Cover with a dishtowel unless you are pleased with splatters on your ceiling, and whip until the butter separates from the milky liquid, about 3 minutes. Pour the liquid into a jar (that's perfect and pure buttermilk- a wonder in your pancakes), and wash the butter under cold water, pressing it with your hands or a wooden spoon until it no longer releases liquid. That's it. Spread it on thick, eat with joy in your heart, and share with the one you love most.
And yes, as promised, I have one more advance copy of the The Homemade Pantry to give away. All you need to do is leave a comment on this post before Monday at 11:59 pm. Today's conversation is one that is close to my heart (and my belly), and I would love to hear your thoughts!
What food makes you happy? How does food (eating, cooking, feeding people, or all of the above) bring joy into your life?