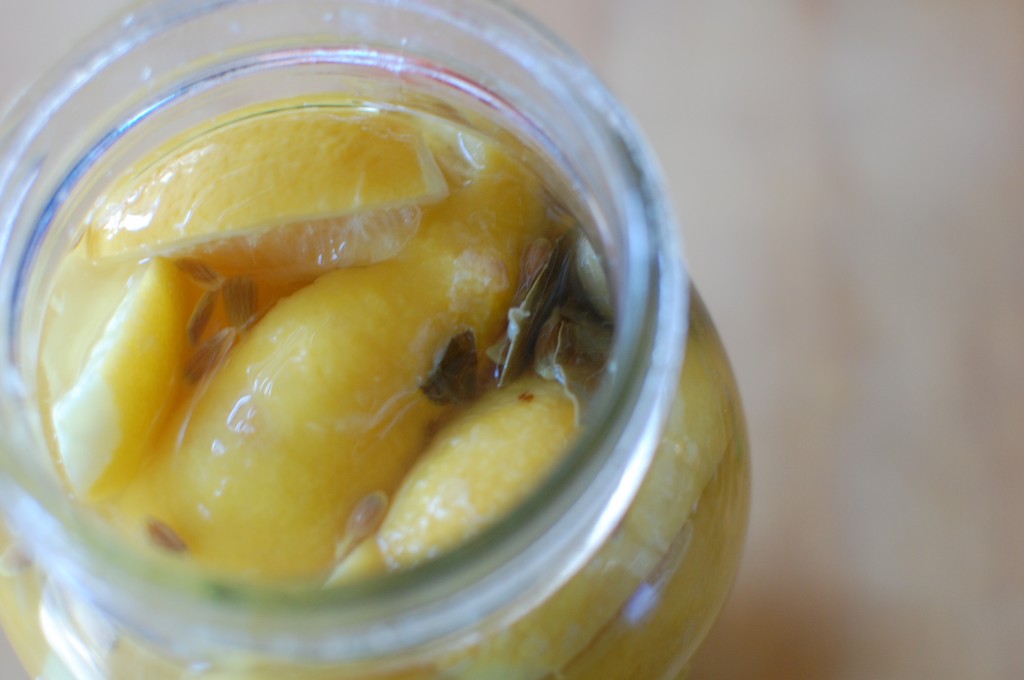 Yes!
How are those lemons looking? They should be glossy and soft, smell good and lemony, and there shouldn't be any mold. Are we good? Did we make it?
Now try one. Just cut off a bit of the rind, and put it right in your mouth.
And that's what you do with preserved lemons. At least, that's what I've been doing with mine. That's me in the corner of the kitchen, back turned, hunched over a jar. I'm the one with the entire lemon in my mouth.
Of course, like any new ingredient in the kitchen, it can be difficult to know how to use preserved lemons. If you cook Moroccan food regularly, then you're all set. But I've been experimenting with the gold in my jar, and, as promised, I've got 3 recipes for preserved lemons to share with you. I've been loving all three, but I've got to tell you, the third (created out of a moment of inspiration from Joey) is a game changer. I'll get there in a minute.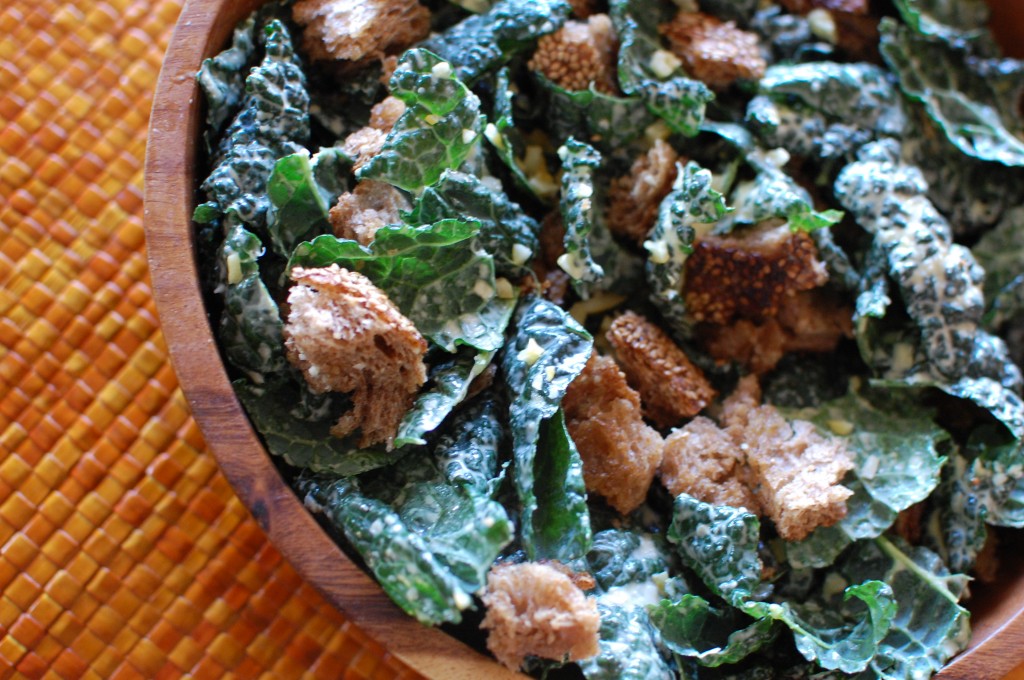 Preserved Lemon Caesar
serves 4 to 6
The flavor of the preserved lemon comes through with a BAM! here, and it's not for the faint of heart.
For the croutons:
4 ounces (about 1/4 loaf) any seeded sourdough bread (For those here in the Berkshires, I'd seek out Berkshire Mountain Bakery's sesame or sunny flax unsliced loaf)
2 tablespoons olive oil
1/2 teaspoon salt
For the greens:
1 large bunch lacinato kale, washed and dried, removed from the stalks, and torn into 2-inch pieces
For the dressing:
1 tablespoon red wine vinegar
the flesh of 1 preserved lemon, rinsed under cold water (peel right off of the peel and remove the seeds)
2 garlic cloves, peeled
1 teaspoon honey
fresh-ground black pepper
1/3 cup olive oil
1 egg yolk
1/2 cup grated Parmesan cheese
the rind of 1/2 preserved lemon, roughly chopped
Make the croutons: Preheat the oven to 350 degrees. Tear the bread into rough, bite-size pieces and toss with the olive oil and salt. Spread on a baking sheet, and bake for 12 to 15 minutes, stirring occasionally. Set aside to cool.
Make the dressing: Combine the vinegar, preserved lemon flesh, garlic, honey, and pepper in a blender. Blend until well combined. Then, with the motor running on low speed, slowly add the olive oil through the whole in the lid of the blender. Stop the motor and add the egg yolk. Blend for a few seconds.
Pour 3/4 of the dressing over the kale and toss well. Taste, and add more dressing if you think it needs it. Sprinkle the Parmesan, chopped lemon rind, and croutons over top of the salad and toss again.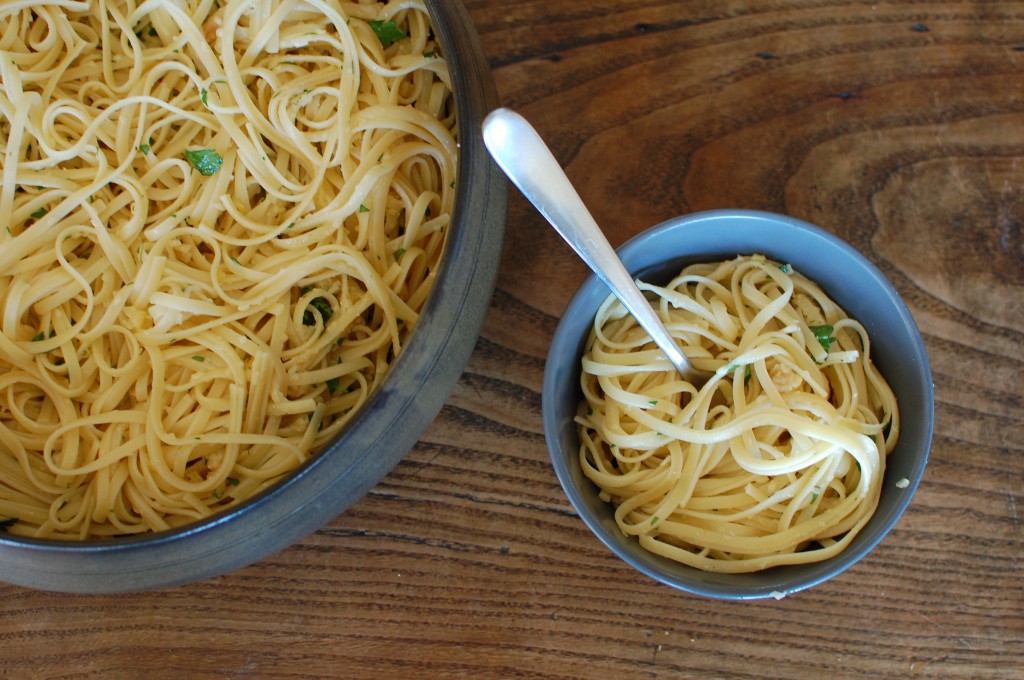 This next one came to me from my friend, India. She forwarded me an email that had been forwarded to her and on and on. That's email for you- the game of telephone meets the good old recipe card.  It seems that the original creator of this gem is Phyllis. Thank you Phyllis, whoever and wherever you are.
We all devoured this dish. It has enough of the spirit of pasta alfredo that it even meets Rosie's deepest desires, and the mixture of preserved lemons and roasted garlic is (as a good friend of mine puts it) so brilliant I want to dab it behind my ears.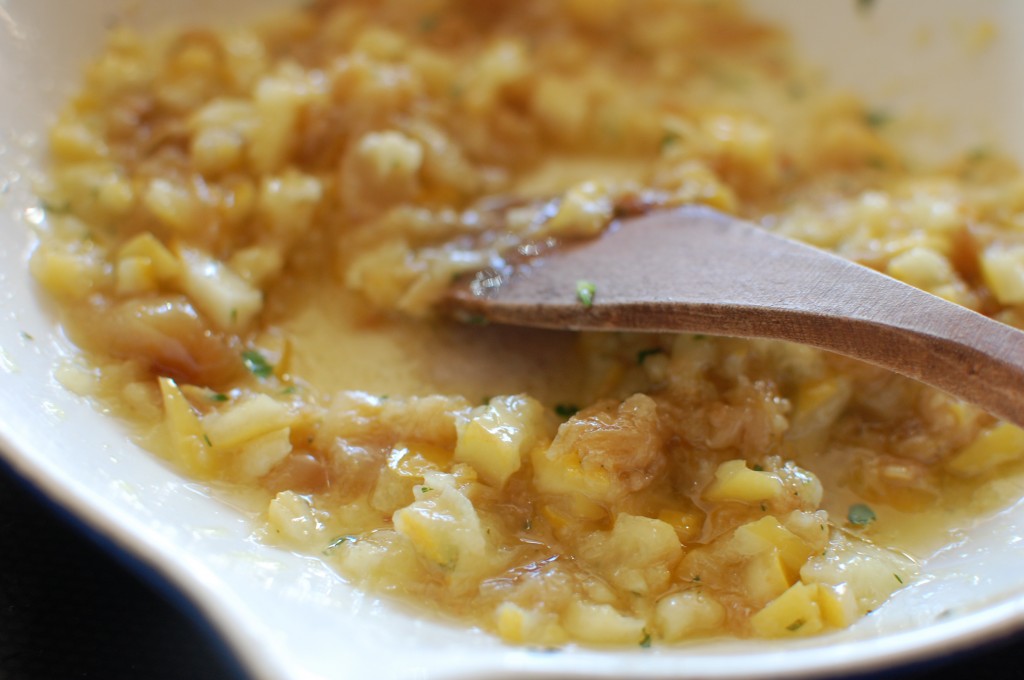 Fettucini with Preserved Lemon and Roasted Garlic
serves 4
2 heads of garlic
2 teaspoons plus 1 tablespoon olive oil
1 lb fettucine
2 tablespoons unsalted butter
1 preserved lemon, rinsed under cold water, pulp and rind finely chopped
1 cup grated Parmesan cheese
3 tablespoons fresh parsley, roughly chopped
fresh ground pepper
Preheat the oven or  a toaster oven to 400 degrees. Chop off the very top of each head of garlic, and remove any excess layers of outer paper. Place each head of garlic on tin foil and drizzle each with a teaspoon of olive oil. Wrap in foil and roast for an hour, or until the cloves are very soft. Cool,  and squeeze out the garlic. Set aside.
Get a large pot of salted water going, and boil the fettucini until tender and just done.
In a medium saucepan or skillet, combine the butter and remaining tablespoon of olive oil over medium heat. When the butter melts, add the garlic and preserved lemon. Cook for about a minute, stirring often.
Drain the fettucini, then toss with the lemon garlic mixture. Top with the parsley, ground pepper, and Parmesan cheese, and toss again to combine.

I can't even talk about this one. I just want to give you the recipe so you can make it right now.
Preserved Lemon Hummus
makes about 2 cups (I think, but it was gone before I could even think to measure it)
1 preserved lemon, rinsed under cold water, pulp and rind roughly chopped
1/2 cup sesame tahini
2 tablespoons miso paste
2 cloves garlic, peeled
1/4 teaspoon cayenne pepper
4 tablespoons olive oil
1 16-ounce can chickpeas (keep the liquid)
Combine the lemon, tahini, miso, garlic, cayenne, olive oil, chickpeas, and 4 tablespoons of chickpea liquid in a blender or food processor. Blend until smooth. Add more chickpea liquid if necessary to get to a good, silky consistency. I predict you will taste this to see that it is the right consistency, and then you will eat most of it out of the blender. This is that kind of hummus.

Need more? Here are a few other preserved lemon recipes out there:
3 recipes for preserved lemons: Preserved Lemon Chicken with Chervil Gremolata; Parmesan, Preserved Lemon, and Thyme Wafers; Preserved Lemon Semifreddo with Basil Syrup (
Serious Eats
)
Baked Chicken with Artichokes, Cinnamon, and Preserved Lemons  (
The Kitchn
)
Roasted Pepper, Tomato, and Salted Lemon Relish (
Kitty Morse Moroccan Cuisine
)
Israeli Couscous with Roasted Butternut Squash and Preserved Lemon (
Epicurious
)
And we haven't even talked about cocktails! Another day then. Another day. Let me know if you discover one, and we'll swap notes.