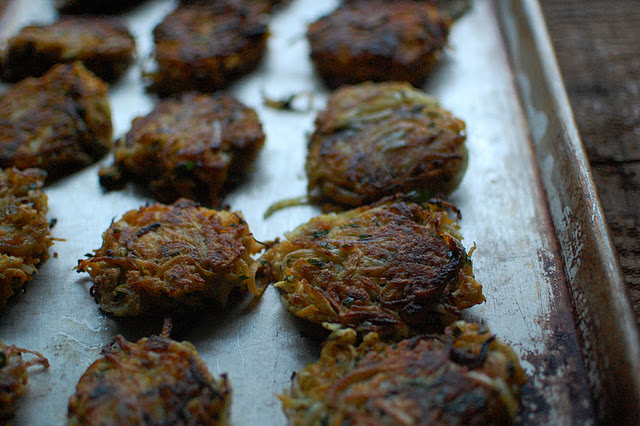 Oh December!
I like this month. I'm an omniholidayvore, so I've got a few packed in, plus my birthday AND my wedding anniversary. And also, cookies. And eggnog. And latkes.
Let's go back to October for a minute- back in the hilly wonders of California at Naya and Oliver's wedding. I was sitting at a picnic table, spacing out on the early sun and gnarled trees, waiting for coffee to clear the Champagne fog. There were lovely Californians all around me, bundled in their sweatshirts and anticipating coffee, and in the midst of the conversation, one woman (who kept wearing the most perfect shade of yellow through the weekend) said to another, "Oh yeah, I saw that at Bi-Rite."
"Bi-Rite?" I cut in. "Does that place really exist?"
They laughed and assured me that it did.
You see, a week or two earlier, I'd gotten this beautiful cookbook in the mail. (I know! It happens every so often, and it feels like my birthday, but I promise you I only tell you about the books that I love). It was nothing short of enchanting, and I turned the pages and wanted to inhabit every one. I made two recipes from the book that first week, and both were perfect. But the store that it came from? It seemed like something out of California legend.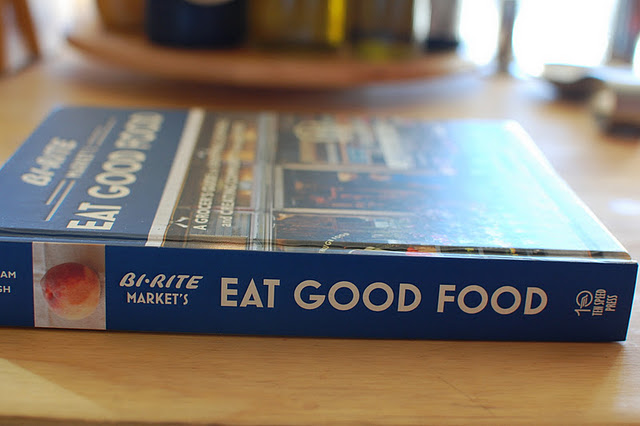 A few days after the wedding, I was walking the streets of San Francisco with my friend and nearly-brother Andrew. It had been a while since we'd seen each other, and we walked and ate and walked and ate. Burritos in the mission. An eclair at Tartine. Noodles in spicy broth. And when we came to the right block, he pulled me into the Bi-Rite Market.
It was tiny. And (as a friend had so perfectly put it the weekend before) it was exquisitely curated. It was a living museum of artisan food, each cheese and fruit and meat local and gorgeous. Most liquids were in vessels that you would want to repurpose as vases, tiny ceramic crocks for yogurt and sensually curved bottles for oil. We stood in front of the jam and preserves shelf. Each bay area chef had their own preserves, and there was quince and marionberry and herbs and all of those different and elevated fruits. Andrew and I spent the next 45 minutes in there, as if it really were a museum, discussing the food like art on the wall.
There are a lot of reasons why you might want to pick up a copy of Bi-Rite Market's Eat Good Food. It is, in a way, a manual for conscious food shopping (as Marisa so eloquently described in her review). But the recipes! They are my favorite part of this book. That, and the fact that is stays so fabulously open on the counter. This is a book that inspires. It is sturdy, and beautiful, and (as we move into that season) exceptionally giftworthy.
Oh, the season. Because although Hanukkah is a few weeks away yet, I say- December is latke month. My grandfather used to be the latke maker in our family, and he and my grandmother would throw a party and make latkes all day long. Friends would stack those greasy pancakes on little paper plates with blue menorahs printed on them, chunky applesauce and sour cream along side. The day would begin with desire for latkes, and the day would end with the hope that we would never see latkes again. It would take three washes to get the greasy smell out of our clothes.
These are better, if that's possible. The butternut squash is sweet, the texture is perfect, and the flavor is… well, entirely worth of expletives. This recipe uses a method where the latkes are started on the stove and transferred to the oven and so the grease factor is nearly gone. This is my latke recipe now- I'm never going back to just plain old potatoes.
Oh, before we get to that- one more thing! Maybe tonight, maybe tomorrow morning, my new site will be up! We're just working out a few last coding issues, but I can't wait to show you. So don't be scared- it's still me! And I've got a fairly rockin' giveaway to celebrate the site's first day, if I do say so myself. I'll see you there. Yeah!
And now, the latkes.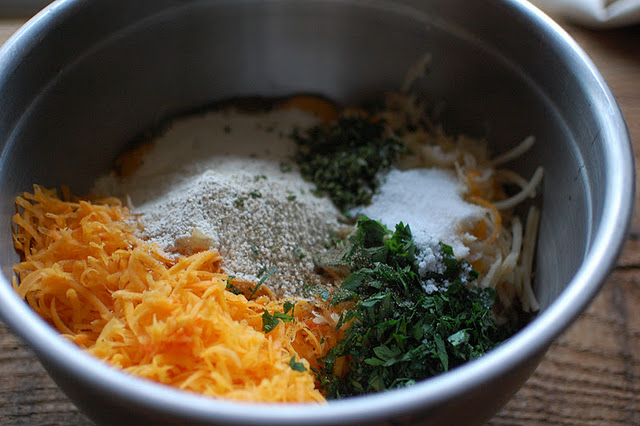 Butternut Squash Latkes
from Eat Good Food, by Sam Mogannam and Dabney Gough
Makes 18 (they say! but I got 24- lucky me!)
1 1/2 cups grapeseed or other neutral oil, more as needed
1 large yellow onion, halved, peeled, and thinly sliced lengthwise
Kosher salt and freshly ground black pepper
1 1/2 pounds russet potatoes (about 2 large)
1 1/2 pounds butternut squash (about 1/2 medium)
4 large eggs
1 cup matzo meal
1/3 cup finely chopped fresh parsley
1/4 cup finely chopped fresh sage
1 tablespoon chopped fresh marjoram
Position racks the the top and bottom thirds of the oven and heat to 350 degrees.
Heat 2 tablespoons of the oil in a medium skillet over medium-high heat. When hot, add the onion and sprinkle with 1/2 teaspoon of the salt and a few grinds of black pepper. Cook, stirring frequently, until the onions are golden all over and very soft, about 10 minutes. Remove from the heat and set aside to cool.
Peel and grate the potatoes and butternut squash (I did this in the cuisinart using the grating disk, but a box grater will work too). Put in a large bowl, along with the onions, eggs, matzo meal, parsley, sage, marjoram, 1 tablespoon salt, and 1 teaspoon pepper. Toss gently to combine thoroughly.
Heat 3 tablespoons of the oil in a large skillet over medium-high heat. When the pan is hot, use a 1/3-cup dry measure to scoop a mound of the mixture into the pan. With a fork, spread and flatten the mixture to a 4-inch disk. Repeat 3 more times. When the first side is golden brown (about 2 minutes), carefully flip the latkes over and brown the other sides, about 2 minutes more. Transfer the latkes to a rimmed baking sheet and continue to scoop and brown the remaining latke mixture in batches, adding another few tablespoons of oil before each new batch. Arrange the latjes in a single layer on the baking sheet; you'll probably need at least 2 sheets to accomplish this.
When all the latkes have been shaped and browned, transfer the baking sheets to the oven and bake until the latkes are cooked through, about 15 minutes. Serve hot.
(With thanks to Ten Speed Press! Reprinted with permission from Bi-Rite Market's Eat Good Food by Sam Mogannam &Dabney Gough, copyright © 2011. Published by Ten Speed Press, a division of Random House, Inc.)