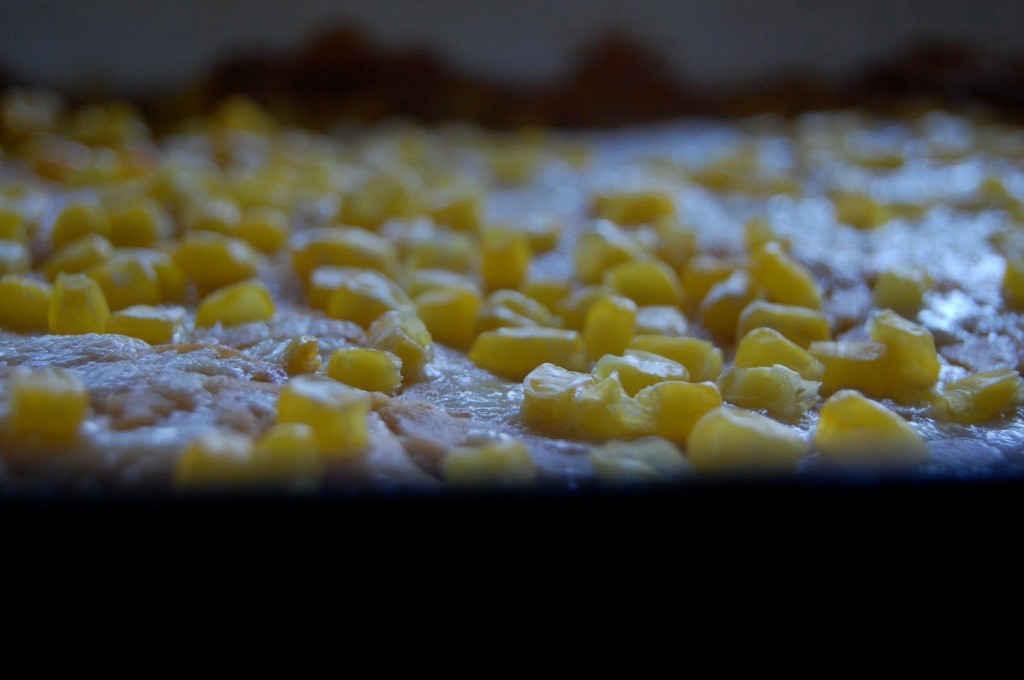 I miss New Mexico today.
It hits me without warning, and usually the missing gets in my nose first. My memory creates a smell and it gets stuck there. The most common is roasting green chile, but of course there's also pinon. And there is the smell of the tamale.
There are a lot of reasons why I miss New Mexico, and even more reasons why I left. But there is no other place that makes me hurt when I miss it.
There was this little place up by school called Johnny's Cash Store. They sold jumex juices, and milk and eggs and cigarettes and twinkies. The whole place smelled old and dusty because it was old and dusty. But on the counter, there was a steam table filled with tamales that someone's mother had made. For a few dollars, you could have a red chile pork tamale and a green chile chicken tamale tucked in a little wax bag. That bag, along with a few napkins and a mango jumex, made a lunch that could turn anyone's day around. There was a little splintery picnic table outside, and I swear that picnic table was one of my favorite places to eat in Santa Fe.
Those tamales tasted like love.
It's vacation week around here, although I've taken off to New Mexico in my mind (and nose), I'm home with the girlies while Joey works at the school setting up his new classroom. We're all doing okay together- luckily we have the garden and my sister's handed down American Girl collection to keep us entertained. But yesterday, we all started out on the wrong side of the bed. There were early tantrums, and by the time I was trying to coax Rosie across the parking lot to get to the supermarket at 12:30 (Rose: Ow, Mom, you're hurting me! Me: I'm holding your hand! We're in a parking lot!), I thought I might just go ahead and lose it altogether.
Thank the lord for the playdate.
By 1:30, our friends had arrived. A playdate for me, and a sister for each of the girls, with a bonus two year old to eat cheerios at the table. We drank beer in the kitchen, I turned my mood around, and the girls, well, the girls, mostly just stood on the cars.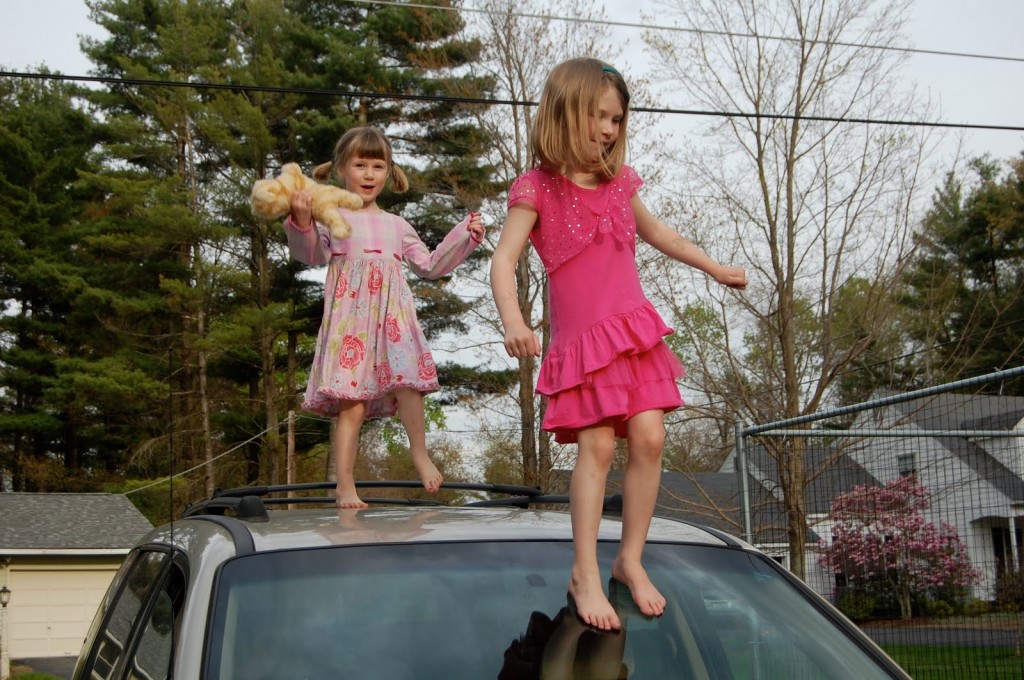 Every time I looked, they were each wearing different dresses. Then they would trade dresses, or pull out new ones, and get back up on the car.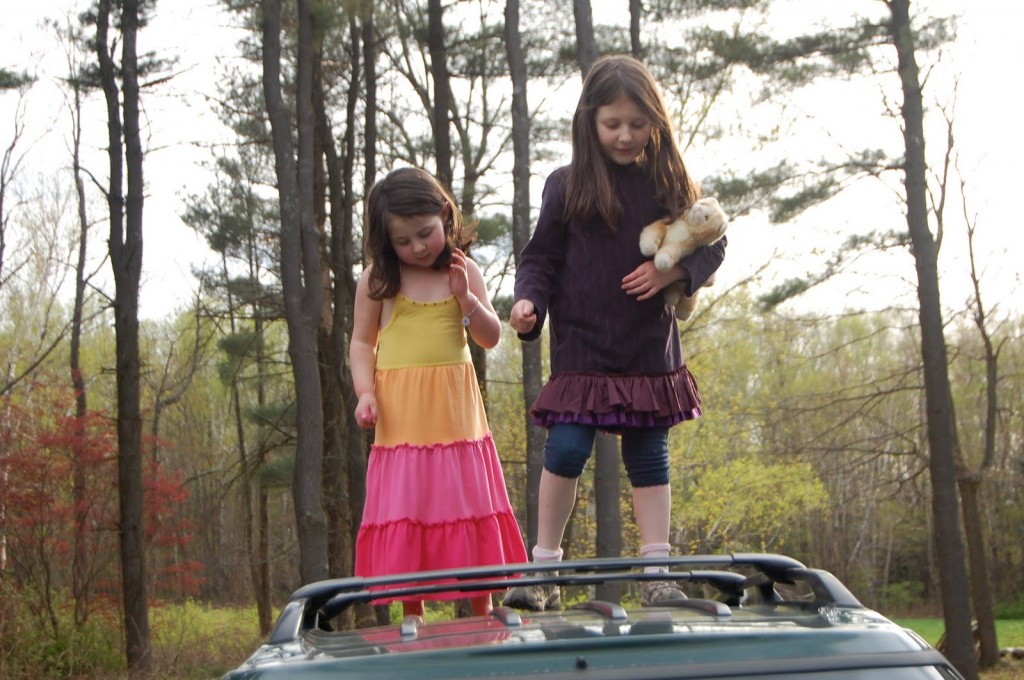 They stayed until bedtime and then the girls fell into the mess that had accumulated in their room and fell asleep. It was a good day.
But of course, there was dinner. And although Johnny's Cash store is 2,000 miles away, I needed something that smelled right, even if it contained canned green chiles and no one's mom had made it. Oh, wait, hold on. Something really has changed since New Mexico.
Someone's mom did make this.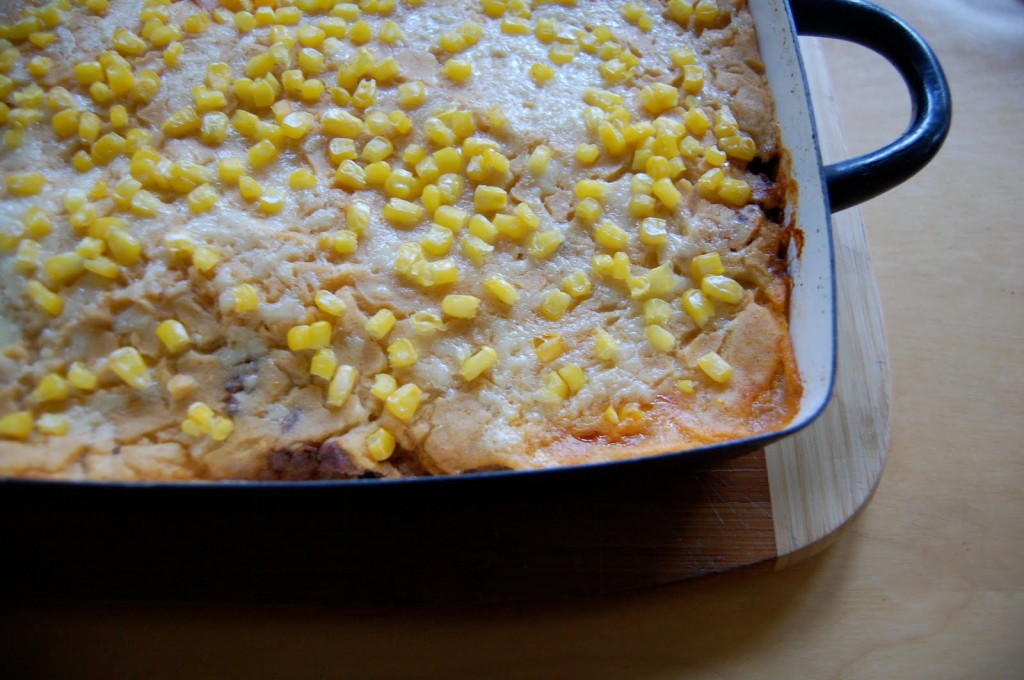 We ate every bite.
This recipe is from a cookbook that I have talked about before, Whole Grains Every Day, Every Way. This book is an amazing resource, and it will tell you everything you need to know about how to cook, clean, and store whole grains. If you feel a little overwhelmed in the bulk section of your store, this book will open up your world.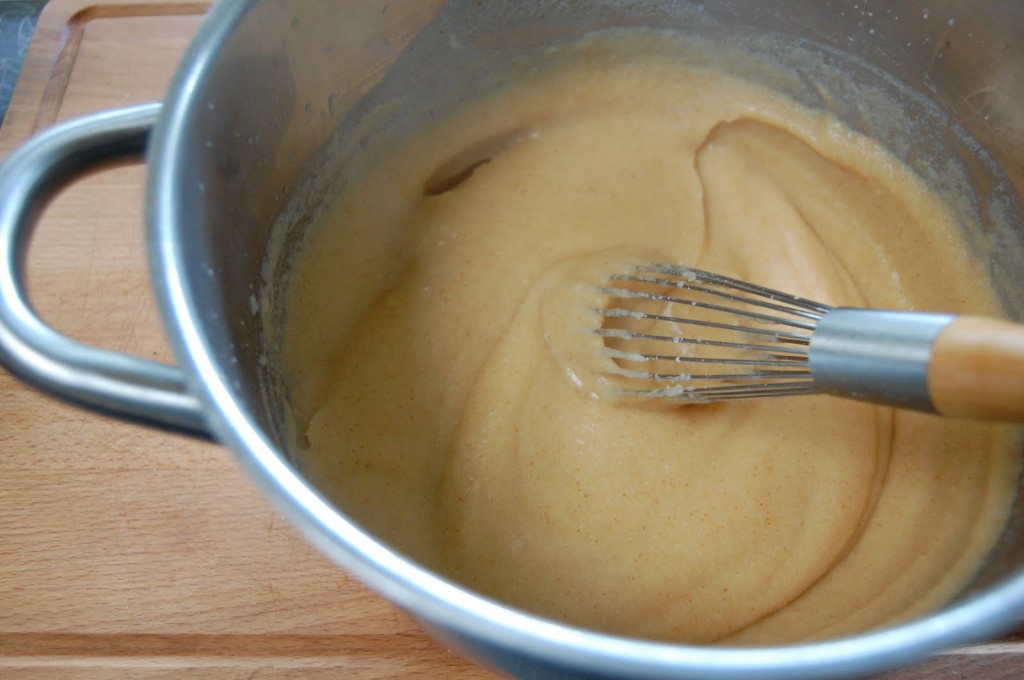 It also has phenomenal recipes. Every recipe I have made from this book has been a success; Lorna Sass is both deliciously creative and looking out for the home cook. A lot of the recipes are meat based, which is unusual in a whole grains cookbook. For some reason, whole grains and vegetarian seem to get paired more often, but this one is for the healthy meat eaters.
Masa Harina is a corn flour that is used in tamales, as well as in making corn tortillas. It is combined with lime, and has a very specific smell to it, that is the smell of of Johnny's Cash store tamale, or as I like to call it, love.
You can find Masa Harina in most grocery stores, and of course all Latin Markets. The brand I most often see is called Maseca. If you absolutely cannot find it, you can substitute cornmeal for the masa in this recipe.
Masa Harina-Beef Casserole
adapted from Lorna Sass, Whole Grains Every Day, Every Way
for the filling:
1 tablespoon olive oil
1 large onion, coarsely chopped
1 red bell pepper, seeded and diced
1 1/2 pounds ground beef
3 cloves garlic, minced
1 1/2 teaspoons dried oregano
1/2 teaspoon ground cumin
1 teaspoon salt
freshly ground black pepper
1 15-ounce can diced tomatoes with green chiles
optional: 1 additional small can diced green chiles
for the topping:
1 1/4 cups masa harina
1 1/2 teaspoons salt
1 teaspoon chili powder
1 large egg
1/2 cup sour cream or yogurt
1/4 teaspoon baking soda
1 cup jack or cheddar cheese
1 cup fresh or forzen corn kernels
Preheat the oven to 350 degrees and put a rack in the bottom third of the oven. Have ready a rectangular baking dish, about 11×7 or thereabouts. Lay it on a baking sheet and set aside.
Heat the oil in a large skillet. When it is hot, add the onion and pepper and cook over medium high heat, stirring occasionally, until the onion is soft, about 5 minutes.
Stir in the beef, garlic, oregano, cumin, salt and pepper. Cook over medium high heat, stirring and breaking it up into small bits. When the meat begins to brown, stir in the tomatoes and green chiles and bring to a boil. Lower the heat and simmer uncovered while you prepare the topping.
Pour 4 cups of water into a heavy saucepan. Whisk the masa harina into the water until it is smooth and thoroughly blended. Stir in the salt and chili powder. Bring the mixture to a boil. stirring almost constantly. Lower the heat and keep stirring until the mixture thickens to the consistency of batter, about 3 minutes. Remove from heat.
In a small bowl, beat the egg. Stir in the sour cream or yogurt and a cup of the hot masa mixture. Stir the egg mixture and the baking soda into the pot containing the remaining masa mixture.
Taste the meat and adjust for seasonings. Transfer the meat to the baking dish, leaving any liquid behind. Pour the masa batter over the meat. Sprinkle with the cheese, then the corn kernels.
Bake until the casserole is bubbly and the top is slightly browned, about 45 minutes. Let sit for 10 minutes before serving.