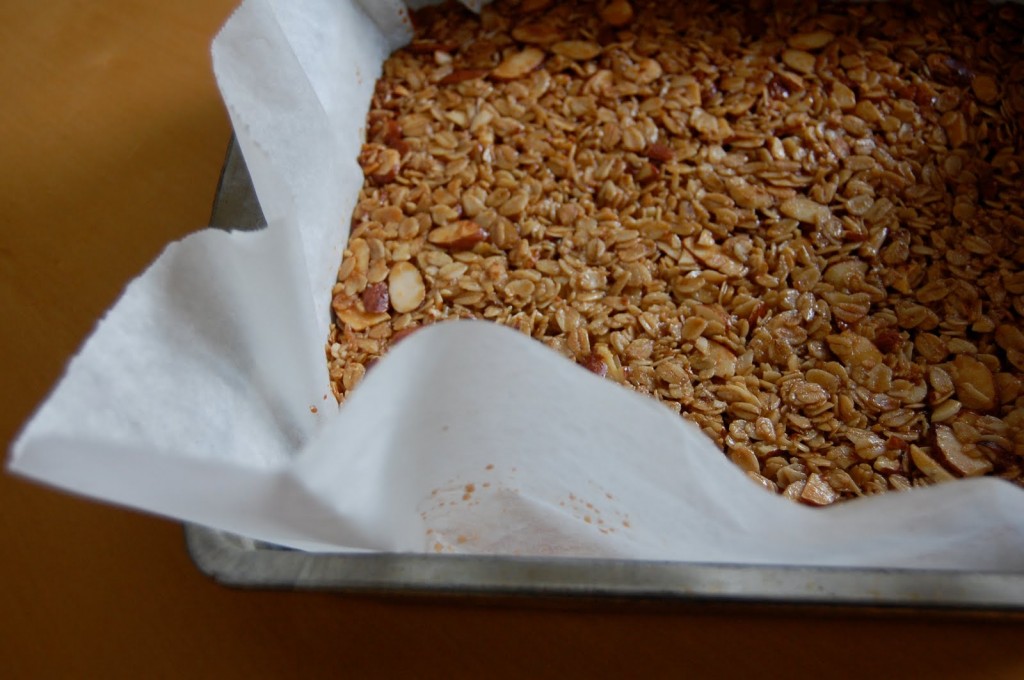 Okay!
Today is a yes day. I've been on the phone and on the computer since 6:58 this morning when Joey left for school with the girls. I've sent out a message to my facebook group for the campaign, I've talked to important people who are getting things done, and I have almost fixed the rss problem so that you can start getting me on your feed again! I'm working on a few writing projects, and I am caught up. I am humming. I am still in my bathrobe and it is almost lunch, but I will soon take a shower as soon as my phone stops ringing, and then I will go get some compost! I am simultaneously advising people on their home ricotta making and participating in my local government! And today I will plant potatoes!
Somebody just remind me to eat. And to pee. In return, I'll slow down on the exclamation points.
Last week, I had just picked up the girls from school, and we were stopping by the library on the way home. The girls were hot and tired, and they really wanted to go to the library. As we got out of the car, we ran into a man who I had had a meeting with the week before on town issues. One of the side effects of running for local office is that you can't just walk down the street- you will inevitably run into someone who you need and want to talk to. I had been meaning to follow up with him, and we talked for a few minutes, while the girls quietly whined on the sidewalk. We were in front of the post office, and Rosie really wanted to cross the street to get to the library, so she did what she often does- she reached up, grabbed a piece of fabric, and pulled. This time that fabric was the neckline of my shirt, and well, let's just say that I'm following in the line of a few other Massachusetts politicians who have campaigned with less than all their clothes on. Maybe I do really need to start wearing button down's- they're just not so, well, pullable.
Is this why there are not so many mothers in government?
I don't know how, but I righted myself without even a blush. I said to myself, I'm going to do this. I can do this. I am a warrior! And even Rosie if is trying to unknowingly sabotage me by showing the world one of the things that she has always loved about her mamma, I'm really doing this so that she can see that that participation is the way to go here. Apathy has gotten me nowhere. Really, participation is the most activist thing we've got at this point. Yes!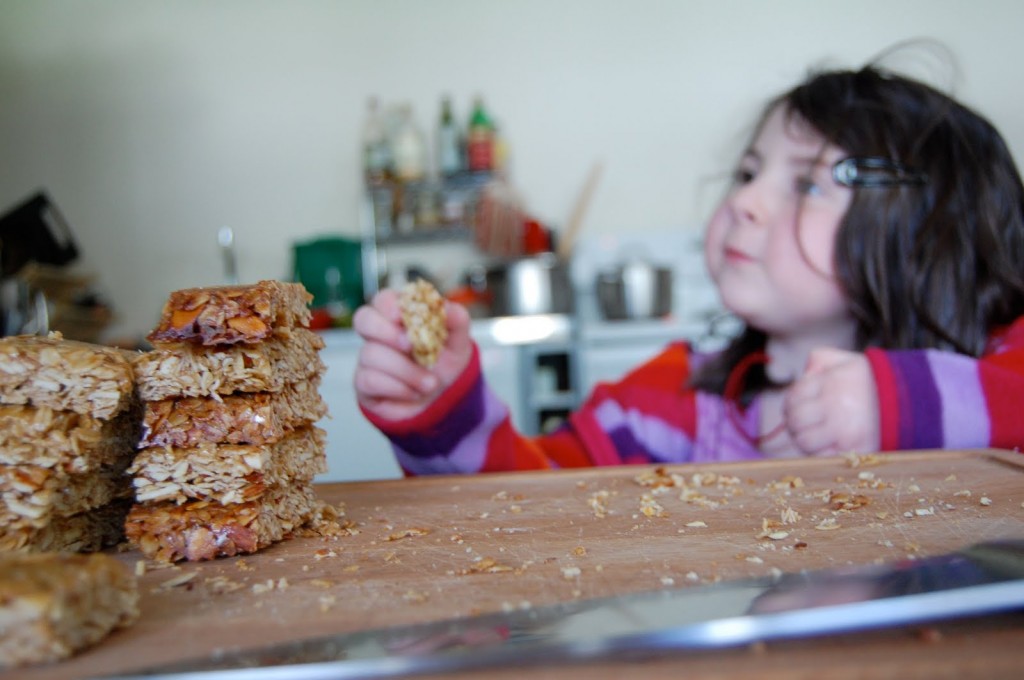 In all this craziness I find myself repeating the things that are important. I say them in my own head, so that I don't forget. Write! Stay informed! Listen! When this all makes you mad, don't take it out on the girls! And for God's sake, Alana, feed those children at 3:00. I repeat, do not forget the car snack!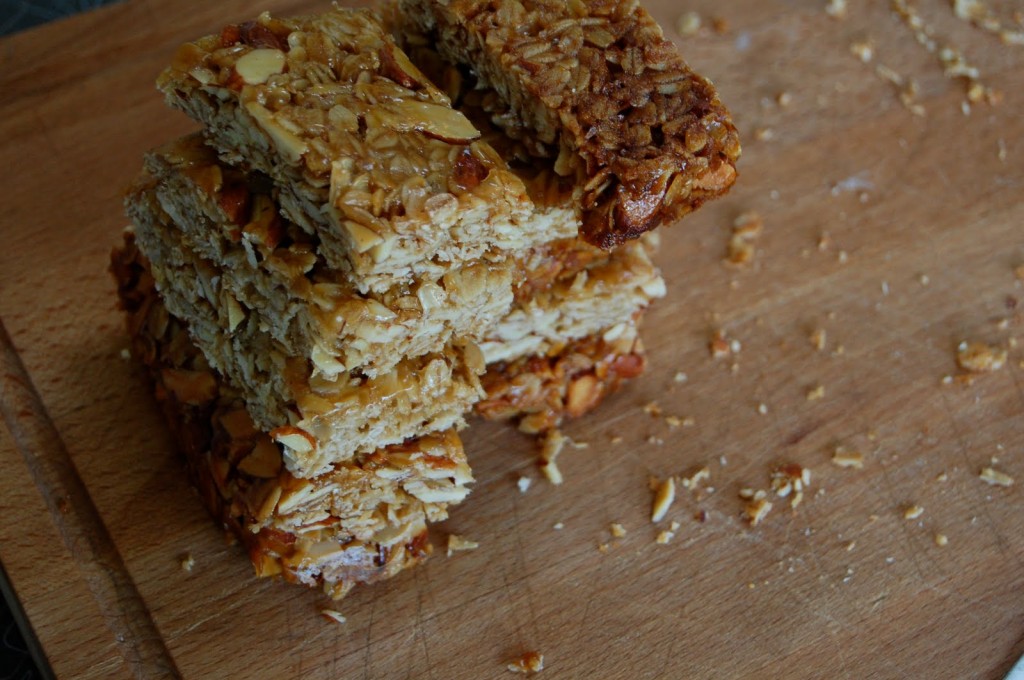 So a bit ago, I offered you car snack 1. It was good and it was whole grainy, and it had some good protein and fiber. It was a hit around here, and I hope it was hit around you too.
But this one, this one is a little different. It's sweet and desserty-er, although there is a bit of protein in there. It's a variation on a recipe for British flapjacks that Molly Wizenberg wrote about in Bon Appetit a bit ago. I made the recipe as is, and I could not get the damn thing out of the pan. I'm sure it was my fault. It usually is, but I don't know what happened. We chipped away at it with a butter knife, and it was incredibly good. But as a car snack? Uh, uh.
So, I messed with it a bit. I added almonds, and changed the moisture to dry ratio. Most importantly, I lined the pan with parchment. And then…
Holey moley. Whoa nelly. Gee Whiz. I just can't wait to get in the car so I can eat one.
Car Snack 2
loosely adapted from Bon Appetit, March 2010
1 stick butter
scant 1/2 cup packed brown sugar
1/4 cup Lyle's golden syrup
2 cups rolled oats
1/2 teaspoon coarse kosher salt
1 cup slivered almonds
Preheat the oven to 350 degrees. Line an 8×8 or 9×9 square baking pan with parchment, leaving a bit left over so that you can just pull it out. Combine butter, brown sugar, and golden syrup in a medium saucepan, and heat on medium until melted. Add the oats, salt and almonds to the mixture and coat thoroughly. Transfer into prepared pan and pat down with a spatula.
Bake until the edges darken, about 25 minutes. It will be soft when you take it out of the oven, but allow to cool completely before taking it out of the pan. When it is cool, cut into squares.
Makes 12-16, depending on size of squares