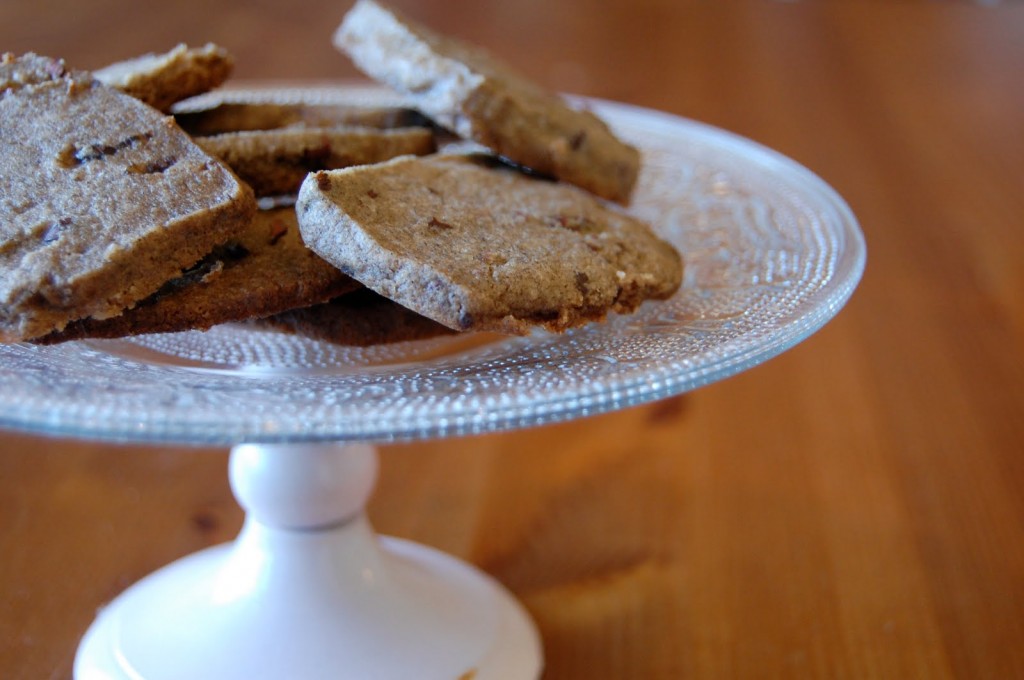 I am a sucker for feeding people. I can't help it.
Sometimes my desire to fill the bellies of friends who come into the house feels a little bit beyond my control. Come by to drop off a book. Leave with granola. I don't even know how it happened. I just slip you a bag, even as I'm saying to myself, "Control yourself! They don't need food! This person is not hungry!"
But for the time being, my visitors put up with it, and I am thankful.
Because my compulsion to feed my guests overwhelms the desire to feed them something fabulous, I have been known to provide strange offerings when the pantry is low. Canned olives. Cheese sticks. Carrots. To avoid this predicament, I bake.
Because wouldn't you rather I offer you a cookie than a cheese stick?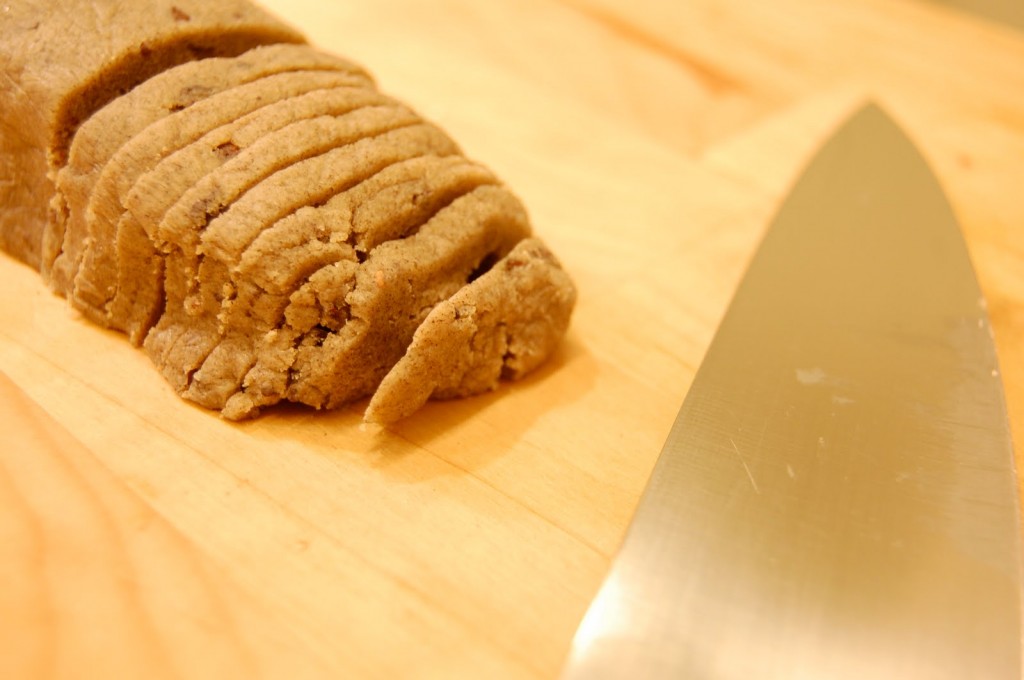 I thought so.
These cookies might be my favorite ones to have around. They get better with age, and they last a month (theoretically, if they didn't get eaten so fast). But more importantly, they are wonderful, and they seem to please everyone. They are, you might say, a crowd pleaser.
The cookies in question are Alice Medrich's nibby buckwheat cookies. They have been written about many times, most specifically here and here, because they really are a wonder. They are shortbread-y and complicated but kid friendly and not too sweet and filled with flavors that you can't quite pin down. They make a good snack with tea, maybe the best I can think of.
These are some good cookies.
The first time I had them was a ways back, a few years ago even. It was winter, and I was visiting my friend Meg. If I remember correctly she was a bit weary and possibly quite pregnant, and she roused herself from her chair to offer me a cookie.
"Cookie?"
It was not a pretty cookie. Brown and square. Funny little nibs scattered throughout. But I'm always up for a cookie, so down it went.
"Oh, my god. What is that?"
She wrote down the recipe then and there.
And now I'm writing it down for you.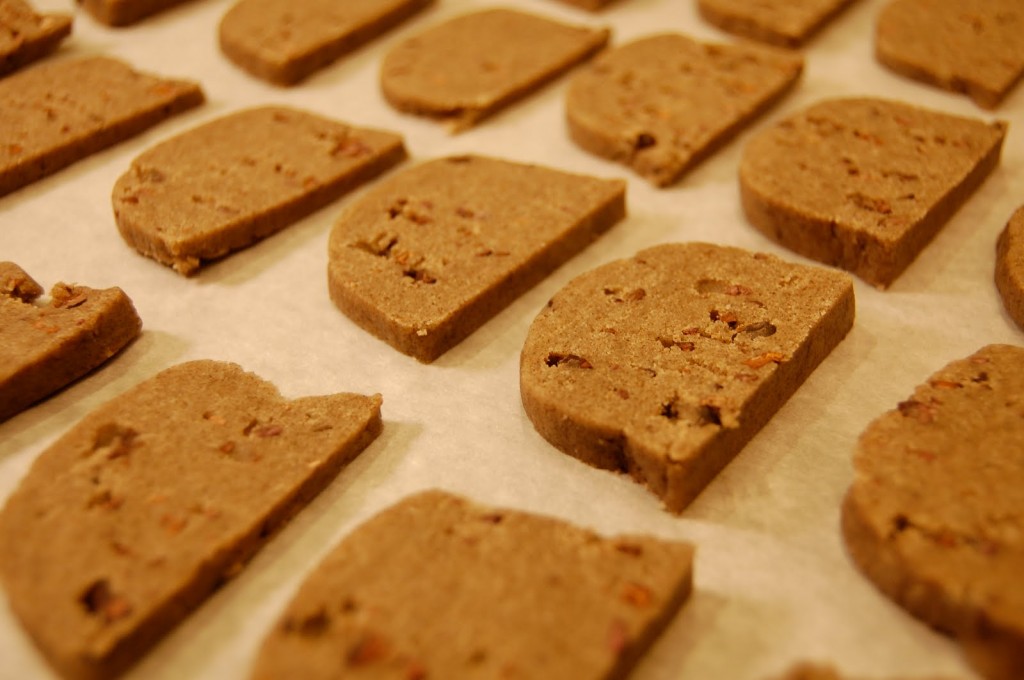 Nibby Buckwheat Cookies (or Buckwheat Cocoa Nib Shortbread, if you need a better name for them, which I think that I do)
from Alice Medrich, Pure Dessert
makes about 45-50 cookies
1 1/4 cups (5.6 ounces) all-purpose flour
3/4 cup (3 ounces) buckwheat flour
1/2 pound (2 sticks) unsalted butter, softened
2/3 cup sugar
1/4 teaspoon salt
1/3 cup cacao nibs
1 1/2 teaspoons vanilla extract
Whisk the flours together in a medium bowl and set aside. Beat the butter with the sugar and salt for about 1 minute in an electric mixer until smooth and creamy but not fluffy. Mix in the cocoa nibs and vanilla. Add the flours and mix just until barely incorporated. Knead the dough with your hands a few times, just until the batter is smooth.
Form the dough into a 12 by 2 inch log. Wrap and refrigerate overnight.
Preheat the oven to 350 degrees. Position the racks in the upper and lower thirds of the oven. Line the baking sheets with parchment paper or silicone liners.
Take the dough out of the refrigerator about two hours before you want to bake it. When it is slightly soft, it is ready to cut. Use a very sharp knife and cut into 1/4 inch slices. Lay them on the cookie sheet, leaving a bit of space for the cookies to spread. You will get about 15 cookies to a sheet, and you may have to bake in more than one batch.
Bake until the cookies are just starting to color at the edges, about 12-15 minutes. Place the pans on racks to cool, or if you need the pans to bake another batch, you can slide the parchment onto the racks. Just be careful with cookies until they are completely cool. If you can, wait at least a day to eat them, as their taste improves greatly with one days age. They will keep in an airtight container for up to 30 days.