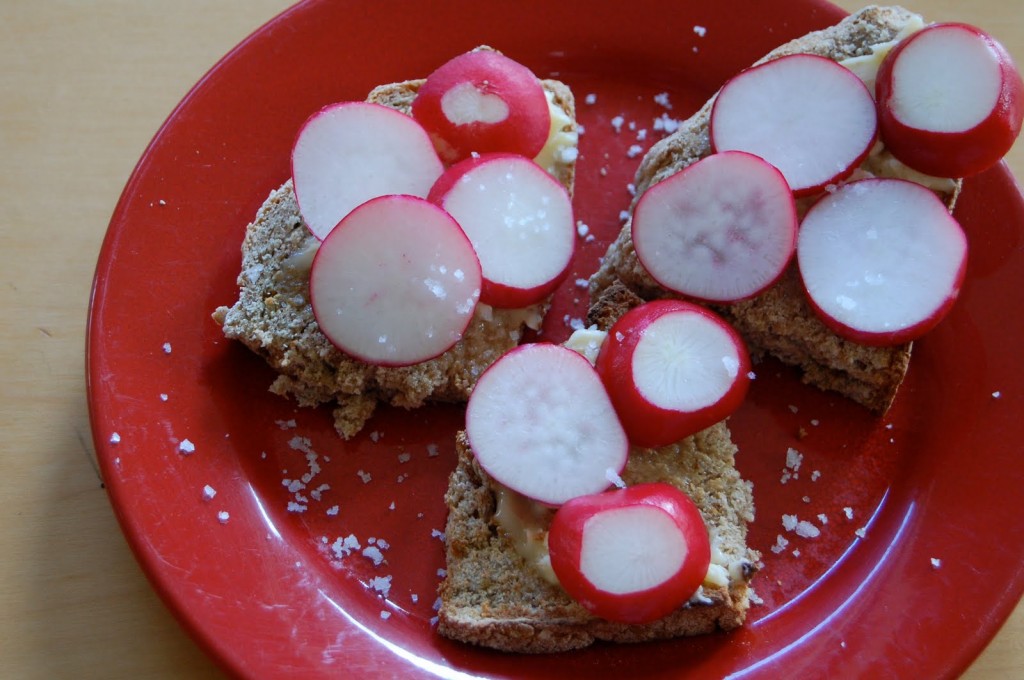 I'm lamenting the fact that I have no radishes. I'm hoping that maybe you have some radishes.
If you do, will you help me out here?
Will you cut a few slices of bread and slather them with a little too much butter? Will you slice up those radishes and spread them on top, and then give them just a little sprinkle of coarse salt?
As long as someone's eating this, I'll feel better, even if it's not me.
I need some fancy food, and this would do just the trick.
I am not having a fancy day. I am too in my head, achy in my body, and not quite up for it. This morning I arose ten minutes later than I should have, and the world just about fell apart. No one had what they needed, hairbrushes were flying through the air, and I spilled tuna juice all over myself. That's right, tuna juice.
But they got into the car, survived the snowy drive to school, and I went about trying to prove to myself that I was, actually, up for it.
I cleaned the house. I matched up the girls socks so that they would actually have pairs to choose from. I called the humidifier company to find out what that whirring sound is. I did three loads of laundry, including one of wool things. I thought about the possibilities that life holds, about some other slower existence where I sip coffee and I eat radishes and bread and butter, and I actually chew.
So why bread with butter and radishes and salt? Well, as I said, fancy. And French. And crunchy and salty and wonderful. And beautiful even. Does that answer your question?
The other day I put a plateful in front of my sister. "I don't know what they're feeding you over there," I said to her. "But eat this." She was having a day that she wasn't quite up for either, and I like to think that the radishes helped.
It's the little things, I think.
I hope so, because now I don't have any, and that brings us back to our current predicament.
Report back. Tell me about how they were. Tell me everything, as it might be days before I get to the store again.