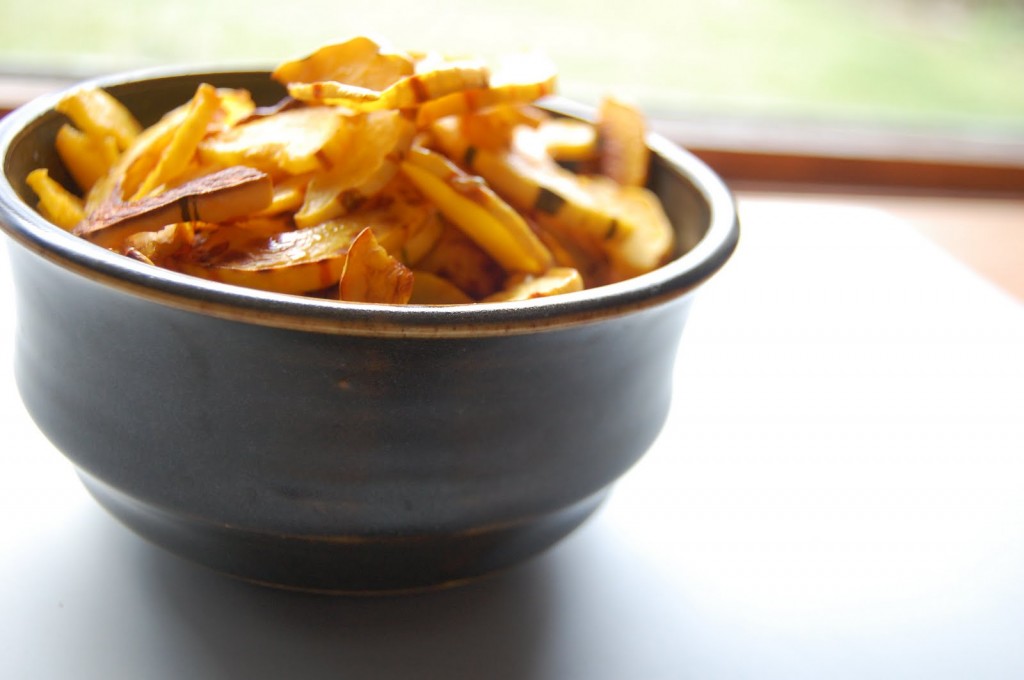 When I was eighteen, I dropped out of school and moved to San Francisco to be depressed. It's a good city for depression. I had family out there, and I lived in their basement, worked at a famous restaurant, and ate a lot of chocolate.
My cousin and I decided to take Italian lessons. We found a man who was willing to meet us once a week and speak slow Italian words through his large yellow teeth. His name was Gianluca, and he enjoyed our lessons quite a bit more than I did. My cousin was a painter, in her mid twenties, with long painterly hair and velvety pants. Gianluca would perk up when he saw her, and we would all sit in the park, conjugating verbs, the Italian man, the painter, and the depressed waitress.
I finally left San Francisco, and I never learned any Italian. I ended up in Venice a few months later and I had to win back my puking girlfriend's passport from the police with improvisational movement. It worked out okay. But I have never forgotten the sound of those lessons. Gianluca with his ANDIAMO! and Colette echoing andiamo! Magical language, and any word in Italian bears repeating over and over.
Delicata. Delicata. Delicata.
Probably my favorite of the winter squashes. Not so much of a winter squash really, but more of a fall squash. It wont last as long as your butternut and acorn, because, well, it's so…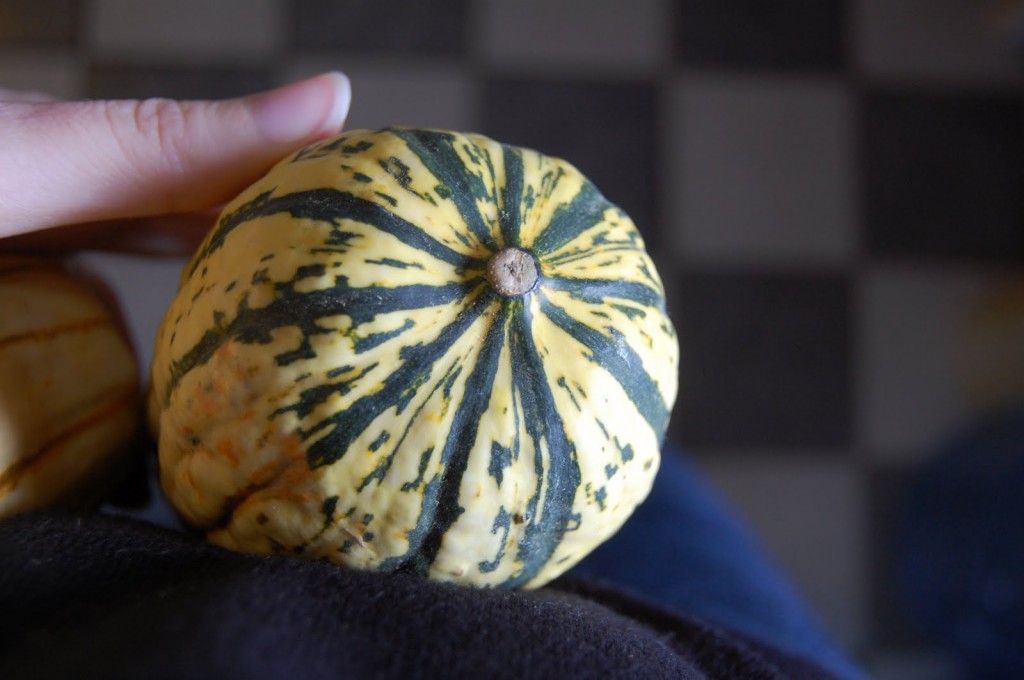 delicata.
The delicata has edible skin. You can, of course, stuff it with lovely things, but I'm going to suggest that you just make delicata chips.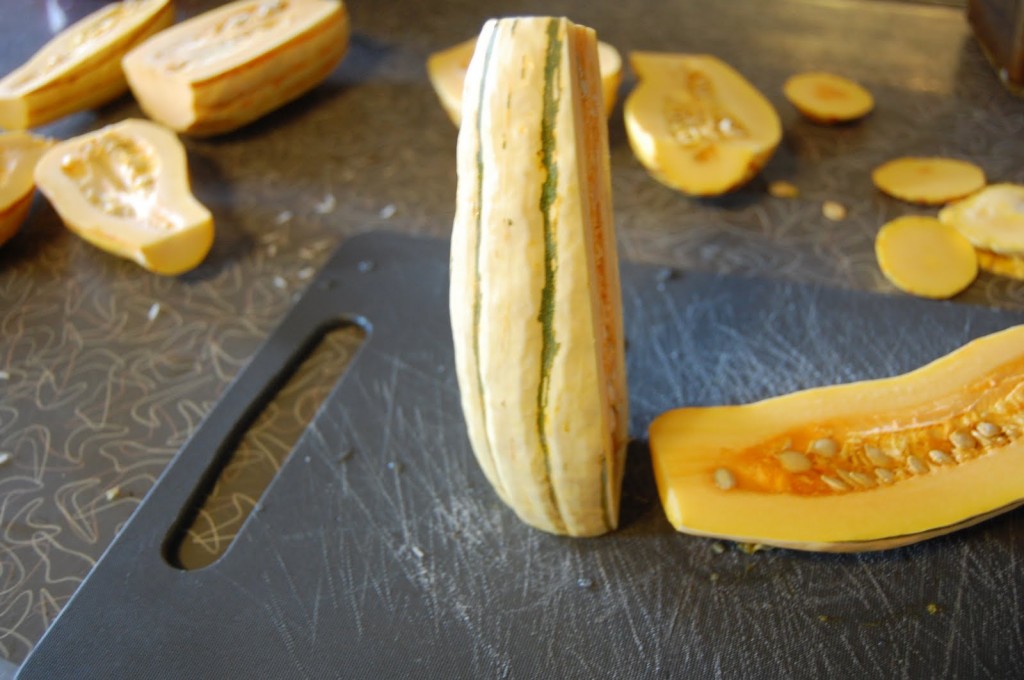 We eat these at least once a week through the fall. I've been wanting to tell you about them forever, but it's always dark when I go to take their beauty shot. But today, I made them in the afternoon, just for you.
delicata. delicata. delicata.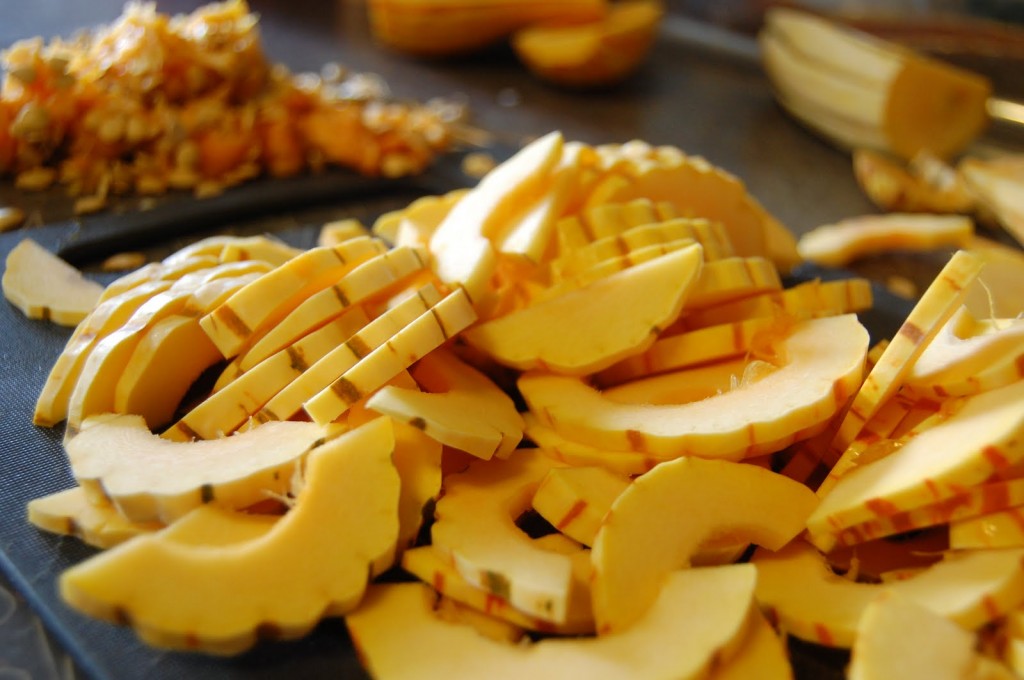 Delicata Chips
serves 4-6
3 or 4 medium delicata squash, washed, ends cut off, halved lengthwise, seeds dug out, cut into 1/4 to 1/2 inch slices
3 Tablespoons olive oil
salt and pepper
Preheat oven to 400 degrees. Toss the delicata slices with olive oil, salt and pepper. Place in a single layer on an oiled tray and cook for 20-25 minutes, shuffling occasionally, until brown spots appear. Finish with fancy salt, if you've got it around.