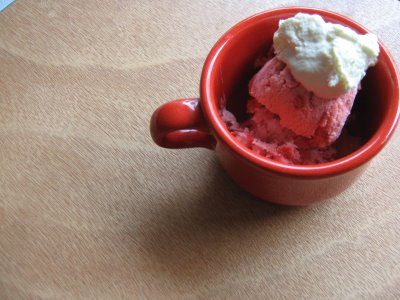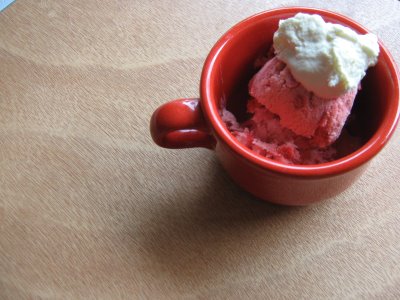 Strawberries are my favorite.
And ice cream is my favorite too.
Now you know two more things about me.
Strawberry Ice Cream
from Alice Waters, The Art of Simple Food
Makes one quart
3 egg yolks
3/4 cup half and half
3/4 cup sugar
3/4 cup heavy cream
1 1/2 to 2 pints strawberries, washed, dried, and hulled
a couple drops vanilla extract
a pinch of salt
In a small bowl, whisk the egg yolks just enough to break them up.
Measure the half and half and 1/2 cup sugar into a heavy-bottomed pot. Heat it over medium heat, stirring occasionally to dissolve the sugar. Do not let it boil.
In the mean time, set a strainer over a heat proof bowl. Keep it at the ready- you'll need it in a second.
When the half and half mixture is hot, whisk a little of it into the egg yolks to temper them. Then whisk all of the now warm egg yolks into the hot cream. Cook over medium heat, stirring constantly, until the mixture thickens and coats the back of a spoon. Again, DO NOT LET IT BOIL. Remove from heat and strain through the strainer over the heat proof bowl. Add the heavy cream to the mixture. Cover and Chill. GO do something else for a little while.
Now for the strawberries. Put them all in a nice big bowl. Mash them with a potato masher. Then add the remaining 1/4 cup of sugar. (Feel free to add less if that is your preference).
Let the strawberries macerate in their own juices, stirring occasionally until the sugar has melted.
Add the berries to the cold cream mixture. Add the vanilla and salt. Chill for a little while longer.
Then put it in your ice cream maker and let it do its thing.
A note on ice cream makers: I use the nice Cuisinart ICE 20, loaned to me by some very nice friends. I know nothing about any other kinds of ice cream makers, but I know that this one is fabulous and cheap. You can also make ice cream without an ice cream maker, which I have never done (you know how I love my gadgets), but go right ahead. Let me know how it goes.