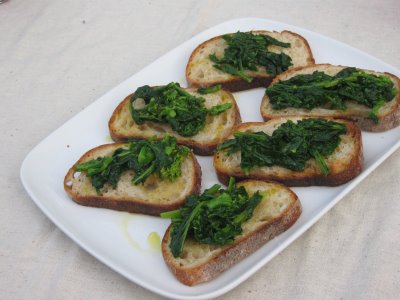 I feel like a kid who can't talk fast enough to get her own thoughts out. Summer is here, and I'm not quite sure what to do with it. We're all on different schedules, and I can't seem to synchronize them in a way that makes sense. My thoughts and moods are moving as fast as the weather, and anyone living in New England right now knows that that is a messy situation. Honestly, I'm feeling pretty sixteen-y.
Luckily, the world goes on no matter what I think, and there have been a few developments around here.
Our sour cherry tree has given birth to some lovely babies, and we find that they're not so sour at all.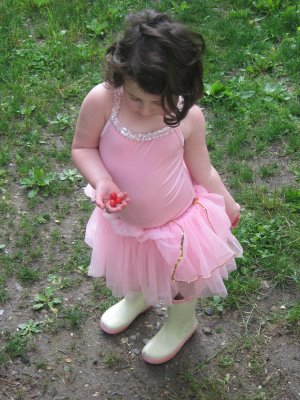 Joey came back from his trip, and brought happiness with him from Santa Fe.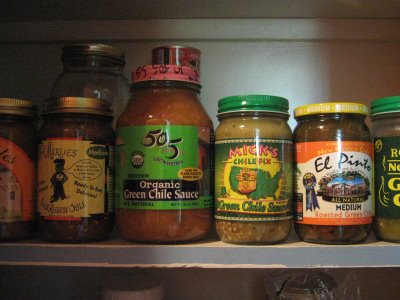 And today, as the thunder rumbled and the storm came over the mountain, I cut the flowers off the garlic.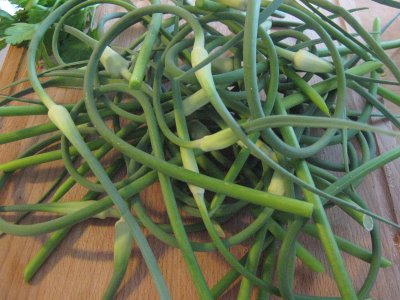 Yes, everyone likes to talk about garlic scapes. And I can too, if you like. Later, later.
But in my disorganized mind, what am I going to do but give you a recipe? And yes, I'll tell you about my dinner party tomorrow (and I hope you'll tell me about yours) but tonight, I'm just going to tell you about the Broccoli Raab Crostini.
I have a strong affection for Broccoli Raab. I like it as much as I like chocolate, and I can't say that about many brassicas.
Broccoli Raab Crostini
from The Best of Gourmet
makes 16 crostinis
for toasts
16 1/2-inch-thick slices from a 10-inch-long italian loaf
2 T olive oil
1 garlic clove, halved lengthwise
For topping
1 lb broccoli raab, tough ends discarded and remainder chopped
2 large garlic cloves, thinly sliced
1/8 tsp dried hot red pepper flakes
1/4 cup olive oil
3 T water
1/2 tsp salt
toasts:
preheat broiler. Put bread into a large shallow baking dish or a sheet pan. Brush both sides with oil, then lightly season with salt and pepper. Broil 4 inches from heat, turning over halfway through broiling, until golden, about 4 minutes total. Rub both sides of toasts with cut sides of garlic. Discard garlic.
topping:
Cook broccoli raab in a wide heavy pot of boiling salted water uncovered until tender, 5 to 6 minutes. Drain well in a colander, gently pressing out excess water. Wipe pot clean.
Cook garlic slices and red pepper flakes in olive oil, until garlic is golden, about two minutes. Add broccoli raab and cook, stirring occasionally, for about two minutes. Salt to taste.
Spoon topping on to toasts.