I have a little bit of an addiction to buying entire animals. When I find myself face to face with a farmer, and they're offering me a whole lamb or half a pig when butchering time comes around in a few months, I just can't quite contain myself. I don't tend to do a cost analysis, or to think about how much room I have in my freezer, or anything like that. I just look at the happy cows munching on green fields and the pigs rolling in organic mud and I go a little wild.
Luck for me, this is not such a bad vice. When I overbuy, my friends graciously buy the extra, and we end up having meat that can't even be put in the same category as meat I've had before.
It's just incredible.
And a nice byproduct of the whole situation is that I end up cooking cuts of meat that I wouldn't normally choose at the store. Which brings us to the current day and one of my now all time favorite cuts of meat: the lamb shank.
Delicate, and so pretty. The meat of the shank takes flavor in spectacular ways. And how do we cook the shank? We braise it, of course.
A Rich Meaty Braise for Hungry Friends, adapted from Nigel Slater's Appetite
serves 4
4 Lamb Shanks
a little bit of olive oil
a little flour for dusting
2 medium sized onions, quartered
2 carrots, cut into chunks
3 medium potatoes, cut into chunks
for the marinade:
1/2 bottle red wine
3 T sherry vinegar or 2 T white wine vinegar
1 head of garlic, cut in half horizontally
a small bunch of fresh thyme or a few pinches of dried thyme
3 bay leaves
10 peppercorns
Put the lamb shanks in a steel or glass bowl and add all of the marinade ingredients. Admire the beauty of it.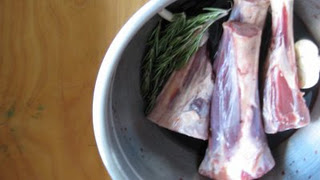 Cover and refrigerate for a few hours, or overnight, turning the meat in the liquid every so often.
Preheat the oven to 400 degrees. Pour enough oil in your roasting pan to cover the bottom, and heat it on the stove top. Take the shanks out of the marinade and dust lightly with flour. Place them in the hot oil and brown lightly on each side. When they are done, remove from the pan and set aside. Add more oil to the pan if necessary. Add the onions, then the potatoes, then the carrots. Cook for 10-15 minutes, stirring often. Then put the browned shanks on top of the vegetables, and pour all of the marinating liquid (and everything in it) over the shanks and vegetables. Cover, and cook in the oven for at least 2 hours, but more if it's convenient.
Season with salt and pepper and serve.