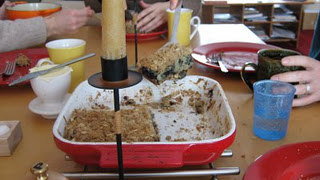 I have this friend, and she and her very fabulous boyfriend (who is also now a friend) came to visit this past weekend. This friend, we'll call her Sarah, because that is actually her name, and I have known each other for 28 of our 30 years, since our single moms joined forces in an attempt to raise their children in an enlightened, free-wheeling sort of fashion. We all lived together for a few clothes-less years, and while our mothers sang their hearts out in the cutting edge New Age choral group, On Wings of Song, we ran around stabbing each other with pencils and pretending that chewable vitamin C's were candy (which they totally are- have you tried those acerolas?).
Anyway, let it be said that these beginnings certainly form a foundation for a strong friendship that doesn't go away no matter what you do to it. And for that I am truly thankful.
But back to 1981, you might be wondering how two single mothers support a family? For children can not live on heart opening melodies alone. All those vitamin C's cost a lot when you are sneaking as many as we did. Well, our mothers cooked together for new age "opening the heart" workshops, of course. And it was over thousands of tofu balls and adzuki beans that the bond between our mothers began.
So it is only natural that so many years later, Sarah and I cook together. And little expansions of my repetoire always occur after these weekends, like rutabagas in shepherd's pie, for example. And when Sarah suggested that we make coffee cake for breakfast, it was one more opportunity for expansion. Because although I make many baked breakfast goods, I'm just not a coffee cake maker. But now I am. And I get a little thrill out of the fact that 28 years ago, if our mothers know that Sarah and I would be making coffee cake together, they would of course be thrilled, but they would really wish that it was a whole wheat quinoa nut loaf instead.
But times have changed. We glanced at the recipe for quick sour cream coffee cake in The Joy of Cooking, and then we messed with it quite a bit. So I feel justified in calling this:
Alana and Sarah's Blueberry Ricotta Coffee Cake
Preheat oven to 350 degrees:
Sift together:
1 1/2 cups all-purpose flour
1/4 cup granulated sugar
1/4 cup light brown sugar
2 tsp baking powder
1/2 tsp baking soda
1/4 tsp salt
Combine and beat till creamy:
2 eggs
1 cup ricotta cheese
Add the the dry ingredients to the creamed mixture with a few swift strokes.
Quickly stir in:
1/4 cup milk
1 1/2 cup frozen blueberries
Spread into a greased 9×9 pan. Make the Streusel:
1/2 cup brown sugar
3 T all purpose flour
1/2 cup rolled oats
1 T cinnamon
1/2 tsp cardamom
1/2 tsp salt
4 T butter, melted
Combine in a bowl until evenly mixed. Spread over coffee cake and bake for 45 minutes, or until a knife comes out clean.