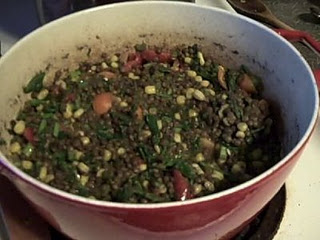 So let's be clear here- I grew up with a lot of lentil soup- you know the recipe from the original Moosewood cookbook- this was a major staple in our little family. And I like lentil soup, I really do, but I'm not going to claim that there is much artistry in it. Argue with me if you like here, it's just a good, basic soup. And this is all that I have ever used lentils for, until my friend Jen introduced me to a recipe from 366 Healthful ways to cook leafy greens. And I was dubious here, I really was. But what I learned was this- lentils and lemons are totally magical together. Magical. So if you are staring at your slightly bare pantry, and maybe your almost done garden and you are trying to figure out what astounding and easy thing to make for dinner, here you go. I've changed this quite a bit from the original recipe, and you can try your own variations on this one too. You can serve this with any grain, even noodles if you like.
Warm Lentils and Corn with Lemon Vinaigrette
1 cup dried french lentils
1 cup fresh or frozen corn kernels
1/4 cup olive oil
1/4 cup fresh lemon juice
1/4 teaspoon salt
2 cups fresh green (broccoli raab, arugula, swiss chard, kale, spinach….) shredded
1/2 cup cherry tomatoes, quartered (or chopped tomatoes will do)
2 ribs celery diced
1/4 cup chopped flat leaf parsley
Rinse the lentils and discard any stones.
Combine the lentils with two cups of water in a medium saucepan; bring to a boil. Reduce the heat, cover, and simmer 25-35 minutes until tender, adding more water if necessary. Add the corn during the last five minutes of cooking. Drain.
To prepare the vinaigrette, whisk the oil, lemon juice and salt together in a small saucepan over low heat until warm.
Spoon the lentils and corn into a serving bowl. Add the greens , tomatoes, celery and parsley.
Pour the warm dressing over the salad and toss. Serve immediately.