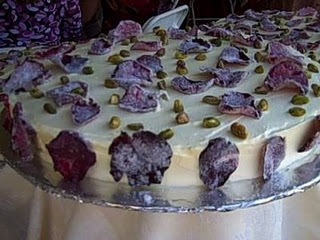 I went to a wedding a few weeks ago. My husband was doing the music for the wedding, and although I knew the couple getting married, our slightly uninvited status allowed me to look in to a window a bit more than had I been more involved in the wedding myself. It was a startlingly beautiful day, blue sky, gold leaves, gentle temperature perfect for any fashion choice one might have made. The kids were with my mother, so my husband and I had a little date out of it. And as he fiddled with the broken speaker system, I got a bit reflective, and decided that I had to photograph this cake. This is a Persian love cake, saturated through and through with saffron and rose water, topped with an incredibly mellow frosting, pistachios, and- here's the kicker- Hand sugared rose petals. Now is this isn't the cake you would want to feed to your naked lover, I don't know what is.
I started thinking about how truly beautiful food can make us feel beautiful, like royalty, or gods. And while we cannot have Persian love cake every day (pity), I wanted to share another beautiful food that brings luxury to my day. I don't know about you, but sometimes I need it.
Lemon Verbena Sugar (adapted from Debora Madison's Local Flavors)
two cups of good quality sugar
25 Fresh Lemon Verbena leaves
1 T lemon or orange zest
Combine in a sealed jar. Shake every few days. After a couple of weeks, strain out the leaves and zest. Use in tea, on desserts, or really anything you can think of.
This recipe will also work with other herbs that you are harvesting, lavender, mint, or whatever inspires you.