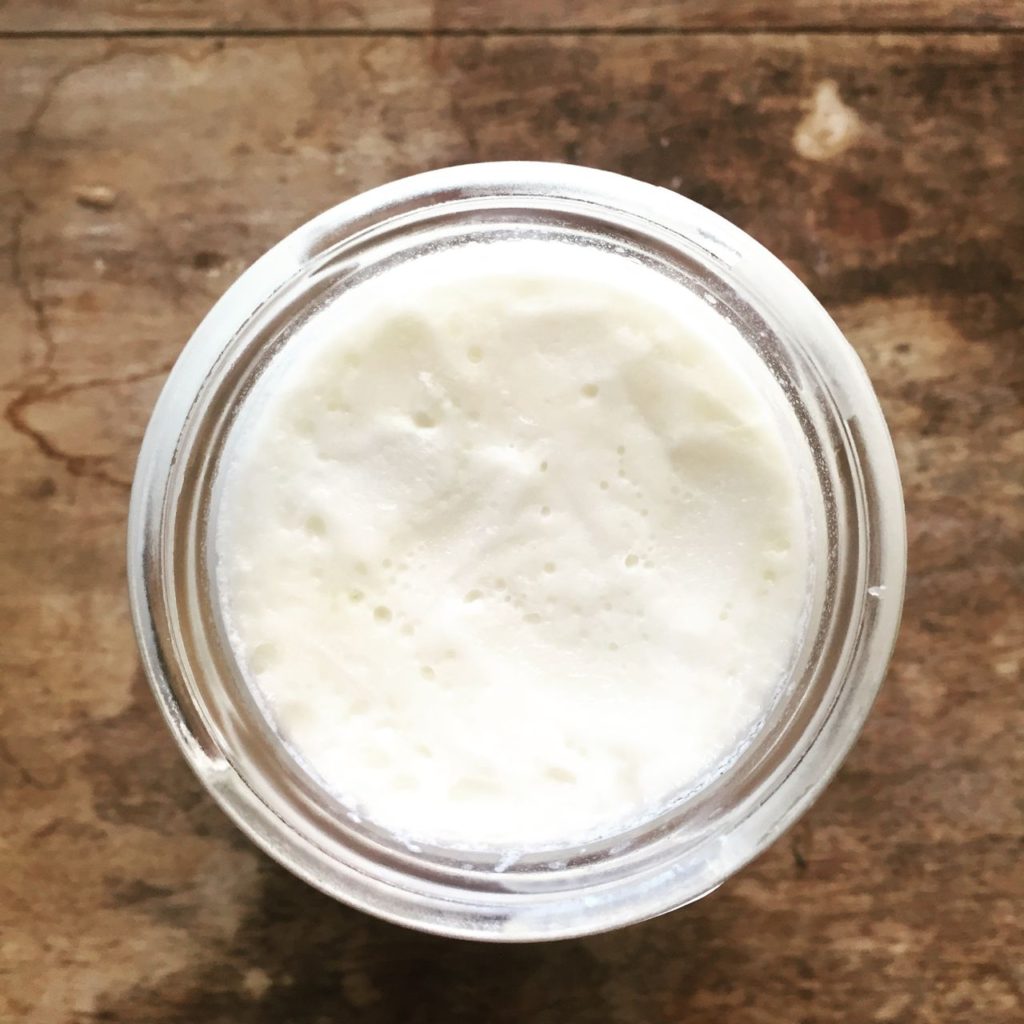 After all these years, we still love little yogurts.
It's a little dishonest maybe, or at least evidence of my claim that I'm no militant. Because while I've repeated the origin story of my current career over and over for years now, my grocery cart still might hold the unexpected.  
The story goes like this: I had a picky kid who ate a lot of yogurt–especially little yogurts in exciting delicious flavors. In an effort to save money (sorely needed) and the planet (hurting from all those tiny cups), I started making yogurt. Liked it enough to write about it. Money saved. Planet saved. Career launched.
But like I said, I'm no militant. And those tiny plastic cups that fueled me through my picky childhood (Yoplait strawberry custard style! Dannon coffee!) call just as loudly to my children (and yes, to me) in the supermarket aisle. I still make buckets and buckets of yogurt a week to feed us all, so I only occasionally give in to the siren call. If there's a particularly good sale or a week I don't have time to make yogurt, a stack comes home. And being who I am, those prizes of the grocery bag end up inspiring some experimentation and enhancing my homemade yogurt habit. It all seems to work out. And I think the flavor I get the most questions about is coconut, so this particular investigation was also fueled by you all.
So–coconut yogurt. This isn't non-dairy coconut yogurt (here's a great one for that), but coconut and milk yogurt, most well-done in the supermarket, I think, by Siggi's. It's not very sweet,very coconutty, and pretty pricey. My own version is a little different, but I like it better and the picky family over here seems to agree. This is the only yogurt they want me to make, and none of us are sick of it yet. After messing around with the recipe a bit, I realized that the key was to add coconut milk to milk, and that made a super custardy yogurt with a strong coconut flavor. I've done this with both fat levels of coconut milk, and my preference is full-fat. It ends up creating a a very thick cream layer on the top, which one reader didn't like when I suggested this on FB a few weeks back, but when I used low-fat I missed it. The full-fat milk also created a custard-like texture, which is what I aspire most highly to in homemade yogurt. But if you don't like that fat layer on top, feel free to use low-fat coconut milk.
I also add large flaked coconut to the yogurt. It ends up rehydrating and gives the whole experience a bit of chew to it. If that's not exciting for you you could use grated coconut instead, or leave it out altogether if you don't want any texture at all. The coconut drifts to the top of each jar, so it ends up being a layer of cream, then a layer of coconut, and then the pure yogurt underneath.
The last coconut element is natural coconut flavor. I've been using Frontier, which is in oil. It works fairly well and doesn't taste fake, but I'd love to experiment a bit more with other extracts in alcohol to see how they carry through the milk.
This will work for any process you use to make yogurt, although I think it's best made in a yogurt maker or cooler (as opposed to a slow cooker), because it's really nice to have it in little individual jars.
If you're new to making yogurt, I've got lots of info here on the site–all here at the yogurt archive. And I've also got a class over at Craftsy with a really comprehensive yogurt lesson and lots of great conversation on the online platform. I'm not going to go too deeply through the actual yogurt process here, but I'll talk about how these ingredients fit into the process you already have.
If you experiment with this one I'd love to hear what you think, or if you find a type of extract you love, or really anything else. You know I always love talking about yogurt.



Coconut Yogurt
Makes about 2 1/2 quarts (you can absolutely cut this in half if that's too much for you)
1/2 gallon whole milk
1/2 cup plain starter yogurt
1 15-ounce can full-fat coconut milk
1/4 to 1/3 cup maple syrup, depending on your sweetness preference
1 tablespoon natural coconut flavoring (I use this one from Frontier) or extract
1 cup unsweetened flaked coconut
Heat the milk in a large pot on the stove until it reaches 185°F. Allow the milk to cool to 120°F.
Transfer your starter yogurt to a bowl, and add a bit of the warm milk to thin it out. Stir gently, and add the thinned-out yogurt back to the pot. Gently stir to combine, but do not whisk.
Scoop out 1/2 cup of the milk mixture and pour into a jar. (This will be your plain starter yogurt for your next batch.)
Add the coconut milk, maple syrup, coconut flavoring, and flaked coconut to the pot. Gently stir to integrate the fat from the coconut milk and the oil from the flavoring. Taste, and adjust sweetness if necessary. Transfer the mixture to jars for culturing and keep warm using a yogurt maker, cooler, oven with the pilot light on, or whatever else you use to make yogurt, until the yogurt is set, 5 to 10 hours (depending on your method and sourness preference)). Culture your plain jar along with the coconut jars. Transfer to the refrigerator the jars to the refrigerator.