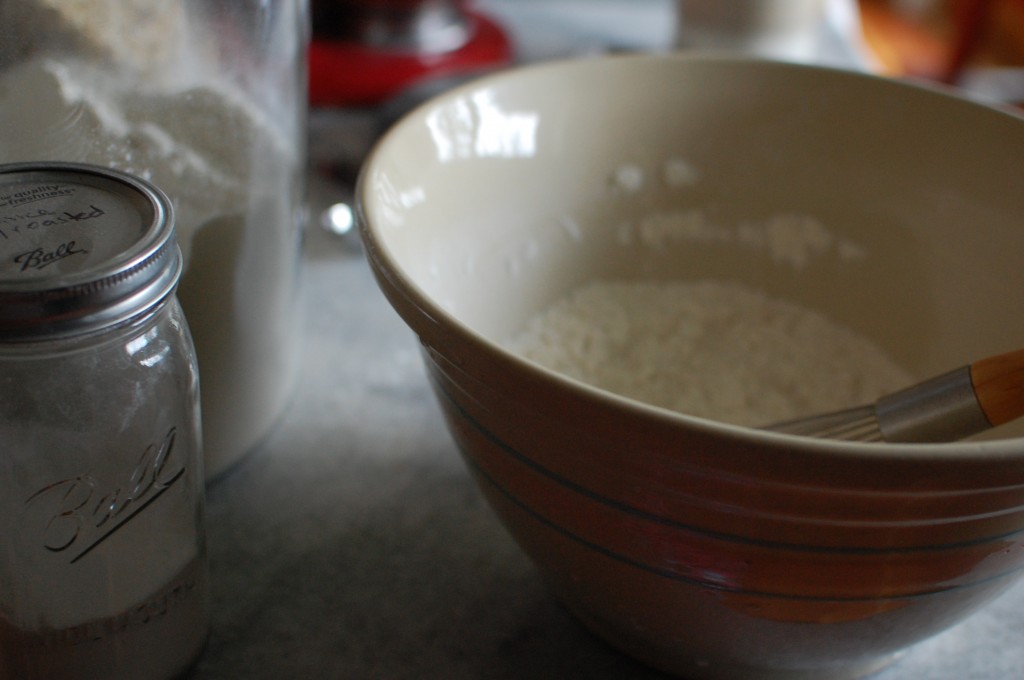 Last Friday, I woke up and made maple scones. The girls were home because it was parent conference day, and they rolled out of bed before I did and tucked themselves onto the couch with the third Harry Potter movie. And so, with the dramatic tones of the HP theme as my background (warring, of course, with Morning Edition on the radio), I shuffled around the kitchen, made coffee, and stood back to look at the cookbook shelf. I pulled down this one, and the book opened to the maple scone recipe. It was meant to be.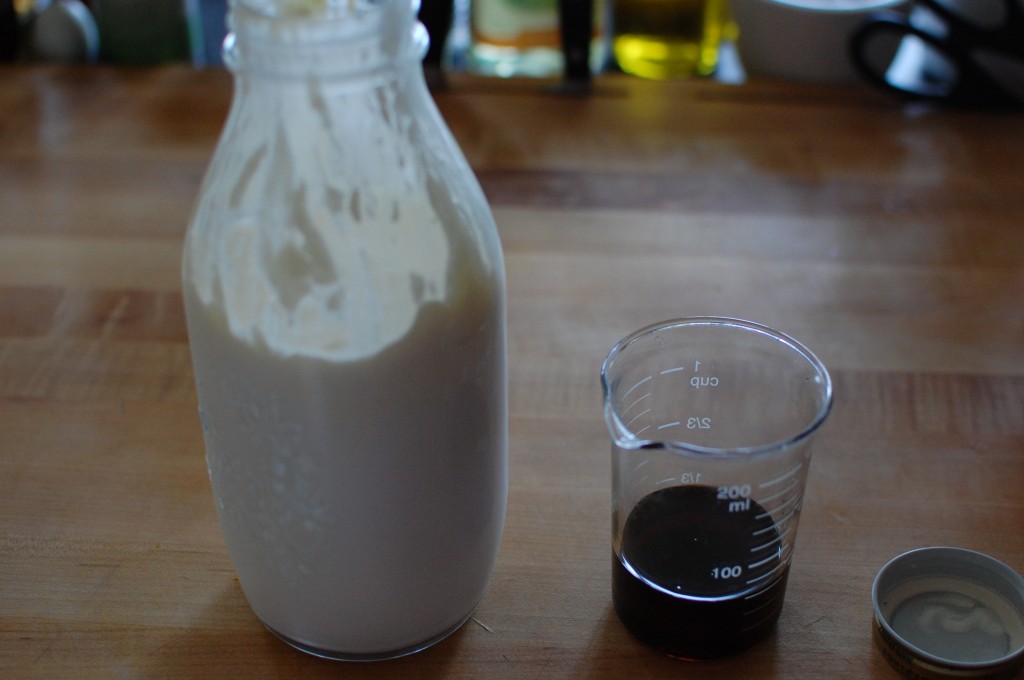 I know that there was a time before I baked, but slowly, I've moved across the spectrum to be someone who makes scones on a regular Friday morning. I own more than one tart pan, and I volunteer to make birthday cakes whenever anyone I know even a little bit is having a birthday. And while some of us bake and some DO NOT (arms crossed, stomp, stomp), there does seem to be a perception that it's an innate talent, that you're either a dough whisperer or not.
I put this question out on Facebook last week, asking whether people who loved to bake had advice as to why it works for them, or, conversely, if there are those who wish they baked but don't because of some frustration or baking fail experience. The answers were so great, and my hope is to do a little series here where we talk about how all this works in our kitchens. In this first part, I'm going to talk about a few basic principles that govern how I bake. Part 2 will focus on technique, and part 3 will be materials and substitutions. I'm not a professional baker by any means, and I know many of you have lots of advice to share. So of course, I'd love if this can be a conversation, and if you'd like to pipe in (both with your successes and frustrations), hooray!
Today–Part 1: Coming to the recipe
1. Give yourself enough time. Especially if you're not a frequent baker, don't try to fit a baking project into a tiny window of time, and try not to bake while you're doing something else. I hold to this even with the simplest of recipes. For example, if you're making soup and cornbread, focus entirely on the cornbread until it's in the oven–then work on the rest of dinner. Also, it's also entirely possible (and in my experience, probable) that a recipe will take longer to bake than is listed in the recipe. If you find yourself wondering if you can make the cookies, get them into the oven, and get them back out again before you have to run out of the house in 45 minutes, take a walk instead and make cookies LATER.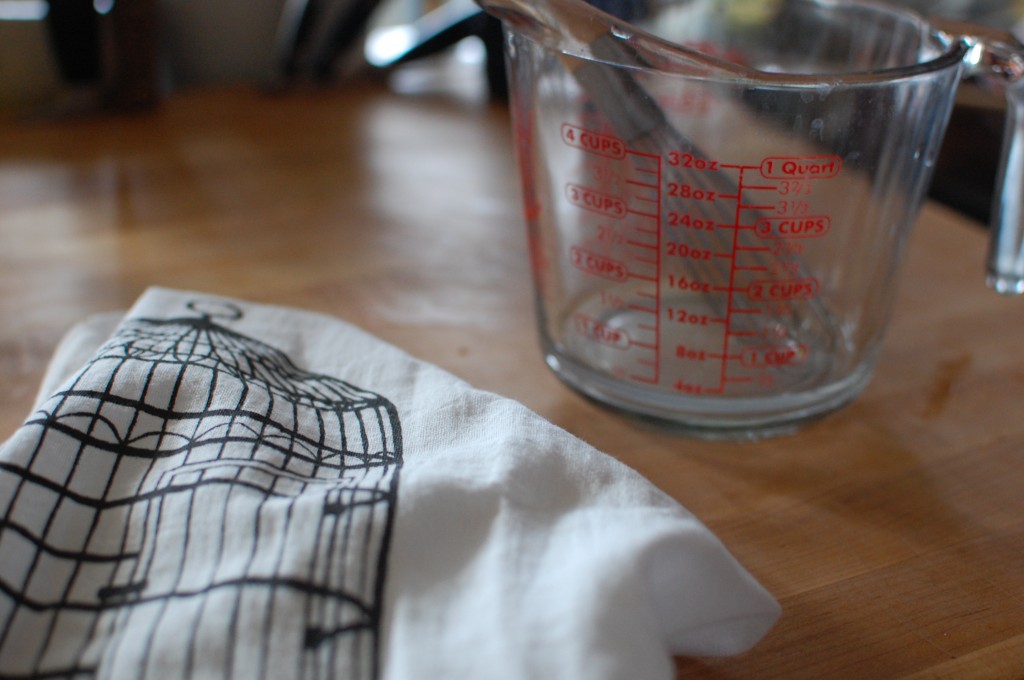 2. Pay attention to the weather (both inside and outside). There are very few baking projects that will work well in the depths of hot, humid summer. (Turn off the oven and make ice cream!) Even a rainy day might take the crisp out of your pie crust. I'm not saying that you should only bake on cold, dry days, but if you have an unexpected result, know that the weather can be a factor. Similarly, the air inside your kitchen will have an effect on your product. Particularly if there's yeast involved, factor in a longer rise time for a cold kitchen than a warm one.
3. Get to know your oven. Nearly every oven runs hot or cold. Buying an oven thermometer (and putting it the center, rear, upper part of the oven) is an essential first step, but there's more to know. How quickly does your oven lose heat when you open the door? Are there hot spots that seem to cook the food faster? How quickly does it heat up? And is there a convection setting? (More on convection later in the series.)
4. Read the recipe through a few times, and the first time you make it, follow it exactly. Make sure you know what your getting into. Do you have all the ingredients? Is there an 8-hour chill time buried in the middle of the recipe? Get familiar with the whole process before you start.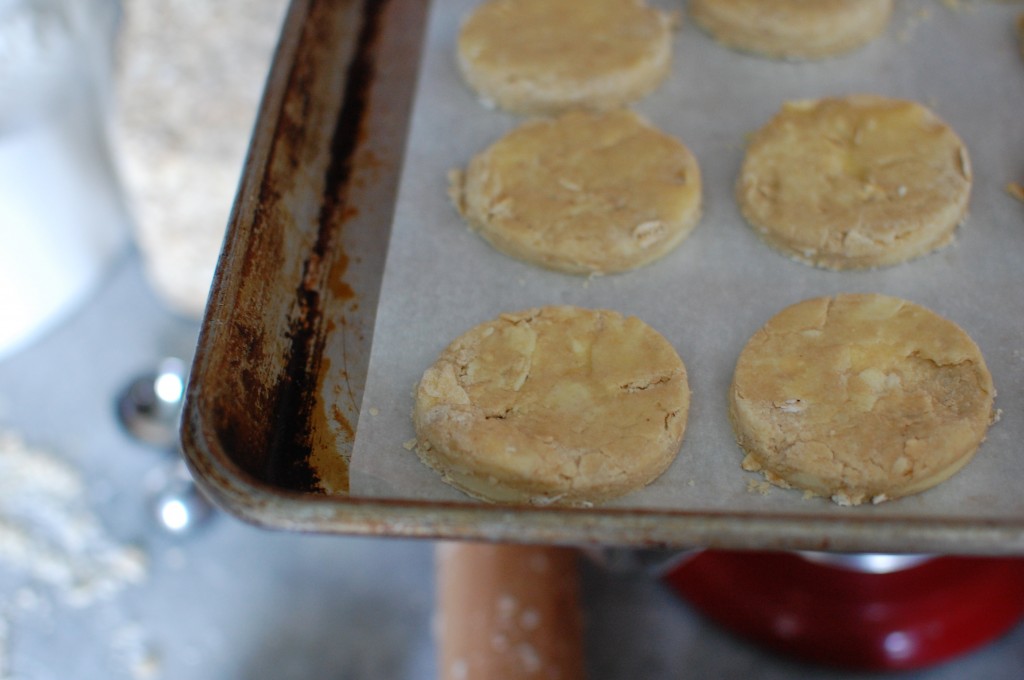 5. Weigh your ingredients. These days, a good kitchen scale will set you back about 20 bucks, and it's really worth it. A scale does two things that make baking easier. The first is that it reduces the dishes you produce. When I make granola, I put the bowl on my scale. I zero it out, and then I add each ingredient, zeroing it out after every addition. It simplifies the whole process, and I don't even need measuring cups for that one. This only works if you have a recipe with weights, but many do. The second plus of a scale is that it helps you to know exactly how much of an ingredient you're using. Measuring cups can be variable, and this way, you don't have to think about how you're measuring your flour, if you were supposed to sift it before you measured it, or anything like that. If the person who wrote the recipe weighed their ingredients, you know that you're using the same quantities they did. This also gives you the freedom to work from recipes from other countries, which is a plus.
6. Pay attention to the descriptions and "doneness indications" in a recipe as opposed to the time. Should the cake be pulling away from the sides of the pan? Even if it takes 15 minutes longer than the recipe said it would, take it out of the oven only when it pulls away from the sides of the pan. Is the dough supposed to be smooth and elastic? It probably needs more kneading, even if you already kneaded for the specified 8 minutes. Is the batter crumbly when it's supposed to hold together? I'd guess it needs a touch more liquid. Don't be afraid to veer away from the recipe in service of getting the product to where the recipe says it should be.
7. If the recipe fails, repurpose the final product. Nearly everything is good mixed into ice cream. Throw the failed cake/cookie/bar in the freezer until you're ready to churn it into ice cream for your next sundae night. If what you made tastes good, figure out how to use it.
8. Find the tools that work for you and make you happy. You know how I feel about tools! But I'll admit something to you. I have two muffin pans in my kitchen. One is wonderful–it bakes evenly and the muffins come out easily. The other pan is a disaster. Everything sticks, it doesn't bake well, and it's impossible to clean. I usually bake in batches of 24, so every time I use them, I always tell myself I need to get rid of the bad one and just buy another of the good ones. (I'm going to do it!) The right tools make a huge difference, and it helps if you like the feel and look of them too.
9. When you bake, do it because you want to. Although we all need to get dinner on the table, we could probably make it through most of our lives without ever making a loaf of banana bread or a sheet of biscuits. So try, if you can, to bake when you know you can enjoy the feel of the dough, the smell coming out of the oven, the process of frosting cookies or a cake. If there's a mixing bowl you love to use, an apron you love to wear–do it. Let the process be something for you.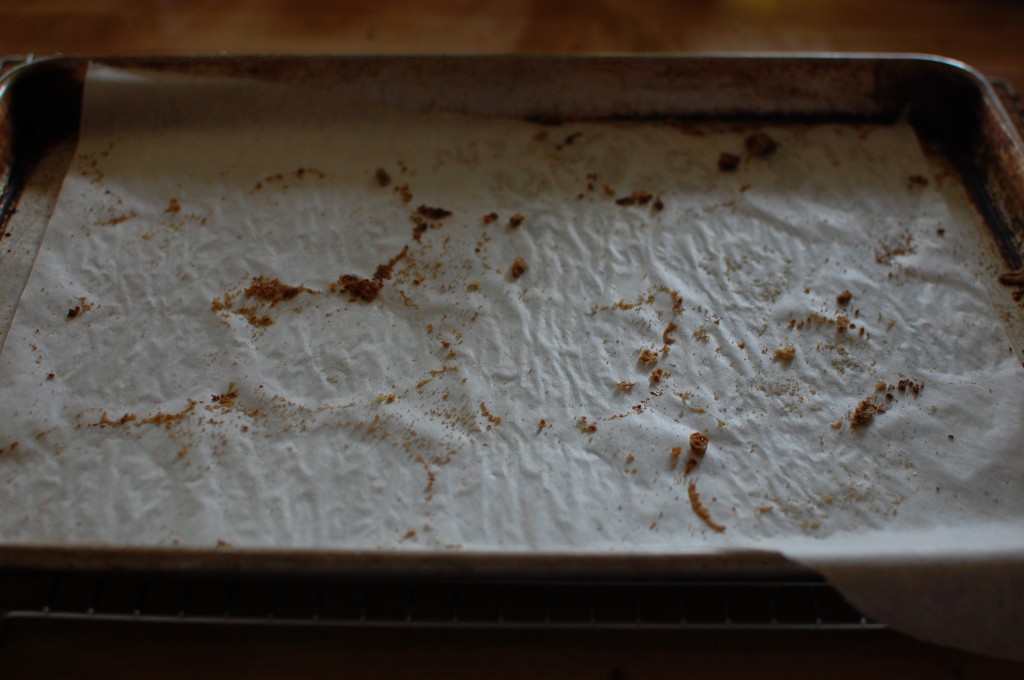 That's it for this piece of the puzzle, but there's more to come. And now for that giveaway…
So–the tools. The tools make such a difference. Do your measuring spoons bend when you use them? Is your liquid measure too small for the recipes you love to make? Is your mixing bowl big enough, or does it overflow when you stir? We can solve this!
I asked the folks over at Mighty Nest if they might be willing to offer a something of a baking tools care package, and they were happy to do it. They have all sorts of goodies for a useful and sustainable kitchen and home over there, but we worked together to create a box of my favorites. This is what's in there:
6-quart mixing stainless steel mixing bowl: just big enough, but not so big that there's nowhere to put it. It's heavy and good quality, so it won't rust and it will last forever.
4-cup glass liquid measure: my favorite size–great for measuring a mixing at the same time (when you're combining all the liquid ingredients in a recipe, do it in this cup)
Silicone spatula: As a college professor once told me, "the most useful tool in the world". Scrape every bowl clean, and use it to make scrambled eggs, too. This one is very heatproof, and it has a great metal handle that doesn't get gross like the wooden ones can.
Dry measuring cups: these are the Cadillac of measuring cups–sturdy, stainless steel, with good handles that won't bend.
Measuring spoons: Again, these make such a difference. I used those cheap bendy measuring spoons for years, until my friend Janet gave me a set of these sturdy spoons. She told me she just couldn't bear to see me use those sad bendy spoons any more, and that gift has changed my baking experience forever.
Spring whisk: Oh the air this whips into eggs! Easy to clean, too. This is that other whisk shape (pictured above next to the silicone spatula), and I'm rapidly becoming a convert.
Silk-screened dish towel: Okay, so this isn't a necessity, but I asked if we could include it anyway, because a new dish towel is such a nice, simple luxury. This one is organic cotton, made by a husband and wife team in Oregon–the whole deal. And I love the birdcage.
Thanks so much to Mighty Nest for helping me out with this one (and for sending me my very own new dish towel, too). If you've never checked out there website- do! They're offering a 10% discount to you all as well (with free shipping over 25 bucks)- just use the code GROUNDUP10 from now until Christmas day.
So let's talk baking! It's all free reign- techniques, memories, questions, what you'd like to see in future baking posts- all of it. I'll choose a winner on Monday morning, and I'll let you know then. (Update! The giveaway is extended until Tuesday at 8:00 am EST)
And of course, you're not getting out of here without a recipe. This is a good one, part scone and part oatcake, and the smell from the oven? I'm not even sure I have the words. You let me know what you think.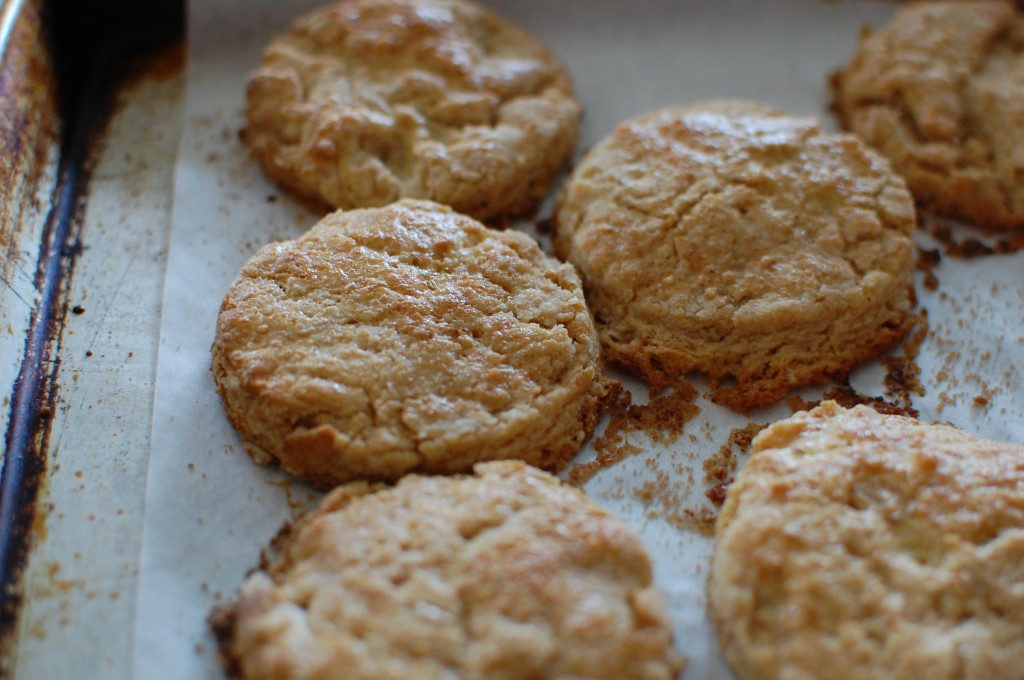 Maple Syrup Scones
adapted from Rose Carrarini, Breakfast, Lunch, Tea: The Many Little Meals of Rose Bakery
Makes 12-14 scones
260 grams (1 3/4 cups) all-purpose flour, plus more for the counter
80 grams (1/2 cup) whole-wheat pastry flour
35 grams(1/2 cup) rolled oats
1 heaped tablespoon baking powder
1 heaped tablespoon granulated sugar
1/2 teaspoon salt
160 grams (scant 3/4 cup) cold, unsalted butter. cut into 1-inch pieces
5 tablespoons maple syrup
5 tablespoons buttermilk
1 egg, beaten
Maple sugar or turbinado sugar
1. Preheat the oven to 400 degrees. Line a baking sheet with parchment paper.
2. Combine the flours, oats, baking powder, sugar, and salt in a large mixing bowl and whisk well to combine.
3. Add the butter to the flour mixture and use your hands to rub the butter into the flour until the whole mixture resembles coarse breadcrumbs. There can still be some larger pieces of butter in the mix.
4. In a small bowl or measuring cup, whisk together 4 tablespoons of the maple syrup with 4 tablespoons of the buttermilk. Make a well in the dry ingredients  and pour the maple syrup  mixture into it. Use a fork to incorporate the wet into the dry–then knead it a few times with your hands. If the dough doesn't hold together, combine the final tablespoons of buttermilk and maple syrup, adding it to the dough a few drops at a time until the dough holds together. Knead a few more times, just until a soft, firm dough with just a little bit of crumble comes together. Be careful not to over-handle the dough.
5. On a lightly floured counter, pat the dough into a disk about 1 inch thick. Use a biscuit cutter or juice glass (about 2 inches in diameter) to cut rounds into the dough, placing them on the baking sheet about 1 inch apart. Gently press any scraps together on the counter and repeat. Use a pastry brush to brush the top of each scone with the beaten egg. Top with a sprinkle of the maple sugar or turbinado sugar. Bake for 15 to 18 minutes, or until the scones are just starting to brown.