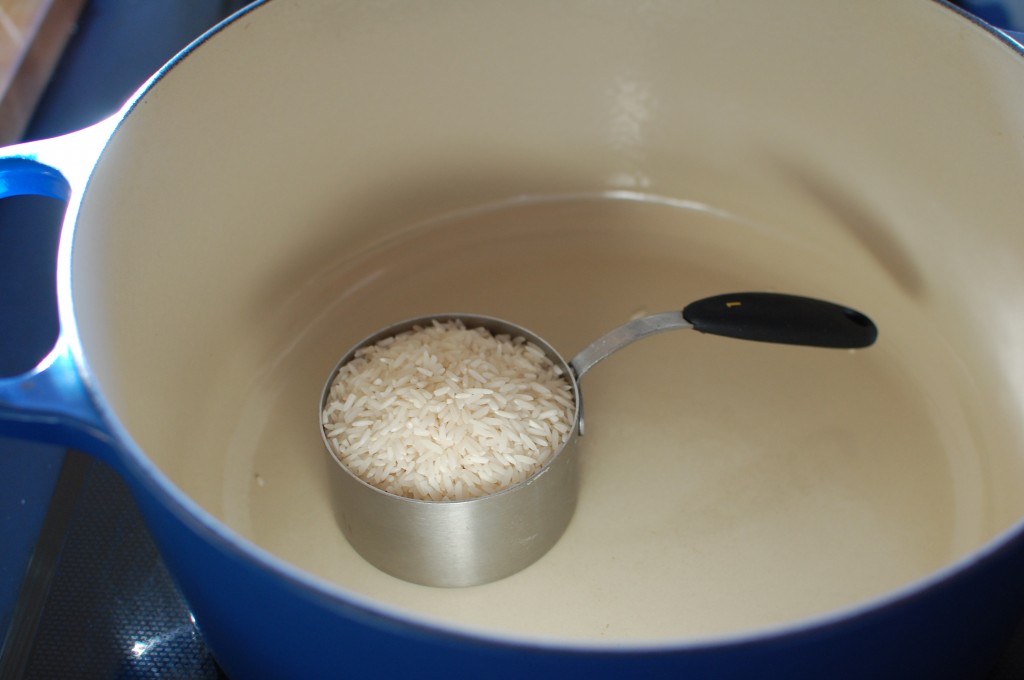 There are nights that fit together like puzzles.
I'm standing at the stove–it's 5:00 and there is a coming and going in the house right now which is decidedly unsettled, although also joyous in a sun-through-the-window kind of way. I'm making congee, the thick rice porridge that is thickening in so many kitchens in the world right at this moment, although not in this country because we don't seem to know congee as well as we should.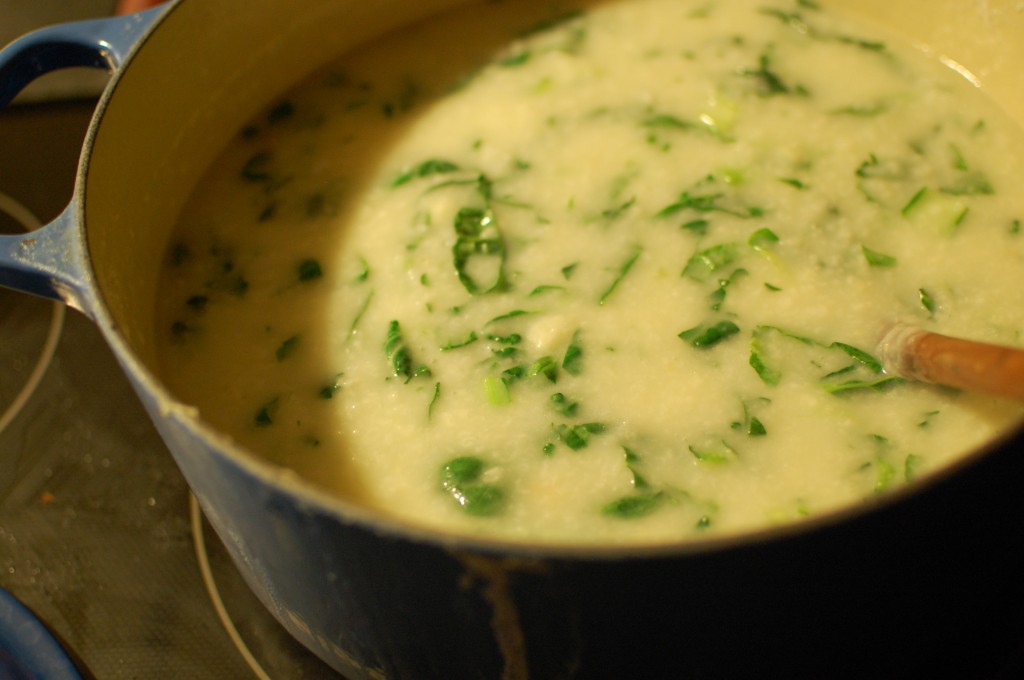 We are slated to go to our friends' for dinner , and the request is that our contribution fits  in the theme of "Polynesian". I have to admit that I don't really know what that means. I google, and everything is pineapple. Sadie and I are allergic to pineapple, so that's out. And what I really want is congee, because it's been that kind of day and that kind of week, and I figure that if I make it with coconut milk, maybe the theme will apply. Most cultures makes congee in some form, so I'm probably safe.
Rice in the pot. Water, coconut milk, and a jar of whey in the fridge for good measure–all in the pot. I always have a hard time believing that so much liquid will go into that tiny bit of rice, but it always does. And here's where the puzzle begins.
I have a meeting at 6. It's town business, and there have been a lot of meetings lately just right at this magical dinner time, so the girls look at me through their eye lashes, betrayed. They will go on with Joey to the Polynesian dinner, and I'll go to them after my meeting at Town Hall. "I'll be done by 7!" I say, and there is a bit of eye rolling, framed, again, by those 2 sets of beautiful eyelashes that make me want to abandon this all, to forget the rest of the night and climb into bed with the both of them early, way before bedtime–to watch the Princess Bride together and hold one girl in the crook of each of my arms.
But instead I orchestrate the night while Sadie tells me about her latest trumpet lesson. I chop greens on the cutting board beside the stove, and I throw the chicken breast into the freezer so that when it is time, it will be easy to slice. I'm happy. And then the phone rings and there are too many sick kids and people working late. Polynesian dinner is cancelled. The puzzle pieces shift.
Still, there will be congee for dinner, and lots of it now, which is grand because congee leftovers are a security blanket in the refrigerator. I bustle around, stopping to stir every so often, and then at 5:45, I face the fact that dinner won't be ready by the time I go.
"I'll be home at 7! Let it sit, stir it every so often, and I'll finish cooking when I get home." A kiss, and hugs from the girls, and Joey says something or other as I go that makes me feel like the night is so much more possible, noble even. That he's proud of me or he loves me or simply, "see you soon" with just the right tone. And then I'm off, a little hungry, but happy, and excited for my congee.
In 2 1/2 years of these nighttime Town Hall meetings, I have never left a meeting mid-way to call Joey. Until now, in the middle of a discussion about grey versus black streetlights, and me, sneaking into the back room to call, and to say he should go ahead and eat without me. Cut the chicken that's waiting in the freezer. Stir the greens into the hot rice.
"It's okay! I'll give the girls noodles and I'll wait for you." The meeting continues. And I remember that I'm told myself I would never again go to a meeting without eating something first. And although I continue to focus on the color of the streetlights for another several hours (we went with galvanized metal, for all of you on the edge of your seat), there is a corner of my mind cutting the chicken in thin slices, dredging them in cornstarch, stirring them into the steamy pot and watching the slices turn white.
It's nearly 10 when I finally get home, empty kitchen, pot on the stove. The pot has obviously boiled over at some point in its life this evening, but now it's calm, warm, temperature turned off.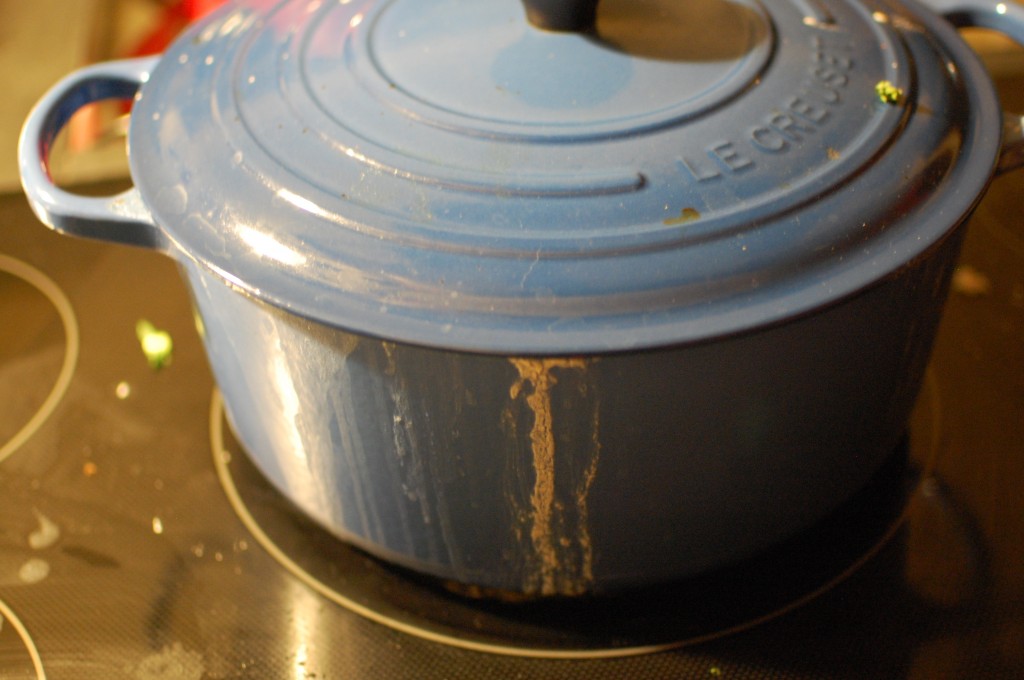 So this is the moment. The pot of rice porridge is just cool enough to transfer it to the fridge. The greens, chopped hours before and piled on the cutting board are as perky as if the night hadn't run away with us. I peek in on Joey and he's already tucked into bed with The New Yorker. It's late, I'm hungry, and this is a perfect time to call it a day and eat a bowl of cereal for dinner.
Except not really. Because this is also the moment when I can make the decision to eat exactly what I want, when I can say, "Body? Thanks for all you do. We've done some good work today, and I'd like to thank you by giving you EXACTLY WHAT YOU WANT." Sure  I'll end up stirring the pot a little later in the night, and I'll have to figure out what to do with a steaming 9-quart cast iron pot filled with heat. But I am a guest at my own table! And so I turn on the radio. I listen to Joe Biden and Paul Ryan duke it out, and I slice and toss and stir. My tummy rumbles and I don't snack.
There is so much happiness in feeding other people. But interwoven with all of that is the importance of feeding ourselves. I've been thinking about dinner lately (more on this in a minute), how I get dinner on the table and what my strategies are. I don't have charts or schedules–maybe that's why I have so much comedy in my kitchen? But what I do have is a question, and I start there every time.  What do you want to eat?
Simple, I know, but such a good one. If dinner starts with that question, if it is led by your cravings, it takes a whole different shape. It becomes a process of you taking care of yourself, and it ends with the prize of dinner. It's good for you, and it's good for everyone else at your table, too.
Before we get to the end of the congee odyssey, let's talk about that blue pot. Some of you who know me well might be familiar with my tiny orange Le Crueset round dutch oven. That pot and I have cooked to the moon and back, but for quite some some time now, I've been coming to terms with the fact that anyone who cooks regularly for seven, and semi-regularly for fifty (the parties get a little out of hand here) maybe should invest in a nine-quart. That's the big one. I've been saying that the day I sell my second book, I would go down to the kitchen store in town and I'd leave with the pot. I've picked out the color over an over, and each time, it has been different.
That pot up there? It's the big one. And Marseille Blue to boot. A few weeks ago, I went downtown and I walked out of the kitchen store with the pot (also, because the girls claim that this new book is their project too and they are absolutely right, a sodastream).
That's right, the new book. THE NEW BOOK!
What I can tell you now, even as it's just a twinkle in my eye, is that it will be about dinner. It will be about what to do with all those wonderful basic staples you've made–how to turn them into meals on the table. But it will also be about that question- that what do you want to eat? question, how to let cravings lead the menu planning, and how make even weeknight meals feel good and special and worthy of everyone actually sitting down to eat together. It will be about putting more love, more humor, and (it's me we're talking about here) probably more wine into dinner prep. And the flip side of that list? Less fear, less guilt, and less anxiety, hooray!
We're a few years off from when you or I will actually hold the book in our hands (once I complete it, it takes a whole year to actually create it!), but I wanted to tell you now, when I'm in the notebook stage, deciding on recipes and format. Because the idea for this book has really come together from our conversations in posts from the last few years. (Here, here, and here, just for starters.) I wanted to thank you with all I have for being here with me, and for telling me about your lives and your meals and your loves. My new pot is almost big enough to cook enough congee for you all. But because it won't travel so well in the mail, I'll give you the second best thing: the recipe.
Congee is really all about the toppings. Years ago, we used to eat it for breakfast with hot sesame oil, cashews and scallions. If it's breakfast, you can also treat it like oatmeal and go sweet. This recipe is from my friend Janet–she outlines all the options here. Since Janet taught me the chicken trick, I tend to make a whole dinner in a bowl, and I add layer after layer of whatever sauce I can find in the fridge. Kimchi. Ginger scallion sauce. Chili garlic sauce. It's entirely adaptable, it can be everything you want it to be, and it will warm your belly in the best way.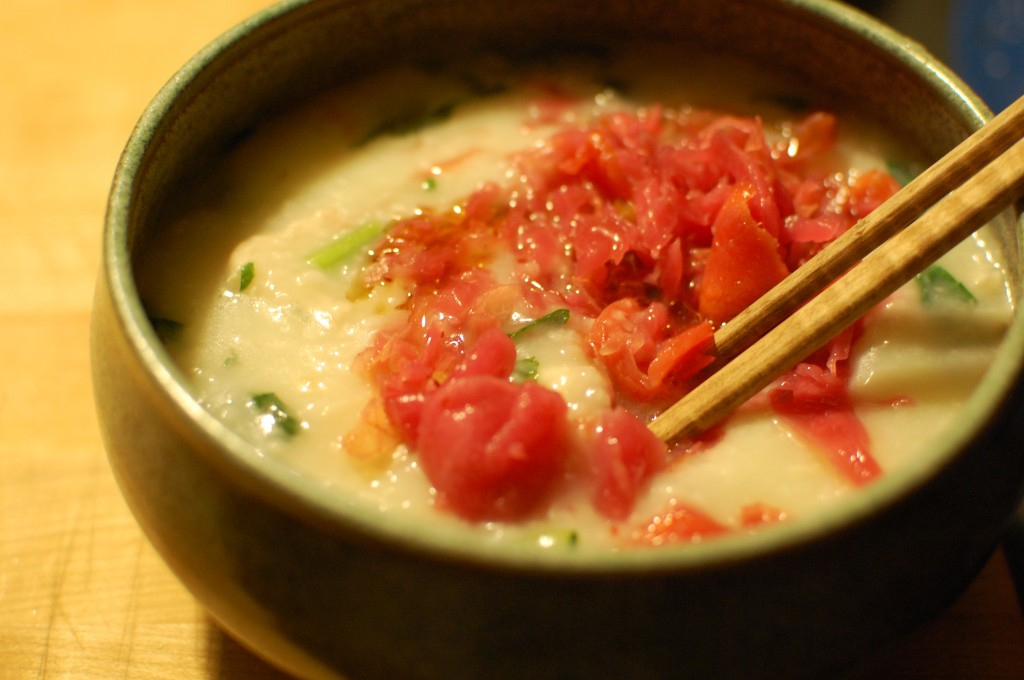 Coconut Congee with Chicken and Greens
Adapted from A Raisin and A Porpoise
serves 8-10 (trust me, you want leftovers, but you can halve this if you like)
2 cups white basmati rice
1 can full-fat coconut milk
18 cups water (you can substitute some whey if you have it in the fridge)
5 teaspoons salt
2 tablespoons cornstarch
2 boneless chicken breasts, partially frozen for easy slicing
1/2 pound tender greens, cut into thin ribbons (spinach, tat soi, or any other green you have on hand)
1. Combine the rice, coconut milk, and water in a large pot. Bring to a boil, lower the heat to medium low, and cover. Cook for 1 1/2 hours, stirring every so often. It will seem like there is too much liquid and not enough rice! But trust me, it will thicken. When it does, add 4 teaspoons salt.
2. Combine the remaining teaspoon of salt and the cornstarch in a small bowl. Using a sharp knife, cut the chicken breasts into thin slices (1/2-inch if you can). Toss the slices in the cornstarch mixture and then transfer them to the pot, stirring them into the hot rice. Add the greens and stir them in as well. Continue to cook until the chicken turns white and the greens are soft, about 5 minutes.
Top with anything you like: warmed sesame oil, hot pepper, kimchi, scallions, ginger scallion sauce or if you are not me, cilantro.