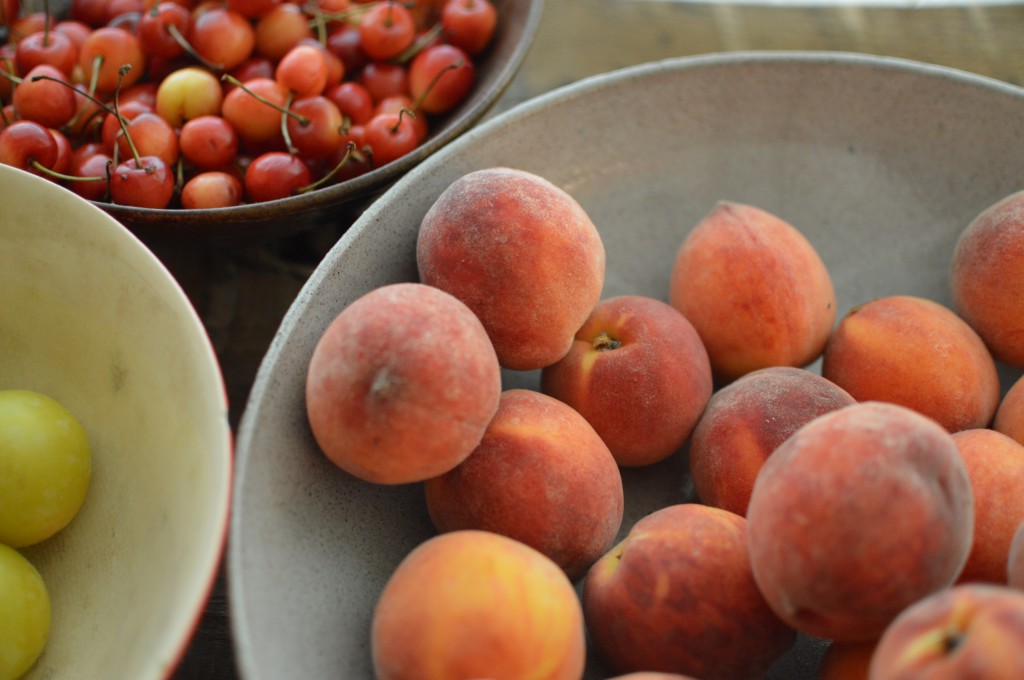 This week, the girls and I were home together while Joey worked at camp. We walked to the river behind our house nearly every day, and alternate walks were to town for ice cream. It's down hill to either destination, and then the choice is either to make the hike back up the hill with a wet bathing suit or an ice cream cone. Either way seems to work out well.
The other day, as we were flip-flopping down the road to the river, Rosie told me about how lately, even though she had lost her library card, the librarian always just typed her name into the computer and let her take out books anyway without giving her a hard time.
"It's because I kind of belong to the library," she told me. "They know me there." And then she gave me a look with a flip in her voice, and there was a half smile playing on her face as she took off down the dirt road to the river, Sadie and I calling her name behind her. There was something about the thought of the library knowing her so well that seemed to fuel her confidence for the run down to the river–it boosted her cells so that they buzzed. It made her happy.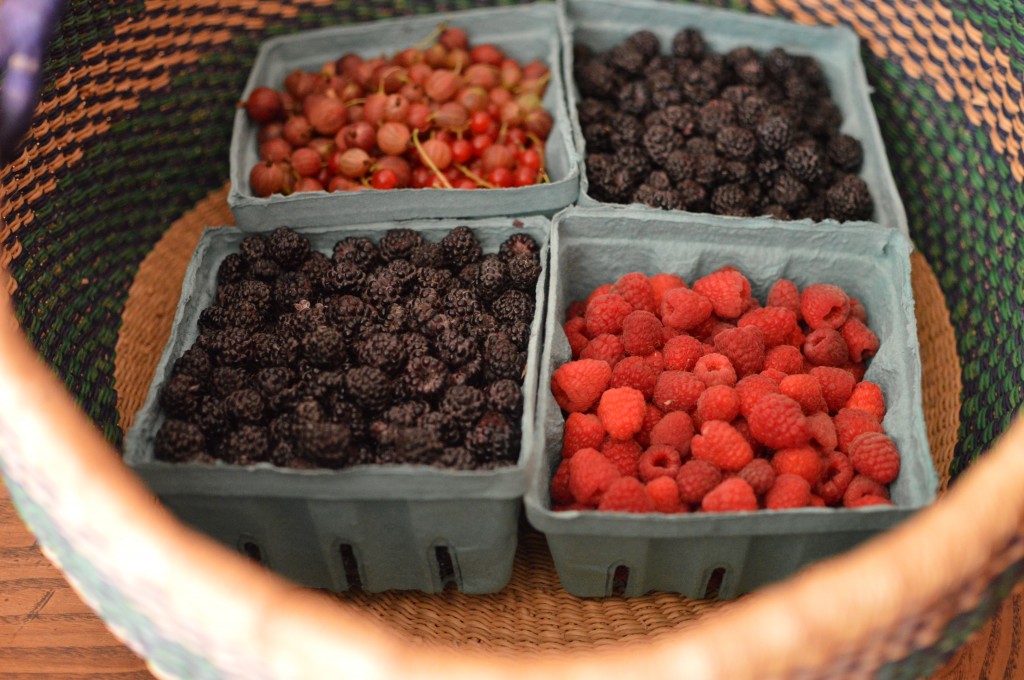 The next day, we went to Love Apple Farm in Ghent, NY. I've written about Love Apple Farm and all its magic before (supermodels, petting zoo, playground, tacos, currants–how's that for a list?), but it bears repeating the suggestion to all who might be within range: THIS IS THE DAY TRIP YOU SEEK. On this day it was me and the three girls: Sadie, Rosie, and my sister, Maia, who's a master fruit picker. It was a scorcher for us New Englanders, dry and nearing 95 degrees, but picking was framed by Mexican lunch on one side and ice cream on the other, and spirits were generally high. We found just-born baby birds in the gooseberries and left off picking so the mama could attend to them. Then, there was the shady playground with exactly three swings in perfect heights for three girls.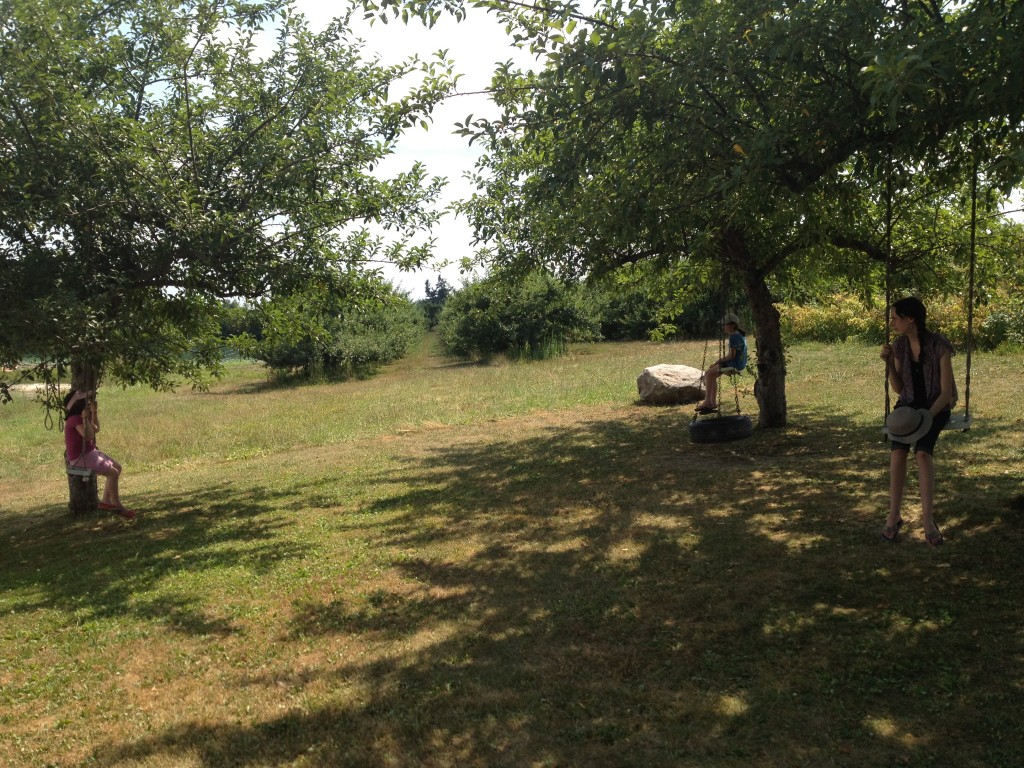 Coming home, hot, sticky, sweaty, the girls fell out of the car and found the coolest corners of the house, each curled up with their own book. I laid the fruit out on the table, and I filled a bowl with peaches, and I felt that same tingle in my body that I'd seen in Rose the day before when she'd talked about the library. I thought about how sometimes I have so much, and I still want more. And other times, anyone looking on might think about what was lacking, but in my cells, I feel full, and rich, surrounded and included by abundance.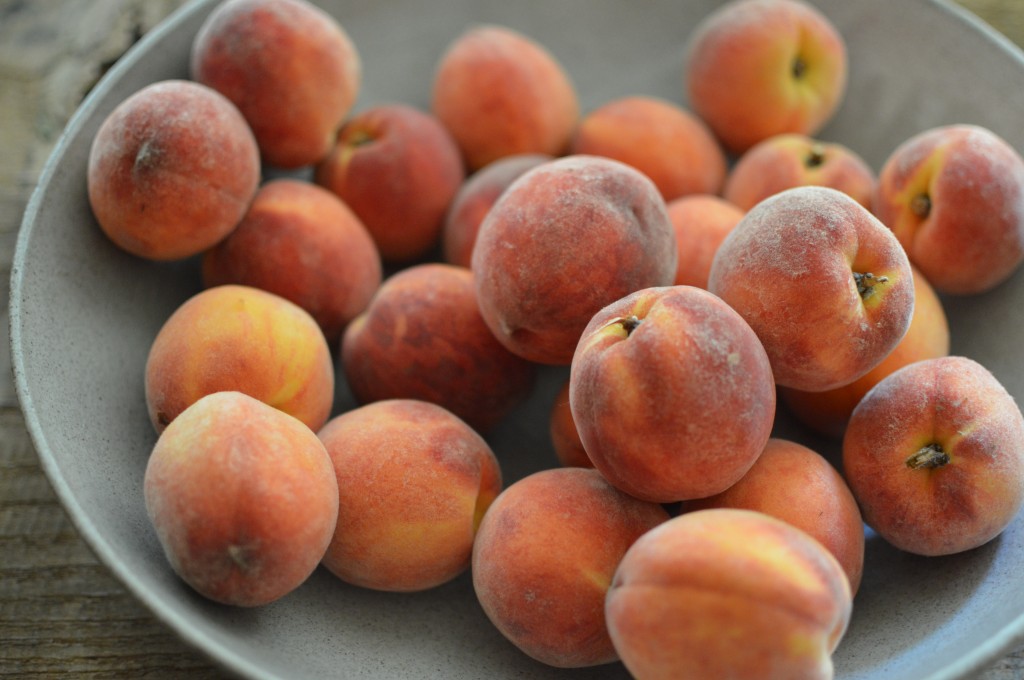 It's the fruit bowl. It is, for me, what I can only describe as a happiness trigger. A full fruit bowl makes me feel rich, like the house is ready to support anyone who needs it. There is plenty of food to eat and even to fill a pie, and when someone says they need a snack, I know just where to point them. It's a little thing, but also weighty, and I feel very thankful for that filled bowl.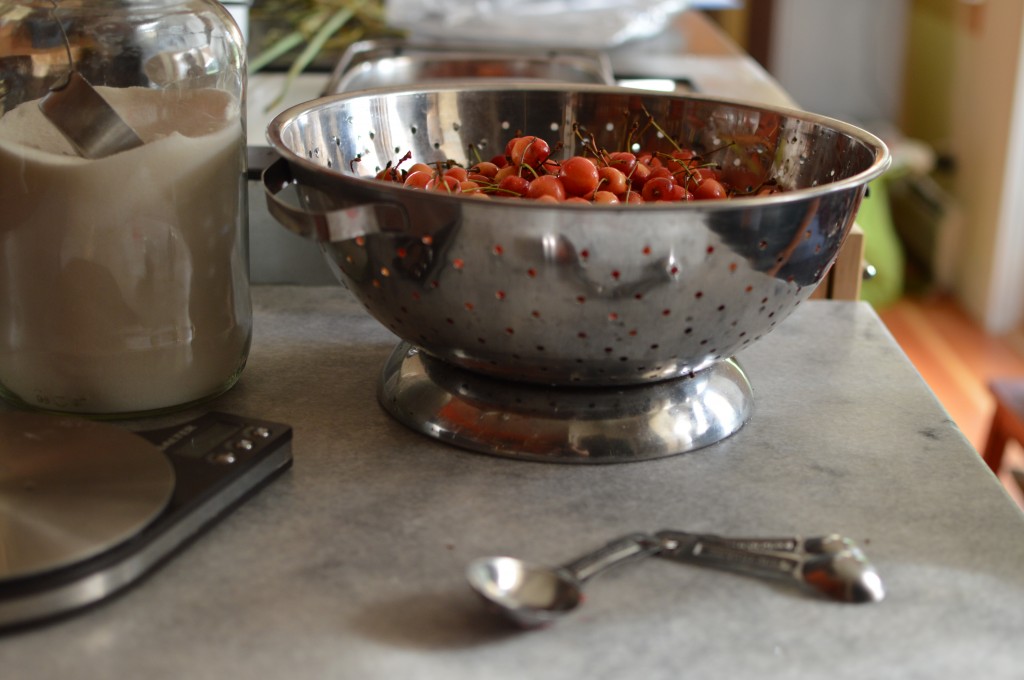 After a so-far summer of very little kitchen time, the apron came off the hook on the door of the pantry this week. Fruit from Love Apple became 8 jars of rainier cherry jam, 3 jars of Marisa's small batch mixed stone fruit jam, 1 perfect tiny jar of red currant jelly, 4 bags of black raspberries in the freezer for smoothies, 1 batch of raspberry basil popsicles (Joey's favorite of the People's Pops), and a bowl each of gooseberries and cherries full enough to satiate Sadie's snacking urges for an entire day. I filled a colander with nasturtiums from the garden, and now there's nasturtium vodka infusing on the counter. And then at yesterday's farmers' market, I filled bags from the table after the market was over, and I made a gallon of this brilliant and wonderful soup with the beets and leeks, as well as a food processor full of pesto that filled the house with basil perfume. Still, I open the refrigerator and bags of greens topple out of it, and there are 2 kinds of ice tea in the fridge. 2 kinds of ice tea!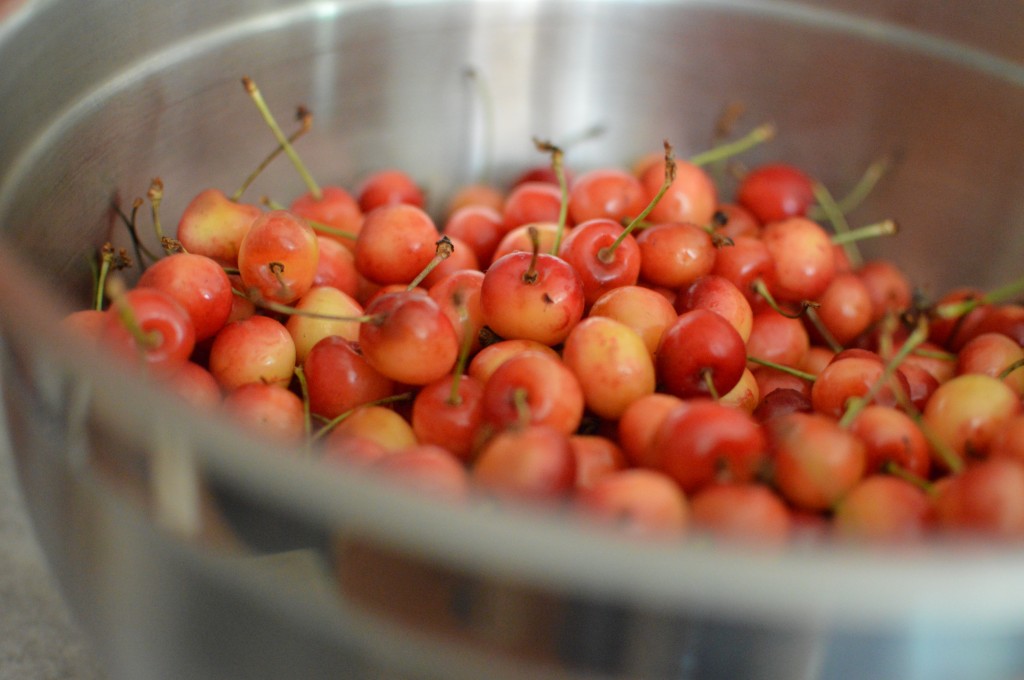 I watch for that tone in the girls, that half smile, that happiness trigger that always seems to turn their walk into a skip. I'm not sure I ever even recognized that process before I saw it in them. Happy library days, the promise of swimming (one direction) or ice cream (the other), the feeling that a place is so theirs that they can walk alone ahead or behind, experiencing the world without us. Those moments are mixed with the others–absolutely–but the cell tingle, the fullness of the fruit bowl seems to provide fuel to get through those other moments, and the knowledge that everything is always changing, so not to hold on to one or the other (too tightly, at least).