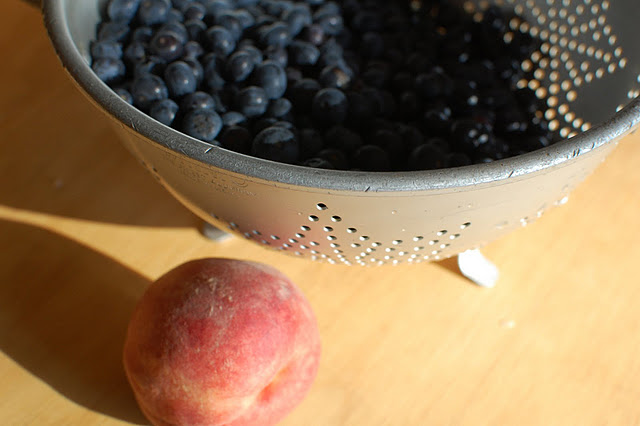 Yesterday, four of us picked 18 pounds of blueberries in 1 hour. It was Joey, Maia, my friend Lissa, and I. We tromped through the fields up at Blueberry Hill in Mt. Washington, buckets hanging from our shoulders. There was a few minutes of merciful cloud cover to get us started, and we each took a row.
There were more blueberries on those bushes than I have ever seen in my life–more blueberries than there were leaves. I'd pick, and then I'd find myself moving on to the next bush even through I hadn't made a dent in the first, just because it seemed like I should be moving somewhere. We were chatty for the first little while, shouting at each other over the rows, and then like that, we all shut up. Everything just hummed, and we picked, quiet, quiet, quiet.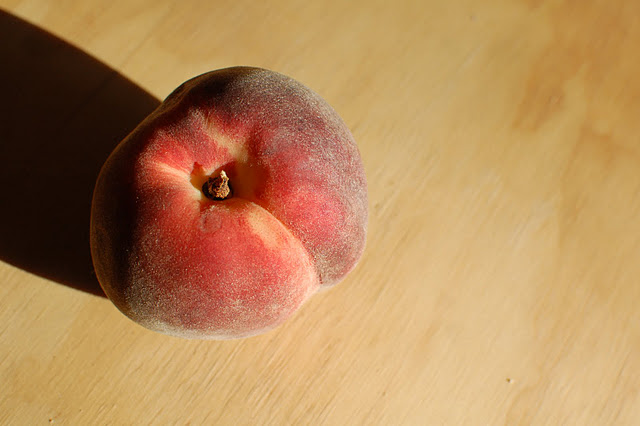 There are some pick your own farms that feel good, but not great. Sometimes they're packed, or they're set up like little fairs and there's too much going on. Sometimes the fruit is so beautiful, but it's sprayed with chemicals that I have to tell the girls not to eat the berry right off the bush. Our hands smell funny and we change our clothes when we get home.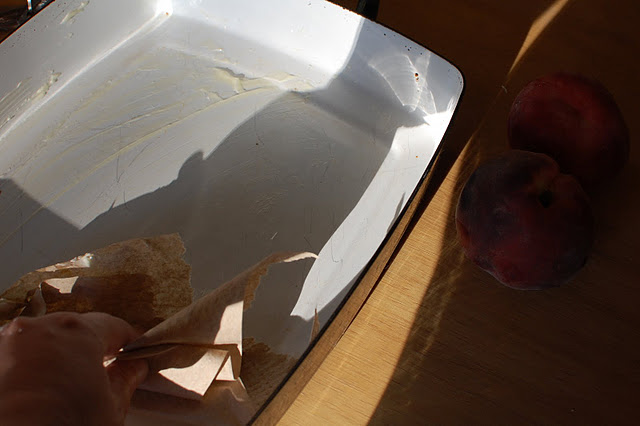 Blueberry Hill is the other kind of farm. Where it feels like you've snuck into someone's backyard berry haven, like you have discovered the mother of all berry discoveries. The bees buzz and cars drive in here and there, but when it all comes down to it, you can pick a row and it's all yours.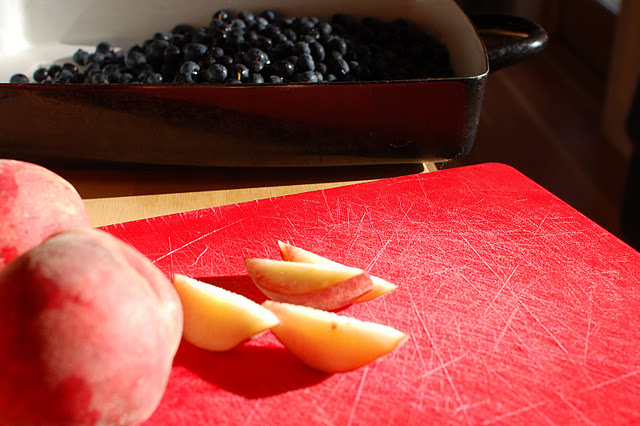 Although I aspired to make jam, these berries went into the freezer. Frozen berries make jam as well as fresh, and some day, some other day, the jam will happen. I was too tired to make dinner, and so we ate some corn and other random vegetables that were tragically wilting in the fridge.
I was not, however, too tired to make dessert.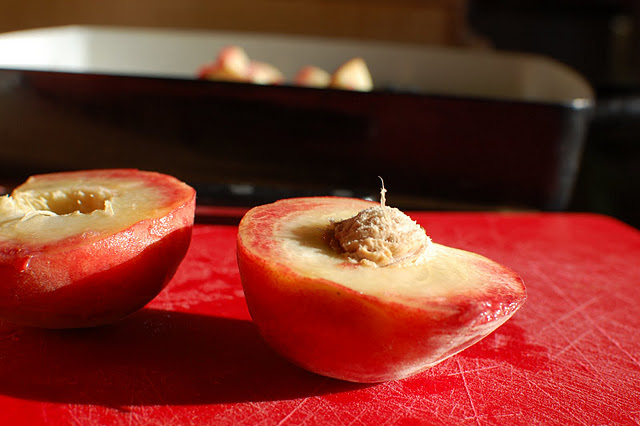 Have you had a white peach? They're more delicate than yellow, and so they tend not to be the supermarket variety. They might be at your farmer's market, tucked into the rest of the fruit at someone's table. What's the difference between white and yellow peaches? Don't waste time asking. Just go for the white! Trust me on this one.
White peaches are floral, as if the blossom of the tree reshaped itself as a fruit then and there without losing its perfume. I can smell a ripe white peach across a room.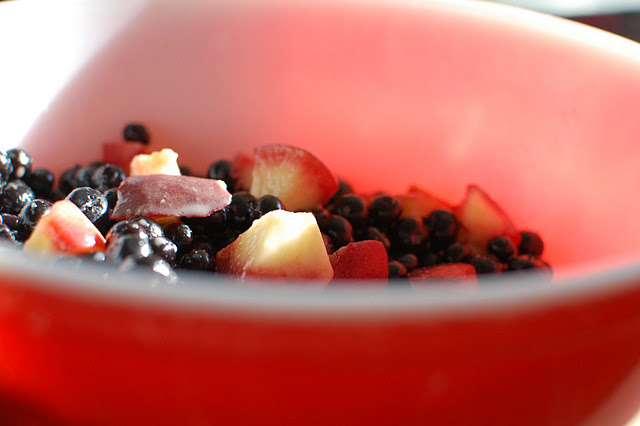 So there were white peaches. And fat, perfect blueberries. And with the last of our energy, we baked them into a cobbler. I enlisted Maia to cut the butter into the topping, and we smelled it for dinner, and we ate it for dessert.
Maybe it's that you can't go wrong with such good fruit. Maybe it's the magical combination of blueberries and cornmeal. Maybe it was that we were hungry from just eating vegetables for dinner. But oh my.
Make this.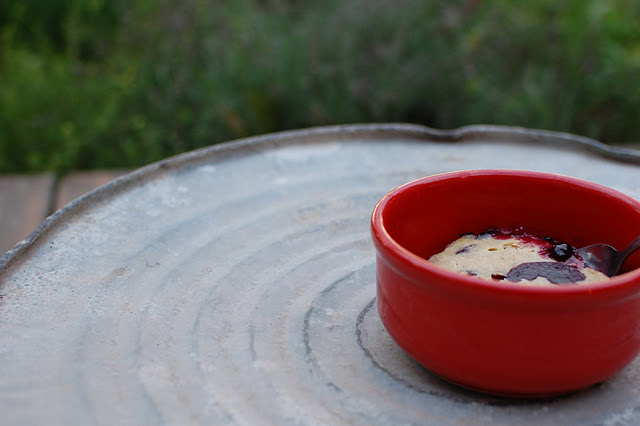 Blueberry Peach Cobbler with Cornmeal Biscuit
adapted from Corey Schreiber and Julie Richardson, Rustic Fruit Desserts (Oh, how I love this book!)
For the Filling:
1/3 cup sugar
3 tablespoons cornstarch
1/2 teaspoon sea salt
1 1/2 pounds (about 5 1/2 cups) blueberries
2 medium peaches, cut into 1-inch pieces
2 tablespoons freshly squeezed lemon juice
For the Biscuit:
1 1/4 cups all-purpose flour
1/2 cup fine cornmeal
2 tablespoons sugar
1 teaspoon baking powder
1/2 teaspoon sea salt
1/2 cup (1 stick) cold unsalted butter, cut into small cubes
1 cup cold heavy cream
Preheat the oven to 375 degrees, and butter a large baking dish.
Combine the sugar, cornstarch, and salt in a large mixing bowl. Add the blueberries and peaches, gently tossing to combine, then add the lemon. Transfer the mixture to the prepared pan.
Whisk the flour, cornmeal, sugar, baking powder, and salt together in a mixing bowl. Add the butter, and toss it in the mixture, gently rubbing the butter into the dry mixture until the mixture is more uniform. Add the cream, and, with a few quick stirs, bring the mixture together.
Scoop the batter onto the fruit in 6 or 8 portions. Bake for 40-50 minutes, or until the filling is bubbling and the biscuit is golden.