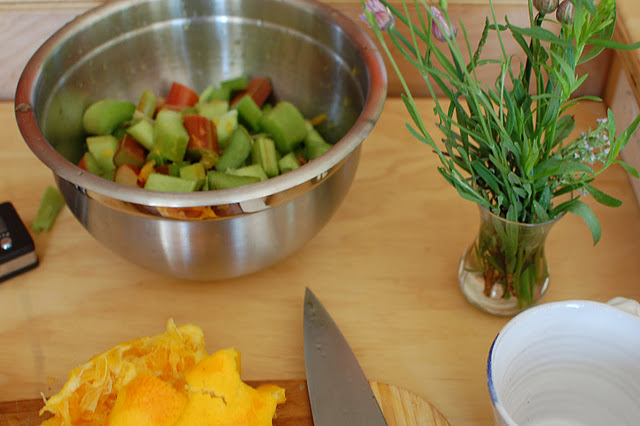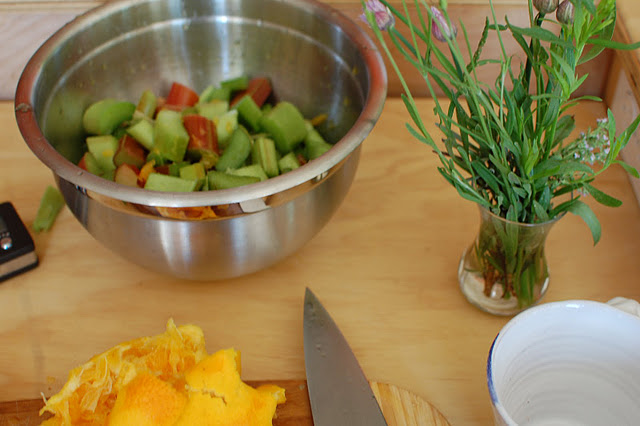 Eesh. I have just come off of a kid in the ER morning, and so let's talk rhubarb for a few minutes before I fall into bed for a nap.
All are well (ish, as there is still a fever to contend with), but Sadie was a tiny superstar in there, and I will say here, as I've said before–I feel very fortunate and grateful to have health insurance. I cannot imagine being in a situation where I had to pick and choose medical care for my child because of the prohibitive cost, but I know that there are so many in exactly that predicament. We use our health insurance so little, but when we do, this always strikes me again. Sadie was tested and pricked and poked and imaged today, and not once did I have to say, "Stop! We can't afford that." Yes, I am lucky, but I know that this system is broken, and for this reason among so many, I feel that health care is a right. No one should have to say no to medical treatment for their children because they can't afford it. I hope that someday we'll be able to figure this out as a nation.
I have also been fortunate not to have to make too many medical decisions for my girls, as they've been pretty healthy. But when they do happen, there's something about those moments that bring the responsibility of parenthood right to the front, when we realize that there is no one else to make these decisions, and it is our instinct and action in the moment is all we have. Watching Sadie navigate through this morning made me feel so proud of her courage and her strength, but also thankful for the trust that she puts in me and Joey to take care of her. I'm thankful for that trust, but it also scares the shit out me.
These babies come into the world and they trust us–I think they even choose us. It's big and scary but that trust is probably the thing that keeps me trying to be a good person.
In honor of two new amazing little girls who have come into the world in these past weeks, let's sing the praises of rhubarb. (we had to get to rhubarb sometime, right?)
One, Lola, who has arrived to join her two older brothers who I predict will protect and love her with such fierceness. Any combination of her parents attributes will serve her well, and may she grow stronger and more wonderful every year, like the perennial rhubarb.
And Eden, born just a few days ago, a fourth to some of my favorite three out there. For Eden, let's roast some rhubarb.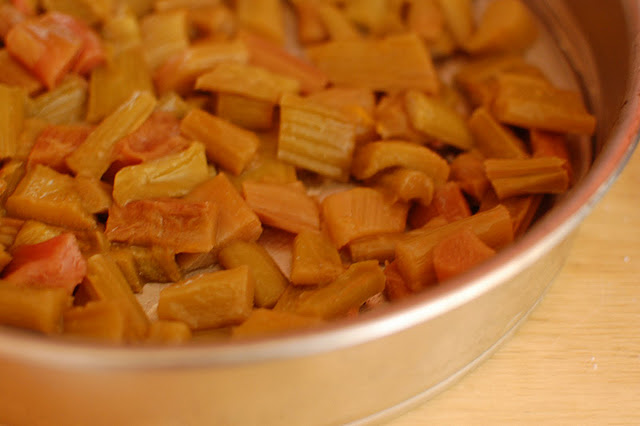 It was Ashley who made the suggestion that rhubarb was a feminine vegetable, and it has stuck with me ever since. Pink and complex, a this vegetable masquerading as a fruit is prolific, endlessly generous, versatile, sexy, perplexing, and filled with vitamin C.
This rhubarb clafoutis was for my sister, Maia's womanly 13th birthday. I remember the stormy morning she came into the world too, eyes open before she was even fully out of my mother's body. She is coming into the time where she is learning to trust herself to make her own decisions, a moment equally big and scary as the one that came 13 years before. And so, for Maia, it was rhubarb, strong and sour sweet in the cape of a French tea snack. If you've never made a clafoutis, it's time, it's time. It's more custard than cake, and the fruit stands with the custard in one bite, holding together a crumb provided by the tiny bit of flour.
Welcome, sweet girls. You have chosen your parents well, and we'll do our best to support them. The world is a better place with you here.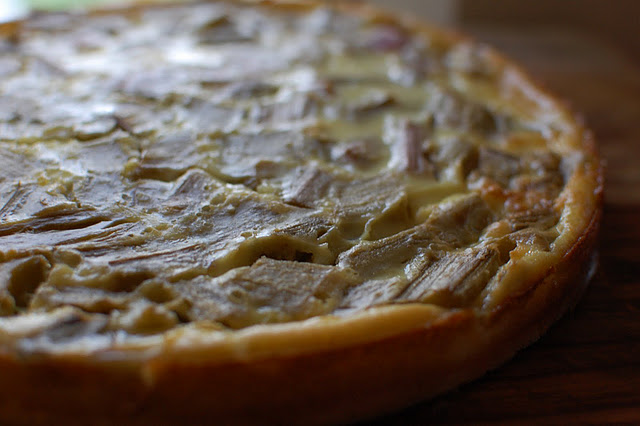 Rhubarb Clafoutis
from Hugh Fearnley-Whittingstall, River Cottage Every Day (yes! the newest River Cottage book- fantastic)
serves 6 (but I doubled it, and served it in a large springform, which worked great)
1 pound rhubarb
a pinch of cinnamon
grated zest of 1/2 orange and the juice of the whole fruit
1 cup sugar
1/2 cup all-purpose flour
a pinch of sea salt
3 eggs lightly beaten
1 cup whole milk
Preheat the oven to 400 degrees. Cut the rhubarb into 2-inch lengths and put it into a baking pan with the cinnamon, orange juice, and 2 tablespoons sugar. Toss well, and roast for 20 minutes until just starting to caramelize. Let it cool, and drain it in a sieve.
Turn the oven down to 350 degrees. Butter a 10-inch round baking dish or springform. Arrange the rhubarb on the bottom of the dish.
Sift the flour and salt into a bowl and stir in the sugar. Make a well in the center and add the beaten eggs. Stir the flour into the eggs, and then whisk in the milk a little at a time.
Pour the batter over the rhubarb and bake for 35 to 40 minutes, until the clafoutis is golden and puffed. Serve warm or cold, with whipped cream.