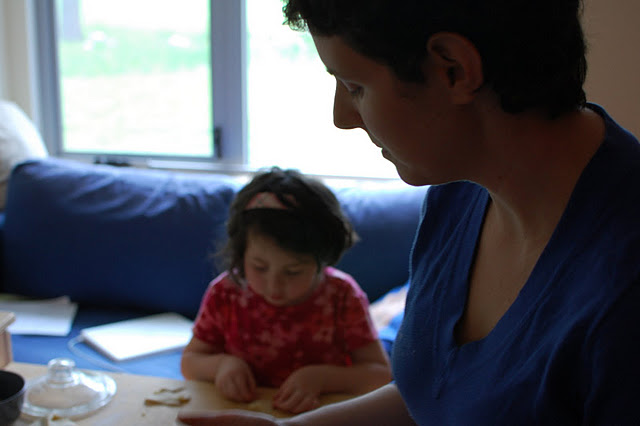 This weekend, we made a video.
The thought of this has been hanging around for a while now, between my wonderful agent (who I do my best not to disappoint) and my also wonderful publisher (who, also, I do my best not to disappoint), everyone was excited for a video. This has been one of those things that wakes me up in the night for the last few months–I am deep in dreams and then my eyes open and I see Ina or Giada or Aida well dressed and primped at their butcher block kitchen aisles, and I think, "Shit! How am I going to make a video?"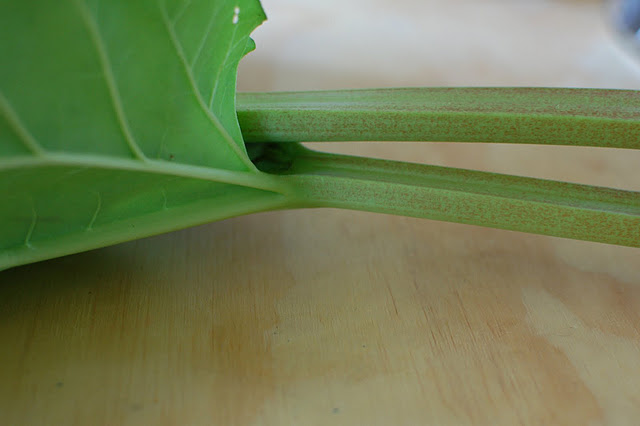 We gave it a try a while back, and my friends Bruce and Amy came over and Joey and I made pizza crust all day while we tried to keep a straight face. We got some great footage of Rosie torturing the cat in the background, but the sound didn't quite come through, and none of us had any idea of how to edit those hours of pizza kneading and stretching (not to mention cat torturing). And then one day I was talking to my friend Luke who makes movies about how I had to get off my butt and learn how to edit, and he suggested that I focus on the cooking and leave the editing to him. And so this weekend, his friend and movie making partner Ethan came up with his camera and we shot some footage.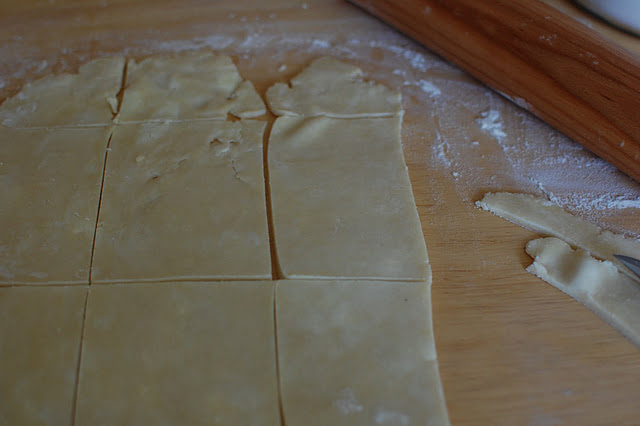 I would like to tell you that I was entirely calm, prepared, and on my game. I would like to tell you that I was totally confident that I would know what to do and say. I would like to tell you that I knew I would be able to cook and talk at the same time without falling over.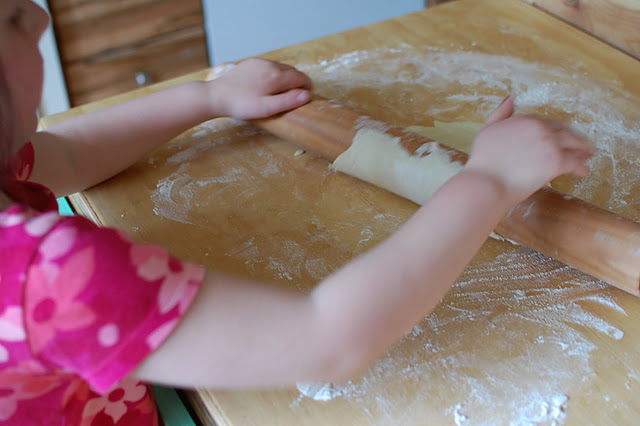 And then I would say, "and so, in honor of how fabulous I am on camera, why don't you make these rhubarb pop-tarts. Here is the recipe."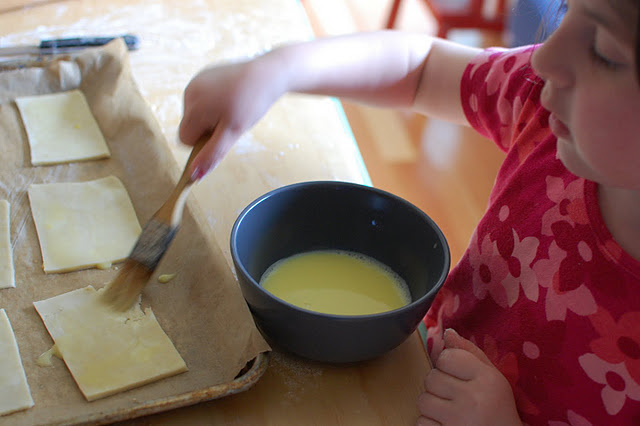 Or I could tell you the truth, which, like truth tends to be, is a little more complicated.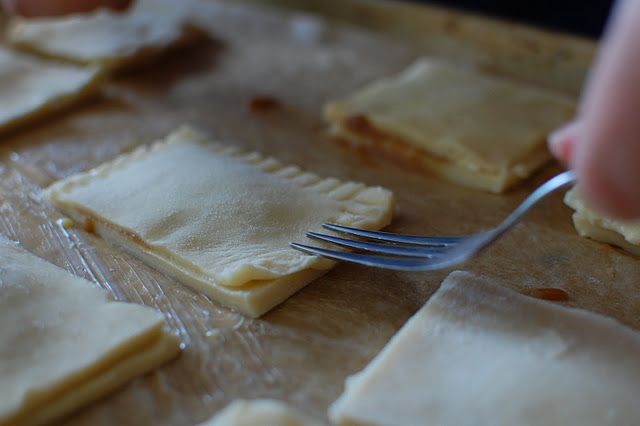 For weeks, I've been practicing. I've been making attempt after attempt at bringing my mission and my hopes for all this into a few clear, perfect, and inspiring sentences. I've been talking to myself as I cook, and I've been searching for original and exciting ways to talk about food. I've been staring at my closet hoping that it might spit something out at me besides an old and stained black tee shirt. I've been contemplating buying concealer. And I have been watching the Food Network, at least as much as the 5 minute clips on their website will allow me.
In short, I've been driving my family crazy.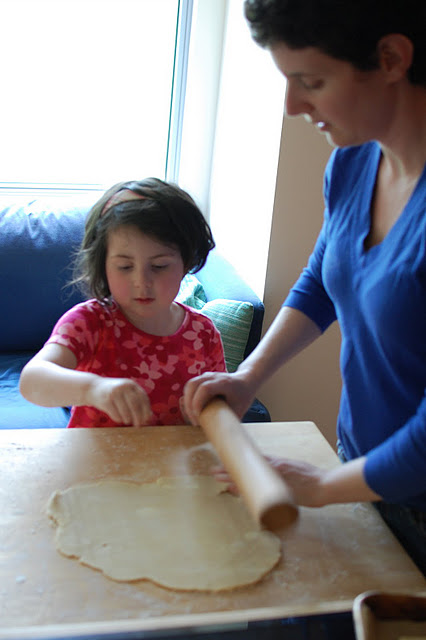 Between the food network, the cooking channel, and all of the little indie food videos out there, there is definitely a show for everyone. Simple French cooking in 10 minutes? Yes. Hip in Brooklyn with all day to cook? Absolutely. Midwestern locavore who eats the weeds in his garden? I love him too. Mom in a stained shirt who makes imperfect looking food while her children complain that she's not letting them do all the steps?
Here I come.
This was the project for the weekend: make three different segments–two in the kitchen and one interview. Each would be peppered with shots of me in the garden, me at the market, me out and about.
Ethan showed up on Friday morning as I was arranging bowls on my shelf in a panic, purple circles under my eyes from the sleepless night before filled with phrases that would be the perfect and authentic intro to my recipe. "Today, we are going to make perfect, satisfying, homemade, yellow, astounding butter in your very own satisfying perfect home!" My room was strewn with friends' clothes that I had gathered after my closet refused to offer up anything of use, and I was already shaking from my third cup of coffee. Reality show? Maybe. But I was having doubts about my cooking on camera potential.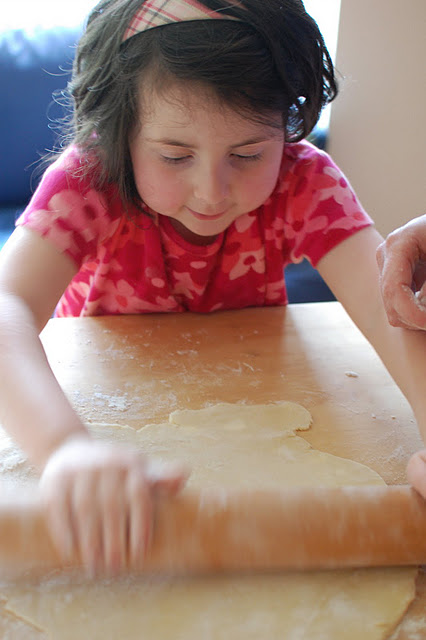 At one point last week, I ended up in the kitchen muttering and searching for my lost measuring cups, and when my mother asked me how it all was going, I had to say it out loud:
The more I tried to pin down what I wanted to say, the harder it was to remember what I was trying to say in the first place.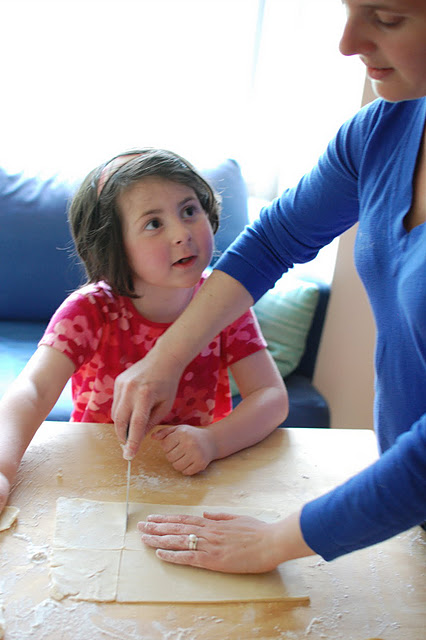 And after all that, with the circles under my eyes and the nervous tummy and the over thinking, Ethan walked into the house and everyone relaxed. The girls fell in love with him, I started to breathe again, and Joey took a nap. We made butter, we walked all over town with the camera, and then,
well, you know what comes next, right?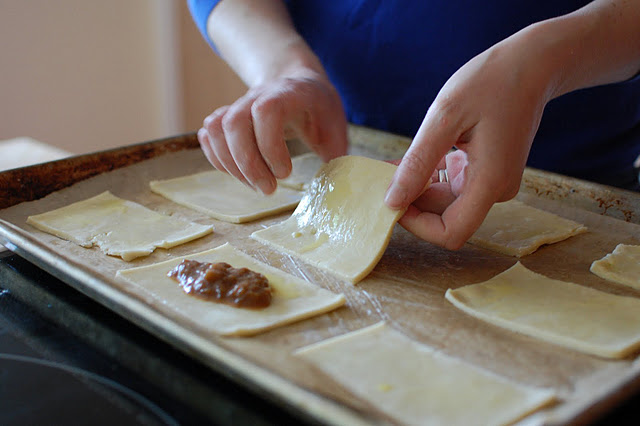 Then we made pop-tarts.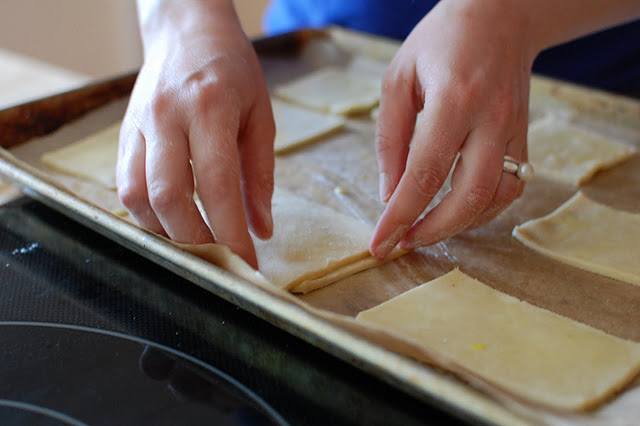 Like making a video, pop-tarts may be prone to over thinking. It is entirely possible to get caught up in it all, to convince yourself that because homemade poptarts are so amazing and impressive and novel and likely to raise the eyebrows of anyone to whom you might casually drop that you happened to make pop-tarts, because pop-tarts are POP-TARTS, that maybe they are hard to make. It is easy to get tired and overwhelmed before you even begin, because maybe you feel that you are not skilled enough to be someone who makes pop-tarts. Maybe it seems like all those people on food network have very shiny hair as they lean over their butcher block islands, that they are wearing shirts that never seem to get dusted with flour or smattered with oil, and that they actually would cut these damn rectangles all the same size without having to take out a ruler. Maybe you're not up for all that.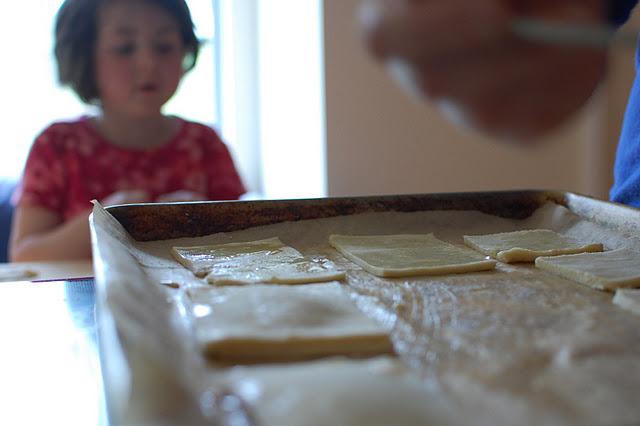 How about we work on this together. How about if we just give it a try. What's the worst that can happen? Your pop-tarts might ooze a little. Maybe they won't be shaped quite right. Maybe I'll look silly on camera.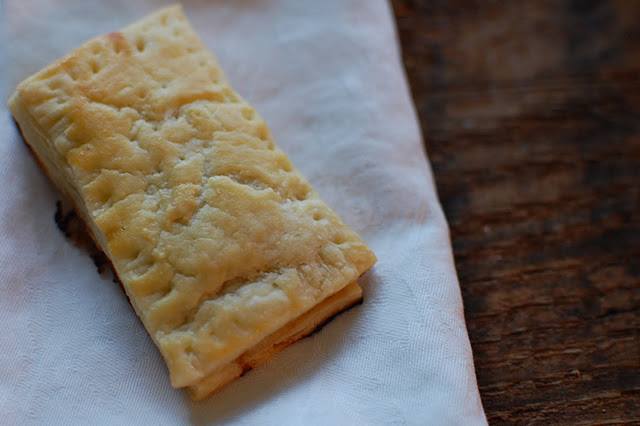 Hell, at least we'll get a really fantastic snack out of it.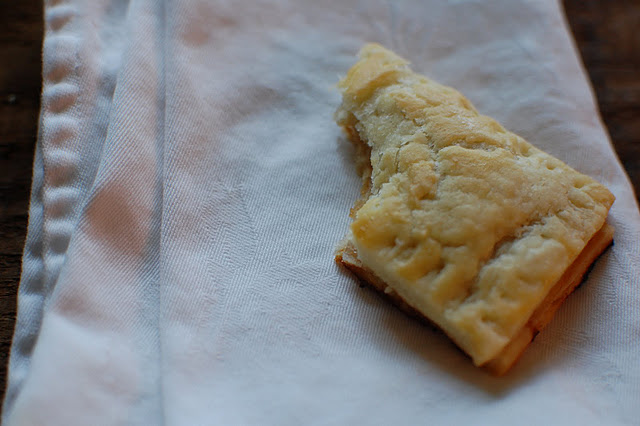 It is almost always easier to do something than to think and plan for and worry about it. Sometimes the ease and (let's go all the way here) pure awesomeness of actually making something, be it a video or a pop-tart, will amaze and astound you. And before you know it, you've done it. You've made something that seemed so hard.
Rosie and I made these pop-tarts because she wanted to practice before we did them on camera. We filled them with backyard rhubarb, muscovado sugar, and lemon.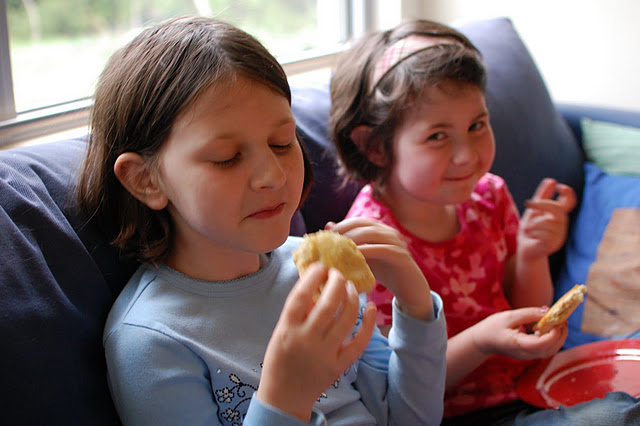 They oozed rhubarb, and they were far from perfect.
Although, I guess it depends how you define perfect, right?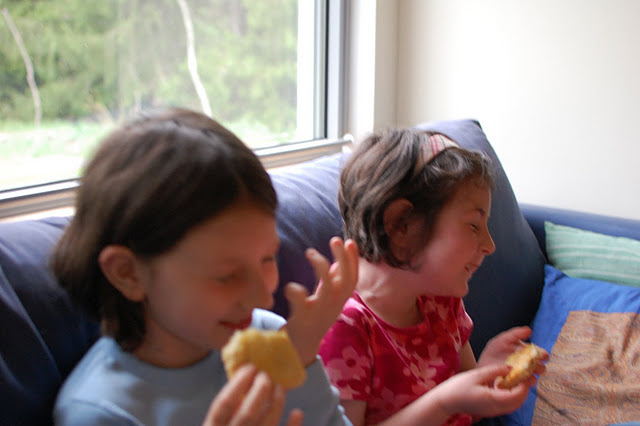 Rhubarb Pop-tarts
(yes, incidentally, I did write about pop-tarts last year, and looking back at the post, I also wrote about how imperfect they were. But I have to say, these are looking a bit prettier than last year's. Next year? Perfect pop-tarts.)
1 1/4 cup chopped rhubarb (1-inch pieces)
3 tablespoons muscovado sugar (can substitute dark brown sugar)
1 tablespoon fresh lemon juice
1 tablespoon butter
flour for the counter
1 recipe pie crust for a double crust pie (divided into 2 discs)
1 egg, beaten with a teaspoon water
Combine the rhubarb, sugar, lemon, and butter in a small saucepan. Bring to a boil, cover, lower the heat, and simmer for 10 minutes, stirring occasionally, until the rhubarb is entirely broken up. Let the mixture cool.
Preheat the oven to 375 degrees.
Roll the first disc of pie crust out on a floured counter, trying to get as close as possible to a 9×12-inch rectangle. Cut into 6 rectangles and transfer to a parchment lined baking sheet.
Paint each rectangle with egg wash. Spoon about a tablespoon of filling down the center of each rectangle, leaving lots of space on all sides.
Roll out the second disc, cut into rectangles. Lay the second set of rectangles over the filling.
Paint the tops with egg wash. Use a fork to crimp the edges together. Then prick a few holes in the top of each pastry to allow steam to escape.
Bake for 20 to 25 minutes, until the tops are golden.