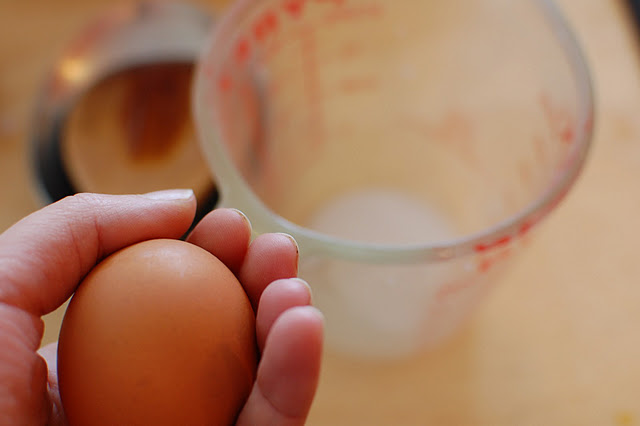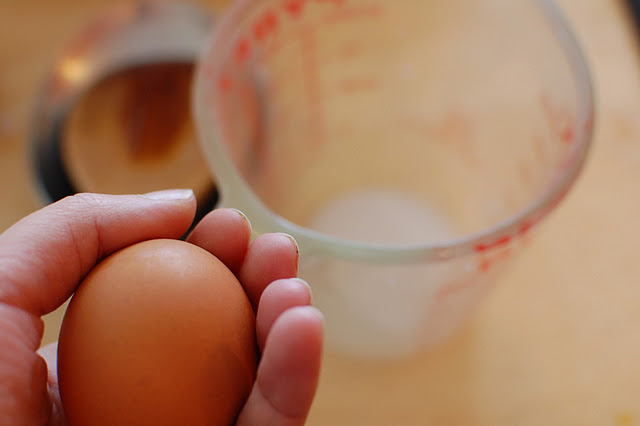 I'm feeling a new dream creeping in, one more exciting future to think about.
Oh yeah. Time to open a pie shop. And while I might carry the token fruit pie to make people (and my husband) happy, I'm thinking we're all about cream and meringue pies around here.
It's the reaction, the pure joy and love and excitement that people seem to feel just looking at that crisped and airfilled sweet hat of meringue, the knowledge that whatever is under there is going to be good- is it lemon? key lime? or….chocolate? Maybe this is the way I can bring joy to the world: chocolate meringue pie.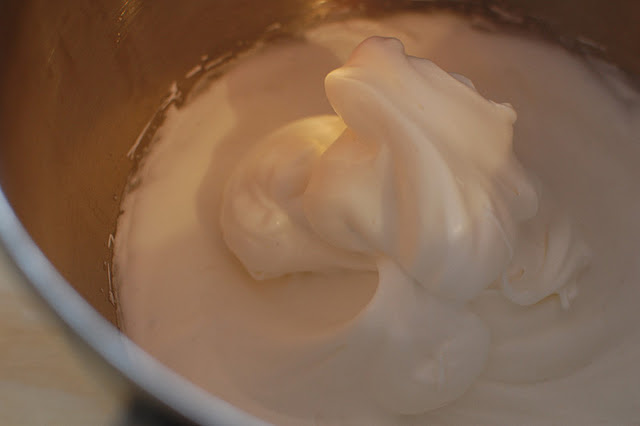 Desserts are more complicated around here than I wish they were. As much as Joey and I have tried to restrain ourselves from using sugar for the girls as a reward for eating other things more green and nutritious, we've done it anyway. I know that it is the wrong thing to do, but when I can see that Rosie will gladly eat a pound of kale when there is a cookie thrown into the deal, I can't help it. There have been times when she will go a month without a green vegetable, and at that point, I start to feel a little (okay, I'll say it, even if I'm not proud of it)…desperate. I try to take my own advice ("Relax! No kid ever died from too much noodles and butter–better to relinquish control. They'll come around!), but then of course I lose my resolve, and before I know it, I've opened my mouth. And while I should just be filling it with kale and modeling all that good eating behavior (which I'm doing too!), I have to go ahead and speak. And there it is.
"4 more bites, and then you can have a cookie."
Ughh, is that really me?
And then dessert becomes something else, something to want and desire and…NEED.
The main reason why this is hard to watch and participate in, is because there's something else about dessert, something I love so much. And in a lot of ways, this thing has very little to do with how it tastes. It's about the excitement of a frosted cake on the counter, or a perfect whoosh of frosting on a cupcake. It's about the joy we take in something that we eat not because it's good for us, but because it's wonderful.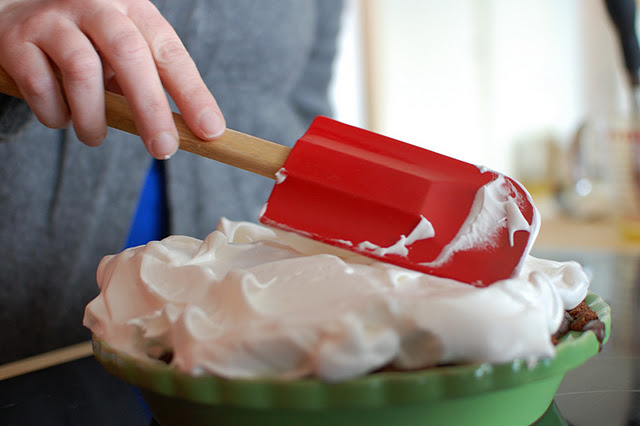 I made this pie the day before Valentine's day. Joey and the girls were hard at work on all their valentines for school and I felt like I wanted to make something too. That week, I'd found this dainty green pie plate on sale due to a character-building tiny chip in the side, and it was calling to me. And watching Joey and the girls make all their beautiful art, I was determined to create art with that pie plate.
We were going to my parent's for dinner (the last time before they move in!) and I let that pie sit on the counter for a while. The whole room was littered with scraps of paper and gluesticks, rubber-banded piles of tiny notes in alphabetical order. Like a mantra those class lists were repeated all day. "Alice, Brianna, Bryce, Conrad, Flora…and on and on." In the center of it all, the pie held court, cooling gently in its dainty green plate.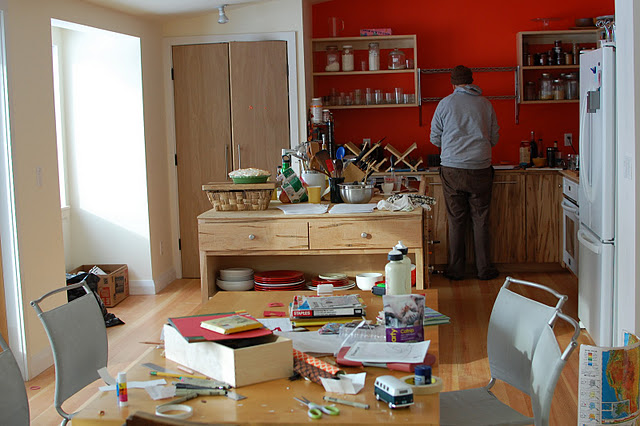 When we drove over to my parents', the girls oohhed and ahhed. There was no talk of how much they would have to eat before they got a slice–it seemed the magic and the beauty of that meringued top inspired them. It was a good moment for dessert in that car, and the girls thanked me for making something so pretty, and they remarked over and over, "That looks so yummy!". I added one more resolution to my growing list of things I hope my girls learn about food– that dessert is about joy and beauty and specialness, not about guilt or need or reward or punishment. Oh, the food lessons- if we can only let the foods to the teaching. I'll try to step back.
Leave it to the magic and beauty of the meringue.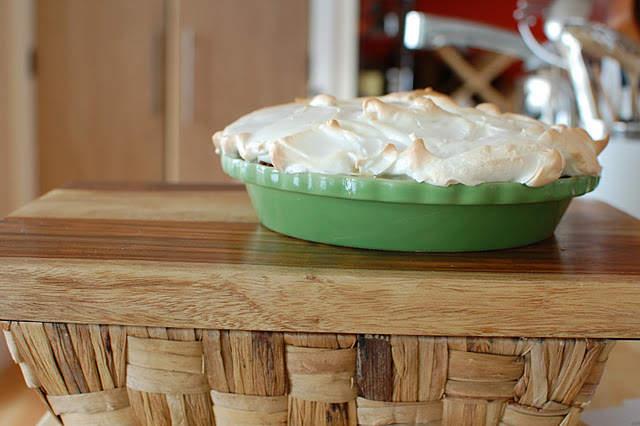 Chocolate Meringue Pie
from Moosewood Restaurant Book of Desserts
1 10-inch prebaked pie crust (You can use a straight crust here, or a graham cracker crust is nice too. Here's my favorite straight pie crust, or for a graham cracker crust, combine 2 cups of graham cracker crumbs with 7 tablespoons of melted butter. Press the mixture into your pie pan, then refrigerate for 20 minutes, then bake at 375 for 15 minutes)
For the filling:
1/4 cup cornstarch
3/4 cup sugar
1/4 teaspoon salt
2 1/2 cups whole milk
3 large egg yolks, lightly beaten (reserve the whites for the meringue)
4 ounces unsweetened chocolate, roughly chopped
2 teaspoons vanilla extract
For the meringue:
3 large egg whites
1/4 teaspoon cream of tartar
1/2 teaspoon vanilla extract
1/3 cup sugar
In medium saucepan off the heat, combine the cornstarch, sugar, and salt. Slowly add a bit of the milk, first making a smooth paste, then adding the rest of the milk. Whisk in the egg yolks. Add the chocolate to the milk and place the saucepan over medium heat. Cook, stirring constantly, for about 15 minutes, or until the pudding thickens and the chocolate melts entirely. For a long time, the chocolate will be all grainy and it will seem like it just won't come together–it will look like this: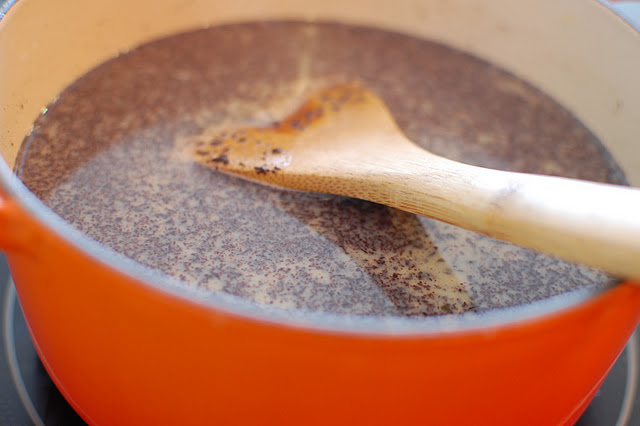 Remove from the heat when the pudding is thick. Even if the chocolate is not absolutely smooth, it is okay–it will continue to melt off the heat.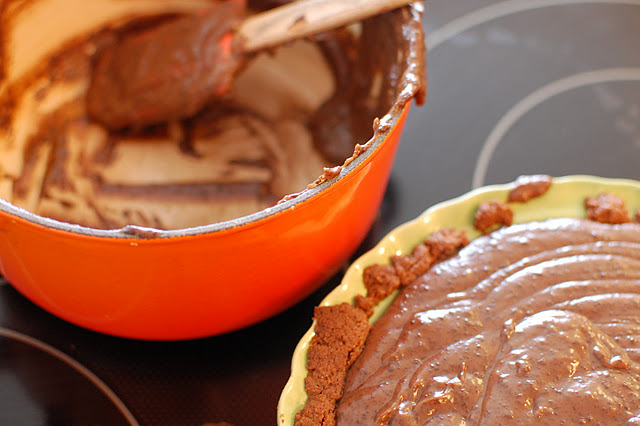 (don't worry, you're crust will look better than mine. I had a few graham cracker issues, and I didn't make enough to spread to the edges of my dainty pie pan, so it shrunk. But if you're following my recipe, you'll have plenty. And if this does happen to you, the meringue is pretty enough to cover it all)
Stir the vanilla into the pudding. Spread the pudding into your prebaked pie shell. Set aside.
Preheat the oven to 350 degrees. Using an electric mixer, whip the egg whites and cream of tartar on high speed until soft peaks form. Add the sugar and vanilla and beat until you have stiff and glossy peaks, about 5 minutes. Spread the meringue over the chocolate filling, making sure to extend it to the edges of the crust. Bake for 15 to 18 minutes, until the meringue is golden brown. Cool to room temperature, and then refrigerate for at least an hour before serving.