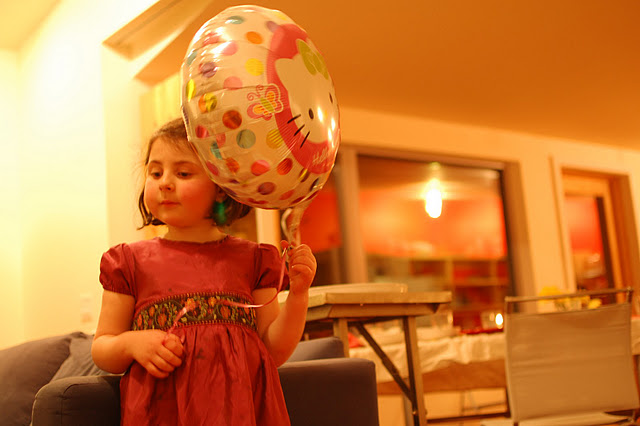 Six years ago, the snowiest coldest night. Our midwife, Kathy, came down from her house on top of the mountain, and we waited. And the snow stopped, and at four in the morning, Joey and I went out for a walk.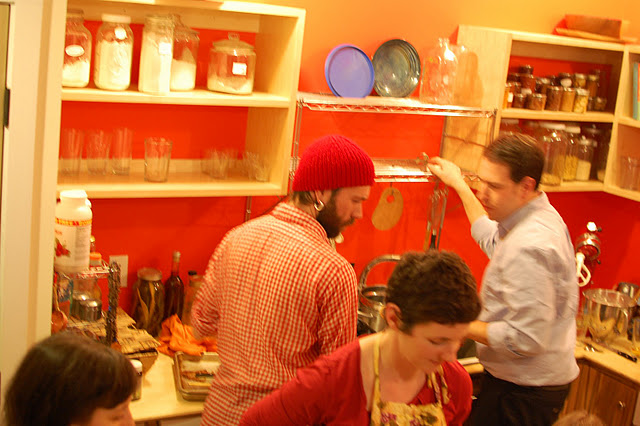 It was just a yard walk, and the next day, we would see the circle in the snow where he tromped and I shuffled alongside. It was a little circle, and it started out with a perfect arc, four feet through the deep snow. The track showed exactly where I stopped, looked at Joey, and said, "Inside, now." Then the tracks went right back to the house.
Then next morning there were hello kitty shaped waffles for breakfast, and baby Rose was a few hours old. Sadie, not quite two, wrote a poem as she dipped her waffles in syrup. My mother had woken her up to see her sister coming into the world, and she recounted the whole adventure to us.
Kathy here!
Grandma's arms.
Mommy Ow!
Baby head.
Hello Kitty Waffles!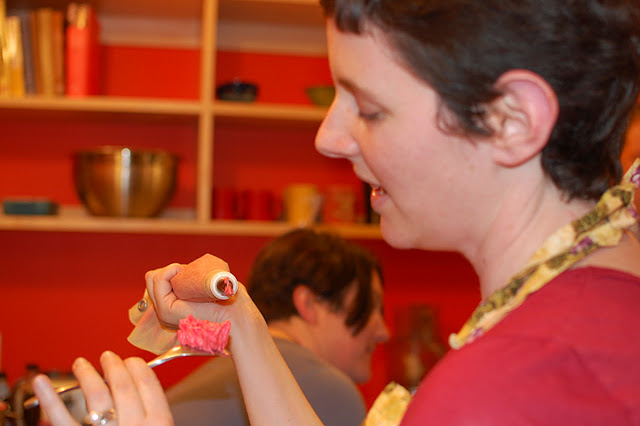 I had no idea that I would love that baby enough to try to learn how to make frosting roses. But there I am, six years later, trying to craft sugar and shortening into flora. Thank the sweet god of frosting for Marya, who had trucked her daughter down to the entire expanse of the county even though she was supposed to be making an Oscar themed cake for her sister-in-law. She patiently led me through the frosting roses process, and then when I could make nothing better than a clumsy carnation, she made those roses herself, and of course she taught Molly who was far better at it than I. And so my sweet winter night baby got those frosting roses that she wanted so badly.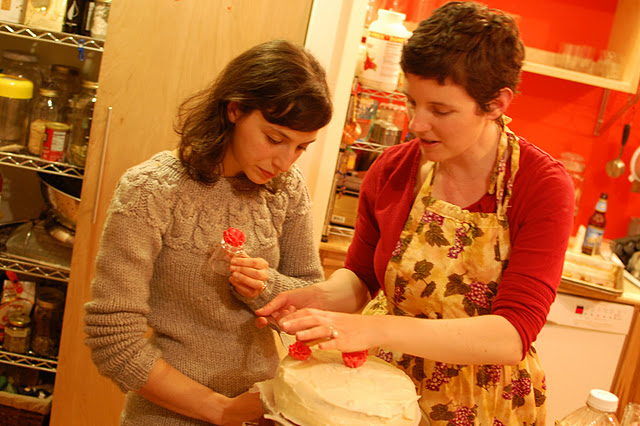 Both of the girls' birth stories have become such a integral part of their own personal narratives. And every year, we celebrate them. Sadie on her spring day, the baby who just wouldn't come until the sun hit that perfect pink setting point. And Rosie with her full moon snowy walk in a circle. Over the years I tell the stories, and I forget that they weren't quite here yet for them. I forget that what I'm really talking about is those last few moments before the world existed without them. It's almost unthinkable to imagine, but somehow by repeating the stories over and over, I bring them into that world too. They know just what happened, so they must have been there.
This year, the winter baby wanted a dinner party. With salmon. And kale (so she could have cake, of course). And popovers. And chocolate cake with vanilla frosting. And yes, frosting roses. She was so polite about it all, and she would check in with me every few days.
"Have you figured out how to make my cake?"
Her friends dresses up in their finest and they each took a seat at the fancy table for two minutes. And then they got up and nearly shook the whole house with laughter for the rest of the night.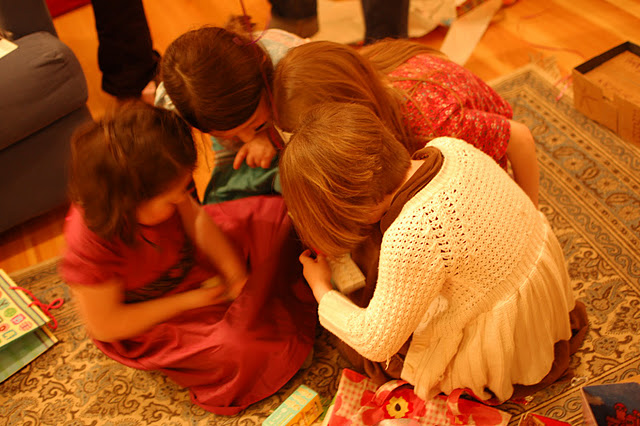 We made trays and trays of popovers, and Sadie took care of everyone.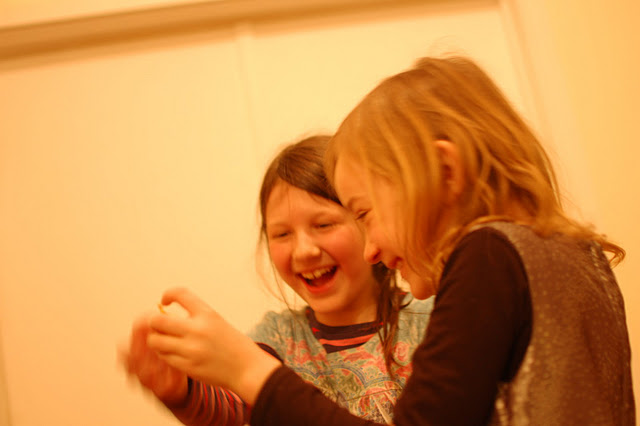 Oh, Rosie. It's so easy to celebrate you. Even with the frosting roses.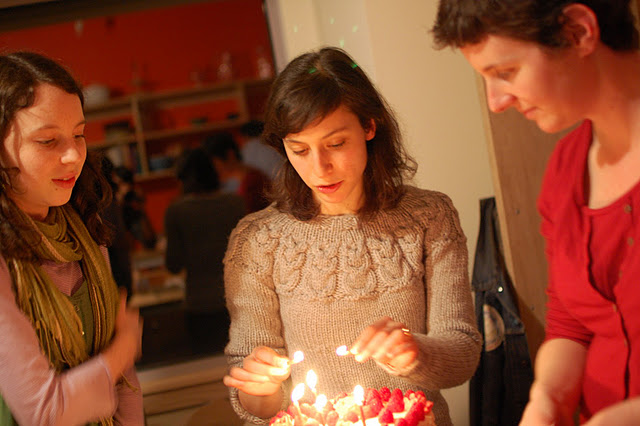 Again, Sadie recited a poem as everyone sat down to dinner. She had been working on memorizing it for the last few days. This time it wasn't hers, but A.A. Milne's.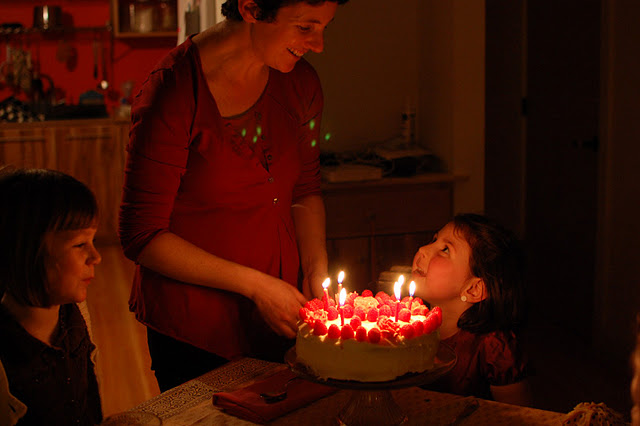 When I was One,
I had just begun.
When I was Two,
I was nearly new.
When I was Three
I was hardly me.
When I was Four,
I was not much more.
When I was Five,
I was just alive.
But now I am Six,
I'm as clever as clever,
So I think I'll be six now for ever and ever.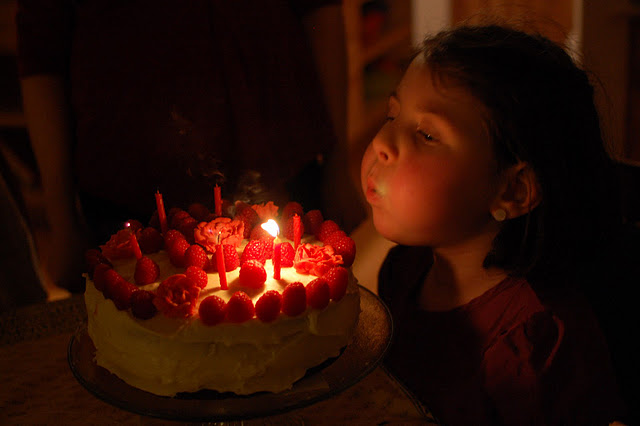 Rosie's Birthday Cake
(loosely adapted from the King Arthur Baker's Companion, morphed and changed over the years)
makes 2 9-inch cakes that come together to make 1 beautiful double decker cake
For the cake:
1 1/4 cups sugar
2 1/4 cups all-purpose flour
2 tablespoons plus 1 teaspoon cornstarch
1 cup unsweetened cocoa powder
1 teaspoon baking powder
1 teaspoon baking soda
1 teaspoon salt
2 large eggs
3/4 cup buttermilk
1/2 cup canola oil
2 teaspoons vanilla extract
1 cup hot (almost boiling) water
For the frosting:
16 ounces (2 bars) cream cheese, softened
4 ounces (1 1/2 sticks) butter, softened
1 1/4 cups powdered sugar
pinch of salt
Optional: 1 tablespoon rose water
Preheat the oven to 350 degrees. Butter 2 9-inch round cake pans, line the bottoms with parchment, and then butter the parchment.
In the bowl of a stand mixer, whisk together the sugar, flour, cornstarch, cocoa powder, baking powder, baking soda, and salt. Add the eggs, buttermilk, oil, and vanilla, and beat with the flat beater attachment for 2 minutes. Finally gently stir in the hot water. The batter will be quite thin. Pour it into the prepared cake pans and bake for 30 minutes, or until a cake tester comes out clean. Allow to cool in the pans for 10 minutes–then turn out of the pans and cool completely on a wire rack before frosting.
Make the frosting: Combine the cream cheese, butter, powdered sugar, salt, and rose water, if using in the bowl of the stand mixer. Beat with the flat beater attachment until smooth and uniform, about 30 seconds.
To frost the cake: Set one cake on a plate or cake stand over strips of parchment, like this. If your cakes domed a bit while on top while baking, set it domed side up. Use a silicone spatula to cover the top of the cake evenly with about 1-inch of frosting. Set the second cake on top of the first, domed side down (so the tops of each cake are against each other). Use your spatula to top the upper cake with frosting. If you have an offset spatula, use that to spread the frosting, otherwise, continue to spread the frosting over the cake with your silicone spatula, spreading the frosting over the sides as well. Top with raspberries, or… frosting roses.
(Many thanks to Aurel for grabbing my camera and taking all of these lovely pictures.)