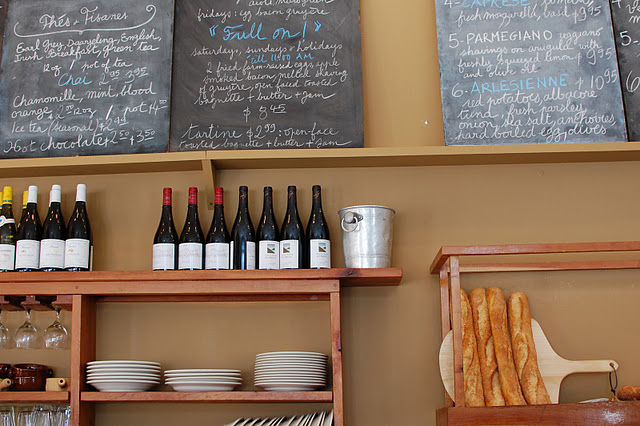 The children are rebelling. They say, "no more soup, mom!" and I say, "tough cookies."
Soup is what we've got, and after all that's what I went to all the trouble for, freezing buckets and buckets of soup so that right now, when the book was almost done and all I was making was pudding and oreos, we would have dinner. They'll survive, I hope.
Also, life's picking up all around me in swirling eddies- all good, all good! But there is no time to make dinner, and so, yes, it's soup again. The good news in that regard is that I've also started working at this lovely little place. I think I've mentioned it, but the whole story is that I started working there in December a few days a week, to supplement this and that and to learn about olive oil and cheese and mostly to get me out of the kitchen and my head every so often. It's been really nice to be there, despite the fact that it creates a few more days when there is no time to make dinner, but now? Now I have bread to bring home to eat with dinner, and we pop it in the oven for a few minutes and then it's like I've been home all day recreating some French bakery in my kitchen. Then I'm home for a few minutes (luckily I've defrosted the soup-sicle in the fridge the night before), and Joey and I and maybe Sadie have soup, and Rosie has her nightly meal of a banana ("I hate soup!"). Then I'm off to some meeting at town hall (better if I've remembered to wear the correct footwear) where I try, try, try to do my best at what ever happens to be on our plates that night, and come home all wound up, and Joey's trying to go to bed, but I'm just sitting there next to him jabbering about politics and emotion, and about the people's right to rage and how to help in a rational and responsible manner.
My dreams have been crazy lately.
The girls are doing well though– they seem to thrive as long as I can get enough hugs to them through the day, and Joey does his fair share when he sees them in the hallway at school. The other night I was tucking Rosie into her bed, and she said to me, "Mom, do you know why I always wear socks to bed?" (Truth is, I've always wondered why she's so stubborn about this. Me- I hate wearing socks to bed) And I said, "why, Rosie?" And she answered, "Well, when I read at night after you close the door, I can use one of my socks as a bookmark."
And there you have it.
So, again, again, (I feel like I'm always saying this) the book is almost out of my hands, and then there will be all sorts of beautiful meals to write about, and me glowing with joy and peace as I braise and sautee and chop. But I just can't go too long without talking about an actual recipe here–it leaves me feeling unsatisfied in some sort of core way, and so I thought I'd tell you about a cake that I made at work.
Now Bizalion's has an always lovely spread of many things. There are enough cured meats and olives and ripened cheeses and dates and figs to keep you throwing a party every day for a year. On the sweet side, the options are classy but a bit limited, always almond anise seed biscotti (which I have been making with great joy), and exquisite little chocolate pastries made by Audrey Sussman. Audrey did all the recipe testing for my book, and these chocolate horns are so good–they pretty much answer all your pastry and chocolate needs. But last week I found myself with the itch that comes when I haven't made a cake in some time, and so I asked Jean-Francoise (that is, Bizalion) if he would object if I added a cake to the mix. And I found this cake in Pure Dessert, which continues to hold it's place as my favorite dessert cookbook for maybe two years running, which I thought would do the trick.
Bizalion's is owned by the aforementioned Jean-Francois and his wife, Helen. In addition to the store, they are building a business around the importing of olive oil, and together with their two girls (exactly the same ages as my two girls, coincidentally), they are beginning to travel to Italy and France and Spain to where the olives are pressed, so they can hand pick the olive oils for the store. We sell the oil in big beautiful barrels, and anyone can choose the side of their bottle or bring one in from home and fill it from the barrel. And so there there I am, surrounded by these great steel barrels of olive oil, and so it only seemed right to open a spigot and mix it right into a cake batter.
This cake is boozey, not quite so much that you wouldn't give it to your children if they asked for it, but boozey enough that it is quite grown up. It improves with a day or two if you have it well wrapped, and the recipe will make two loaf pans or one big bundt. Yesterday a customer told me that this cake was good enough to retire on–it was so good. I'll make sure to tell Alice Medrich, if I ever meet her. But that woman keeps making the most wonderful recipes…selfishly I hope she never retires.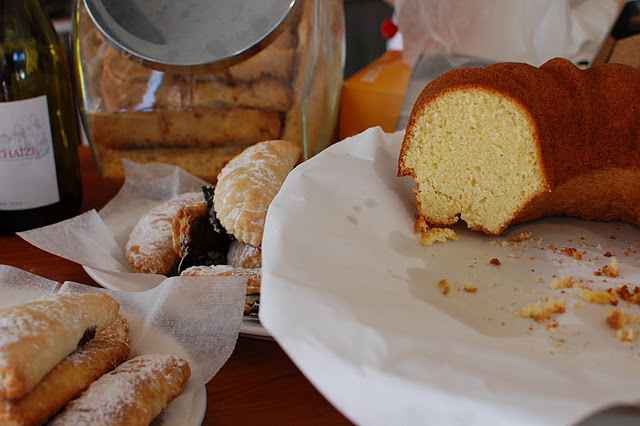 Olive Oil and Sherry Pound Cake
from Alice Medrich, Pure Dessert
3 cups all-purpose flour
2 teaspoons baking powder
1/4 teaspoon salt
2 cups sugar
1 cup flavorful olive oil
2 teaspoons grated orange zest (from 1 medium orange)
5 large eggs
1 cup sherry
optional (this is my own addition): 1 tablespoon orange flower water
Position a rack in the lower third of the oven, and preheat the oven to 350 degrees. Grease and flour two standard loaf pans or one 10-12 cup tube or bundt pan.
Mix the flour, baking powder, and salt together. Set aside.
Combine the sugar, olive oil, and orange zest in the bowl of a stand mixer. Fit the mixer with the whisk attachment and beat on high speed until well blended, about 1 minute. Add the eggs one at a time, beating after each addition. Continue to beat until the mixture is thick and pale yellow, 3 to 5 minutes. Stop the mixer and add 1/3 of the flour mixture. Beat on low speed just to combine. Then add 1/2 the sherry, and beat again for just a moment. Then another 1/3 of the flour, beat again. Then the second 1/2 of the sherry and the orange flour water, if using. Then finish with the rest of the flour.
Scrape the batter into the pan(s). Bake just until a cake tester comes out clean, 45 minutes to an hour. Cool in the pan for about 15 minutes before unmolding, then cool on a wire rack.