It's about time we satisfied another craving around here, don't you think?
This one was an overwhelming favorite–Miranda and Michaela and Nichole were all wishing for a bowl of green chile stew. We've been hoarding those New Mexican via Whole Foods chiles from Matt and Heather in the freezer, and it seemed about time to live in the moment and defrost them. Cea and John and their kiddos came to visit for the day in the midst of Thanksgiving travel, and they were so, so tired.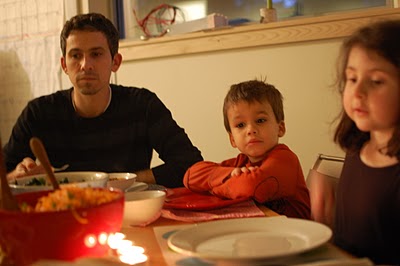 It's hard to travel with little kids. Sometimes they don't sleep, and they get strung out on everything, and everyone just needs a bowl of green chile stew and a stiff drink. We really really love this family, and we wanted to make sure that we gave them everything they needed.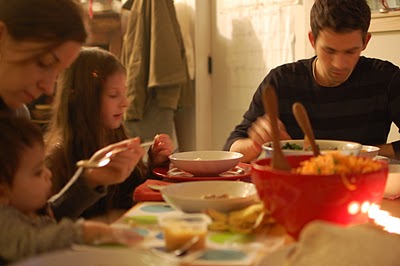 The first time I ever had green chile was in the dining hall at St. John's College. I lived in the dorms for about two minutes before I faked dietary issues to get myself off campus, and on one of those first mornings in Santa Fe before some class that I was utterly unprepared for, I wandered into the dining hall and met green chile. It was in a metal trough, a pale green watery liquid with little chunks of fibrous chile in it. It tasted like absolutely nothing, and everyone was ladling it over their scrambled eggs. The gray chunks of egg certainly needed help and so I followed suit.
How could I have known what would follow?
That green chile would become the most important vegetable, flavoring, food and vitamin supplement. That that dining hall chile was utterly different from all of the chile waiting for me down the mountain?
That I would crave and yearn for green chile every day after I left Santa Fe…that I would resort to Chi Chi's just because it's better than nothing?
To those of you in New Mexico, or even Denver (hello denver!), you may say eh. Why do you go on and on? I have green chile when I want it, and it's good and all but eh, already! Move on! Why do you write and write about this everyday condiment?
Well, I'll tell you something. Green chile is one of those things that is always, always taken for granted. You might eat it three times a day, on your huevos in the morning, your burger at lunch, your posole at night. It spices your life up a bit, clears out your sinuses, but eh, if you had to do without it, you could.
That's what you think. I'll tell you right now that whether or not you are a spicy person or a chile person or any other classification of the sort, New Mexican chiles get into your bloodstream and they never leave, they create a need and a hunger and a desire so strong that you will go to Santa Fe just to eat them, even if it requires a plane ticket.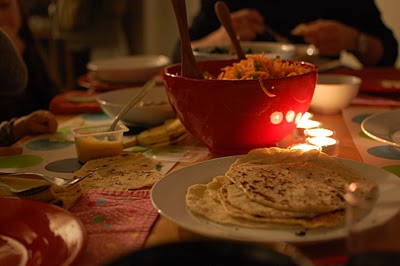 That's right, I'll say it. It's an addiction.
So for you Miranda, and Michaela and Nichole (and for me too, of course), green chile stew.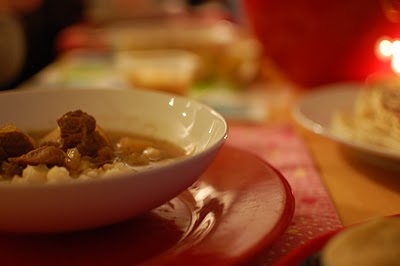 Green Chile Stew
1 1/2 pounds pork shoulder (weighed without the bone if it's bone-in), cut into cubes
2 tablespoons olive oil
8 ounces chopped green chile
1 medium onion, diced
3 cloves garlic, minced
2 ribs celery, minced
6 cups chicken or pork stock
1 teaspoon oregano
1 bay leaf
5 medium potatoes, peeled and cut into chunks
salt and pepper to taste
Wash and dry the pork. Toss with a bit of salt and pepper. You can also coat with a bit of flour here too, but I didn't so as to keep the whole thing gluten free. Preheat the oven to 275 degrees.
Heat the olive oil in a large oven proof skillet or roasting pan. When the oil is hot, brown the pork. Don't crowd the pan–do it in batches if the pieces are touching. Remove the browned pork and set aside. Add the onion to the pan, then the celery and garlic. Sautee until translucent and starting to brown. Add the oregano, bay leaf, and a few shakes and grinds of salt and pepper. Pour the stock into the pan and bring to a boil, scraping off any brown bits from the bottom of the pan with a spatula. Add the meat back in, then add the potatoes. Make sure that the meat is almost entirely covered with liquid. If it isn't, add more stock or water. Cover the pan and transfer to the oven. Cook for at least three hours, but up to five. Taste and adjust salt as needed. Serve with hominy and/or tortillas.