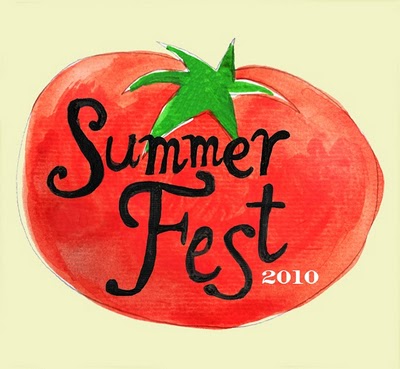 Well, here we are. It's week two of summer fest, and I don't even know what's going to happen. It could really get crazy.
Week one was a such a flurry of cukes and zukes inspiration. I will never wonder what to do with a zucchini again.
This week, we've moved on to another vegetable near and dear to my heart, one of those vegetables that I live for all year–in fact, this one is more than just a vegetable–it's a way the light falls while you're husking on the porch before the water boils, it's the search for floss when you've snuck away to the bathroom at a dinner party, it's one of the first foods my children really ate and took joy in. I would let them munch on the empty cob before they were really eating–and I'll never forget the look on Sadie's face when she found an errant kernel stuck to the cob. She lit up, and then searched excitedly for another one.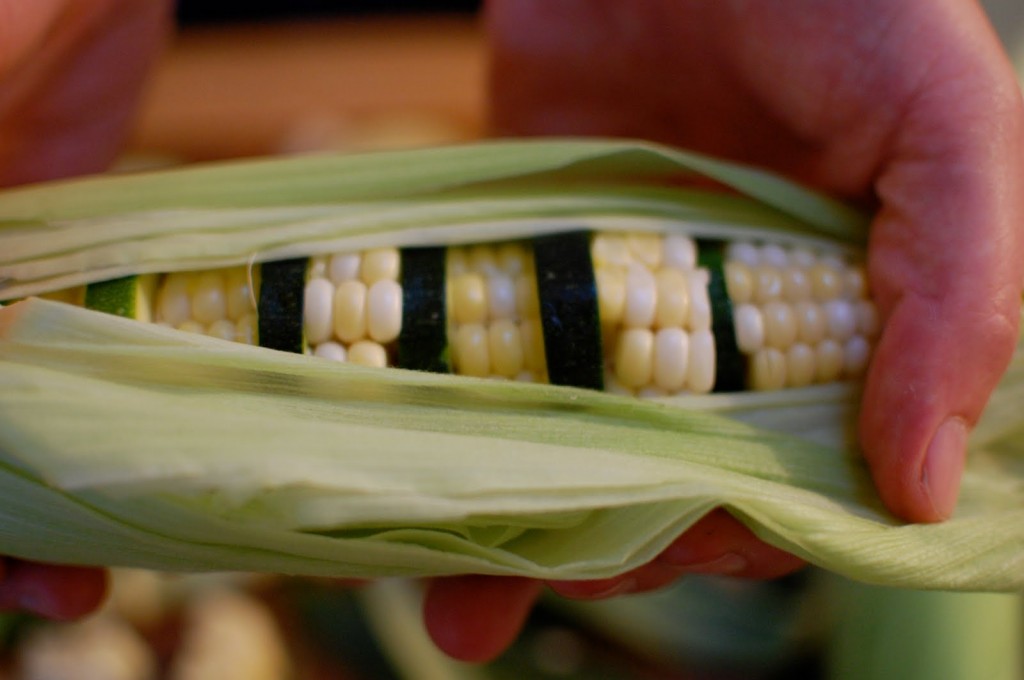 Corn doesn't really need a recipe. Boil it or grill it, a quick slather of butter and I'm done. But as I pondered what to bring to this week's summer fest, I went through all my favorites. There's that soup I can't seem to get enough of, and then there is of course popcorn in all of its versions. There is that warm salad that just doesn't photograph well but makes up for it ten times over in taste. And then of course there's the baked goods- the breads and the cookies that are all worth talking about again.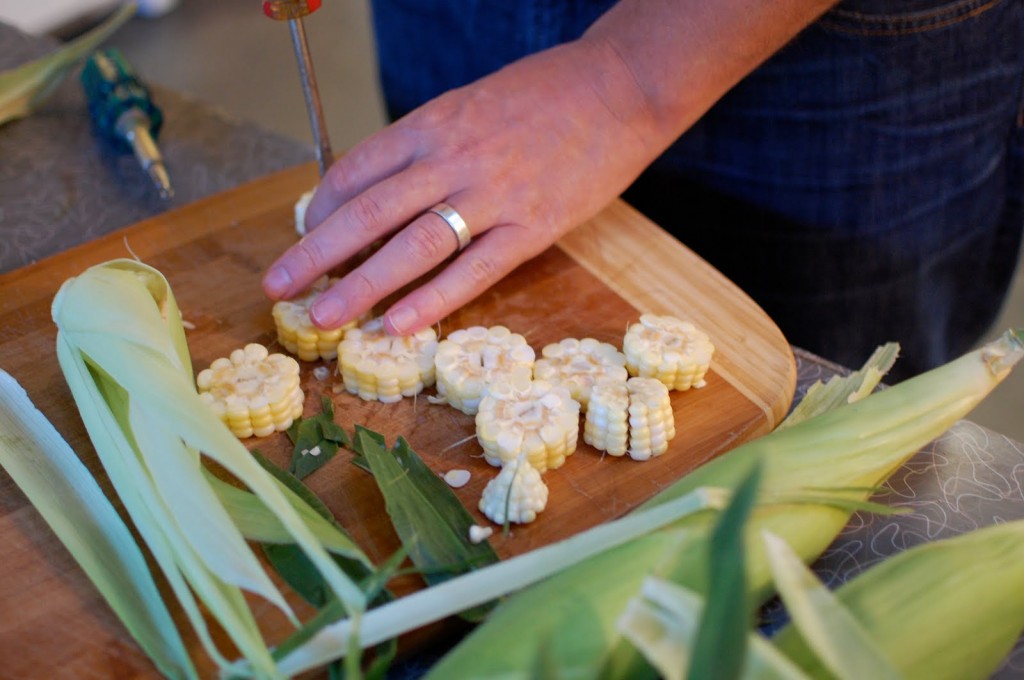 You might have noticed the guest list from that party last week- it was the place to be. From Margaret to Shauna to Diane and Todd, to Tigress and to Paige and so many fabulous others, the spread was fantastic and I wanted to bring something so great this week. Something different and creative and even delicious. I was stumped.
So I asked Joey for help, and I set him on the project.
For those of you who don't know Joey, he's a bit of an artist. He is officially a teacher, and he'll blush and shake his head if you call him an artist, but that's what he is. He says he just likes to make stuff, and then he spends eight hours on your birthday card, punching out tiny holes, lining them with tissue paper, and typing secret messages on the tissue paper. That husband of mine, he sure is an artist.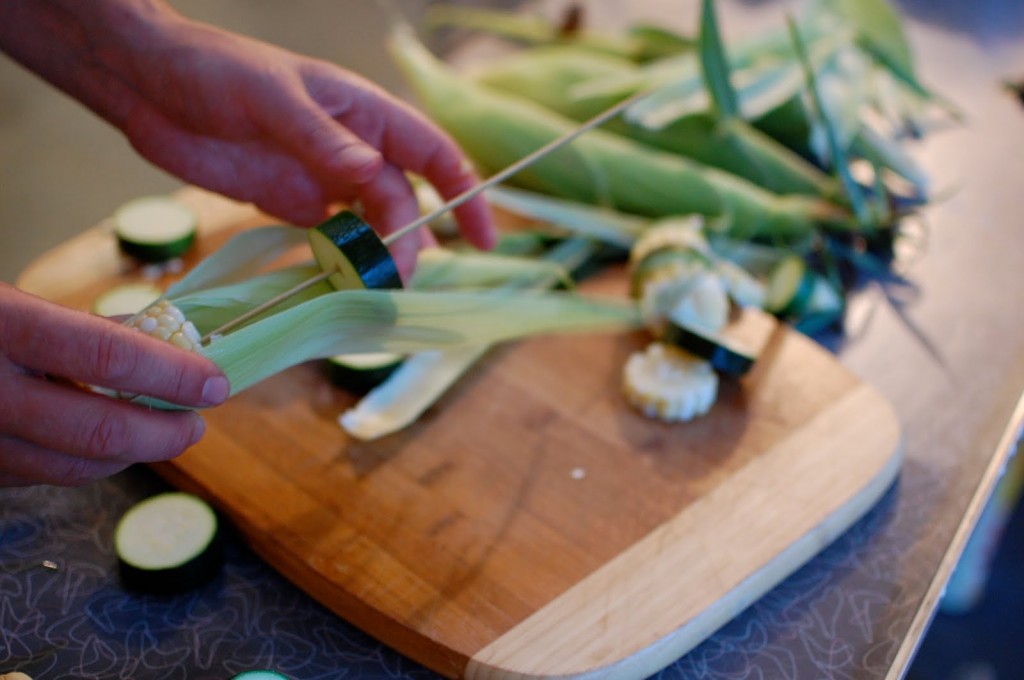 It took him all of five minutes to come to the idea. His eyes went all glassy, and then when he came out of his dream state, he had it.
Corn on the Kabob.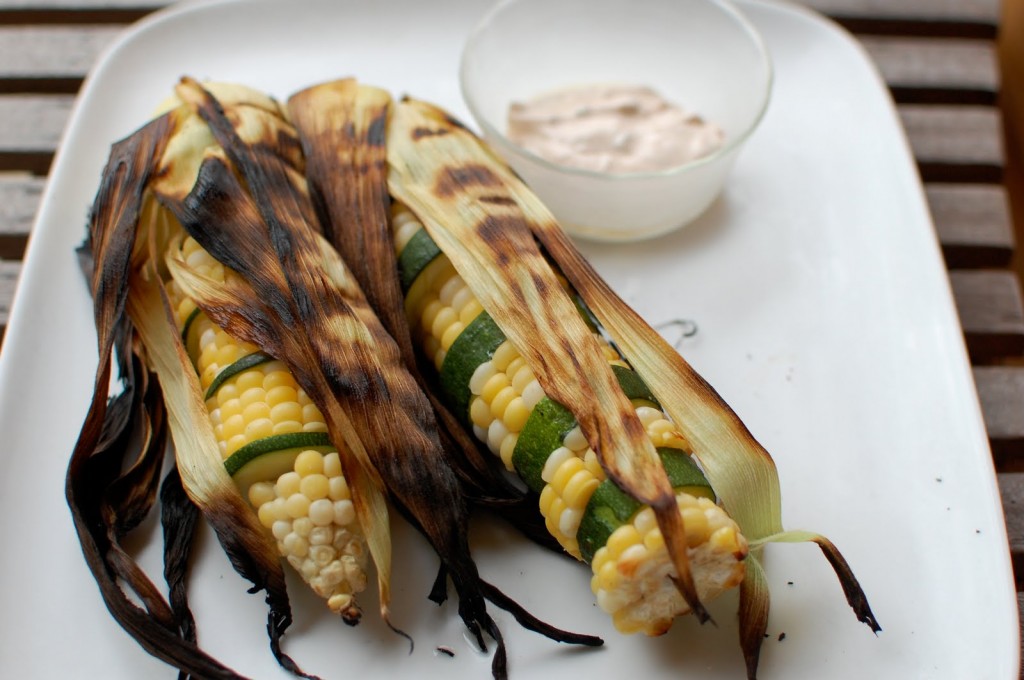 Now the problem with asking Joey to create a new dish is that he doesn't really care if you can make it. He doesn't even really care how it tastes. This is a guy who used to float math propositions with reeds and berries on the surface of the pond in college. He doesn't really care how it all works out. He cares that it's cool. And by cool, I do not mean in-crowd high school crowd cool. I mean full fledged geeky "cool!" if you get my meaning. That's corn on the kabob.
It all made sense in his head. "I'm going to cut the corn, and then stab it with an ice pick so that I can put it on a skewer, and then-"
"Um," (that's me) "I am not instructing people to stab the corn through with an ice pick. Can't you use something else?"
"Fine. A screw driver. And then I'm going to alternate it with something else, something the same width, like-"
"Zucchini?"
"Yes! Zucchini! And it will be like a striped corn on the cob, and sort of blown out by the other color- it will look wild!"
"And we could make a sauce?" (that's me. Because I know that I lost you at "ice pick" even though we changed it to screwdriver, and I want to give you a reason to stay with me. A sauce! A sauce! A really great sauce, actually.)
"Sure. A sauce, whatever. But isn't this going to be great? I want to make it right now!"
And so he did.
And of course it was cool! And even really good. And if the process of sticking a screwdriver through a corn cob does not scare you away, then you should do it, and you too will make art out of your food.
Luckily however, there are a lot of other things you can do with corn. And I have just the group to tell you about it. I'll post all of the corn-tastic links below. And of course, like you did so well last week- join in!
But first, of course, I will share Joey's recipe for corn on the kabob (made street-y by my little sauce). For all you artists out there…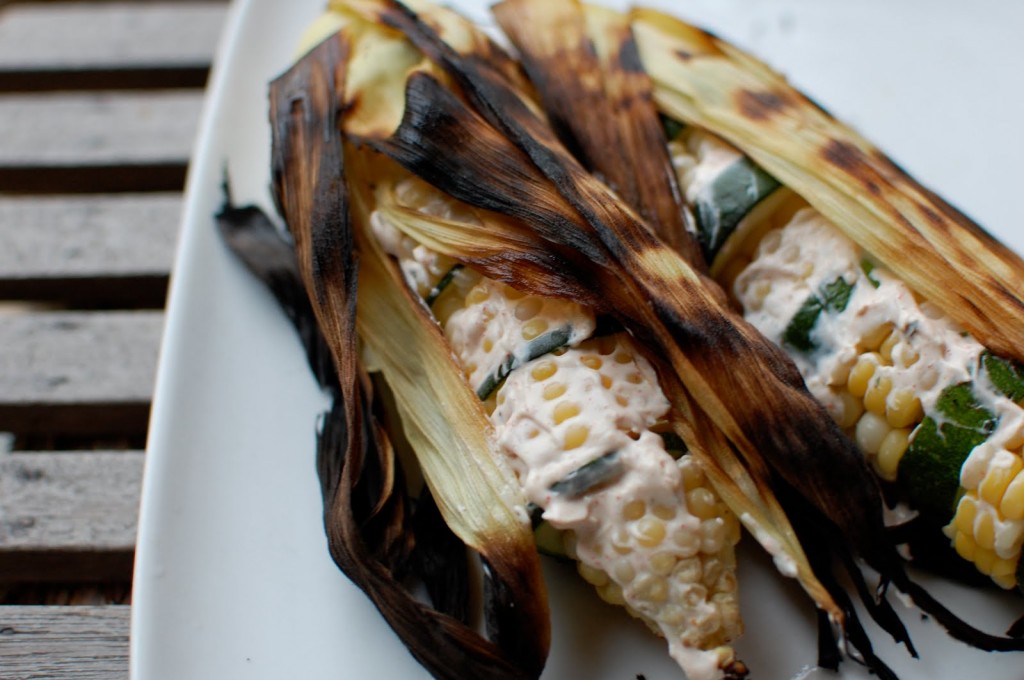 Street Corn on the Kabob
4 ears of corn
2 zucchini about the same diameter as the corn
1/2 cup sour cream
the juice of 1 lime
1/2 teaspoon salt
1/2 teaspoon chili powder, plus additional for sprinkling
1/4 cup grated parmesan cheese
10 mint leaves, finely chopped
Remove the outer leaves of the corn. Lower the inner leaves, but leave them intact at the base. Remove the silk. Using a sharp knife, cut the corn into 2-inch sections. The bottom section will still be attached to the husk. Using a screwdriver, poke a hole in the center of the cob of each section.
Cut the zucchini into 2-inch sections.
Assemble the kabobs: Starting with the section of the corn that is attached to the husk, arrange the corn and zucchini on the skewer alternately. When the skewer is filled, close the husk around it. Repeat with the other skewers.
Grill for about 12 minutes, or until corn is tender.
While the corn is grilling, combine the sour cream, lime juice, salt, chili powder, parmesan, and mint.
Serve corn hot, husk peeled back, slathered with sauce. Sprinkle with additional chili pepper, if you like a little extra spice.
And now, as promised… the corn party begins!