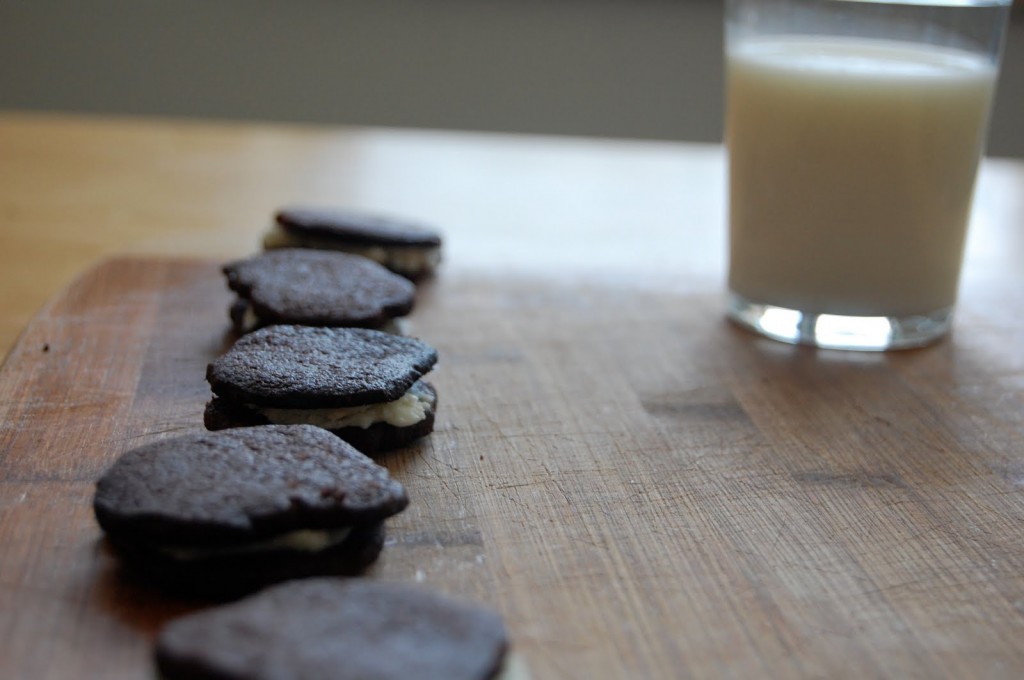 Over the last couple of days, something has become very clear to me.
I live in a part of the world where people are conscious about the food they eat. The Co-op gets as much business as the Price Chopper, and each of our many CSA's have long wait lists, full of people just begging for celeriac and spinach. To put it mildly, this town eats a lot of sprouts.
But I knew all of that. What I did not know is that there is also a deep passion in the hearts of my friends and neighbors for the oreo cookie.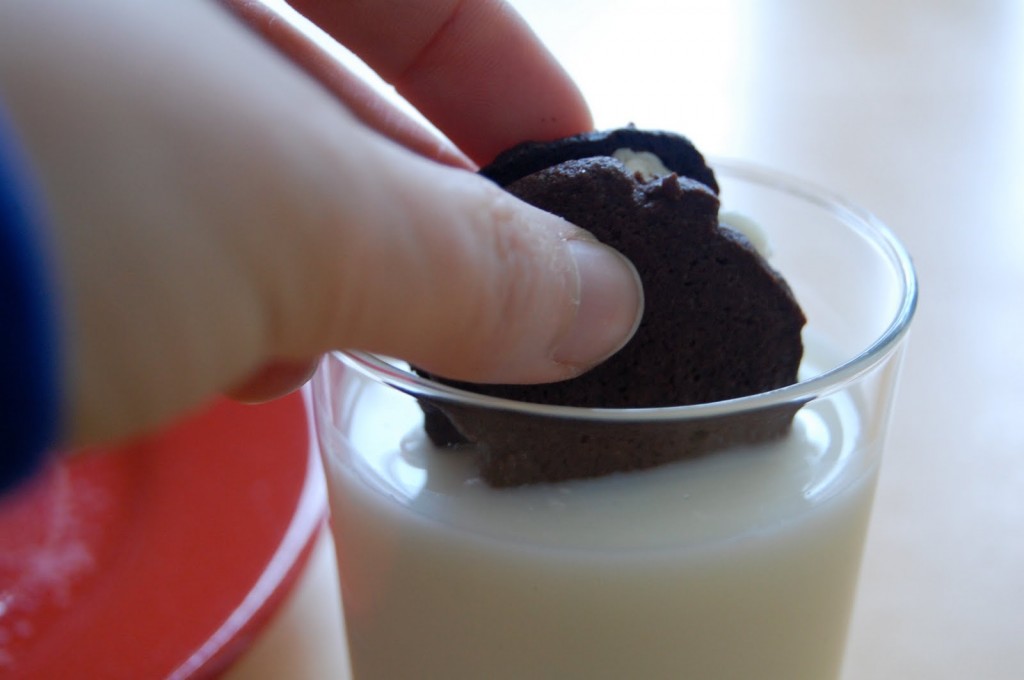 You see, I've been working on this cookie lately. I've had a few homemade oreos in my day, and although I'm never one to refuse a cookie, they don't tend to do the trick. So often, the cookie part is downright chewy, and that is just wrong, all wrong.
And there's another thing. For an oreo to really be an oreo, the cookie must be black. It must be crunchy, and it must get stuck in the teeth. For the joy of the oreo is that it cannot be secretly consumed; the moment the mouth opens to deny the eating of the cookie, the black lined teeth tell the whole story. And oreo must be eaten proudly, and in the open air. This is not a shame cookie.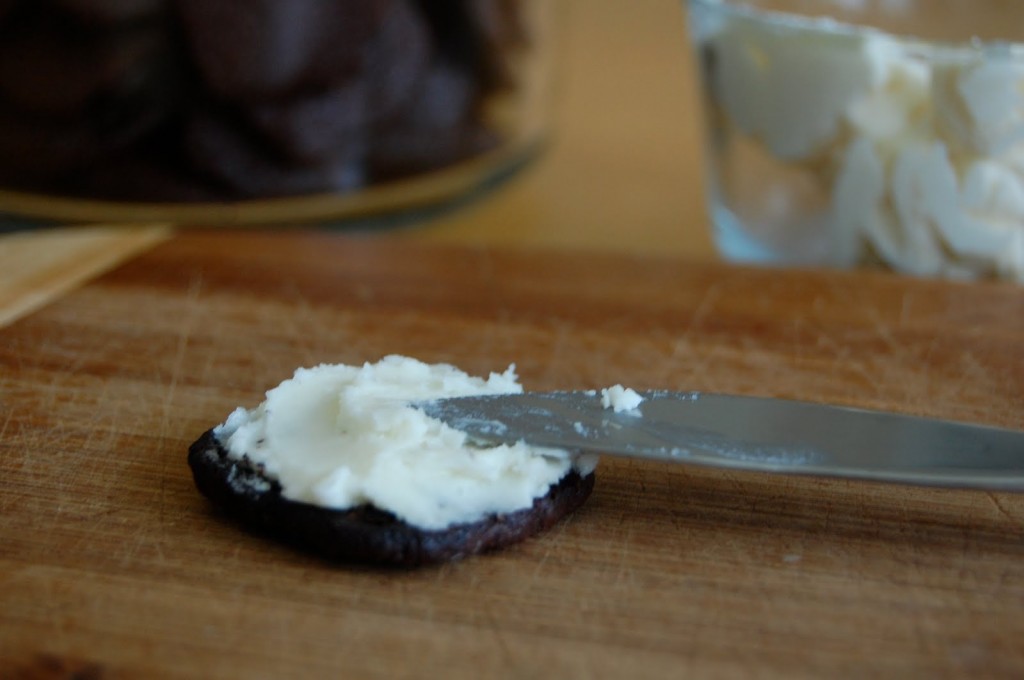 I'm good at keeping secrets when it matters, but at other times, I'm a bit of a talker. And as I've immersed myself in this oreo adventure, I've mentioned it here and there, just that this is what I'm working on this week. Every time, I get the same reaction.
"Can I come over?"
I'm thinking I could make a lot of friends with these cookies.
In this oreo, the cookie that sandwiches the cream is adapted from Alice Medrich's cocoa wafer from that book that I adore, Pure Dessert. I lowered the sugar in the cookie quite a bit to keep the bitter cocoa quality that the store- bought oreo has, although in that case, the bitterness might be all those odd ingredients in there. The cookies themselves can also be used to replace store bought chocolate wafers in treats like ice box cake and chocolate cookie crusts. This is a cookie you want to know- it will come in handy. The filling is simple, butter, earth balance vegetable shortening, vanilla, milk and salt. I'm pretty sure the other version has a whole lot more ingredients, but somehow, these few seem to capture it.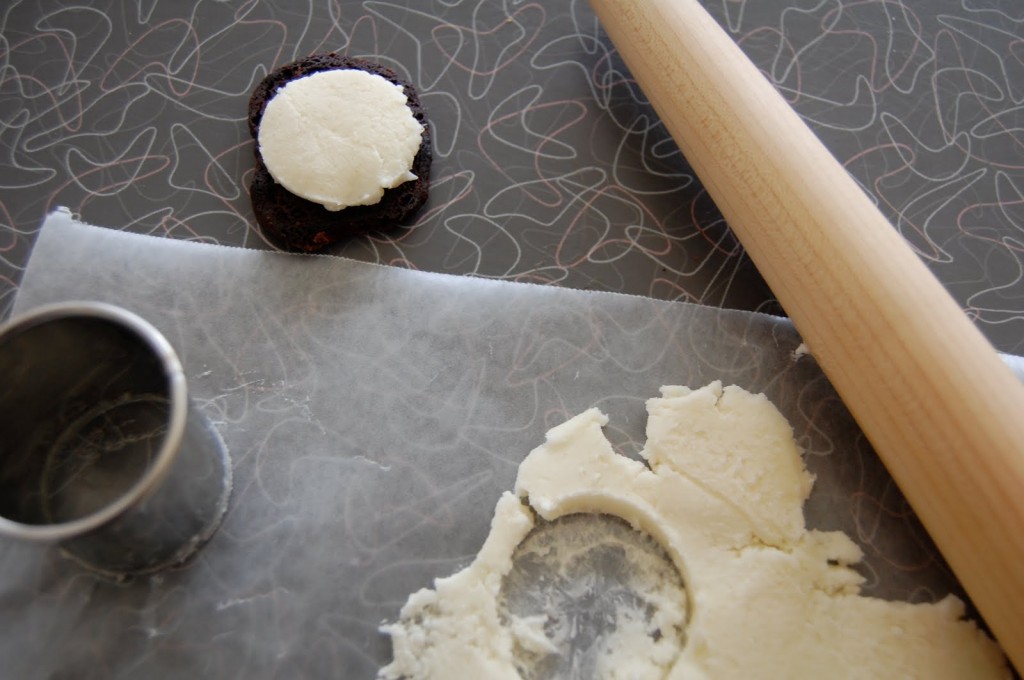 Due to some serious sweet eating last week, Joey and the girls decided to take the week off from sugar this week. Well, actually, I decided that the girls would take a week off and Joey decided to join them. I was very supportive of his sweet-free week, until he refused to try my oreos. "This is work!" I said. "I need you to see if they're the real deal!"
He held off for two days, and then I did something I am not proud of. I begged.
Tonight, he consented. After Sadie was safely in bed where she could not witness his betrayal, he ate one, and then he ate another to be sure.
"I need milk. And I need more cookies."
Oh yes. The real deal.
Oreos
The Cookie:
adapted from Alice Medrich, Pure Dessert
1 1/2 cups all purpose flour
3/4 cup unsweetened cocoa powder
1/2 cup plus 1 tablespoon sugar
1/2 teaspoon salt
1/4 teaspoon baking soda
14 tablespoons unsalted butter, slightly softened
3 tablespoons whole milk
1 teaspoon pure vanilla extract
The Filling:
2 ounces unsalted butter, softened
2 ounces Earth Balance brand vegetable shortening, softened
1 cup confectioners sugar
1/4 teaspoon salt
1 tablespoon whole milk
1 tablespoon vanilla
For the cookies: Combine the flour, cocoa powder, sugar, salt and baking soda in the bowl of a food processor and pulse several times until completely combined. Cut the butter into tablespoon sized chunks and throw them into the food processor. Again, pulse several times. Combine the milk and vanilla in a small cup. With the food processor running, slowly add the milk mixture to the batter, continuing to process until the batter clumps around the blade. Lay a large piece of wax paper on the counter and put the batter onto it. Gently press the batter into a log about 2 inches in diameter. The batter will be soft, and this will be a messy moment. I wrapped the batter in the wax paper and then shaped it, which worked pretty well. Put the log in the refrigerator for at least an hour.
Preheat the oven to 350 degrees, and make sure that your racks are in the upper and lower thirds of the oven. Line two baking sheets with parchment paper. Remove the log from the fridge, and unwrap it on a cutting board. With your sharpest knife, cut the log into 1/4 to 1/2 inch slices, catching each slice as you go and laying it on the baking sheet. If the dough breaks, give it a few minutes to warm up and then start again. Give at least 2 inches between cookies- they will spread a bit. Bake the cookies for 15 minutes, rotating the pans and switching their location halfway through baking. The cookies will cook up and deflate- they are done about a minute after they deflate. Place the pans on a cooling rack and cool completely before filling.
For the filling: Combine all ingredients in the bowl of a stand mixer or mixing bowl. With the mixer or by hand, beat together until all elements are thoroughly combined and the mixture is smooth and creamy.
To fill the cookies: You have two options. You can go the lazy route and get these into your belly faster, or you can go a bit more Martha. It's totally up to you. Lazy is definitely my style, but I like to give you choices, because someone's got to make the pretty food out there.
Lazy route: Spread about 1/2 inch layer of filling on one cookie. Put another cookie on top. Eat.
More work for style points: Refrigerate the filling for at least an hour. Put about a cup at a time of the filling between two pieces of wax paper, and roll it out to 1/2 inch. With a 2-inch biscuit cutter, cut circles in the filling. Use a butter knife or metal spatula to transfer each circle to a cookie. You have to work fast, as the filling warms quickly. Admire, then eat.
These cookies are good at room temperature for at least 5 days, and great out of the freezer indefinitely.