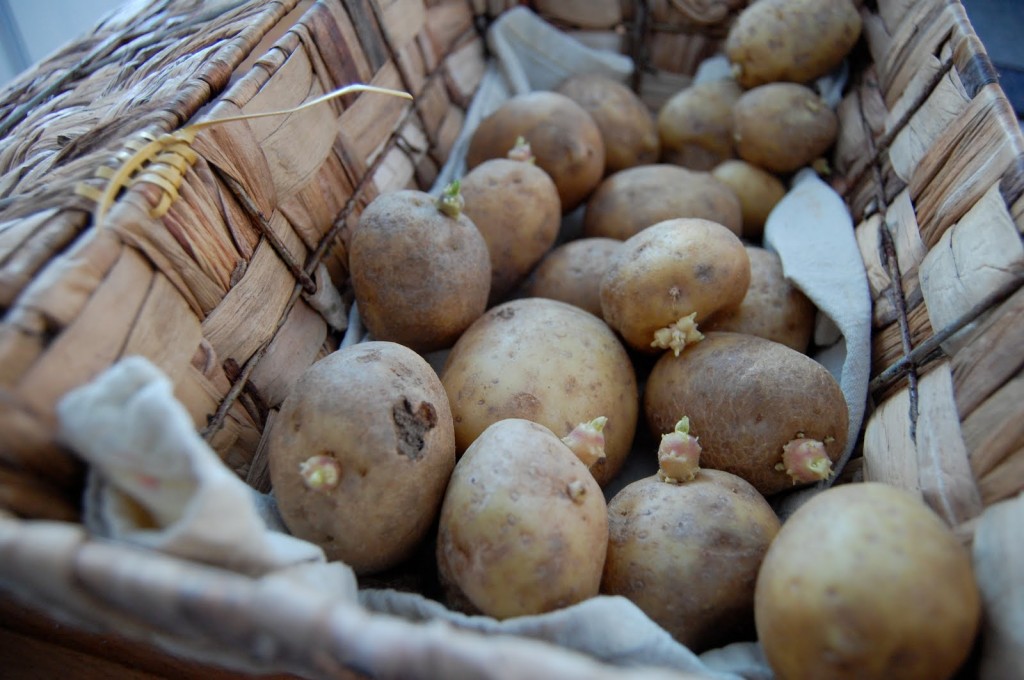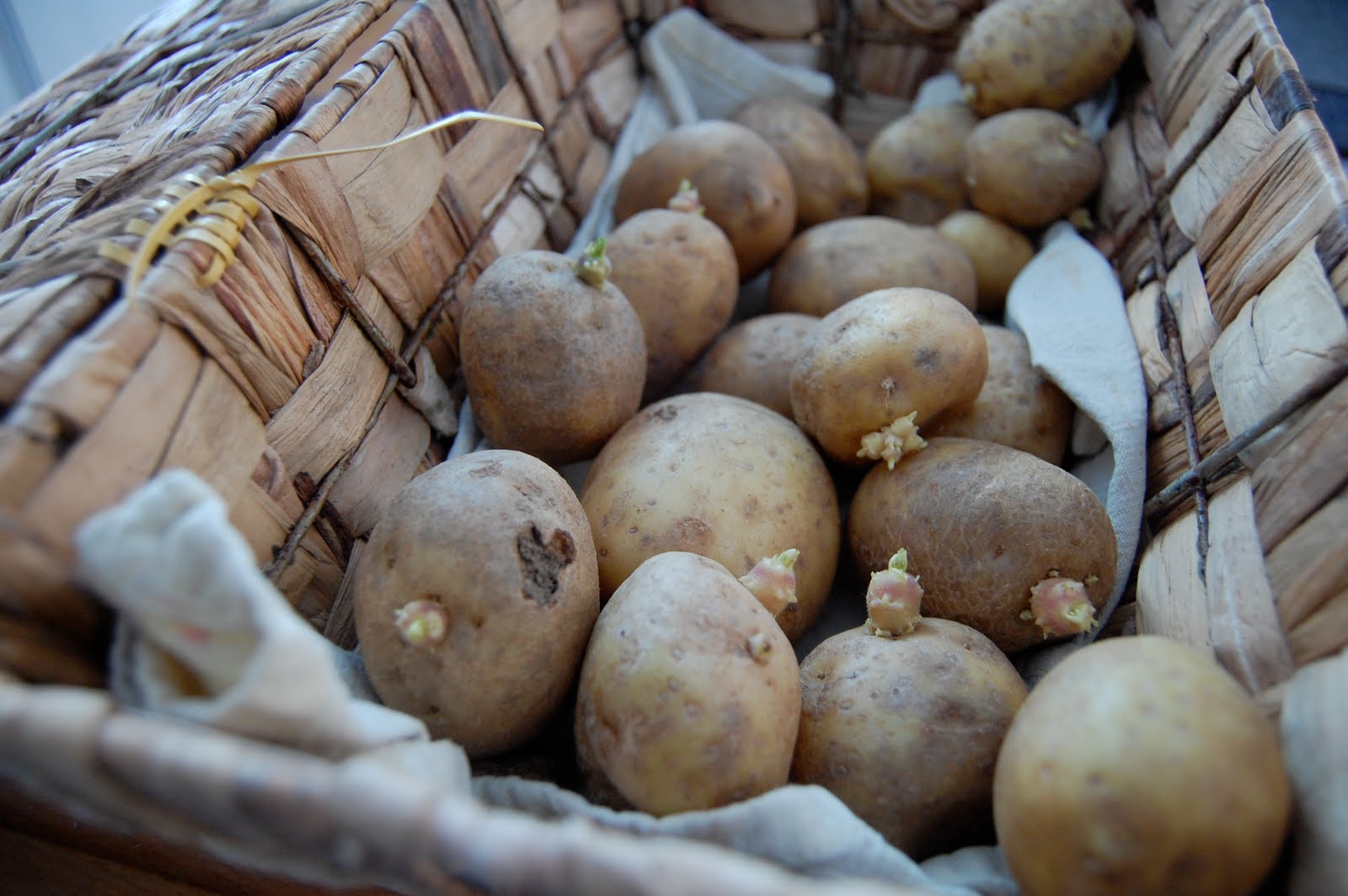 Let's hear it for those potatoes. They have grown all sorts of amazing little appendages, yet they retain their exquisite texture, their fresh earth taste. Tonight we cooked the last of the potatoes, and oh the dish that they made. I can't wait to tell you about this one.
But I'm getting ahead of myself. Today was the first day of winter. And there were wonderful potatoes. But yesterday, the last day of Autumn, that was a really hard day. It was the kind of day that I think if I had more of, the worst part of me might run away. I don't mean that metaphorically- I mean me, gone. At the end of yesterday, when the girls finally went to sleep, all I could do was watch movie trailers on the internet for an hour. I went through the entire Apple Trailers line up. When Joey caught me finishing up with the Hot Tub Time Machine preview, he cut me off. And I went to sleep with the hope that today would be better.
Yesterday, Sadie screamed for the better (or let's call it worse) part of the day. She screamed at me, she screamed at Joey, she screamed at Rosie, and she screamed at herself. She cried and whined and complained. She clung and demanded and needed. And we couldn't figure out what to give her. And we felt exhausted and deflated and not always much like helping her anyway. There have been many days like this lately.
I don't always live up to who I think I should be on these days. My patience fails, I sigh, I shrug her off, I send her to her room. I feel bad.
When Sadie was born she stared at me over a huge regal nose, and I knew I was in for it. She was the most peaceful baby, a master of communication, and her whole self seemed so formed from the very beginning. I think that she has always felt in control. That seems to get her in trouble. As she nears seven, maybe the world is getting bigger for her, and she's holding on the best she can. But she's leaving claw marks in the rest of us as she clings to her control.
Last night, I felt like I couldn't face another day like that. Lucky for us all I didn't have to. Sadie and I decided to make dinner together tonight, a special meal for the solstice. She cried through dinner last night, hating the food and the company, and this seemed like a good alternative. She picked up a new book that friends had sent to me for my birthday, and chose a recipe. I offered pork chops, she agreed and added kale. And today, while the sun set earlier than any other day of the year, she trekked into the icy world to forage for greens.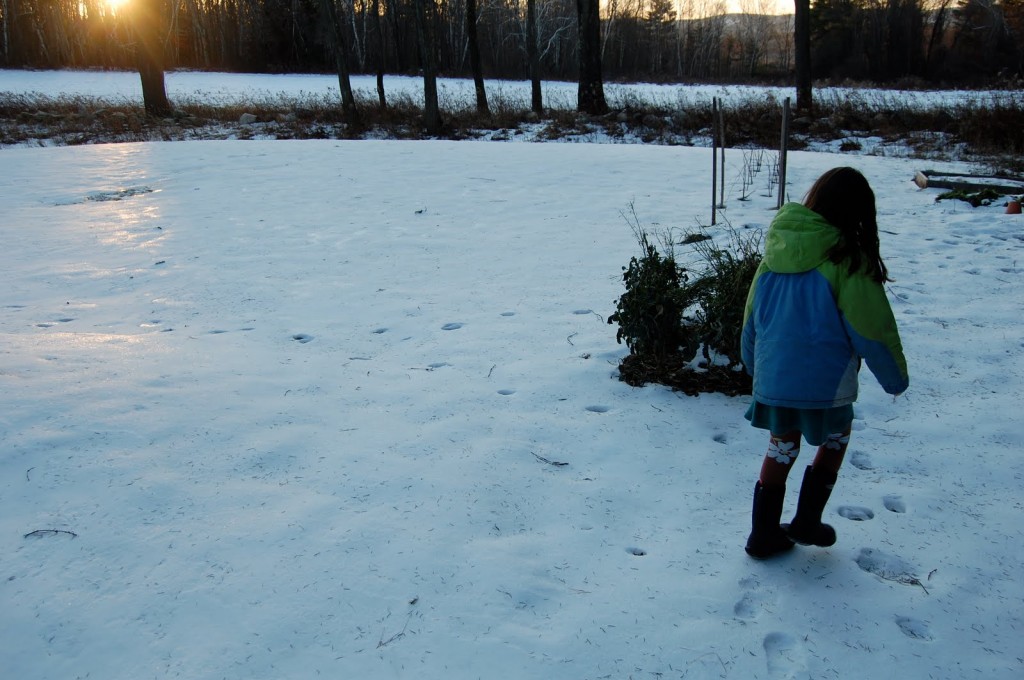 I felt that we were always on the verge of a meltdown, but as long as we moved slowly and kept taking good breaths, we held it together, she and I.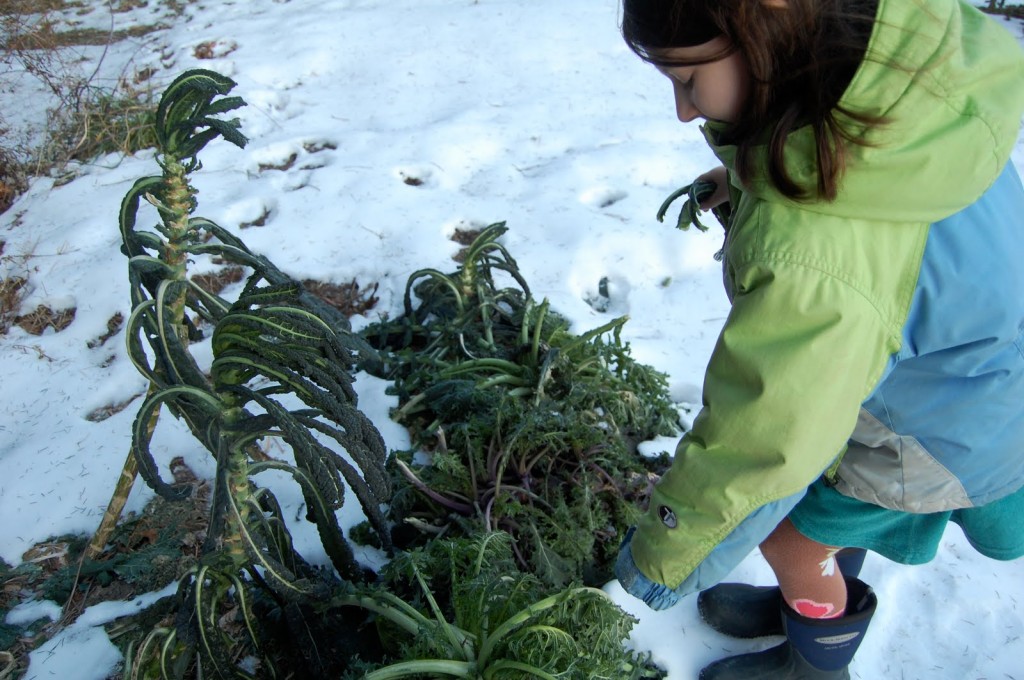 I don't share the kitchen with the girls as much as I would like to. No matter how hard I try, I am not the mom who kneads bread with her children. Maybe someday. It seems that my girl might have possibly learned a bit of that controlling stuff from her momma. But today, it felt good to share.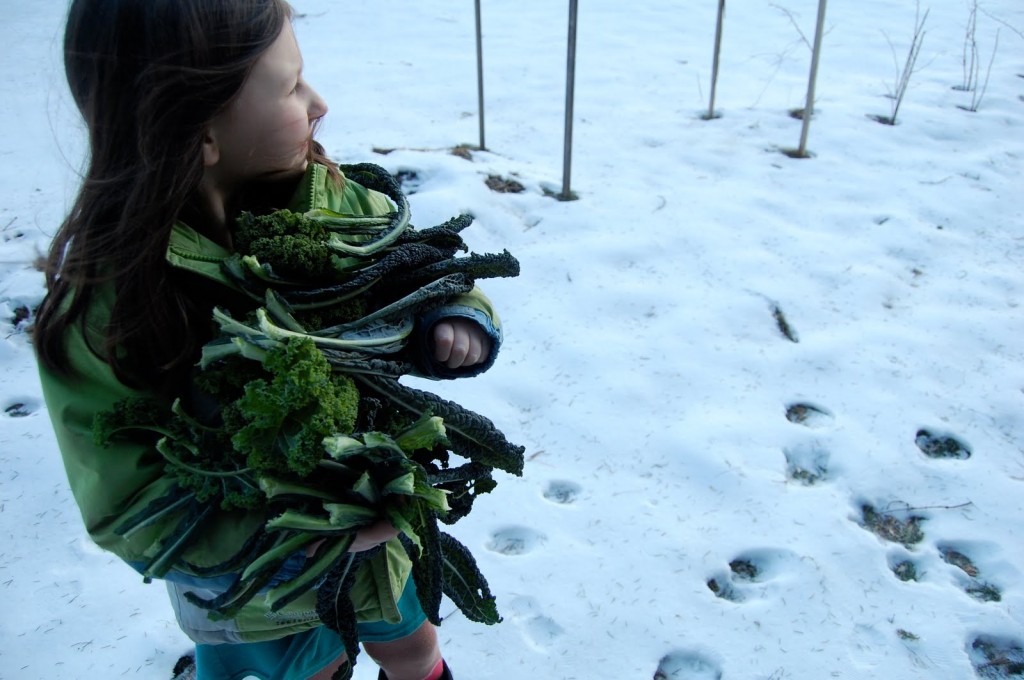 We talked about eyes of potatoes, and how they are trying to make new potatoes.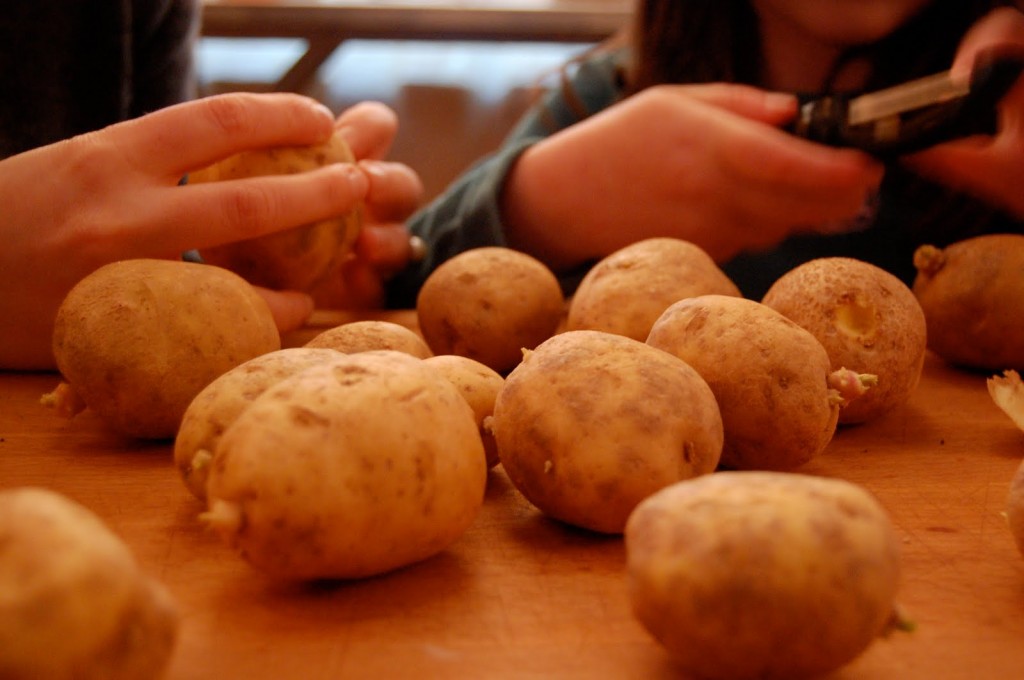 I tried to show Sadie how to peel a potato. She said that she had her own way.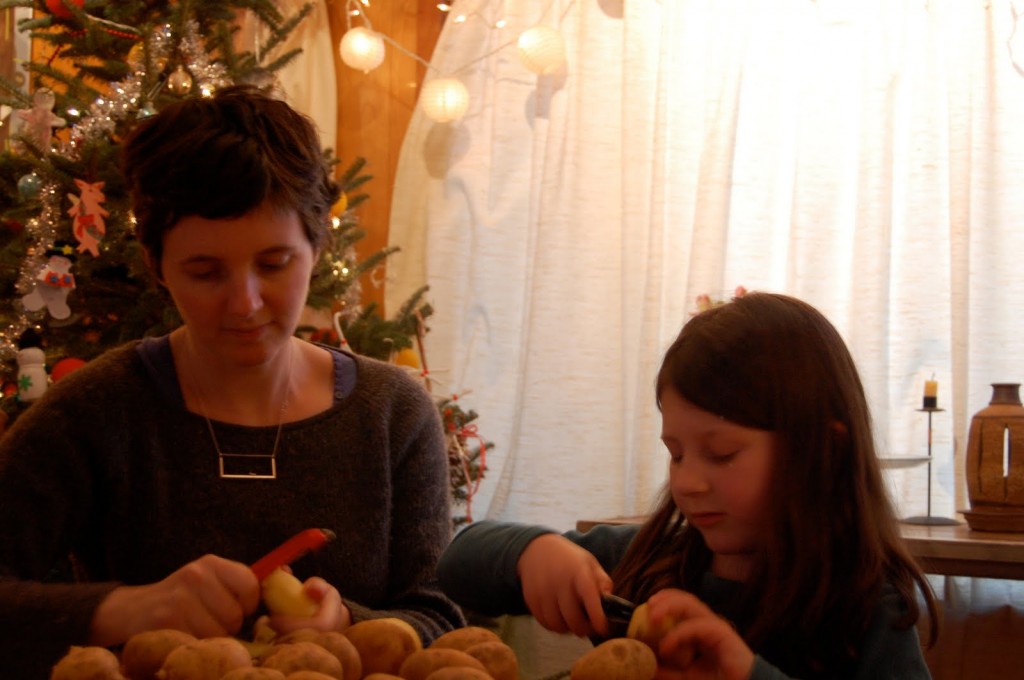 She chose a recipe called "Greek Island Potatoes".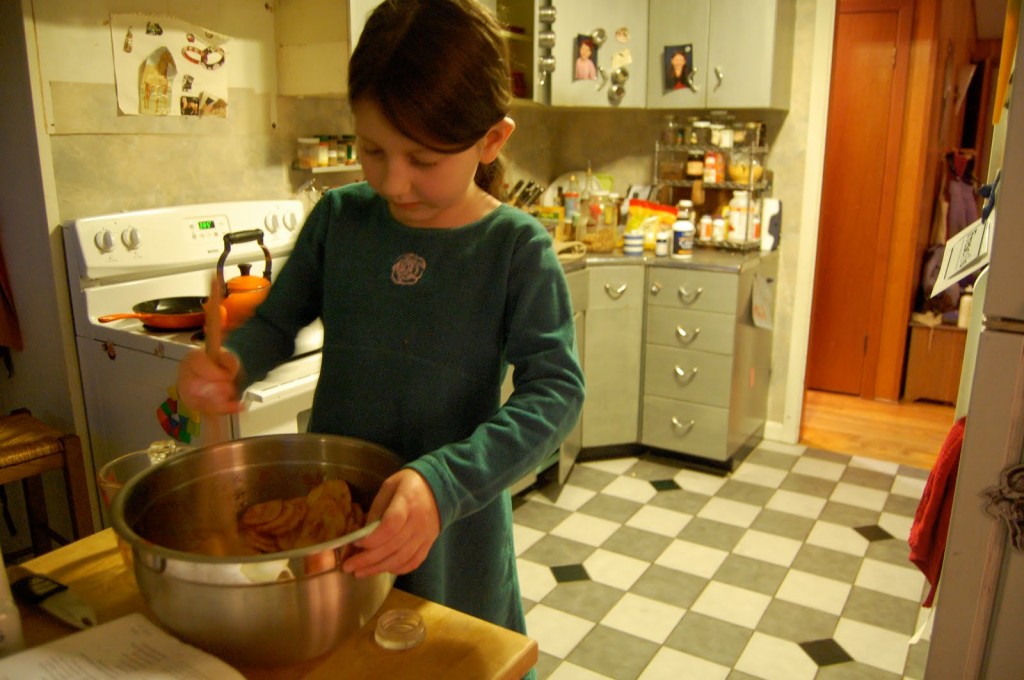 We had our meal by candlelight, and the potatoes were truly phenomenal. I had the thought that this are the kind of potatoes that make you want to open a diner, so that you can be the place that serves those potatoes, and people travel for from all over just so they can order a side of those potatoes. These are amazing potatoes.
And then we read this book.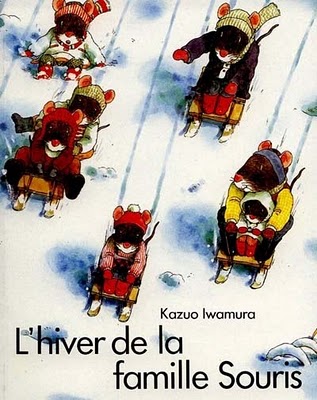 I've talked about these books before. They are very hard to find, but so worth the search. There are four perfect books in this series, one for each season. And in the hopeful creation of our own family traditions, we read one on the first day of each season, and the girls get it, and they listen to the reverent ways of the fourteen forest mice with utter solemnity. I think that the winter book is my favorite of the four.
The wind howled outside, and we talked about Persephone, and we ate pomegranates to create winter just like she did.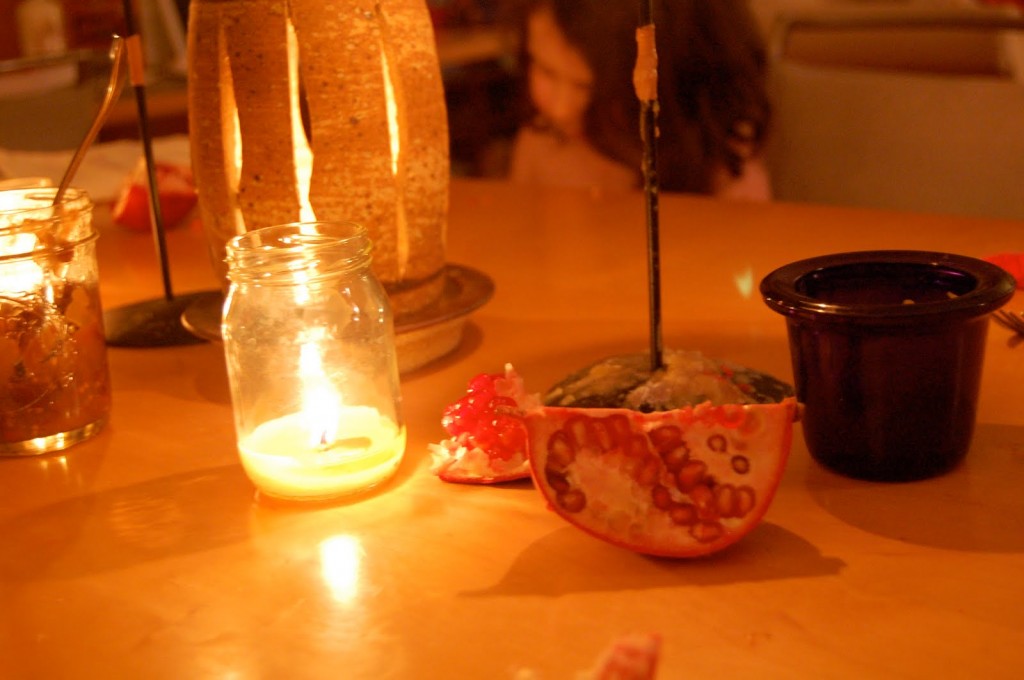 Sometimes being a mother feels too hard. It just does. But it seems like there is a system to it all, that just when it's getting to be too much, there is a day like today, and I can sit, and reset, and take my girls into my lap with a whole heart.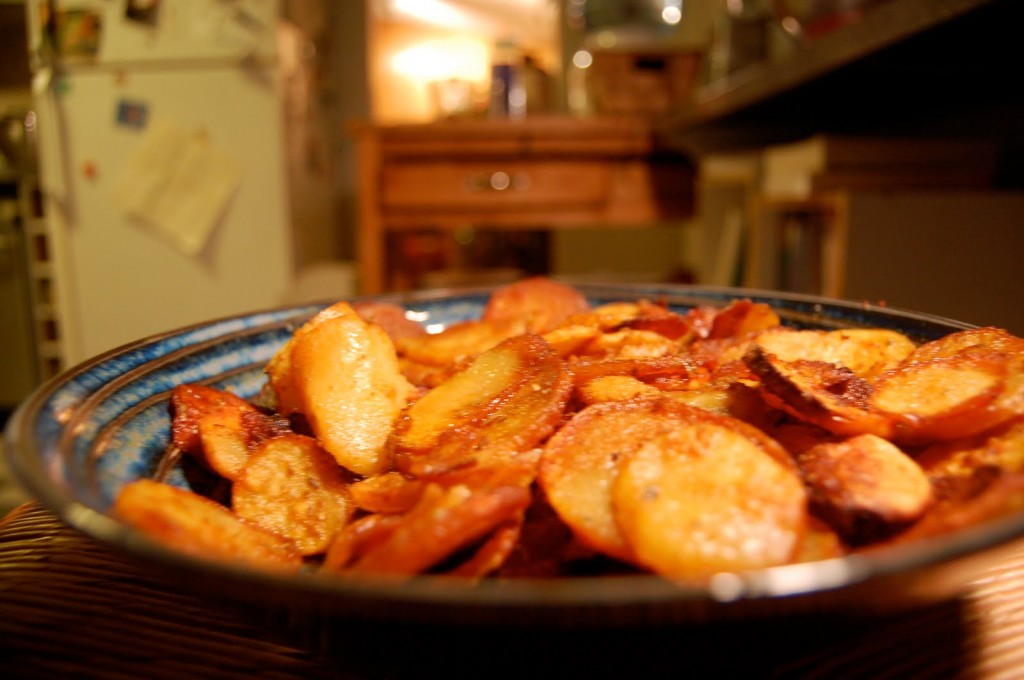 Greek Island Potatoes
adapted from Barbara Kafka, Vegetable Love
(serves 5-6 as a side dish)
3 pounds pounds potatoes, peeled and cut into 1/3-inch slices
3/4 cups olive oil
3 tablespoons paprika
2 tablespoons dried oregano
2 tablespoons kosher salt
Freshly ground black pepper to taste
3 tablespoons fresh lemon juice
Put one oven rack in the bottom position, and one at the top. Preheat the oven to 350. In a large bowl combine the potatoes, olive oil, paprika, oregano, and salt. Stir until the potatoes are thoroughly coated. Place in a single layer on a baking sheet. Cook for thirty minutes on the bottom rack.
Move the pans to the top rack and turn the heat to broil. Cook for 10 minutes, or until the potatoes are crispy but not burned. Shuffle them once or twice during this time.
Remove the potatoes to a platter. Sprinkle with pepper and lemon juice. Let stand for 5 minutes and serve hot.