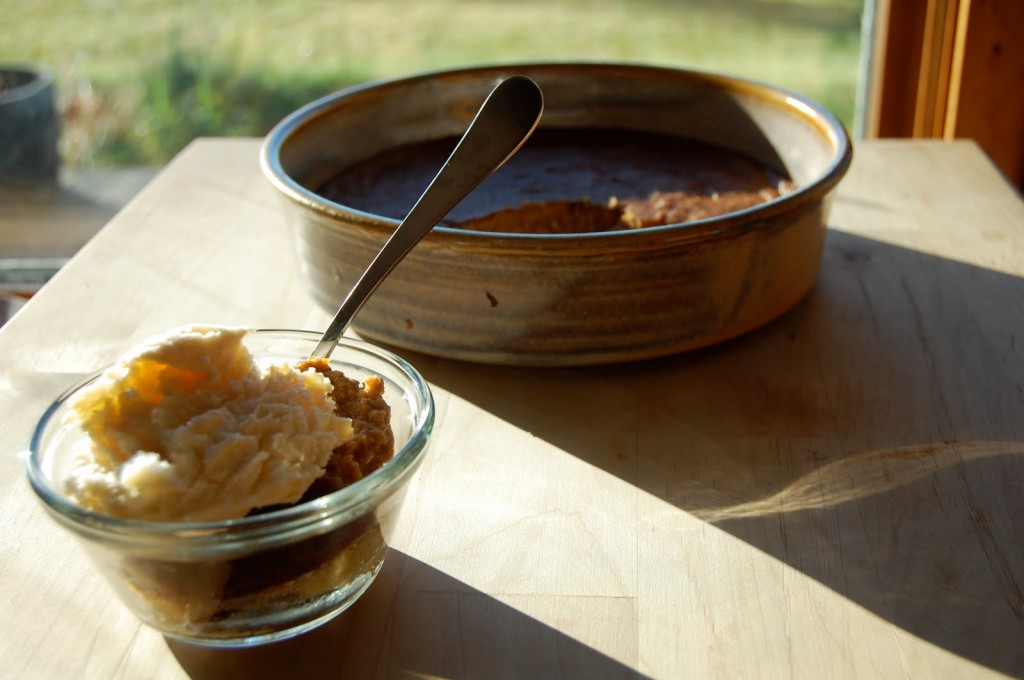 I love holidays with all my being, but I usually don't quite know what to do with them. By blood I'm half Episcopalian and half Jewish, but the Episcopalian ran off to be a New Age Guru in Texas early on, and the Jews decided that they would rather be Pagans and Buddhists and well, Yiddish club members.
As a child I yearned for anything holiday related, but most of the time, the reality didn't quite live up to my imaginings. There were a few moments that felt genuine, but the rest just felt unsettled. My grandmother would give me pens and pads and tape from the supermarket wrapped in little star of david wrapping paper for Hanukkah- that felt so special to me. And the Spring equinox parties that she would throw for me and my friends felt like true family celebrations. But those moments came in the midst of fantasies of storybook Christmas eves and randomly passionate Jesus obsessions. Holidays seemed to fit in with normal nuclear families and suburbs, and in my mind that was heaven.
As an adult with my own non-nuclear family now, I'm trying to find our own place in the holidays, and so far all I can say is that creating traditions is no easy feat. I'm working on it though.
Luckily, Thanksgiving is one holiday that has never presented these challenges for me. As a very thankful New Englander who loves a good meal and a big table, I fit right in.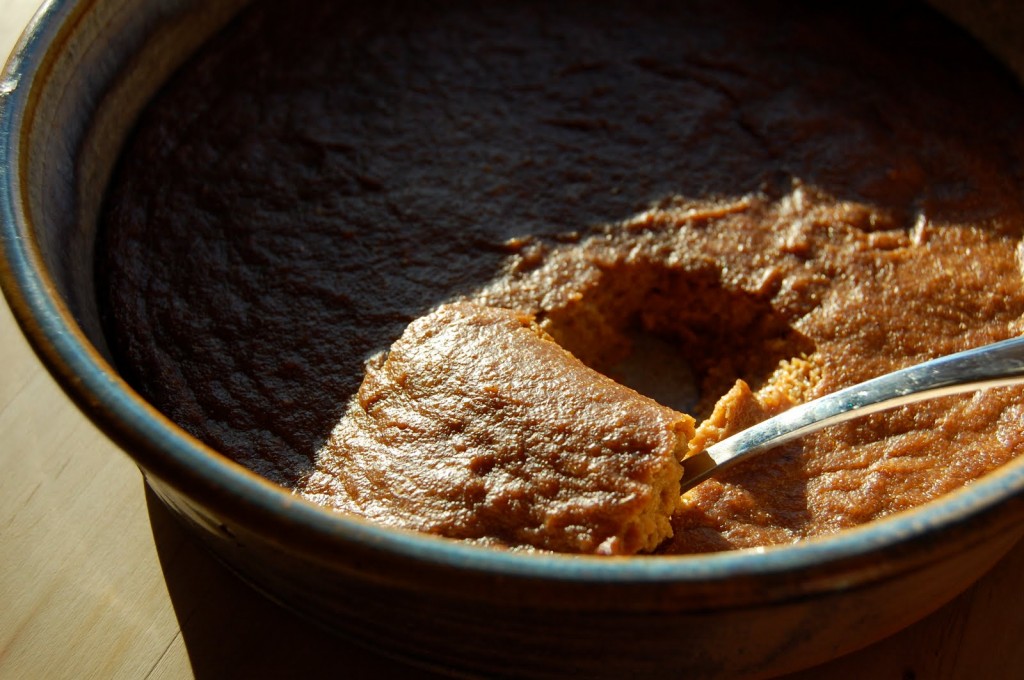 I made my first Indian pudding for Thanksgiving when I was fourteen. It was the first holiday after my grandmother died in a car accident, and somehow I got it that it was important to create something for the meal.
Indian Pudding is one of those old desserts where you feel like you are making something of the few things that you are thankful to have. It gets deep at the Puritan in me to whisk together a little cornmeal and milk, to add a bit of maple syrup and molasses, a spice here and there. Put it on top of the wood stove for a few hours and there's dessert. Okay, actually I put it in my electric oven, but it's a nice thought, isn't it?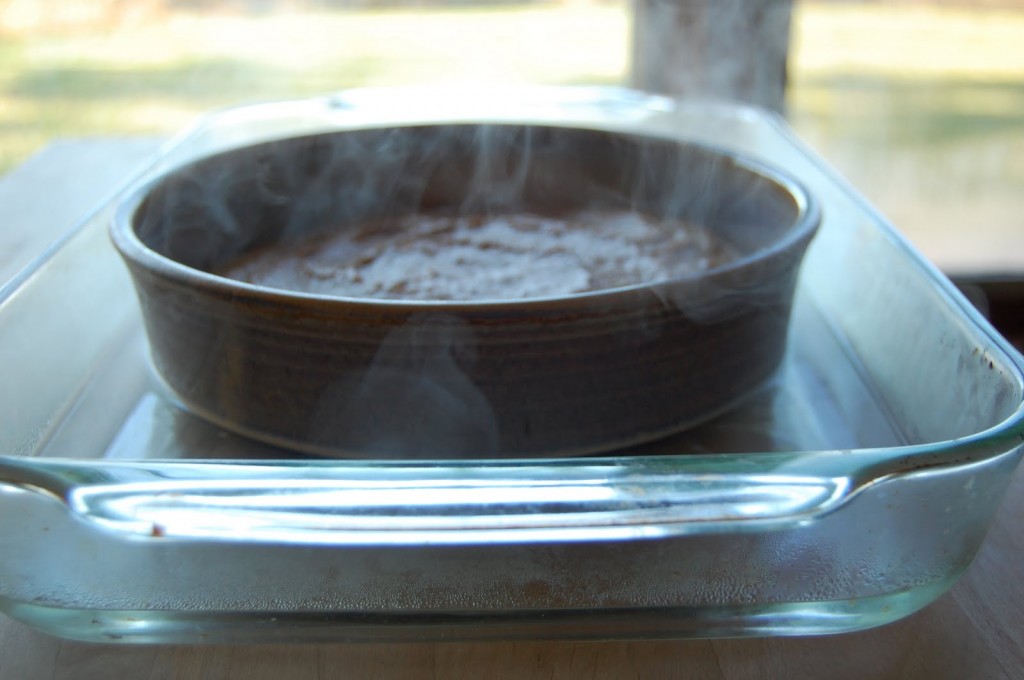 This recipe leaves out the eggs that you'll often find in there. I wanted to test out an eggless recipe so that I could make it for Thanksgiving and Sadie could actually eat it, but you can add 2 eggs to this recipe and it will make a bit of a more custardy pudding. It's great without the eggs too, so you can go either way.
I've got to say that Indian Pudding, although not as visited as the pumpkin or pecan pie, is a perfect Thanksgiving dessert. It carries all the spice and warmth that you want from a finish to that meal, but it is a simple thing, not so rich and sweet. Served warm, with a little maple whipped cream or a spoonful of cinnamon ice cream, it will insure that the bellies at your table will be left warm, contented and thankful.
Indian Pudding
loosely adapted from Moosewood Desserts
serves 6
4 cups milk
1 cup cornmeal (if you are adding in the two eggs, reduce this to 1/2 cup)
2 tablespoons butter
1/4 cup maple syrup
1/4 cup unsulphured molasses
1 teaspoon ground cinnamon
3/4 teaspoon ground ginger
1/8 teaspoon ground cloves
1/2 teaspoon salt
3 teaspoons fresh lemon juice
Preheat the oven to 325 degrees. Butter a medium casserole dish.
In a heavy saucepan, whisk together the milk and cornmeal until smooth. Bring to a low boil, then reduce the heat, and simmer, stirring, for about 5 minutes, or until the mixture becomes quite thick. Remove from heat and stir in all of the remaining ingredients.
Pour the pudding into the prepared dish. Put that dish into a larger baking dish and fill the larger dish with about 1 inch of very hot water. Bake for 50-60 minutes, or until the pudding is fairly firm around the edges and a bit soft in the middle. It might need as much as 75 minutes, but don't bake it for any more than that. Serve warm, and eat leftovers (yeah right!) for breakfast.