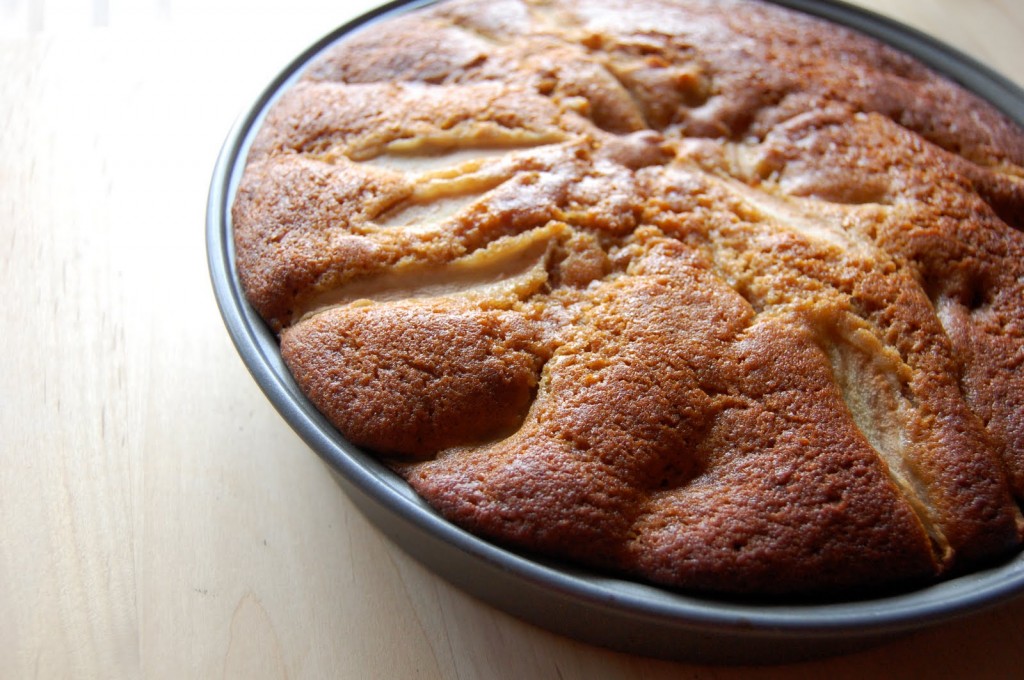 Thank you for all of your advice and sympathies on my gingerbread search. I'm starting to think that a gingerbread cookbook might be in order. But for the moment, I am satiated. Yes, when I say I am determined, I'm not kidding. I have found it.
(I'm thinking that you won't mind if I offer you two gingerbread recipes in one week. It is November after all. In fact, if you were in my kitchen, I'd be offering you two kinds of gingerbread as we speak, and that wouldn't bother you either, would it?)
It should have been obvious. The answer was in the book on my night table. It took a friend in my kitchen to point it out to me.
"You've tried Laurie Colwin's recipe, right? I think that she even has two."
I should have known that Gourmet Today was not the place to find my gingerbread. My gingerbread has to come from someone's kitchen. Specifically, it seems, Laurie Colwin's kitchen. It seems that I am on the verge of becoming a fan site here, but you know how I am. Remember all of those Alice Waters recipes?
Ms. Colwin too, it seems, was once "on a quest for the perfect gingerbread." She claims (in More Home Cooking) that her quest "has not turned up any ultimates," but on this point I would beg to differ.
This gingerbread is velvet and cloud with a sexy amount of spice. Its outer boundary is a revelation. It is sweet and crusty, very similar to the crusted roof of a perfect creme brulee.
Laurie Colwin claims that where we go astray in our gingerbread creation is in our deep attachment to molasses. Luckily, I have no deep attachment to molasses. In fact, I'll throw it out the window if she asks me to.
What we use in this gingerbread is pure cane syrup, and the way that you will see this in the store is to keep your eyes peeled for this lovely and exotic bottle.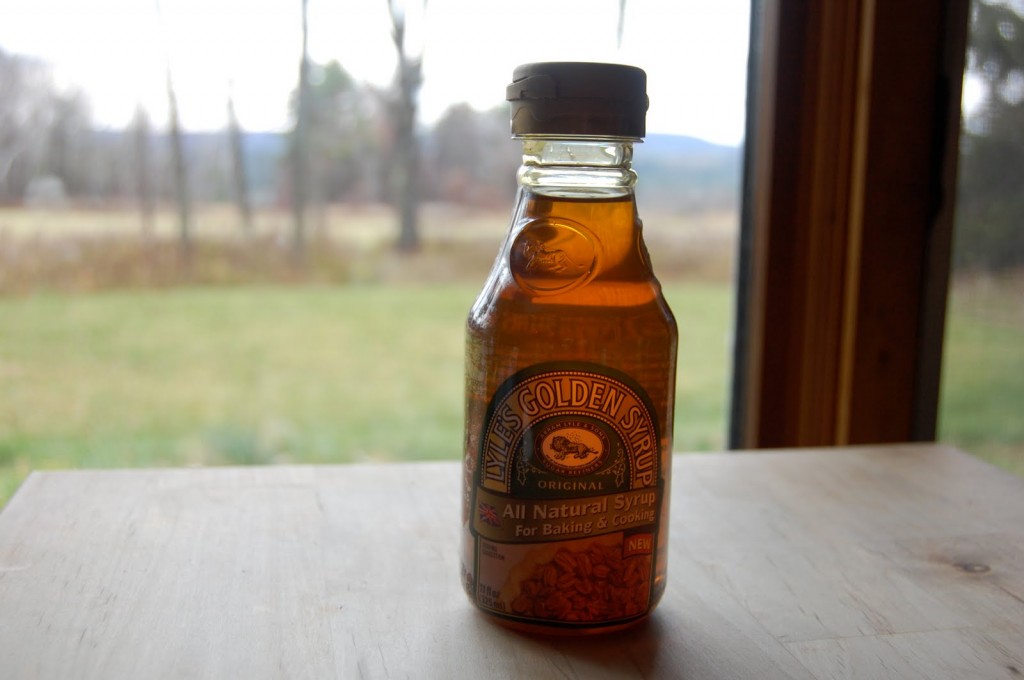 It is not so expensive, but I must warn you, you will use the entire bottle in one cake. It is called Lyle's Golden Syrup, and you will probably be able to find it in your grocery store, even if you have never seen it. Amazing what is there when you look for it, don't you think? I happened to have a little bit in my cabinet left over from lavender fleur de sel caramels last year, but of course I had to buy a whole new bottle, which is now, in fact, gone. You might as well buy a few bottles when you see it. You will want to make this gingerbread more than once.
I knew right away that this would be it. Just melting more than entire stick of butter with that whole bottle is a sensual experience.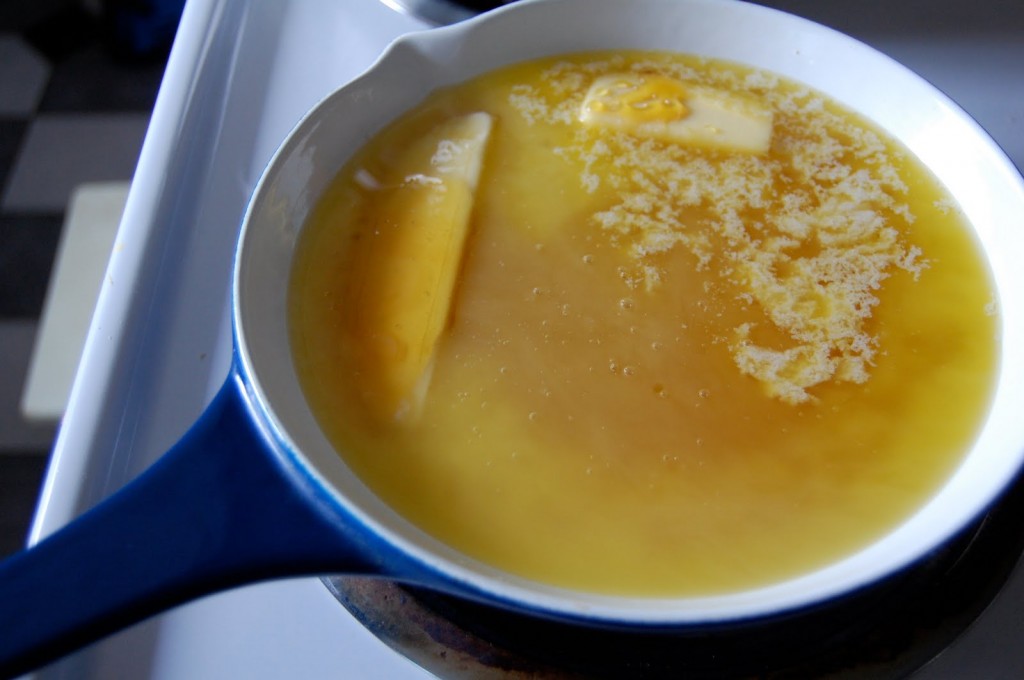 You must refrain from painting your lover with the stuff. I think that this combination alone would be called something like golden butter syrup. Lovely.
The batter is so fragrant that it is a challenge not to drink it, and I added my own obsession to the recipe and let those pear slices grace the top of the batter as it rose around them. It was ideal, absolutely ideal.
Don't put anything on top of this. No ice cream. No creme fraiche. It is an independent agent, this marvelous cake.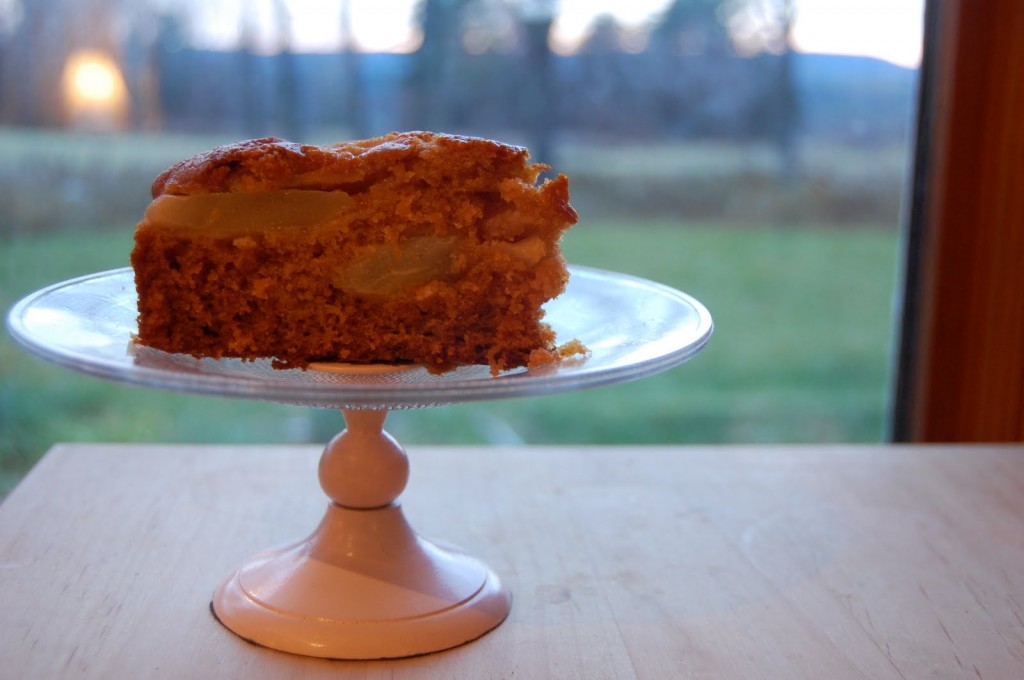 Damp Gingerbread (with pears)
from Delia Smith's Book of Cakes, and then from Laurie Colwin's More Home Cooking, and then messed with by me
9 tablespoons butter (1 stick plus 1 tablespoon)
1 1/2 cups (1 bottle) Lyle's Golden Syrup
2 cups plus 2 tablespoons all purpose flour
1/2 teaspoon salt
1 1/2 teaspoons baking soda
1 1/2 tablespoon ground ginger
1/2 teaspoon ground cloves
1/2 teaspoon cinnamon
1 beaten egg
1 cup buttermilk
3 firm pears, peeled, cored, and cut into eight slices apiece
Preheat the oven to 350 degrees. Butter a 9-inch round tin and line the bottom with parchment.
Melt the butter together with the golden syrup.
Sift together into a medium bowl the flour, salt, baking soda, ginger, cloves and cinnamon, Whisk to be sure that it is evenly blended.
Pour the syrup and butter onto the dry ingredients and mix well.
Add the egg and the buttermilk. Beat well. The batter will be very liquid. Do not fear.
Pour the batter into the tin. It will nearly reach the top of the pan. Arrange the pears on top of the batter. Bake for 50 to 55 minutes, or until the middle is just set, and the edge is pulling away from the pan.