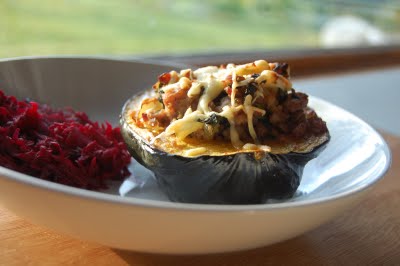 I've written about this one before, but sometimes a dinner bears repeating. Especially because I'm starting to get squash calls again. These calls are part of the fall over here, like apple cider, and pink eye epidemics. They start off just coming here and there, maybe one a day. But as we start to move into October, the pace quickens, and the calls become more panicked and desperate.
"Help. Need squash recipes."
I'm sure you understand. Who can resist those winter squash? Walking through the market, the varieties are as plentiful as the stone fruits were a few weeks ago, and it's hard to remember that you might actually have to figure out how to eat them when you bring them home. There are, of course, the sensual butternut and the dainty acorn, but that is just the beginning. Check out the striped and exotic squashes with edible skins, most notably the carnivale, delicata, and sweet dumpling. With names like these, who can leave them behind? Autumn cup, Amber cup; each squash has its own shape and character. And in they go, into your basket, and before you know it you are making a squash call.
And I'm ready for the calls, because the truth is that there are that many wonderful ways to make squash, enough for every single squash out there. You could whip up some roasted butternut squash soup or some fall minestrone, to name a few. But this one might just be the best. In fact, this might be the best thing that you can have for dinner these days. Not only will you use your winter squash that is taunting you from the counter, you will also use anything else that you overbought at the market last week and haven't yet made use of. The recipe below is a guideline, but most combinations with work beautifully in your winter squash, so you can be creative if the inspiration strikes you. For a splash of fall color on the side of your plate, add this beet salad inspired by Mollie Katzen of the Moosewood Cookbook. This is a dish that is easy enough for a quick weeknight dinner, yet will impress your neighbors when they drop by unexpectedly. Really, they'll pop in and end up at the table before you can invite them, drawn in by the smell this stuff puts out. And you can go ahead and invite them to stay, because you have that much squash.
Stuffed Winter Squash with Warm Beet Salad
Serves 4
For the Squash:
2 medium sized winter squash such as acorn or carnivale
3 Tablespoons butter or olive oil
1 pound ground pork sausage or chorizo
2 leeks, all of the white and most of the green, sliced in half lengthwise, then into ½ inch strips
1 apple, cored and cut into roughly 1 inch pieces
4 ounces roughly chopped greens, such as spinach, tat soi, or kale
4 ounces grated parmesan cheese
salt and pepper to taste
optional: 1 Tablespoon chopped fresh sage or 3 Tablespoons chopped fresh parsley
optional: 1 cup crumbled leftover cornbread or leftover rice
For the Warm Beet Salad:
2 beets, peeled and trimmed of their ends, grated
3 medium carrots, grated
3 Tablespoons butter
3 cloves of garlic, minced or pressed
½ cup apple cider
salt and pepper
1 Tablespoon fresh lemon juice
Preheat the oven to 375 degrees. Cut the squash in half, cutting through the stem. Remove the seeds, and discard or save to roast later. Place the squash halves face down on an oiled baking sheet with sides. Bake for 30 minutes, or until the squash is soft to the touch.
While the squash is baking, prepare the stuffing. In a large skillet or sautee pan on a medium setting, heat the butter or oil. Add the chopped leeks and cook, stirring frequently, until the leeks are soft and shiny. If you are using the cornbread or rice, add that now. Add the sausage or chorizo and continue to cook, stirring frequently, until cooked through, about five minutes. Add the apple, the greens, and the herbs. Turn down the heat and cover. Let sit for about two minutes, stirring once or twice during that time. When the greens have wilted, taste and adjust for seasonings.
When the squash is soft, remove from the oven. Carefully turn over each individual half, taking care not to get in the way of the steam that will escape. Fill each squash bowl with stuffing. Sprinkle generously with Parmesan cheese. Return the squash to the oven for an additional 20 minutes.
While the squash bakes, prepare the beet salad. Melt the butter in a large sautee pan on low heat. Add the garlic and cook until it is soft, but not yet brown. Add the beets, carrots and cider and cook for about five more minutes, stirring occasionally. Finish with salt and plenty of fresh ground pepper and the lemon juice. Serve alongside the stuffed squash.