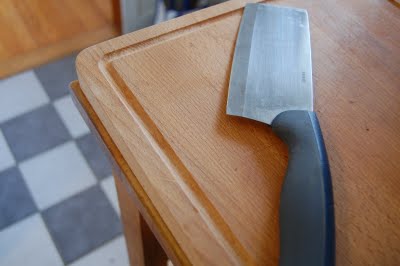 Yeehaw. It's that time again, when Alana makes a mess making something that she never dared to do before!
Pho! Or more accurately, Pho?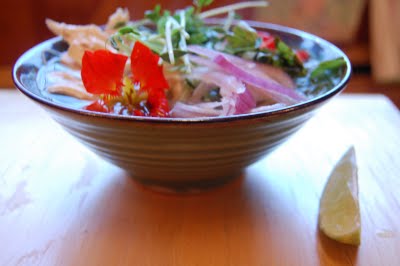 There's not much pho to be had around here, but every time we go to Denver, there's a whole lot of talk of the famous Vietnamese noodle soup. That said, I only went to a pho restaurant once, and unfortunately I was six weeks pregnant and had watermelon juice for lunch.
That's not to say that I wasn't interested. A deeply flavorful broth, rice noodles, meat, and a pile of fresh green herbs- only early pregnancy could keep me from that bowl of heaven.
And now, in the true spirit of the DIY revolution, I have made pho right here in my little kitchen.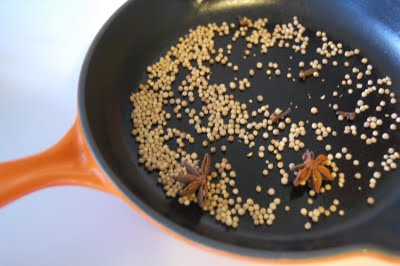 And I had a pretty good time of it all in all. The best part? Well, as I've said before, I've been working on my chicken cutting skills so that I continue to attempt to call myself a real cook. And I'm getting pretty good at it. But for this? Take your cleaver and hack away. Kind of brutish, but Jaden asked that we expose as much bone as possible for a flavorful broth. No problem.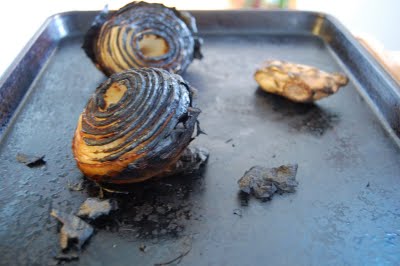 The October 2009 Daring Cooks' challenge was brought to us by Jaden of the blog Steamy Kitchen. The recipes are from her new cookbook, The Steamy Kitchen Cookbook.
I'd say you should go for this one too. And your kitchen will smell holy if you worship in the house of food as I do. Charred onion and ginger, toasting spices; unbelievable. It all smells almost as good as it tastes. Go right over to Jaden's site for the recipe. I followed it pretty closely, except I must admit that I added a touch of salt. And of course, NO CILANTRO. I know that this is leaving out a fundamental ingredient, but NO! Stay back with your foul herb! I put lots if basil in instead, and that was lovely. But if you choose to go for the cilantro, I understand.
And go check out all those who dared to make pho!