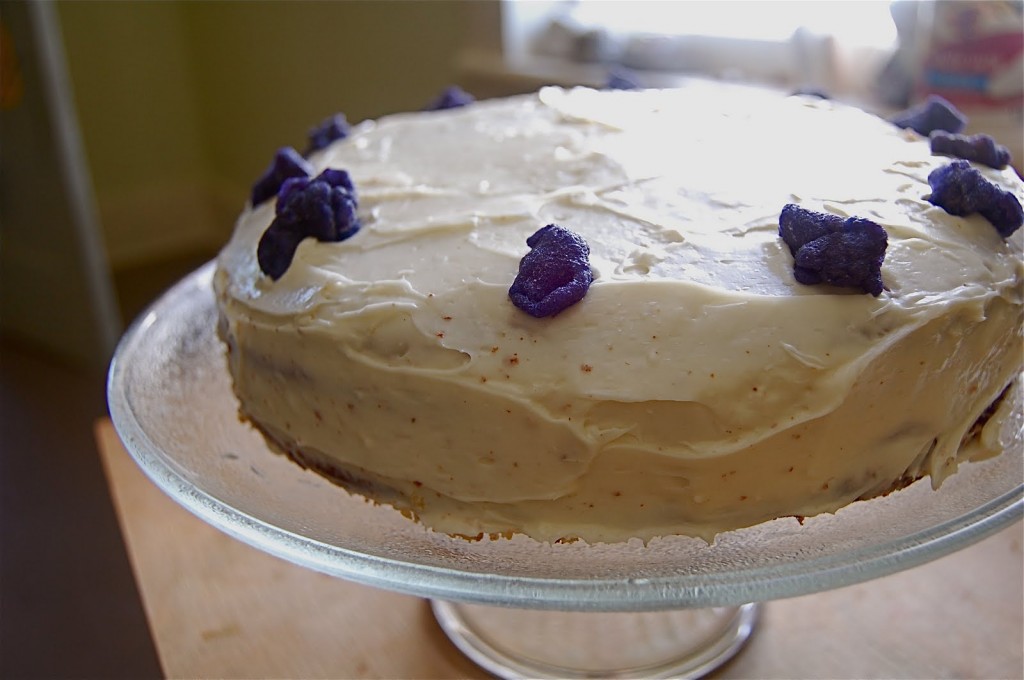 Somehow, Joey and I have been lucky enough the last several years to be part of a miraculous thing called work party.
Five or six years ago, a few families got together with an idea of how to help each other out. On a given Sunday morning, everyone would head over to one family's house and do some work. The kids would play and wreak havoc. Then everyone would eat. The next month, the group would reconvene at someone else's house and do it all again.
Yeah, I know. It's a really good idea.
Within the first year there was some shifting, some turnover, and somehow Joey and I ended up getting invited to join in the fun. We were a little bit worried. Somehow the group was comprised of a disproportionate amount of builders, engineers, and all around skilled people. We had a few skills to offer- Joey could make a really great mix tape for the morning and I could organize myself a mean bookshelf. But over the years, although we may not be much more skilled than we were then, we've done a lot of things in work party we never thought we could, albeit sometimes poorly. And the girls seem to see work party as some family reunion with cousins- it's somehow related to family for them. It's a really really good thing.
We had work party this past weekend over at the farm. Luckily, there was a birthday involved and I got to make cake. I guess I do have one skill to bring to the table.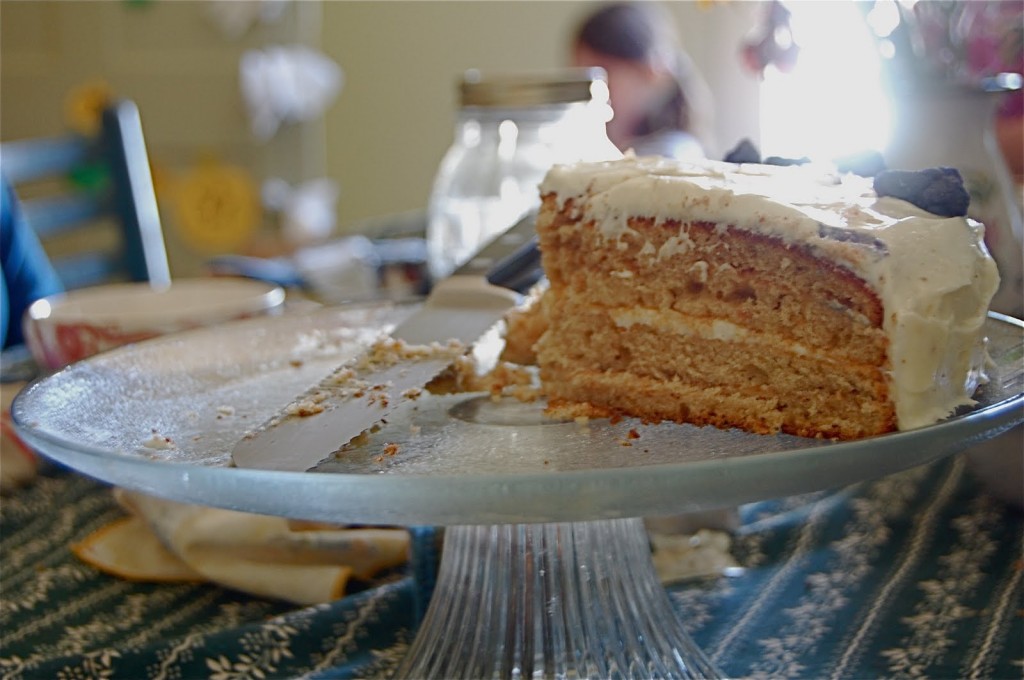 This is the first spice cake that I have made and liked. A few years ago, Joey requested a spice cake for his birthday and it was dry dry dry. This seems to be an issue in spice cakes. But not this one. This one held up like a champ, and I frosted it with a not too sweet cream cheese frosting, and added in a bit of quince butter, because it was there on my shelf, and you know how I feel about quinces. Those funny looking purple things are little candied violets, just because I happen to really like the birthday girl.
I have to admit to you, although I've gotten into the habit of making a whole lot of cakes these last few years, I have never cut a layer in half. But I did it this time, and it was entirely undisastrous. With a good serrated knife, so many things are possible.
And I've got to tell you about one more thing. When I was getting ready to frost this baby, My friend Brandee was right there, cutting pears or doing some other work-y thing. She's one of those engineers I was telling you about, so you know that she's going to have some good ideas. She suggested that I put strips of parchment around and under the outside of the cake, like this.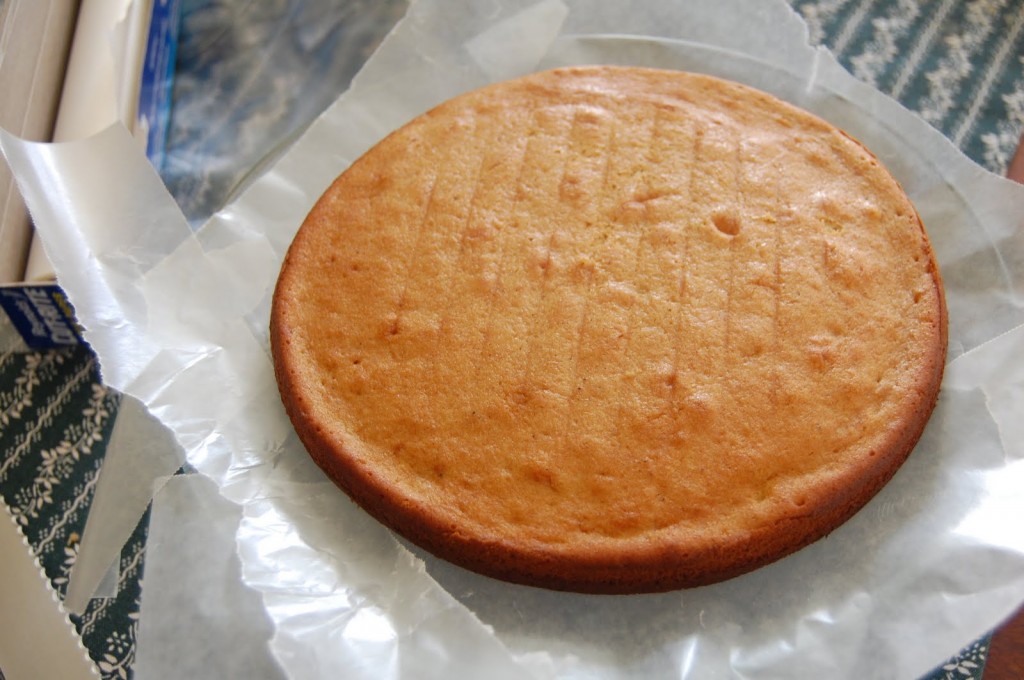 That way, after the the whole thing is frosted, you can pull out the strips and you have a clean cake plate. So simple, yet it would never occur to me. That's one reason why it's a good idea to have all of these engineers and builders around.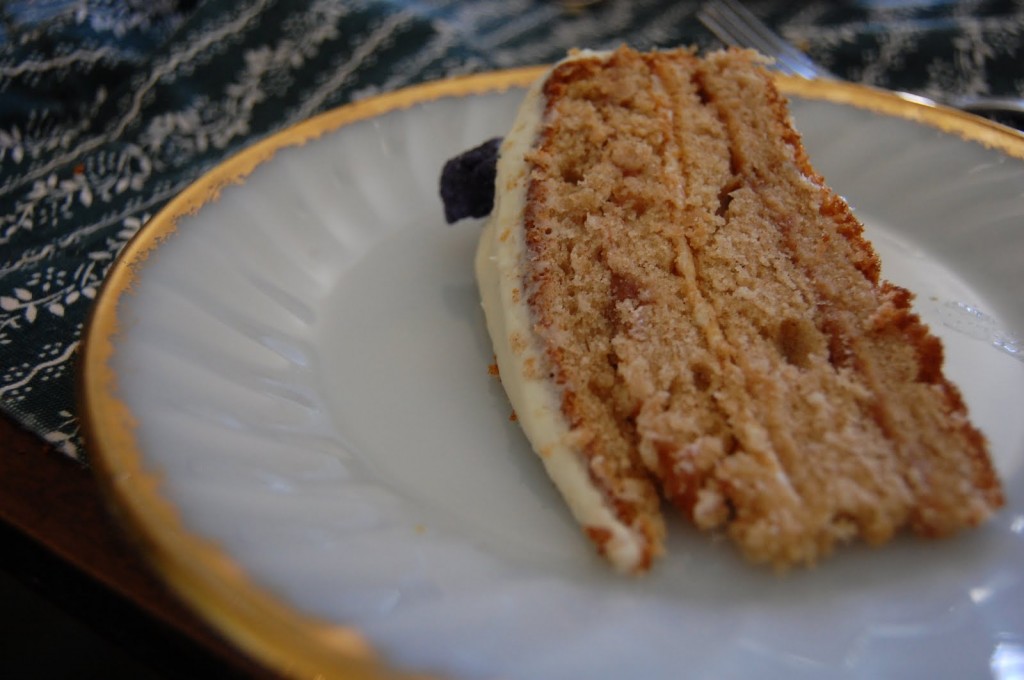 Buttermilk Spice Cake
adapted from Flo Braker, as seen in Food and Wine
For the cake:
1 teaspoon baking powder
2 1/2 cups sifted cake flour
1/2 teaspoon baking soda
1/2 teaspoon cinnamon
1/2 teaspoon ground ginger
1/4 teaspoon freshly grated nutmeg
1/4 teaspoon salt
1/8 teaspoon ground cloves
1 cup buttermilk, at room temperature
1 teaspoon pure vanilla extract
1 1/2 sticks (6 ounces) unsalted butter, softened
1 cup (packed) light brown sugar
1/2 cup granulated sugar
3 large eggs, at room temperature
For the frosting:
1/4 cup butter, at room temperature
8 ounces cream cheese, softened
1 teaspoon vanilla extract
1 1/2 cups confectioners sugar
2-4 tablespoons milk
1 cup apple, pear or quince butter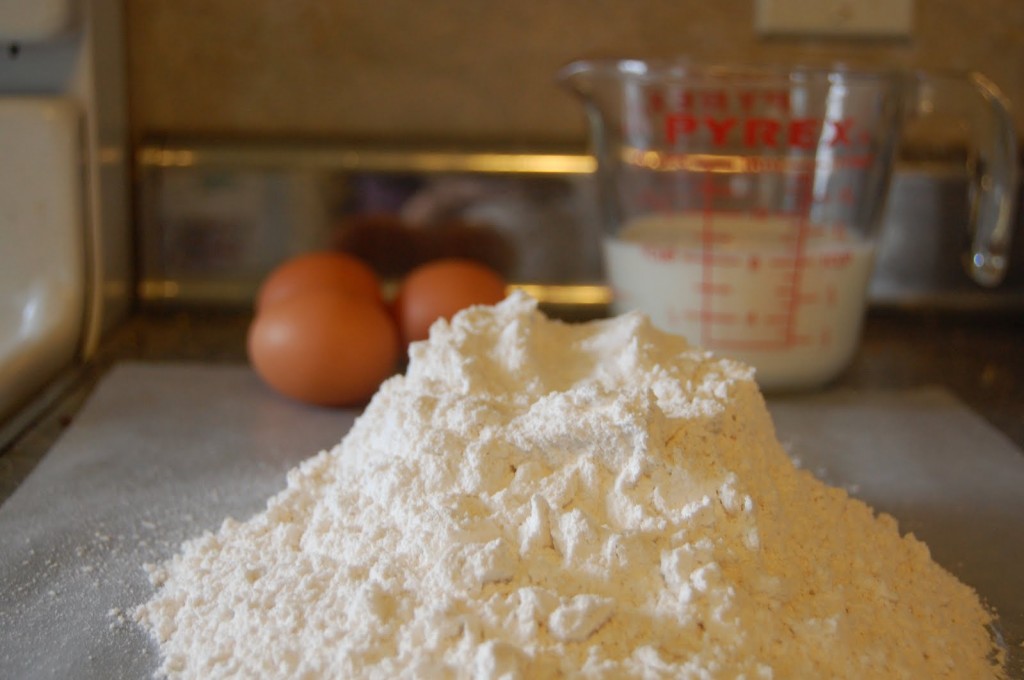 1. Preheat the oven to 350° and position a rack in the lower third. Butter and flour two 8-by-2-inch round cake pans. Sift the flour with the baking powder, baking soda, cinnamon, ginger, nutmeg, salt and cloves onto a sheet of wax paper. Combine the buttermilk and vanilla in a small pitcher.
2. In a standing electric mixer fitted with a paddle attachment, beat the butter at medium speed until creamy. Add the light brown and granulated sugars and beat until light and fluffy, about 4 minutes, stopping once to scrape down the bowl. Add the eggs, 1 at a time, beating well after each addition. Beat in the flour mixture at low speed in 3 batches, alternating with the buttermilk mixture, just until the batter is smooth; stop the mixer occasionally to scrape down the bowl.
3. Divide the batter evenly between the pans. Transfer the pans to the oven and bake for 30 to 35 minutes, or until the cakes begin to shrink from the sides. Let the cakes cool for 10 minutes, then turn each out onto a rack, invert onto another rack and let cool completely. Wrap each cake in plastic and store at room temperature overnight.
4. Make the frosting: Cream together the butter and cream cheese. Add the sugar and mix well. Add the vanilla, and enough milk to get the frosting to a good consistency.
5. Cut each layer in half. Alternate your fillings between apple, pear or quince butter and cream cheese frosting. Finish by frosting with the cream cheese frosting.