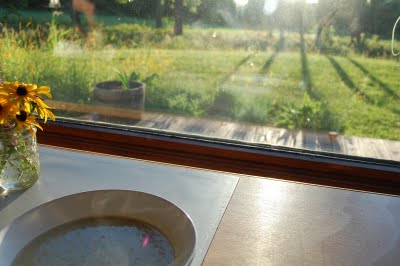 I'm not grieving the summer. A week of heat was plenty- now I get to make soup.
Potato Leek Soup with Sorrel
(If you don't have a big lovely sorrel plant in your back yard, plan to plant one this fall and then leave it out this time. It makes the soup all lemony.)
2 pounds of potatoes, peeled and quartered
2 medium to large leeks, cleaned and chopped, using all of the whites and at least half of the greens
3 cups chicken broth or water
4 oz. sorrel, taken off the stem and chopped roughly
1/2-3/4 cup heavy cream or milk, to taste
salt and pepper
2 T olive oil
1 T butter
In a large, heavy bottomed pot, heat the oil and butter. Add the leeks and cook until soft, stirring occasionally, about 5 minutes. Add the potatoes and the stock or water. Bring to a boil, and then turn the heat down to a simmer and cover. Cook until the potatoes are tender, about 25 minutes. Turn off the heat. Add the sorrel. If you have a hand blender (I hope you do, because it will make you happy), stick it in the pot and blend until smooth. You can also transfer to a regular blender in batches if you prefer, or haven't followed my advice about the hand blender. When the soup is all blended, add the milk or cream and rewarm gently, taking care not to boil. Add salt and pepper to taste, and serve garnished with the creme fraiche that's sitting in your fridge.