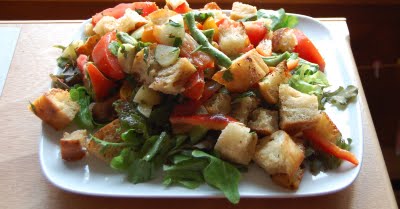 After we loaded to the innards of our week in Maine into the Subaru, we stopped at Scratch in South Portland to see what of the place we could bring back with us. The sea salt bagels were all sold out, but there was bread, and one of the loaves that somehow survived the drive back home (without me eating it, that is) was a perfect ciabatta.
We've been back not quite 48 hours, and it's been hotter than the L Word around here. The air is so heavy that it's hard to make your way through, and just when you think you can make it outside for a minute, the mosquitos swarm in numbers I have never seen before. And for some reason, when it gets this damp, the house starts smelling like pee. It's really summer now.
I got back home to a garden gone wild, complete with bursting and beautiful tomatillos. Tomatillos suffer from people not being quite sure what to do with them. They are an obvious salsa ingredient, but beyond that, what to do with tomatillos? Honestly, sliced thin in combination with big wedges of tomato- better than a snickers from the freezer.
By last night, we had half of the ciabatta left, and I decided to make a panzanella. This is a great full meal salad, and another good way to use all of the excess produce in danger of going uneaten. I'm going to give you a rough guideline of a recipe, as this one can be played with as much as you like.
Tomato and Tomatillo Panzanella
5 tomatillos, peeled of paper skins and sliced thin
1 large tomato, cut into wedges
1/2 loaf rustic bread, cut into bite sized cubes
10 green beans
1/2 sweet red pepper, cut into matchsticks
olive oil
salt and pepper
red wine vinegar
balsamic vinegar
dijon mustard
a couple handfuls of lettuce, washed and dried
In a large skillet, heat a few tablespoons of olive oil. Add the bread and green beans and fry for a few minutes, stirring so as not to burn the bread. When the bread is golden, turn off the heat. While the bread is cooking, make the vinaigrette. Dissolve some sea salt into a few tablespoons of red wine vinegar, then add about half as much balsamic. Whisk in a few tablespoons of olive oil and the mustard. Taste it and play until you find the taste that you like. In a large bowl, toss the fried bread, tomatoes, pepper, green beans with the vinaigrette, tasting as you go to get the dressing saturation to your liking.
On a platter, lay out the lettuce. Pile the contents of the bowl over the lettuce and top with salt and freshly ground pepper.