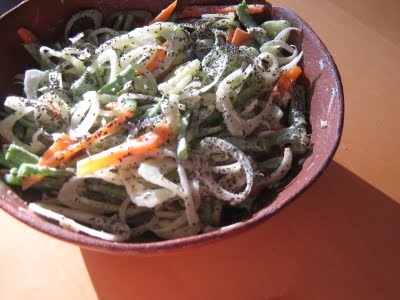 Well, all that cheese seems to have finally brought on the summer. Go figure. I woke up yesterday with a camembert hangover, and the sky was blue. Picked berries in the yard with the girls before I went to work. Came home to an empty house, and when the girls came in with Joey, sandy from the beach, Rosie spoke to me in a voice I haven't heard in a while. Is it a whine? Is it babytalk? No, it's Rosie's real voice.
"Mom, I think I need a bath." (Who's kid is this?)
"Oh, don't worry mom, I'll run it for her." (and the older sister? I'm not sure I know who this is either.)
Oh, this must be my summer children.
Today there was more summer, children in the sprinkler, lemony alcoholic drinks, friends coming over to make saurkraut. Oh, and there's more good news: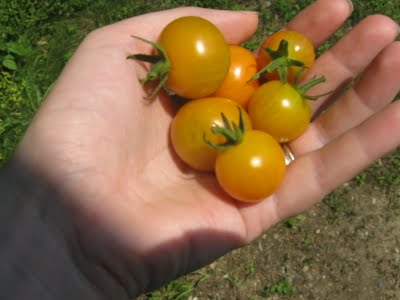 I'm giving Alice a rest. Today it's Martha, because I head that yesterday was her birthday. I think she's like seventy or something. Doesn't look so bad for a woman who got new horses to match the new color of her barn.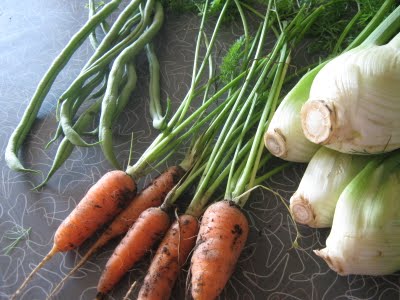 Summer Slaw with Poppy Seed Dressing
adapted from Martha Stewart, The Martha Stewart Living Cookbook
3 T creme fraiche or sour cream
1 1/2 inch piece of ginger, peeled and grated
2 1/2 T fresh lime juice
1 tsp poppy seeds
salt and freshly ground pepper
3 small fennel bulbs, thinly sliced crosswise
4 oz. green beens or pole beans, trimmed, cut in half and then into strips
2 small carrots, cut into matchsticks
In a small bowl, whisk together the creme fraiche, ginger, lime juice, and half the poppy seeds. Season with salt and pepper. Refrigerate until ready to use.
Combine the fennel, green beans, and carrots in a medium bowl, and toss with the dressing immediately before serving. Garnish with remaining poppyseeds.