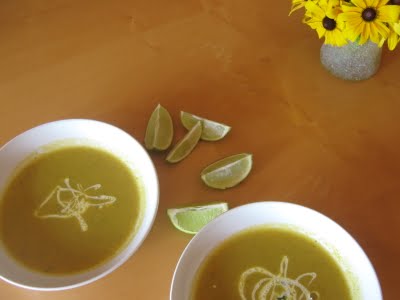 Sometimes a day will surprise me.
Today, they just kept coming, the surprises I mean. Sadie's friend, Aurora slept over last night and after waffles this morning we decided to head up to the Clark Art Institute for their annual overcrowded family day. We had three girls and a rainy (no really) day, so it seemed like a good idea. And it was, in some ways. The whole program was based around their current O'Keefe exhibit, and there were nature collages to make, tortoises to see, and desert flowers to create (although not so vaginal, these flowers). We met up with Rosie's best friend and her family and everyone had a buddy to make sure that they didn't get lost in the crowd. But I have to admit to you that although we sometimes make it to these wonderful kid friendly activities, I start to collapse. Crowds of kids make me nervous, and being around so many families can make me overly introspective and therefore useless as a mother. So when Rosie had an unbelievable fit when we tried to convince her to pee before we got in the car, I felt somewhat unprepared. Somehow I emerged from the bathroom, deaf in one ear from her screams, pants barely buttoned, and I was ready to go home. And of course I couldn't get any pee to come out of that screaming body.
Then there was a lot of whining, requests for movies, for sugar, more whining. I had my head in my hands for longer that I would wish. And all I could think about were messes. What a mess all this was, and I walked into the house, and I started Rosie's bath because she had almost an entire stick of chapstick in her hair, and I started obsessively cleaning the girls closet. Then the phone rang, and it was my friend Tanya.
"Get down here. Free Cheese."
Now the backstory on this one was that Rubiners, the local fancy pants agrahip cheese shop of which I have mentioned before, hosted a photo shoot this week. As a result, they had more artisanal cheeses than you could possibly imagine, and they didn't know what to do with them. So they had a party, and booze money and donations went to support the Railroad Street Youth Project. I knew this was happining, I was thinking about it, and feeling a little sorry for myself that I wasn't there. But it wasn't until Tanya called that Joey kicked me out the door. This is how much cheese I ate.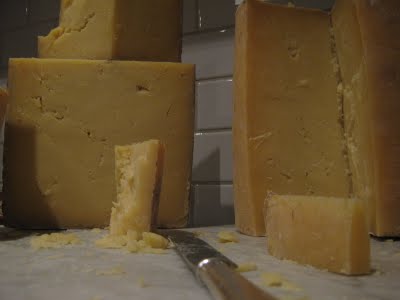 and then I took a small break. and I had a bit more.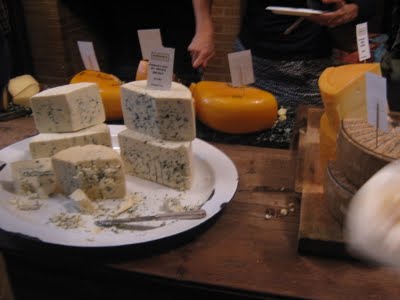 It was kind of like a dream. Most of the time, I just looked at all the cheese, happy, and I little drunk off the smell (as well as the wine).
Then Tanya came over and I gave her some of this soup.
I made this last night. It's the best soup I've had since sexy turnip soup. It is also quite sexy. Joey described it as a fresher muligatawny. I think that he's on to something. But this is what you need to do with all of your summer squash. And I know, I know, I'll take a break from all of these Alice Waters recipes, I mean, what is this, Alana and Alice? Will we have a cute Brooklyn based novel? Then a movie with Amy Adams? No, I'll take a break, I promise. But make this one first.
Spicy Summer Squash Soup with Yogurt and Mint
adapted from Alice Waters, The Art of Simple Food
1/4 cup olive oil
1 large onion, sliced fine
a pinch of saffron threads
1 tsp cumin
1 tsp turmeric
1 tsp sweet paprika
1 tsp chile powder
4 garlic cloves, peeled and sliced
5-7 medium green or yellow summer squash (mix them if you can), sliced
3 cups chicken broth
2 cups water
garnish:
4 mint sprigs, leaves only
2 T olive oil
1 cup yogurt
salt
lime wedges
Heat the olive oil in a large, heavy bottomed pot. Add the onion, garlic, and spices. Stir often, and cook until the onions are soft and not brown. Add the squash to the pot, then the salt. Cook for 2 minutes, then add the chicken broth and water. Bring to a boil, reduce to a simmer, and cook until the squash is tender, about 15 minutes. Meanwhile, make the garnish: Cut the mint into julienne. Pound half of it in a mortar and pestle. Transfer to a bowl, add the rest of the mint, and stir in the yogurt, olive oil, and some salt. When the squash is tender, let it cool for a few minutes, then puree until smooth. Serve topped with mint yogurt and with lime wedges on the side.