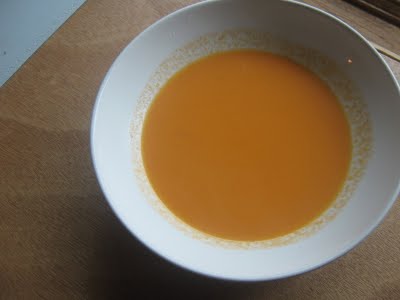 I'm in frenzy gathering the family for a week away. Sadie's hitting, Rosie's whining, and I'm just doing my best to make sure that everyone has enough underwear. So I only have a minute, but for the lucky ones who might be coming into tomato season, I wanted to pass along this little soup recipe. The roasting is just fabulous- it gives the soup such a flavor. So hopefully there are tomatoes to be eaten- if so, here's what to make for dinner.
Roasted Tomato Soup
adapted from Gourmet, August 2009
4 lb tomatoes, halved lengthwise
6 garlic cloves, left unpeeled
3 T olive oil
1 medium onion, finely chopped
1/2 tsp dried oregano or 1 T fresh oregano
2 tsp sugar
2 T unsalted butter
3 cups chicken stock
1/2 cup heavy cream or milk
Preheat the oven to 350 degrees with a rack in the middle. Arrange tomatoes, cut side up on a parchment lined baking pan with sides. Add garlic to the pan. Drizzle tomatoes and garlic with olive oil and sprinkle with salt and pepper.
Roast tomatoes and garlic for 1 hour, then cool in pan. Peel the garlic cloves.
Cook onion, oregano, sugar and butter in a 6 to 8 quart heavy bottomed pot over medium low heat, stirring frequently, until onion is softened, about 5 minutes.
Add tomatoes, garlic and stock and simmer, covered, for 20 minutes. Puree soup in a blender, then force through a sieve back into the cleaned pot, discarding solids. Stir in cream or milk and salt and pepper to taste and rewarm.